Some dogs love it some hate it! So why does my dog hate rice? Is it bad for him? Should I feed rice? Is dry kibble or wet food better?
Here are all the answers…
Dog Hates Rice?
If your dog does not like rice, he may just be picky, or he could be genuinely stressed or sick. Watch his behavior. If he eats everything else you offer him, he's probably just picky. Rice can be a great nutrient for dogs, especially those with an upset stomach. Knowing what kinds of rice, when to feed it, and how much to feed is important so that your dog remains happy and healthy.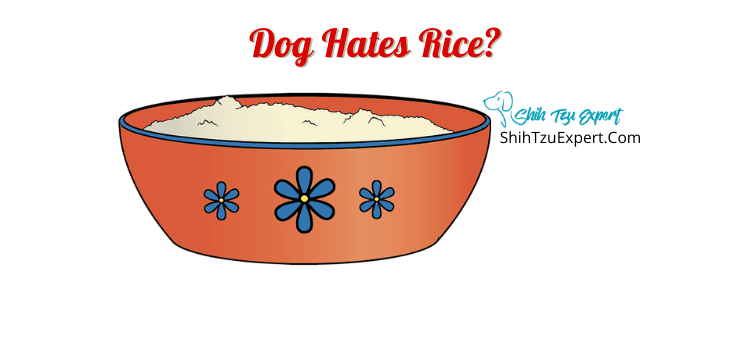 Why Does My Dog Not Like Rice?
It could be as simple as your dog is just a picky eater, but it could also be due to poor health. If he's used to eating treats and table scraps, rice may seem very plain and boring in comparison.
If your dog does not seem to want to eat any of his meals, it could be more than him just being a picky eater. If your dog has an upset stomach or is sick, he may have lost his appetite. Stress can also cause him to lose his appetite.
If your dog seems sick or stressed or sick, communicate it with your veterinarian.
What Do You Do If Your Dog Doesn't Eat Rice?
Give him something else that's bland, has carbohydrates, and is easy to digest. Pumpkin, sweet potatoes, or plain eggs can make great substitutes. Make sure, however, that you are balancing the diet by feeding him a source of protein, such as chicken or bone broth.
Can Dogs Have Rice Intolerance?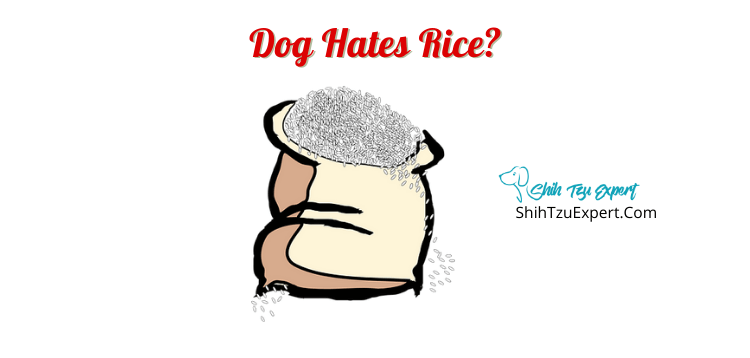 Some dogs can be allergic to rice. Food allergies can cause itchy skin, hair loss, and ear infections, but so can other allergies. It's important to have a veterinarian observe your dog to diagnose the cause of the allergy.
If your dog has diabetes, too much rice can have negative impacts on his health. Rice is an easily digested carbohydrate made of glucose molecules, giving it a higher glycemic index. In a dog with diabetes, this could result in high blood glucose.
Easily digestible carbohydrates are also thought to cause inflammation, so for a dog with inflamed bowels, too much rice can add to the inflammation.
How Can I Get My Dog To Eat Rice?
To make your dog's rice more appealing, you can try putting chicken or some broth on the rice. Making the rice wet and adding a more appetizing ingredient like chicken can make the rice more appealing. Other alternatives to chicken include plain egg or bone broth.
Can Dogs Eat Rice Every day?
While rice may be good for a while when a dog is sick, it's best to limit how much he gets fed on a normal basis. Many dog foods do include rice because it provides nutrients your dog needs, but only in small quantities.
Rice is primarily made of easily digestible carbohydrates. Too many of these nutrients can cause health problems like diabetes, weight gain, or inflammation. Rice also lacks many of the nutrients your dog needs.
Because rice (especially white rice) is easily digested, it will pass through your dog's digestive tract faster, making him more likely to feel hungry sooner. It will also give him less energy to store up in his body for periods of long activity without food.
Is Rice Ok For Small Dogs?
Rice is okay for small dogs if it is fed in small portions. It's important to balance the rice with other ingredients that will provide the essential vitamins, minerals, proteins, and fat your dog needs. Too much rice can lead to health problems such as weight gain, diabetes, or inflammation.
What Rice Is Better For Dogs?
The best rice for your dog will depend on why you're feeding it to him. Brown rice is generally agreed to be the best option unless your dog is sick.
For a dog who's sick and needs a bland diet, many experts say white rice is the best choice. This is because white rice is easier to digest. Because it's easier to digest, the digestive tract does not have to work as hard and will be able to heal faster.
There are others, however, who believe it's better not to feed rice to a sick dog at all, but use a different ingredient instead. The argument is that easily digestible white rice is more inflammatory than other kinds of rice.
If your dog is healthy, brown rice is generally the better option. Brown rice has not been stripped of its outer casing which provides fiber, minerals, and vitamins. Fiber is important for normal gut motility, decreased inflammation, and decreased weight gain or high blood sugar.
Does White Rice Constipate Dogs?
In most cases, white rice should not constipate your dog; but because it is high in easily digestible carbohydrates, it can become harmful over time if it is not balanced with fiber.
Fiber helps move food through the digestive tract. When your dog is not eating enough fiber, the food he eats can get stuck in his gut, and over time, it can accumulate and cause blockage or constipation.
White Rice For Dogs With Diarrhea?
Generally, white rice is good for dogs with diarrhea, but it's always good to check with a veterinarian before starting a white rice diet. White rice can be beneficial for dogs with diarrhea because it's easy to digest and makes the gut work less, allowing it to rest.
How Much Rice Should I Feed My Dog?
For a dog who has been prescribed a bland diet, make about 75% of his diet rice and 25% chicken or another source of low-fat protein. The amount you feed will depend on the size of your dog, so it's best to consult with your veterinarian or a nutritionist.
How Much Rice Is Too Much For Dogs?
If you feed your dog too much rice, he could begin to gain weight. Ideally, your dog's meal should be made up of no more than 10% rice unless he's on a diet for an upset stomach.
For a dog who's sick, try not to feed more than 75% of his total diet in rice. Adding any more rice could cause weight gain.
White Or Brown Rice For Dogs?
Whether you choose to feed your dog white rice or brown rice depends on the reason you're giving him rice. A healthy dog would do best with brown rice, while a sick dog may do better with white rice.
White rice is easier to digest and has a higher glycemic index. This means it is high in energy so it may be good for a dog who's recovering from an intestinal upset or injury and needs to be able to absorb lots of energy without working too hard to digest.
If your dog is not sick, however, brown rice is the best to feed him. It has more fiber and a lower glycemic index which means your dog will not gain weight as rapidly as he would eating white rice.
Brown rice has a higher fiber content which will help promote a healthier intestinal tract. The fiber can also make a hungry dog feel more full. Because brown rice has its bran intact it provides beneficial vitamins and minerals.
Arborio Rice Dog Diarrhea?
Arborio rice can be fed a short time to a dog with diarrhea, but it's best to use plain white rice instead.
Arborio rice is very high in starch, meaning it is very easy to digest. This can be great for a dog whose stomach is sick, but because it causes rapid weight gain, it's not good for a normal diet.
If your dog were to consistently eat a large portion of arborio rice with no fiber added to the diet, he could end up with an upset stomach or blocked intestines.
Can Dogs Just Eat Chicken And Rice?
In the long run, just chicken and rice are not good for a dog, especially if it's white rice.
Rice and chicken may both provide protein, fat, and carbohydrates, but they do not contain all the essential vitamins and minerals a dog needs. Over time, if your dog is not getting these needed nutrients, he will get sick from a nutrient deficiency.
What Can I Give My Dog Instead Of Chicken And Rice?
Instead of chicken and rice, you can try giving your dog a bland, cooked egg, pumpkin, bone broth, sweet potato, or baby food. Bone broth is great because it's very nutritious and appetizing to most dogs.
Pumpkin and sweet potato are also great because they are a source of both easily digestible carbohydrates and fiber which will help with your dog's digestion. They are also high in many important vitamins and minerals.
Is Basmati Rice Ok For Dogs?
Dogs can eat basmati rice. The only main differences between regular rice and basmati rice are the length of the grain the aroma basmati rice has.
Whether it's white or brown, basmati rice should be treated the same as normal white or brown rice. Small bits can be healthy, and it is considered a good food to give dogs when their stomachs are upset, but too much can cause health problems just like normal rice.
What Can I Give My Dog Instead Of Rice
Instead of giving your dog rice, try giving him pumpkin or sweet potato. Both of these foods have carbohydrates that your dog can easily digest and have the added benefits of extra vitamins, minerals, and fiber which is important in maintaining a healthy gut.
Is Rice And Milk Good For Dogs?
Rice and milk should not be fed to your dog. A few spoons of milk can be okay, but most dogs are lactose intolerant, so if you feed your pet large portions of milk, he will likely end up with an upset stomach.
Is Rice Or Oatmeal Better For Dogs
Both rice and oatmeal can be beneficial, but because they provide different nutrients, one is not necessarily better than the other.
Rice may be easier to digest, but the higher fiber content in oatmeal may cause less intestinal problems or weight gain in the long run. Brown rice is comparable to oatmeal, while white rice may be lacking in a few nutrients.
References
Alfaro, D. (2021, July 20). Arborio rice is ideal for risotto and best served Al Dente. The Spruce Eats. Retrieved January 27, 2022, from https://www.thespruceeats.com/what-is-arborio-rice-995971
All Creatures Veterinary Clinic. (n.d.). Bland Diet Instructions for Dogs. Minocqua, WI; http://www.minocquavets.com/uploads/4/2/7/4/42745363/bland_diet.pdf.
Anastasio, A. (2018, August 30). Can dogs eat oatmeal? is oatmeal good for dogs? American Kennel Club. Retrieved January 27, 2022, from https://www.akc.org/expert-advice/nutrition/can-dogs-eat-oatmeal/
Anastasio, A. (2019, February 5). Can dogs eat rice? American Kennel Club. Retrieved January 27, 2022, from https://www.akc.org/expert-advice/advice/can-dogs-eat-rice/