When you have a dog it is very important to make sure that you are considering their lifestyle, behavior, and feelings before you invite anyone else into your home. It is important that you understand the dynamic between dogs and roommates and how to properly introduce them for the safety of everyone involved.
Why Do Dogs Hate Roommates?
Dogs may dislike roommates for a variety of reasons. It may be as simple as not liking someone new entering their territory and feeling a need to assert dominance and protect their home. They may simply not like certain characteristics they see in the person they simply do not like or they may have a bad interaction with them. It is important, as a dog owner, that you understand why these problems occur and address them correctly.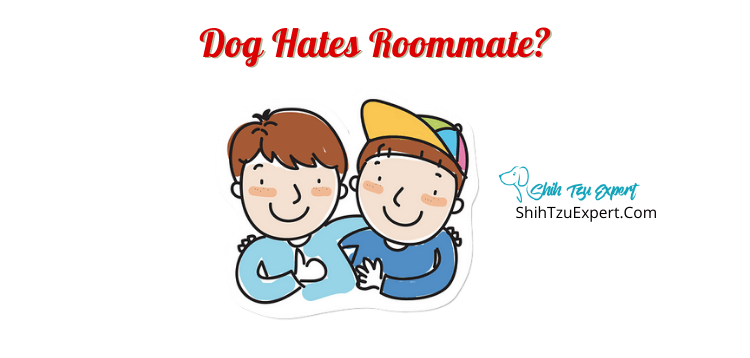 Why Do Dogs 'Freak Out' When They See Roommates?
Dogs are generally very territorial by nature, so it would make sense that they would be protective over their home. Bringing a roommate into the home can be stressful for dogs and is often difficult for them.
It is important that they are properly socialized before bringing a new person into the home as it causes unnecessary stress and can be difficult for your dog. Dogs are very perceptive and can be very selective on who they do or do not like, so it is important to consider this when bringing someone new into your home.
How Do I Train (Counter Condition / Desensitize) My Dog To Not Hate My Roommates?
Introduce them to your roommate

How your dog is introduced to your roommate can be very important to their future interactions. Keep in mind that your dog is territorial and someone new coming to their space unexpectedly can cause the dog to react poorly to them. When they are introduced it is important that you have your dog on a leash and they are in a neutral space and you fully supervise your dog.

Give your dog a reward

Meeting a new person can be stressful for your dog. It is important that they are rewarded for their good behavior and for allowing someone in their space. Giving your dog one of their favorite treats may not only reinforce positive behavior but it can help them form a positive association with your roommate.

Do not overwhelm your dog

It is important that you are respectful of your dog and their boundaries. Take time to properly introduce them and do not overwhelm them with the new person. You should be patient with your dogs and make an effort to be aware of their comfort level and only do what they can handle. It is important to build a bond and not try to push everything on them at once, it does not all have to happen in one day.
It is important to do these activities in steps and consult a dog trainer. Generally you will conduct these activities in increments. Ie. "Reward dog for x amount of interaction with no adverse behavior" increasing the amount of time with each step.
What Not To Do With A Dog Who Hates Roommates?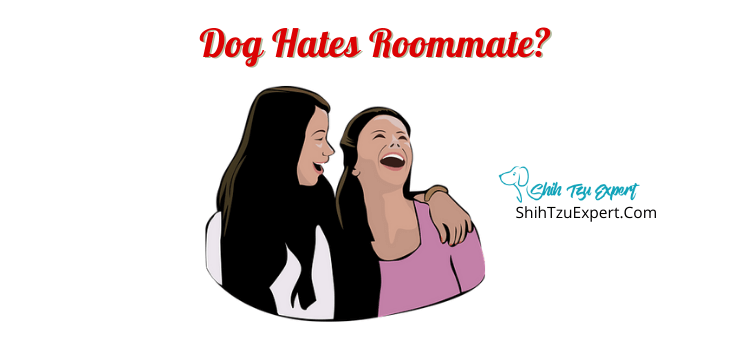 It is important that you do not force a situation on a dog who hates your roommate. Be respectful of your dog and their feelings and try to do what is best for everyone. If you do not properly prepare your dog and use caution introducing them it could result in a situation that causes injury for your dog, your roommate, or both.
Should You Comfort A Dog Who Hates Roommates?
Yes, if your dog is upset or uncomfortable you should make sure you are providing them support and making them comfortable. Responding poorly to your dog's feelings about your roommate could lead to them having a negative association with your roommate, which can lead to further problems in the future.
Providing them support and making them feel comforted and respected can lead to a much better bond for your dog and your roommate going forward. Dogs often feed off of your body language and emotions and will look to you when deciding to trust a new person.
What Exactly About Roommates Does My Dog Hate (The Smell? Look? Noise? Sounds? Vibes)
There could be a variety of factors at play that lead to a dog not liking a roommate. Many dogs have a certain type of person they respond to and they may not like them based solely on that. Dogs may not like the "energy" the person has, or how they perceive them.
They may not like the pheromones that the person gives off, which dogs pick up by sniffing the person. Dogs who are used to a calm and quiet environment may not like having someone come into their environment and may react to them inappropriately because they may interpret this as a threat or danger.
My Dog Is Getting An Increasingly Dislike Of Roommates?
If it seems like a dog is beginning to increasingly dislike the roommate, it is important to determine why. A possible change in routine or behavior may signal the dog to dislike the person more. If your roommate is constantly in the dog's space and not being respectful or triggering the dog in some way it could cause resentment and dislike in the dog.
It may be important to examine how the roommate treats your dog and how they may be treating them when you are not around if a dog has increasing dislike for them for no apparent reason. It may be something as simple as your roommate has disrupted your dog's life and they do not appreciate it, such as having a schedule that disrupts your dog's routine.
Are Roommates Dangerous To Dogs?
Roommates should not be dangerous to your dog, but an inappropriate roommate can cause many different types of harm. A roommate who is not the right fit can cause unnecessary behaviors and stress for your dog. This could lead to your dog "acting out" which can be problematic for them.
If a dog feels threatened and would act out towards your roommate it can also be increasingly dangerous for your dog because it can cause the dog to be labeled as "aggressive". If you work with your dog and work to find an appropriate roommate, your dog may end up actually benefiting from the additional companionship. However, if you have a roommate that is not a good fit for your dog they may cause harm to your dog.
Can & Do Dogs Destroy Roommates?
A well trained dog should ultimately not cause harm to your roommate, but even the friendliest dog has the potential to become aggressive or reactive if they fear that someone may harm them or their owner. If your dog is properly introduced to your roommate, given time to properly adapt, and introduced to them in a neutral zone, there should not be a risk of them harming them or putting them in a dangerous situation.
It is important to remember that your dog will ultimately be protective of you, so while your dog is getting used to them avoid horseplay and play fighting that could lead the dog to think they are trying to hurt you.
What Best Alternatives To Roommates That Dogs Do Not Hate?
When you have a dog and are considering a roommate, it is important to make sure that roommate is a good fit. Some dogs, however, are just not suited for you to bring another person into their established home. If you find yourself in a situation where you can not have a roommate, it is important to look at what choices you can make to provide the best life for yourself and your dog.
An alternative may be to rent a more affordable place or a smaller place. If you are not able to have a roommate, the best alternative is to find somewhere you can afford with only you paying rent. If you are not adding a roommate, you often do not need the additional space or bedroom and can live somewhere more affordable.
Why Is My Dog Growling At My Roommate?
There are a variety of reasons why dogs may growl. The most important thing to remember about growling is that it is a form of communication, though it is often interpreted as aggression. Dogs that are growling are generally trying to give some kind of warning, such as someone is in their personal space or is doing something that upsets them or makes them uncomfortable.
Since it is a form of communication it is important that you notice that the dog is growling and what may be causing it so that you can correct it quickly to prevent any kind of incident. If your dog is growling at your roommate it is important to figure out why so that you can correct the issue before any harm occurs.
My Dog Bit My Roommate?
If your dog has bit your roommate, it is important to figure out why. You should also assess the damage and figure out what the next steps are. You should check on the person who was bit and make sure that they are OK and help them tend to the wound. If you feel that they need medical help you should help them contact an ambulance and seek medical care.
You should contact your veterinarian and find out any important information and access their medical records. It is important to research what the legal ramifications can be for biting and what it can mean for your dog.
Roommates' Dog Bit Me?
If you are bitten by a dog, the most important thing to do is get appropriate medical care. You should also ask them to contact their veterinarian to find out any concerns and access medical records. It is important to know their rabies vaccine status as it is a primary concern with dog bites. You should make sure that you clean the wound thoroughly using soap and water and stop any bleeding with a cloth.
Once your wound is clean and the bleeding stops you can apply hydrocortisone cream if you have it and apply a bandage until you can see your doctor. It is important to change the bandage regularly and watch for signs of infection, as it is a primary concern with bites.
My Dog Killed My Roommate's Pet (Rabbit, Cat, Guinea Pig, …)
It is important to understand why your dog has killed another animal and if this is a behavior that will continue. You need to understand and accept your liability in this situation but in addition you need to find the root of this behavior and figure out remedies and what the impact may be of your dog killing another animal on its future interactions.
It is important to understand that if your dog kills a small animal unprovoked it is likely that it will do it again. You should make sure that in the future your dog is not around small animals and does not have access to them. In the future, you should make sure that you do not choose a roommate with a small pet that the dog may present a risk to.
How To Introduce My Dog To A Roommate?
When you are introducing your dog to a new roommate, it is important to make sure that they are introduced appropriately to prevent future issues. You should make sure that your dog has time to adjust to the new person and is properly adjusted before they come into the dog's space. You should start your introduction on neutral ground while your dog is on a leash. It is important to watch your dog's body language to make sure they are not becoming anxious or upset. Go as slow as required for your dog, it doesn't all have to happen at once.
What Do You Do If Your Dog Hates Your Roommate?
If your dog hates your roommate, it is important to find out why and see if anything can be done to correct this issue. Some behavioral issues may be easy to correct if you understand the issue and properly address it with a trained professional. If it is not an issue that can be corrected, you should make sure that if your dog has interaction with them it is supervised.
To cause less stress to your dog you should try to remove them from situations where they have to be around your roommate. It is important to teach them appropriate boundaries and respect for your roommate but do not put them in a situation that may be stressful for them and cause them to react.
Why Does My Dog Not Like My Roommate?
Dogs may have a variety of reasons for not liking someone. Often, they may just not be a good match for your roommate's personality. Dogs can often be particular on who they like based on their actions or certain behaviors that they may see in them. Dogs generally pick up on pheromones and they can often use that to determine if they do or do not like someone, which the person would have no control over.
Dogs may often dislike that the roommate is noisy, impact their routine, intrude on their space, or speak to them in a way they do not like. It is important to observe your dog's behavior with your roommate and see what it is about them they seem to dislike.
What Do You Do If Your Dog Doesn't Like Your Roommate?
If your dog seems to dislike your roommate it is important to find out why and see if it is something that can be fixed. Often there may be issues that can be corrected by behavior adjustment or working with a trainer. It is important to work to prevent situations that can upset your dog or cause them to be reactive.
If your dog is around a roommate they do not like, it is important to make sure that they are supervised at all times. If necessary, give your dog some space away from the roommate and make sure they have positive interactions with them.
How Do I Get My Dog To Stop Barking At My Roommate?
If your dog is constantly barking at your roommate, it is important to train them to not do so and help them be comfortable with them. If this is a behavior the dog has already developed it will require you putting time into training them against this behavior using positive reinforcement. You can start by rewarding your dog when they are quiet and train them that the behavior is positive.
You can teach them to go increasing amounts of time without barking and reward them when they do so, this will of course still require you to endure some amount of barking but it should decrease over time. Eventually, when you see the dog is comfortable and calmed down you can start allowing your roommate to give them treats to get them used to them and form a positive bond.
How Do I Get My Dog Used To My Roommate?
Getting your dog used to your roommate is something that may take some time and work. It is important you do not push your dog's limits and try to do it all at once as this can cause adverse results. Make sure they are able to meet in a neutral zone prior to your roommate moving into their space.
Allow your dog to have increased amounts of exposure to your roommate and do not leave them alone without you present until they have become completely comfortable. Allow your dog to meet and become comfortable with your roommate before you push further interaction and observe how your dog reacts. You can reward your dog for good behavior with your roommate by giving them treats and allowing your roommate to give them treats when they are comfortable and calm.
What Is Dog Aggression Conflict?
Dog Aggression Conflict is best described as when a dog shows aggression or aggressive behaviors in order to show dominance. It can be caused by the dog being uncertain about the person or they may feel that they are unpredictable so they attempt to assert their dominance over this person.
It may also be a result of a dog being defensive, as they may feel there is a perceived threat or feel that they may be in trouble. Dogs can also react because they feel that they are being protective over things such as their person or their home. They also may be acting possessively over resources such as water and food.
Do Dogs Change Their Favorite Person?
Dogs generally have one or two people that they form a special bond with and have a connection with but their favorite can change over time. They often form bonds with people based on affection, being given treats, and receiving attention. Dogs can form bonds with additional or different people over time based on the time they invest in them. For example, if a dog is used to someone feeding and walking them every day and values that special time together, this may shift if for some reason someone else takes over this responsibility.
Can Dogs Sense Bad People?
Dogs often get a sense of how they feel about people and that is how they form their bonds. Often, they may receive a bad sense of people or vibe about them and associate them with being a bad person. Dogs use pheromones to gain information about people and develop a sense of them. They also develop a lot of their reactions and interactions based on people's actions so they may determine they are a bad person based on actions they observe.
What Can I Do If My Roommate Hates My Dog?
If you feel that your roommate hates your dog it is important to figure out why and how it can be corrected. Your roommate may hate your dog based on behaviors that can easily be corrected with simple training and some work. Have an open conversation with your roommate about why they do not like your dog and what would make it easier for them to cohabitate.
If your roommate holds negative feelings towards your dog, your dog may pick up on this and then react negatively to them which will further impact the situation.
Can I Call Animal Control On My Roommate?
If you feel that you have a good reason to call Animal Control on your roommate, you have the right to call them. They will look into any case where you think the animal is being neglected and needs to be protected. You can also talk to them if you feel that their dog is aggressive and poses a threat to you, your pet, or other people. The first step before calling Animal Control would be to talk to them and see if this is an issue you can work out without their intervention.
Roommates Dog Has Separation Anxiety
A dog with separation anxiety often can whine and be noisy all day, which may be difficult if you are home and it is your roommate's dog. It is important to try and talk to your roommate and see what can be done to help ease the dog's anxiety, whether it be behavioral training or medication. You can also work to try to build a relationship with the dog so that it can find comfort in you being home as it does with your roommate.
Roommate Leaves Dog Alone All Day
Leaving dogs alone all day can be difficult for the dog as it may lead to them being destructive, not being taken out to use the restroom, or whining and being noisy all day. This can lead to not only the destruction of your home physically (which can lead to expenses and charges in rental situations) but it can be difficult for you to be home while the dog is upset.
It is important to discuss your concerns with the roommate as well as have an upfront agreement about who the responsibilities of the dog fall on so that you are not responsible for the care of your roommate's dog while they are gone and you're home if this is not something you are agreeable to.
My Roommate's Dog And I Bonded More Than I Ever Have With Another Dog?
It may be natural for your roommate's dog to form a bond with you based on many factors not limited to your proximity. If you are home with your roommate's dog often they may form a bond with you because you are the person they see most often. This may be increased even more so if you often give them attention and affection and tend to their basic needs. Dogs are often very aware of who provides their care for them and form a strong bond with that person.
Roommate's Dog Either Dislikes Me Or Is Afraid Of Me?
If you feel your roommate's dog dislikes you or is afraid of you, you can have a conversation with your roommate to see what may lead to this. There may be factors in the dog's history that you are unaware of that may cause them to react in a way that does not make sense to you.
A dog that has been abused or mistreated in a previous home may see something in you that they associate with their abuser and it may make them nervous around you. You should work with your roommate and potentially a trained professional to get to the bottom of their behavior and see what action can be taken to change it.
My Dog Is Afraid Of Roommate But No One Else
If your dog seems to be afraid of the roommate and no one else you should closely examine what may be causing this behavior. Dogs may, at times, dislike someone for seemingly no reason but often there are factors leading to their dislike or distrust.
There may be an incident that occurred between your roommate and your dog that you are not aware of and it is important to make sure that no one is harming your dog when you are not around. It may simply be something that they do or a characteristic that upsets the dog that you can work with your roommate to fix this issue and create a more comfortable environment for everyone.
References
How to Introduce Your Dog To New Roommates
Why Does My Puppy Growl at Strangers?
If a Dog Bites You, Do These 7 Things Now