Dogs groom themselves and it is normal to see them chewing on their paws, legs, base of their tail, etc. However, if the licking is excessive or causing hair loss, there may be an underlying problem. Read on to find possible reasons your dog is licking the base of their tail, and what to do to solve them.
Dog licking base of tail raw?
Dogs show pain and discomfort differently than humans. If your dog is licking and/or chewing himself raw, it is because he is trying to express that he is itchy and miserable. There are several causes of this, but it is best to take your dog to the vet sooner rather than later.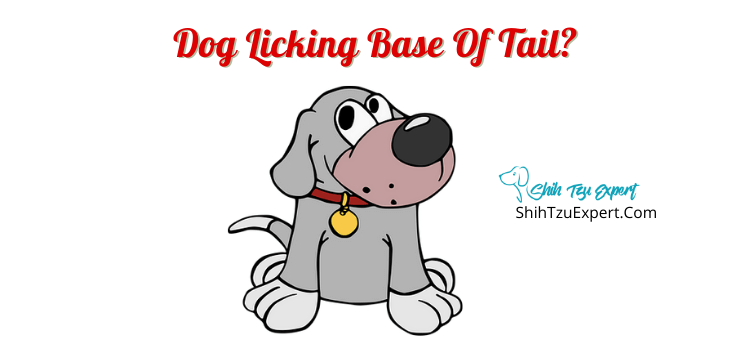 What is normal grooming vs excessive licking?
Normal grooming varies from dog to dog, but you shouldn't notice normal grooming. If your dog is licking the base of their tail a lot, losing hair, or generally seems agitated and uncomfortable, consider taking them to the vet.
Dog licking base of tail at night?
If your dog has a habit of licking themselves before bed, that isn't necessarily something to worry about. It could be that your dog is grooming themselves, soothing themselves before sleep or both. However, if your dog begins to lick the base of their tail more often, or if the behavior develops suddenly, consider taking your dog to the vet to make sure there are no underlying issues.
Dog licking base of tail and bad smell?
If your dogs obsessive licking is accompanied by a bad smell, it is likely a problem with their anal sacs. Dogs have two glands located alongside their anus filled with a terrible smelling fluid.
The purpose of the anal glands is to help dogs mark their territory, but sometimes these glands can get clogged or backed up. Other symptoms of anal gland problems is "scooting" on carpet.
If you suspect anal gland issues, take your dog to the vet. A veterinarian can preform a very common procedure called "anal gland expression."
Don't worry about a huge vet bill or an overnight stay– unless your dog has an infection, this procedure takes only a few minutes and is usually inexpensive.
Dog keeps licking the base of its tail after grooming?
If your dog came back from the groomers frantically licking and chewing on the base of their tail, it is likely allergies. Something that the groomer used (such as shampoo or perfume) irritated your dog's skin. If the groomer used a hair dryer, your dog's skin could also be dry. Ask your vet about giving your dog an antihistamine to help with allergies. If that isn't the cause, it is also possible that your dog found the visit to the groomers traumatic and licking the base of his tail is a stress response.
How to stop a dog from licking the base of the tail?
The best way to stop an undesirable behavior is to figure out why they are doing it. There are lots of reasons your dog could be licking the base of their tail, from infection to fleas to stress. If you want to stop your dog from licking, take them to the vet. They will be able to solve, or at least rule out possible causes.
How do you know if your dog's glands are full?
Dogs have glands on either side of their tail called "anal glands." These glands can get blocked, which can lead to discomfort and infection. Some symptions of blocked anal glands are dogs scooting on the carpet, excessively scratching/licking their anus, and a strong unpleasant smell. If you suspect your dog has an anal gland blockage take them to the vet for an "anal gland expression" which is a relatively quick and inexpensive procedure.
How do you express a dog's glands?
Dogs anal glands are expressed by manually inserting a finger in the dogs anus and pushing on the gland. This must be done by a trained professional– aside from being disgusting, you could seriously injure your dog trying to do it yourself.
Can I express my dog's glands myself?
No. Anal gland expression is best left to the professionals. Most vets offer anal gland expression at a low cost, and they could be able to identify and treat any possible infection. Trying to express a dogs anal glands yourself could lead to seriously injuring your dog.
What can I put on the dog to stop licking?
First, take your dog to the vet to rule out any obvious causes, such as allergies, infection, anal gland problems, etc. If your dog still wont stop licking the base of their tail, consider buying a bittering agent– these topical treatments are harmless to dogs, but have a nasty flavor that discourages them from licking. These are especially good for dogs who lick out of anxiety or stress. However, be sure to have them checked by a vet first. If your dog is licking because they are suffering from allergies, applying a bittering agent to their already inflamed skin will make the problem worse.
How do you treat a dog's raw tail?
Skin problems are really common for dogs. So if you notice that your dog's tail, or any of their skin getting rashy or raw, it's best to take them to the vet before trying to treat it yourself. Most skin problems are treatable if caught early, but can become dangerous if allowed to fester.
What are the symptoms of dogs having worms?
The most obvious symptom of worms is the presence of worms in dogs stool, which often look like grains of rice. Other symptoms of worms in dogs are abdominal pain, swelling, weight loss and vomiting.
How can I soothe my dog's itchy bottom?
There are DIY options for soothing your dogs itchy bottom, such as giving your dog a sanitary trim (which is surprisingly easy to do!) You could also try probiotics, or bathing your dog with products designed to soothe itchy skin. If all else fails, take your dog to the vet to see if their skin issues have an underlying health cause.
15 Reasons Why your dog won't stop licking the base of its tail (and what you can do about them)
-Flea allergy
A flea allergy is a very common cause of itchy dogs, even if they don't have fleas! A flea allergy means that the skin reacts to the flea saliva, so a single bite can leave a dog itchy for up to a week. If you suspect a flea allergy, continue treatment and talk to your vet about antihistamines for your dog
-Environmental Allergy
Just like humans can have allergic reactions to pollen, cleaning products or grass– so can dogs. Some dogs break out in hives, causing them to scratch themselves raw and lick the base of their tail. Ask your vet about antihistamines for your dog, and consider wiping their paws and when coming in from outside to prevent grass allergies.
-Food Allergy
Unlike the two allergies above, food allergies are trickier to treat. Many dogs suffer from food allergies, with symptoms that range from vomiting, weight loss and diarrhea to itchy, inflamed skin. Food allergies can also develop later in life, and can cause itching and bottom licking. Dogs are allergic to the proteins in their food, so consider a hypoallergenic diet and see if that helps with your dog's skin problems.
-Contact Dermatitis
Similar to allergies, contact dermatitis means your dog came into contact with something that irritated their skin, such as lawn pesticides or a new shampoo. Consider bathing the area with soothing, hypoallergenic soap. If it doesn't seem better, take your dog to the vet.
-Anal Gland Issue
Dogs have scent glands on both sides of their anus. Dogs use these to mark their territory, and sometimes they can get blocked or infected. These issues are usually accompanied by a strong unpleasant smell. Luckily a quick trip to the vet can resolve most anal gland issues.
-Hip Dysplasia
Hip Dysplasia is a genetic disease in dogs, which causes the hip joint to grow at uneven rates, and eventually causes joint lameness. If you notice your dog licking their joints, moving slower, and seem to be in pain– they could be suffering from hip dysplasia.
-Internal parasites
Dog wont stop licking its butt? Worms may be to blame. These nasty parasites can cause major problems if left untreated. Luckily there are lots of deworming drugs on the market.
-Hormonal problems
If your dog is licking themselves raw, it could be a symptom of a hormonal imbalance. Other symptoms are thickening of skin, and a patchy, dull coat. Your vet would be able to find the exact issue and treatment.
-Hot Spots
Hot spots are a common dog affliction, especially for dogs with especially thick or heavy coats. The fur will matt and cover an area of skin, allowing bacteria to fester. With no airflow, the lesion can quickly become infected. Hot spots are treated by removing the fur, washing the area and treating it with dog safe antibiotic ointment. If the infection is severe, take your dog to the vet.
-Anxiety
Anxiety is a diagnosis of elimination. If there is no obvious reason for your dog to obsessively lick themselves, it may be an attempt for your dog to self-soothe.
-Grooming
If you took your dog to the groomers recently and noticed they were itching and licking the base of the tail, it could be that the groomer used a product your dog is allergic to. Try bathing your dog in something soothing and hypoallergenic, and ask your groomer to use only hypoallergenic products.
-Boredom
Some dogs will exhibit destructive behaviors due to lack of stimulation. Licking themselves raw could be something your dog is doing because they are bored. If that is the case, the problem can be easily solved by taking your dog on more leashed walks or giving them stimulating toys.
-Skin Infection
Skin infections at the base of the tail can become cyclical–the dog licks the infection, which further irritates the skin and prevents healing. If your vet thinks that your dog has a skin infection, they may prescribe antibiotics and suggest you put a cone your dog until the infection has a chance to heal
-External parasites
Dogs chewing and licking the bottom of their back/base of their tail is often a telltale sign of flea infestation. Other parasites, such as chewing lice, could cause the same reaction. Be sure to regularly treat your dog with flea and tick medication to prevent the creepy crawlies from taking hold.
-Orthopedic issue or injury
Dogs will lick painful joints in an attempt to soothe them. Your dog may be licking the base of their tail because they have arthritis or some other painful condition.
REFERENCES
https://wagwalking.com/daily/5-tricks-and-household-remedies-to-fix-itchy-dog-butt
https://vcahospitals.com/know-your-pet/hip-dysplasia-in-dogs