If you have ever skipped a meal when stressed, you may be surprised that our dogs do the same! Read below to learn about how to reduce your dog's stress while boarded and how to get them to eat while you are away.
Dog Not Eating While Boarding?
During and after boarding, it is common for dogs to be stressed and ignore their food. Encourage eating when boarding by providing wet dog food, treats, and familiar items from home. Give your dog a few days to adjust once coming back home.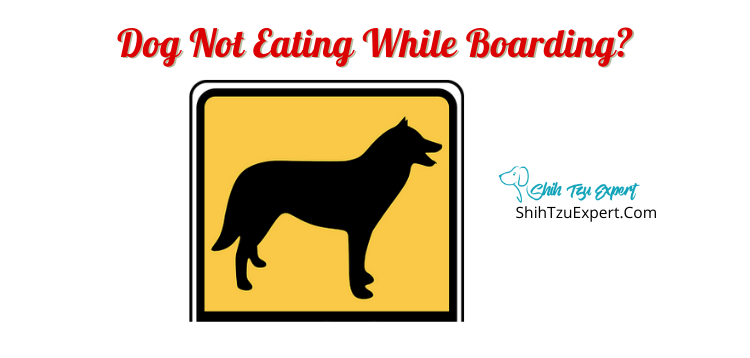 How Do I Get My Dog To Eat More While Being Boarded?
Many dogs get stressed when boarded and won't eat much of their food.
To encourage them to eat more, provide some tasty treats or wet dog food to be added to their meals. Make sure to leave a bag of treats and wet food with the boarding kennel. Simply adding something new to their usual kibble may pique their interest and get them to eat.
Also, bring their food and water bowl to the boarding kennel. The familiar scent can help dogs feel comfortable eating in an unfamiliar place.
Dog Not Eating After Returning From Boarding?
Dogs can undergo a lot of stress when changing environments, which can affect their eating habits. If your dog is not eating after returning from boarding, give them a few days to adjust. Normally, after a few days, your dog is back to normal and eating their food.
As long as they are drinking plenty of water, a day or two without much food won't do any harm.
Why Is My Dog Not Eating While I Am On Vacation?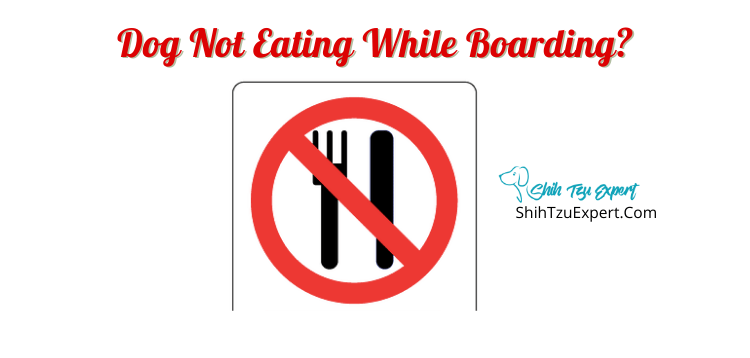 Your dog may not be eating for many reasons such as stress due to your absence and/or stress in a new environment. This is a very common issue for dogs when their owners travel.
Normally, your dog will go back to eating within a few days. To help entice your dog to eat, have the pet sitter or boarding kennel include some wet dog food or dog gravy to their dry kibble if possible.
Dog Not Eating While Traveling?
If you have taken your dog on vacation, you may have noticed their eating habits have changed. If they are not interested in eating, this most likely is due to the stress of traveling and being in a new place. Dogs generally like to eat in familiar places where they are comfortable.
It is still possible to bring your furry friend along for the trip! Here are a few ways to get your dog to eat when traveling together:
Bring their food and water bowl – the familiar scent of their food bowl should help them feel comfortable eating
Add supplements to their food – try dog gravy, wet or canned dog food, small pieces of treats mixed in, or even a few bites of 'human food'.
Keep their routine – Stick to their normal feeding time if possible, though this may not always be feasible when traveling
Is It Normal For Dog Not To Eat After Boarding?
Some dogs may not eat after boarding, and some dogs may eat everything after boarding. Both of these are common issues.
Typically, the issue will resolve itself within a few days and your dog should go back to eating normally. After a few days, if your dog still refuses to eat, you may want to contact your vet to make sure there is nothing else wrong.
How Long Should I Wait If My Dog Isn't Eating?
If your dog is not eating, give them a few days to adjust to their normal routine again. Usually, the first day or two after returning from boarding, your dog may not have much of an appetite. As long as they are drinking plenty of water, they should be fine.
However, if they still will not eat after two or three days, bring them to the vet to get examined. If your dog has any underlying health conditions, is a puppy, or is a senior dog, consider bringing them in sooner.
Do Dogs Not Eat Because They Miss Their Owner?
Unfortunately yes, sometimes our dogs won't eat simply because they miss us.
The stress of being separated from their owners can lead to dogs ignoring their food for a few days. Whether your dog is in a boarding kennel or staying with a friend, make sure to provide some extra tasty dog food and treats for your dog while you are away.
Is 2 Weeks Too Long To Board A Dog?
Boarding your dog for two weeks or longer can be considered a long stay.
What if you need to board your dog for several weeks? In this case, it is suggested to bring them to the boarding kennel once before their long stay. Have them stay a night or two to get more comfortable with the place, that way when they have a longer stay it won't be as stressful.
How Can I Stimulate My Dog's Appetite?
If your dog is not interested in food, here are a few ways to encourage them to eat:
Give a few treats – while too many treats can ruin a dog's appetite if your dog isn't eating then give them a few small treats. Sometimes this can get them interested in eating more. You can even mix in a few dog treats into their food to encourage them!
Add to their dry food – add water, wet dog food, or other dog-safe food toppers to their dry food
Hand-feed your dog – feed your dog by hand for a couple of bites while giving praise
How Do You Know When Your Dog Is Depressed?
Symptoms of depression in dogs include:
Low appetite
Inactivity, laying around, and not playing
Not enjoying activities like usual (e.g. walks, toys, etc.)
Changes in barking or howling
Withdrawing from people or becoming more 'clingy'
Signs of depression in dogs can be from a different illness, so if your dog seems depressed check with your vet.
Will A Dog Forget You After A Week?
Don't worry, your dog will NOT forget you!
Dogs remember their owners for many years. In one case, a dog remembered their owner after a decade of not seeing them. So fret not, your dog will still remember you and welcome you back with lots of tail wagging when you return!
Do All Dogs Act Weird After Being Boarded?
Dogs can act differently after coming back from boarding. They might eat like they are starving, sleep and drink more, have an upset tummy, or want constant cuddles from you. All of these symptoms can be normal upon returning from boarding.
If your dog does not go back to normal within a few days, or if any behaviors or symptoms worsen, contact your vet.
Will My Dog Think I Abandoned Him When I Go On Vacation?
Your dog might feel some anxiety or sadness while you are away, but they should adapt. It's hard to know exactly what dogs think while we are away, but we do know for sure they will be overjoyed when you return!
Can Dogs Get Sick From Boarding?
Dogs can get sick from boarding, though this is not very common. Some symptoms such as lack of appetite, diarrhea, and others may be from the stress of coming from a boarding kennel. However, some illnesses that tend to pop up in boarding kennels include canine influenza or 'kennel cough' (known as bordetella).
If your dog has any concerning symptoms, it is best to bring them to the vet for a check-up. Better safe than sorry!
Dog Traumatized After Boarding
It is rare for dogs to be traumatized after boarding, but they might be stressed and sad from their stay. One way to help prevent a bad experience at a boarding kennel is to do plenty of research before deciding on a place for your dog to stay.
Make sure to visit the premises before booking, make note of how the dogs are treated, and how clean the facilities are. If your dog will be boarded for a week or longer, consider having your dog stay overnight at a boarding facility before your actual trip to familiarize them with the place.
Here are some additional tips to help make your dog have a comfortable stay:
Provide a few of their favorite toys
Bring their bed and a blanket that smells like home
Pack their food and water bowl for the boarding kennel to encourage eating
Include treats and dog food supplements
Overall, do some due diligence on selecting a boarding kennel and provide some familiar items from home to help make them more comfortable during their stay.
Do Dogs Get Depressed After Boarding?
Dogs can get depressed after boarding. More commonly, dogs may show signs such as fatigue and lack of appetite that might be confused for depression.
Once your dog returns home, give them some extra snuggles and spend some quality time with them. Play with them an extra 10 minutes, invite them to cuddle up on the couch with you, and bring out their favorite toys and treats.
After a few days of being back home, your dog should be acting more like their normal self. If any symptoms get worse or are persistent, contact your vet to make sure your dog isn't physically ill.
Why Does My Dog Seem Sad After Boarding?
Dogs can display a wide range of behavior changes after being boarded, such as seeming more tired or sad, eating less, and acting a bit 'different' than usual. Normally these signs go away after a few days of being back at home.
Dogs enjoy a normal routine, and the changes associated with being boarded and then coming back home certainly disrupt this routine. Give your dogs a few days to adjust to their usual schedule and throw some extra cuddles and treats. They should cheer up in no time!
References
https://www.dogster.com/lifestyle/10-ways-to-get-your-dog-eating-when-away-from-home
https://meltonvet.com/blog/is-it-common-for-a-dog-to-get-sick-after-boarding/#:~:text=Nevertheless%2C%20although%20it%20is%20not,most%20well%2Dkept%20boarding%20facilities.
https://www.petmd.com/dog/behavior/can-dogs-get-depressed