Itchy skin is a pain! We know it and your dog knows it too. And just like us, there are so many reasons why your dog is itchy. Come discuss all the causes for itching skin and how to relieve our furry friends from this bother!
Why Do Dogs Scratch Under Their Chin?
There are so many reasons as to why dogs are itchy. Take a good look at your dog and try to determine if it's something like fleas or ticks, or something more serious like a food or environmental allergy! It could even be as easy as a dry spot. Even though an itchy dog can be overwhelming, there are plenty of resolutions to scratch. Try one of the number of all natural ways to relieve your pet. If all else fails, or the itching seems to worsen, contact your vet immediately and they can help you solve the problem!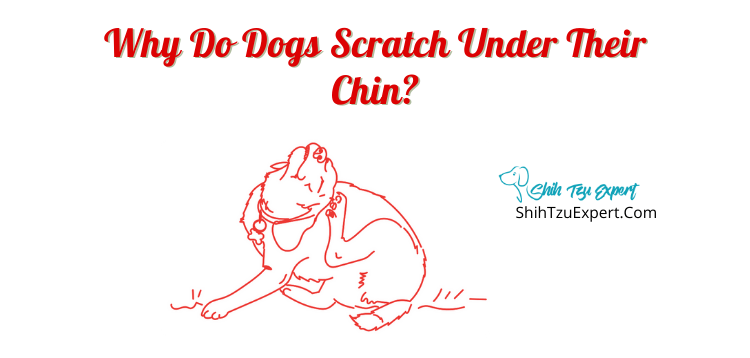 Why Does My Dog Scratch Under Chin Raw?
Pruritis is the term used to describe severe itching of dogs skin. Dogs can suffer from pruritis for several reasons.
Fleas
Food allergies
Environmental allergies
Dry skin
Insect bites
Hormonal imbalance
Anxiety/boredom
For any of these reasons would a dog continue to scratch until raw. It's better to solve the problem before then though.
Dog Scratching Mouth And Licking Paws?
A dog scratching at his/her mouth is a good indication of an environmental or food allergy. It's a telling sign that they've injected something that they're allergic to. Usually something like grass, weeds, bushes, something outside, would cause your dog to scratch their face and lick their paws.
Dog Itching Under Chin And On Neck?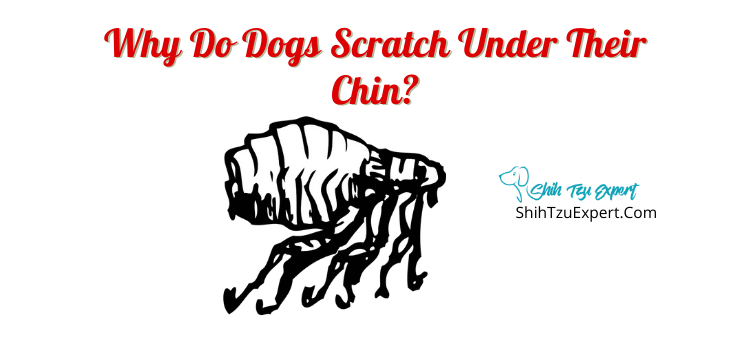 When dogs scratch under their chin or around their necks, they could be suffering from dry skin or fleas. Dry skin may occur around where you have a collar on your dog. The collar, especially if it's too tight, will rub the skin and wear down the fur. This could result in some dry and irritated skin causing your dog to itch that area. It's important to remember to take your dogs collar off every once in a while to make sure this doesn't happen!
Fleas like to go around the neck area too, where the fur is thick and where it's very warm. Check the area and see if you can spot any fleas!
Dog Scratching But No Fleas?
If your dog is scratching their full body, and you've checked and seen no trace of fleas there are a few other things to look at. It could potentially be food allergies. Dogs have many food allergies, most commonly being that to wheat, beef, corn and dairy. Check with your vet to see if that is the answer to their itching. Other possibilities could be dry skin, which often happens in the dry dusty seasons. Itching due to hormonal imbalances is also an option. This particular itching will also come with flaky, discolored skin. They may also begin gaining weight and have a different appetite.
What Are The Best Home Remedies For Dog Scratching?
Home remedies can be a wonderful and easy way to ease your dog of their itchiness. Here are some home remedies you may want to consider.
Oatmeal bath

Oatmeal's baths are typically done with nice warm water. Oatmeal is also great since it's non-toxic, your dog can eat it and there won't be any problems.

Apple cider vinegar

Mixed with water (50% apple cider vinegar, 50% water) in a spray bottle and spray affected area

Coconut oil

Topically or you can mix a small spoonful into dogs food (always consult vet before doing so)

Aloe Vera

Apply directly onto your dogs itchy spots!

Chamomile or green tea soak

Fill up your bathtub with warm water and drop several chamomile or green tea bags into the water. After about 5 minutes take them out and let your dog soak! This is also effective for spot treatments. If your dog has itchy hot spots, soak a tea bag in warm water, then place it on the itchy area for about 5 minutes.

Baking Soda

50% water and 50% baking soda will create a thick paste. Run the paste onto your dogs itchy spots to relive them. For body wide itching, add a tablespoon to their baths.

Hot.cold compresses

We often use hot or cold compresses to find some relief for our own itchy spots. This can also work for your dog!
All of these ideas are great non toxic ways to relieve your pup. However if itching continues or there are other symptoms, consult your vet immediately.
Why Do Dogs Like To Be Scratched Under The Chin?
Under the chin is the most vulnerable spot for most animals. And although it's vulnerable, it's not harmful therefore being the best spot you can scratch a dog. It is vulnerable in the sense that it is an exposed area and scratching it forms a good bond between you and the dog since they know they can't be harmed. It is extremely rewarding to feel vulnerable and secure at the same time, for both humans and animals.
Why Does My Dog Have Scabs Under Its Chin?
Scabs under a dogs skin could be a multitude of things. The most likely thing it could be would be dog acne, or folliculitis. Folliculitis is described as an inflammation of a hair follicle and would be the culprit for scab on your dogs face and chin.
You may also want to check the rest of your dogs body and see if you find other scabs. Scabs can also indicate a food allergy or dry skin.
How Do You Stop A Dog's Chin From Itching?
To stop a dogs chin from itching you must first figure out the source or the cause of the itch. If you suspect it's a food related itch, talk to your vet and switch up the food you give your dog.
How Can I Soothe My Dog's Itchy Skin?
Soothing itchy skin can be as easy as an oatmeal bath! Or wiping the area with a mixture of apple cider vinegar and water or coconut oil! Sometimes though, if your dog has an extreme rash, other actions must be taken. Talk to your vet about what may be necessary for healing your dog. Sometimes they may prescribe something more powerful to zap an allergy. Other times you may need to get an over the counter hydrocortisone cream.
Can I Give My Dog Benadryl For Itching?
Benadryl is a fine and effective way of getting rid of itching for dogs. Ask your vet before giving your dog anything and make sure you give the correct dosage.
The important dosage is extremely important. Benadryl overdose is easier to happen than you think. A benadryl overdose can look like:
Severe lethargy
Abnormal heart rate
Abnormal blood pressure
Won't eat
Excessive drooling
Vomiting
Diarrhea
Seizures
Trouble breathing
If left untreated, a benadryl overdose can result in death.
Can I Use An Anti Itch Cream On Under My Dog's Chin? 
If you are using an anti-itch cream make sure your dog cannot lick the area. Your dog could get very sick. If the spot on their chin is an area where they can't lick, then you should be fine to put the cream there.
References
https://www.thesprucepets.com/home-remedies-for-itchy-dogs-4177184
https://www.healthyskin4dogs.com/blog/2015/5/11/why-is-my-dog-rubbing-its-face-and-licking-its-paws-why-is-my-dog-scratching-all-the-time