Why Do Dogs Scratch In The Morning?
If you regularly wake up in the morning to the sound of your dog scratching itself, it could be a sign that something is amiss.
Itching in the morning may indicate that your dog has an allergy to bedding or environmental factors or a lack of good circulation.
Why Do Dogs Scratch In The Morning?
Dogs can scratch in the morning for a lot of reasons. More than likely, they are allergic to their bedding or they have poor circulation after not moving for a long period of time. Determining the cause of the itching can help prevent scratching.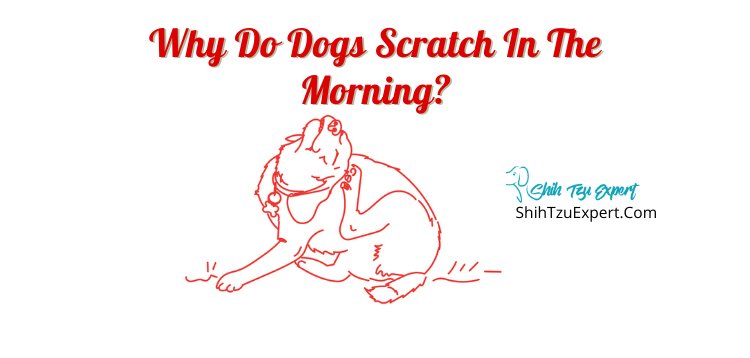 Why Is My Dog Constantly Scratching And Biting Itself In The Morning?
There could be several reasons why your dog is constantly biting and scratching itself first thing in the morning. Similarly to when we wake up in the middle of the night with one of our limbs numb or tingling from a lack of circulation, dogs also feel this phenomenon.
When they wake up, the tingling from this lack of circulation can cause them to itch or bite a paw or leg to try and return feeling to their limb.
Or, it could be that your dog is suffering from allergies from its bedding. If the bed hasn't been washed recently, it may contain a buildup of contaminants that agitate your dog's skin and makes them itchy.
Why Is My Dog Scratch More In The Morning That At Any Other Time?
You may be tempted to wonder why the morning seems to be the time of day that your dog is consistently itchy and scratching at itself. If your dog is scratching itself in the morning more than any other time of day, it is likely that their bedding is the cause of their itchiness.
If your dog spends all night asleep on a bed that's filled with skin irritants, when they wake up in the morning and get off the bed, they will scratch and bite at their own bodies. This is an indication that you should change or wash their bedding.
Always consult with your veterinarian before you change detergents when washing dog bedding or trying to help them with their itchy skin.
Does The Dog's Bed Or The Sleeping Surface Make Him Itch More In The Morning?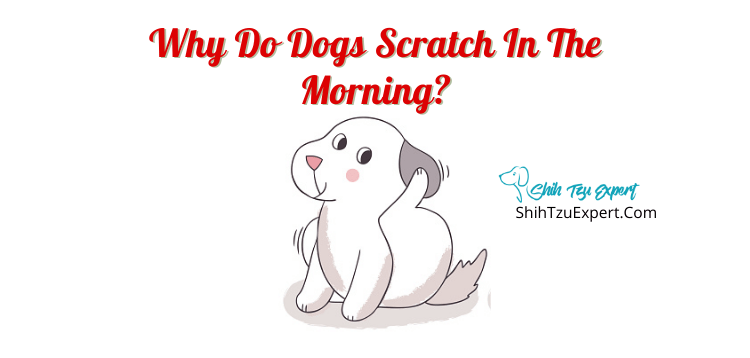 Whenever a dog is intensely scratching, the hardest part is figuring out what exactly is causing it. Dogs can't exactly speak their minds and tell us what is making them itch.
In order to figure out if the dog's bedding or sleeping surface is making them itch more, you may need to do a process of trial and error. Try washing the dog's bedding or buying them a new bed. Let them sleep on this different bed and see if the dog stops itching as much.
If that doesn't work, then you may need to see if the surface that the dog is sleeping on is the problem. Try to let your dog sleep in a different type of flooring in your house, or giving them a new bed to sleep on.
It could be that a hard surface is preventing proper circulation and making your dog's limbs fall asleep while they're asleep, which is making them itchy when they wake up.
Is My Dog Scratching Out Of Habit?
If you've tried to change the sleeping surface and bedding for your dog and yet they are still scratching, it could be that your dog is scratching out of habit. Their skin may look perfectly healthy and they could still be scratching a lot.
Some dogs manifest behavioral disorders through scratching.
Just like humans, some dogs have obsessive-compulsive disorder or anxiety. While this isn't as common as allergies, it can result in chronic scratching or licking their bodies.
Your vet will want to do a skin and allergy check before diagnosing with anxiety or a behavioral disorder. If these tests are inconclusive they may prescribe medication that will help with the behavior disorder and calm your dog down.
How To Help My Dog With Itchy Skin?
Unfortunately, before you can help your dog feel better when they have itchy skin is to first diagnose the issue. Once you have figured out what is making them itchy, then you can help them.
If they have allergies to environmental factors, like humans, they may need to take allergy medication.
If they are suffering from a behavioral disorder, a vet may give anxiety medication or ask that you try and increase the exercise and activity levels of your dog. As your dog gets more exercise and is able to release more energy, their scratching may lessen or go away completely.
You may need to buy your dog new bedding using different materials, or try washing their bedding with sensitive detergent.
Dog Itchy Won't Sleep At Night?
Sometimes, your dog isn't itchy in the morning, but they can be extremely itchy all through the night. This can be even more bothersome than when your dog is itchy in the morning.
If your dog is scratching throughout the night, it may keep you from sleeping. This can make you grumpy and tired and resentful of your dog.
To help with this, you need to work during the daytime to prevent your dog from being itchy. Ask your vet to do a skin test and work with the vet to diagnose what is making your dog itchy. Then, follow their instructions to make sure that you're working to decrease their overall itchiness.
Another easy fix is to remove your dog's collar at night so when they scratch it makes less noise and doesn't wake you up.
Why Does My Dog Keep Scratching Under His Chin?
If your dog keeps scratching under his chin or in another certain spot, it may be possible that they have a rash, insect bite, or specific irritation in that area.
When your dog continues to scratch at this area, it can make any irritation worse and cause possible infection if your dog breaks the skin. It is hard to keep a dog from scratching an area that is already itchy.
You may need to use a cone to prevent the dog from being able to reach the area if it's near the face, such as the chin.
You should look at the area that your dog is scratching all the time. Examine it to see if you can spot any small bites, which could be fleas. Look around the area for any visible bugs in the fur.
If you have a flea comb, gently run the tool through the itchy area to confirm there aren't any fleas on the dog. If your dog has fleas, you need to act quickly to start the extermination of the fleas.
You will need to apply topical medication for the fleas and also treat your house to kill the possible flea eggs that are in your house. Wash all kinds of bedding, including your own and then regularly flea comb all your pets to make sure that the fleas are gone.
Even after all the fleas have been removed, your dog still may be itchy from the bites for a few days or until they heal.
Your dog may simply have allergies to food or environmental factors. You may need to change what kind of food they're eating and increase their liquid intake.
Dog Scratching But No Fleas?
If your dog is scratching and you have combed them and found no fleas, you should look to see if your dog has any other insect bites and observe their behavior. It is possible that your dog could also have a tick that is embedded in its skin.
Examine the skin around the area that your dog is constantly itching. You will need to separate the fur to be able to see the skin. Feel for raised areas of skin.
If you feel a raised bump, look at the skin. A tick may lodge itself into the skin and look like a mole or skin tag.
If your dog has a tick in its skin, you need to remove it. Use tweezers to grab onto the tick and then pull it away from the skin carefully so that you don't break the tick.
You may need to take the dog to the vet in order to have the tick properly removed so that it doesn't get infected or further irritated.
Dog Keeps Scratching Neck?
Sometimes dogs will be scratching their neck and it seems like they will never stop. There could be many reasons for this.
One of the more obvious reasons they may be scratching their neck is due to their collar. They could be irritated by the material of their collar or have some kind of skin infection under where their collar typically sits.
If you remove their collar and they continue to itch, try giving them a bath with a cleansing and gentle soap as recommended by a veterinarian.
Some dogs have a lot of fur around their neck, and can be prone to skin infections. If your dog has a flufly neck, after they go swimming in any natural body of water, make sure to give them a bath and make sure their neck fur gets properly dried off.
Dog Scratching Ear Until It Bleeds?
When a dog goes to scratch itself, their claws can be very sharp. When they scratch delicate parts of their bodies, like their ears or eyes, it can be easy for them to break the skin and hurt themselves.
You may notice that your dog is itchy his ears alot. If this is the case, it may mean that your dog has ear mites. Ear mites are parasites that can live in dogs' ears and feed off the wax inside of them.
But what do you do if your dog is itching its ears so much that they start to bleed?
This could mean that your dog has ruptured a blood vessel in its ear, which is why it is bleeding.
If your dog is scratching his ears so much that it bleeds, you'll need to find the root of the cause and then treat that cause. First, make sure you stop the bleeding and then clean the area. Look for obvious dirt or infection and take your dog to the vet.
The vet will prescribe ear drops or other medication based on what they think is the cause of the itch. When you administer the ear drops, make sure not to touch the dropper to the inside of the ear to prevent the spread of bacteria.
References
https://www.petmd.com/dog/emergency/common-emergencies/e_dg_scratching
https://www.vets-now.com/pet-care-advice/dog-constantly-scratching/
Relieving Your Dog's Itchy Ears: Everything You Need to Know