Does your dog wake you up at odd hours for food? Does it beg for food like it's hungry? How do you know you're feeding your dog at the right time? Here you'll learn when to feed your pet and how to make sure they're eating on a healthy schedule.
Dog Wants Dinner Early?
If your dog wants dinner early, it could be because it is hungry, but more likely it is anticipating food or begging for it. When feeding your dog, it's best to keep to a loose schedule and feed at a time that works best for you and your dog. Try to feed twice a day and avoid too many snacks and table scraps. This will help your dog maintain a healthy appetite.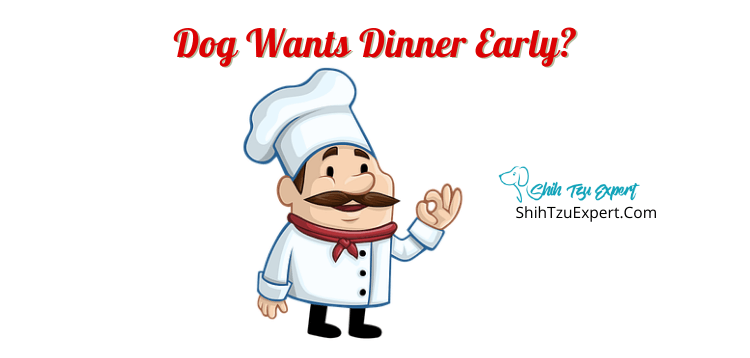 Is It Normal For My Dog To Want To Have Dinner Early?
For some dogs, it's normal to want food early or to want extra food. Dogs learn routines and when they learn the regular feeding schedule, they will begin to anticipate food. If the dog gets excited or active, it could get hungry sooner and want to eat early.
Is It A Good Idea To Given Dinner Early?
If you think your dog is hungry and needs to eat early, consider feeding it earlier. Keep in mind, however, that doing this could reinforce negative behavior. If your dog learns that acting hungry gets it fed earlier, then it will continue to act hungry earlier in the day.
Don't reward your dog for begging by feeding it treats or extra food, it's better to stick to the established feeding time. During feeding, consider feeding a little later and a little earlier on occasion and not always on the dot. By mixing it up, your dog will learn that there is a window of time for food, but no specific time to anticipate.
Without the anticipation, your dog will be less likely to beg for food or act like it's hungry. It will also give you and the dog more peace of mind when life causes you to drift from the normal routine, or during a time change.
Is 4 Pm Too Early To Feed A Dog Its Dinner?
4 pm is not necessarily too early. A good rule is to leave 6 – 12 hours between feeding times. If you feed your dog early in the morning, 4 pm is not too early.
Why Does My Dog Want To Eat So Early?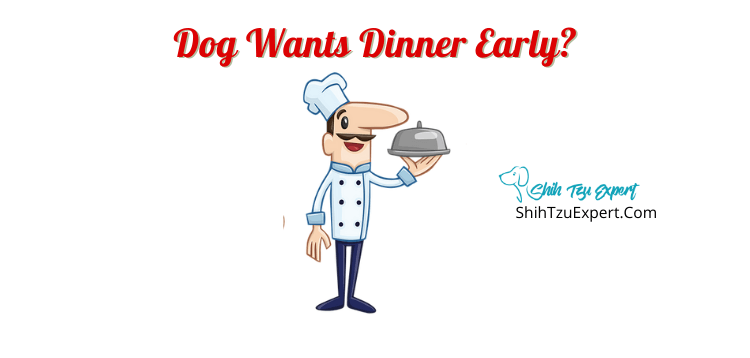 Your dog is probably anticipating food. You can change this behavior by choosing a window of time (eg. 4 pm – 7 pm) and feeding your dog any time within that range.
This can train it to anticipate less and not act like it wants to eat early all the time.
If you feed your dog snacks outside of mealtime, this could be another reason it wants to eat early. If it expects food at any time of the day, it may ask for food early, knowing that you may reward its behavior by giving it something to eat.
Why Does My Dog Eat At 4Am?
Most likely because you allow it to eat that early. Maybe it's learned that if it begs, no matter what time of the day, it will get food. If it only gets one meal a day and that meal is given in the morning, it may be genuinely hungry.
Make sure you're not feeding your dog snacks throughout the day and that there are set ranges of time for it to eat. Feed your dog twice a day to help curb hunger.
Health problems could also be a reason your dog wants to eat early. If this behavior is not normal and you're concerned about health, take your dog to the vet to rule out any problems it might have.
Should I Decrease Meal Quantity If I Am Feeding My Dog Early?
If your dog will eat the entire meal early, then there's no need to decrease the quantity. This will ensure they get all the nutrients they need to last them through the day.
If your dog does not have an appetite for the whole meal early in the morning, start by only feeding half of the portion and increasing it over time.
What Is The Ideal Time For Dogs To Eat Dinner?
The ideal time depends on when you feed your dog breakfast and what your routine is. It's always good to feed a dog when you're free to take them out to defecate and at a time that fits with your work schedule.
Why Does My Dog Eat At Midnight?
Environment or acquired behavior could be the reason your dog prefers to eat at night.
If you've been in the habit of feeding it at night, your dog could have learned to eat at night, even if it's late. Your dog may also be more active at night after expelling energy and resting during the day.
Some dogs are even more comfortable and less anxious at night because there is less activity going on around them. A quiet night could be the ideal time for them to enjoy a meal in peace.
Why Does My Dog Want To Eat All Day?
Your dog may be using a lot of energy throughout the day which naturally leads to more hunger. Maybe your dog is not really hungry but has learned that it receives extra food when it begs.
If it's a dog that loves food (as most do), this is more likely the case.
Ask yourself if you're giving away too many table scraps or treats, or if your dog is just a busy dog and might need more calories. You can also ask a vet to help you figure out the reason as it could be related to health problems.
Is It Better To Feed Your Dog Early Or Late?
It depends on what schedule works the best for you and what your dog prefers. Ideally, you should feed it twice a day, but you can feed once a day if necessary.
When feeding twice a day, try to aim for about 8 – 10 hours between meals whether you are feeding at earlier hours or late hours. If you feed a little earlier or a little later on any day, your dog will be fine as long as it gets its food.
Is It Bad To Feed Dogs Before Bed?
It's best not to feed a dog before bed. When they sleep with food in their stomach, they will store it as fat which leads to obesity. This will also cause them to store more energy during the night and they'll likely have to get up to urinate or defecate.
How Long Should A Dog Go Between Meals?
Any time between 6 – 12 hours after a meal is okay. Ideally, keep it more towards 8 – 12 hours. This will ensure that they are getting the nutrients they need throughout the day while not getting too hungry.
Is It Cruel To Feed A Dog Once A Day?
It is not cruel to feed a dog once a day, but it is not ideal. If you can help it, it's best to feed your dog twice a day. This ensures that his nutrient consumption is more evenly spread out which will make it healthier and happier.
It's also important to realize that after 8 – 12 hours, a dog begins to feel hungry as most of their food has passed through their digestive tract at this point.
Do Dogs Whine When They Are Hungry?
Yes, dogs may whine when they're hungry. Dogs can whine for many different reasons, however, so you should be familiar with your dog's normal behavior around mealtime.
If something is different in your dog's behavior, take it to see a veterinarian. If it's normal behavior, your dog is probably expecting food and whines in anticipation. If your dog begs for food, this could be one of the ways it begs.
How To Stop Dog Whining For Food?
To stop your dog from whining for food, you can make sure they're getting fed well and learn not to beg. These are some things you can do:
Feed them before you eat yourself
Give them something to pre-occupy them while you eat
Ignore them when they whine and don't give them any food when they do. It might be difficult at first, but it really is for their benefit and better health. Eventually, they will learn that whining doesn't work anymore and they will stop
Don't feed them other than at specific meal times
Try to vary their feeding time slightly every day so that they're not waiting for that "on the dot" time for food. Then they will anticipate less
Feed them nutritious food so that they won't feel as hungry
How To Stop My Dog From Begging For food Before It's Time To Eat?
Most of the above. Don't feed table scraps, your food, or treats.
Dog Feeding Schedule By Age
For a mature dog, feeding twice a day is recommended. You can feed them at whatever times of the day work best for you and them.
For puppies, nursing or pregnant mothers, and working dogs or dogs using more than normal amounts of energy, feeding 3 times a day is ideal. Aim to keep about 6 hours between each meal.
How To Change Dog Feeding Schedule?
Do it gradually. Start moving closer to the new time by about 15 minutes at a time. If your dog will not eat the whole portion, start by giving half the portion at the new time and half the portion at the old time. Gradually change it until you've reached the new schedule.
Is It Better To Feed Dog Early Or Late?
It depends on your schedule and the dog's schedule. Feed at the times that work best for you and your dog.
The important thing is to make sure you're not feeding very early in the morning or very late at night if you don't want your dog to wake you up for food or a potty break.
What Time Should I Feed My Dog Twice A Day?
Feed your dog morning and evening, 8 – 12 hours apart. Feed at the time that works best for you, usually in the morning before you go out with your dog and leave for work, and again after work right before you take the dog out.
Just be sure to not feed less than 3 hours before bedtime or your dog may become too energetic during the night or even gain weight.
Should I Take My Dogs Food Away If He Doesn't Eat It?
Leave the food out for a few hours and if the dog doesn't eat it, take it away and offer it again later. This will keep the dog from developing a grazing habit that can lead to the expectation of free access to food and begging.
What Time Do Dogs Go To Bed?
Dogs usually sleep at the same time their humans do but remain more alert during their sleep and more prone to waking up frequently.
Some dogs may sleep late and others may get up early, implying that some may prefer to go to bed later and others prefer to go to bed earlier.
Simply put, dogs are much like humans when they go to bed. Some prefer to stay up late and some prefer to get up early.
Why Is My Dog Not Eating His Food But Will Eat Treats?
A dog who is picky or full may choose not to eat its food, but who can resist treats?
If your dog is used to eating treats and scraps or anything you feed it, it may develop a taste for the treats and start to think the regular food is boring.
Your dog could also be full from the treats and table scraps. When a dog is full, it may not have an appetite for normal food, but treats and human food are hard to ignore
If you've switched to a new food, it could be that your dog is just picky and does not like the new kind of food. If your dog doesn't like its new food, you can experiment with a different kind, or try to mix something appetizing into the food.
References
Aaron, M. (2021, July 20). Is it bad to feed a dog late at night? (eating before bed not ok!). DoggySaurus. Retrieved January 4, 2022, from https://doggysaurus.com/is-it-bad-to-feed-dog-late-at-night/
Dan, A. (2021, June 10). Why does my dog eat only at night? Pet Dog Owner. Retrieved January 4, 2022, from https://petdogowner.com/why-does-my-dog-eat-only-at-night/
DiGiacomo, R. (2020, February 19). Should I let my dog sleep late every day? American Kennel Club. Retrieved January 4, 2022, from https://www.akc.org/expert-advice/health/why-do-dogs-sleep-so-much/
Editorial, P. M. D. (2017, September 29). 7 interesting facts about your dog's digestive system. PetMD. Retrieved January 5, 2022, from https://www.petmd.com/dog/nutrition/7-interesting-facts-about-your-dogs-digestive-system
Fratt, K. (n.d.). Help! My Dogs Beg For Breakfast Before Dawn! Journey Dog Training. Retrieved January 4, 2022, from https://journeydogtraining.com/help-my-dogs-beg-for-breakfast-before-dawn/
Gibeault, S. (2019, November 22). Should I let my dog sleep with me? American Kennel Club. Retrieved January 4, 2022, from https://www.akc.org/expert-advice/lifestyle/should-my-dog-sleep-with-me/
Gordon, A. (2013, September 27). The dogs dinner – how feeding dogs routines can affect the behaviour of dogs. – holidays4dogs – home boarding for dogs . Holidays4Dogs. Retrieved January 5, 2022, from https://www.holidays4dogs.co.uk/the-dogs-dinner-how-feeding-routines-can-affect-the-behaviour-of-dogs/
Kerns, N. (2020, January 8). Feeding time: On the Dot, or not? Whole Dog Journal. Retrieved January 4, 2022, from https://www.whole-dog-journal.com/blog/feeding-time-on-the-dot-or-not/
Llera, R., & Downing, R. (n.d.). Feeding Times and frequency for your dog. vca_corporate. Retrieved January 4, 2022, from https://vcahospitals.com/know-your-pet/feeding-times-and-frequency-for-your-dog
Mitchell, S. C. (2022, January 6). How many hours does a dog sleep in a day? PetMD. Retrieved January 5, 2022, from https://www.petmd.com/dog/general-health/how-many-hours-does-dog-sleep-day
Wag. (2021, November 8). Whine doesn't pay: Curb your dog's begging behavior. Wag! Retrieved January 4, 2022, from https://wagwalking.com/wellness/whine-doesnt-pay-curb-your-dogs-begging-behavior
Why does my dog only eat at night? is this healthy? Dogdorable. (n.d.). Retrieved January 4, 2022, from https://dogdorable.com/why-does-my-dog-only-eat-at-night/