Having a new puppy can be an exhilarating time. But there are things you need to know about your new pup's belly health. This article will give you a look into what a healthy belly means and what signs to watch for health issues.
Why is my Puppy's Belly so fat?
There are many reasons that your puppy may have a fat belly. First, and the most common, is that your puppy's belly is just full. Puppy's do not know how much food is too much just yet. So, their stomachs may become bloated or extended after a big meal. Secondly, if the puppy's stomach has not descended, then you may be looking at parasites. When puppies are first born, they are susceptible to more parasites than when they get older. One of the primary symptoms of worms in a puppy is a swollen belly, so it's essential to keep a close eye on your pup.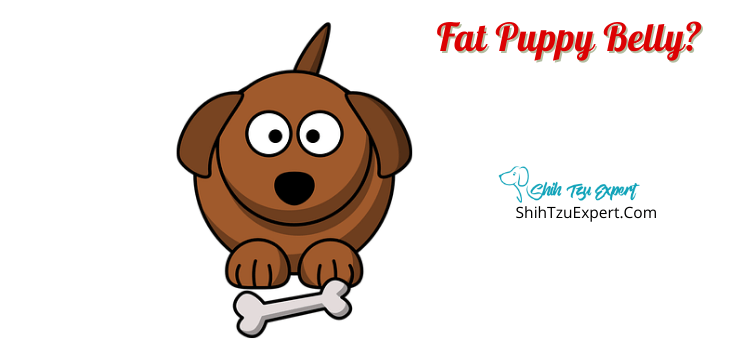 How Big Is A Puppy's Stomach?
Every breed of puppy is going to have a different-sized belly. Puppies, in general, are very round as their bodies are learning to break down foods and liquids. Because of the small size of a puppy's body, it is entirely normal for them to look bloated or a little extra chubby after a meal or big drink. Remember that a puppy's belly will feel soft and offer no resistance when you press a finger into their belly.
Are Puppies Supposed To Have Fat Round Bellies [Is It Normal]?
Absolutely! A puppy has a tiny body, and its organs are all settling into place. As a result, their bodies are processing food slowly, and even a big drink of water can cause bloating. Also, don't forget about the age-old 'baby fat' that comes with every pup when they are firstborn.
What Should A Normal Puppy Belly Look Like?
A puppy's belly should be round and have a little pudge. When you touch it, there should be no resistance or hardness. Even when full, the belly should be soft and squishy. You can also check to see if your puppy's belly is hollow by giving it a little tap and listening in. If your puppy is just full, then the sound will not be hollow.
Normal Puppy Belly Vs. Bloated/Fat/Chubby.
When your puppy is just full of water or food, then the puppy will have a nice squishy belly when pressed. However, if your puppy has bloating or inflammation, then the belly will be harder when pressed. It may even feel hollow. That will be the most significant difference when feeling a puppy's belly. Is it soft and squishy? Or, is it hard and hollow?
Puppy Size Chart:
| | | | | | |
| --- | --- | --- | --- | --- | --- |
| Dog's Age | Toy Size Breed | Small Size Breed | Medium Size Breed | Large Size Breed | Giant Size Breed |
| 0-2 months | 6 oz. | 8 oz. | 10 oz. | 16 oz. | 24 oz. |
| 2-4 months | 2 lb. 4oz | 3 lbs. | 7 lbs. | 18 lbs. | 22 lbs. |
| 4-6 months | 4 lb. 2 oz. | 9 lbs. | 21 lbs. | 38 lbs. | 55 lbs. |
| 6-8 months | 5 lb. 8 oz. | 13 lbs. | 30 lbs. | 55 lbs. | 85 lbs. |
| 8-12 months | 6 lb. 8 oz. | 15 lbs. | 35 lbs. | 62 lbs. | 100 lbs. |
| 12-18 months | | 17 lbs. | 38 lbs. | 70 lbs. | 130 lbs. |
| 18-24 months | | | | 75 lbs. | 145 lbs. |
| 24 months + | | | | | 150 lbs. |
It is entirely normal for a puppy's belly to be larger after eating. When a puppy eats, the bloat occurs because there are gases trapped inside the stomach area. When this happens, it can restrict the normal digestion, taking longer for the bloating to go down. Puppies are new to the world and need time for their bodies to get used to breaking down and digesting food.
Does A Bloated Belly On A Puppy Mean Worms?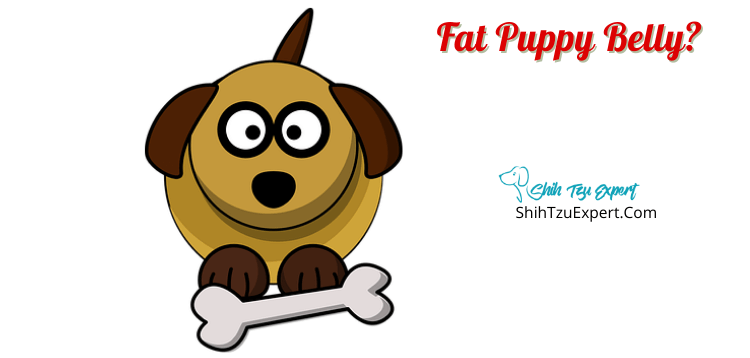 A bloated belly does not immediately mean worms. Still, you can not rule out if your puppy shows signs of discomfort, pain, loss of appetite, and soft or bloody stools. In addition, even though there is a distended belly, the puppy may lose weight and luster on the fur.
How Do You Know If My Puppy Has Worms?
Particular signs will let you know that your puppy might be suffering from parasites or worms.
If you notice the following symptoms be in contact with your vet immediately:
Visible worms or eggs in the puppy's stool.
Visible worms or eggs in the fur around your puppy's anus.
Scratching, rubbing, or dragging the rear on the ground/floor.
Visible worms in your puppy's vomit.
Bloated stomach or belly.
Weakness decreased appetite.
Weight loss.
Diarrhea with blood.
Why Is My Puppy's Stomach Hard On One Side?
There are four reasons that your puppy's belly has hardness accompanied by bloating. First, making yourself familiar with the symptoms of stomach issues in puppies can help prevent serious injury.
The first issue that would cause a hardened belly is called Gastric Dilation Volvulus, also known as GDV. If this is left untreated, it can easily result in the death of the puppy. GDV happens when the stomach is bloated and rotates inside the puppy. Unfortunately, the only way to treat GDV is to get to the vet immediately.
These are things to watch for that have been linked to increased risk of GDV:
If a puppy eats too fast.
If a puppy is not eating balanced meals more than once a day.
Using a lifted water or food bowl
The puppy's breed, weight, and age can all be factors as well.
The second is Peritonitis, which is a severe infection that a rupture or puncture has caused. These ruptures or punctures are a direct result of ulcers, a splinter from bones, and tumors. If your puppy is suffering from Peritonitis, the symptoms will include pain, a hard abdomen, vomiting, and an unwillingness to move. In addition, surgery will be needed to fix the ruptures or punctures inside.
The third is Cushing's Syndrome, which is caused by excessive production of a hormone called Cortisol. Beyond the hardened belly, your puppy may have the following symptoms, excessive eating, more frequent urination, loss of hair, increased drinking, and excessive panting. There is a new medication that helps with these symptoms, so surgery may not be needed.
The final reason your puppy's belly is hardened is called Ascites. It happens when there is a fluid buildup in the puppy's abdomen. The fluid in the abdomen causes inflammation. There are many treatments for Ascites because of the number of reasons that may be causing it, which include liver failure, kidney issues, heart failure, and intestinal disease.
2 Weeks Old Puppy Has A Swollen Belly?
As mentioned above, the most common reason for a puppy's belly to be swollen is from overeating or drinking too much water. In addition, the gases created by the belly make it hard for puppies to digest their food. So they can have bloated bellies for a while their system learns to digest the food.
Why Is My Puppy's Tummy So Warm?
Their bellies tend to be very warm because of a puppy's lack of fur in the first weeks of life. Fur acts as insulation, keeping warm in and cold out. So when there is less or no fur, you are feeding your puppy's skin without any barrier stopping you from feeling their genuine warmth.
How Do You Get Rid Of Puppy Bloat?
If puppy bloat has lasted too long, you want to contact your vet. If needed, the vet will be able to decompress your puppy's belly by passing a tube through the throat to release the gases causing the bloat.
What If I Accidentally Overfed My Puppy?
If you overfeed your puppy, there are several things that can happen medically:
The puppy's digestive system can become irritated.
The puppy can gain an unhealthy amount of weight.
It can affect the puppy's skeletal and joint development.
If your puppy becomes obese, it can cause hip dysplasia because they carry more weight than their frames can handle.
Can Puppy Bloat Go Away On Its Own?
If your puppy is experiencing simple bloating from food or water, it may resolve itself independently. The bloat can last for a few hours up to a few days. If you would like to assist your puppy's bloated belly, there are a few things you can try:
Probiotics and Prebiotics
Change in food being given
Slow down the fast eating
Massage your puppy's belly to relieve the gas.
Light exercise, maybe a short walk.
How Do I Know If My Puppy Is Gaining Too Much Weight?
When looking at your puppy, you should be able to see a waistline. If you can't feel your puppy's ribs, then it may be overeating. In short, if you can't see a waist, but you see a rounded figure, and if you can't feel your puppy's ribs, then your puppy is probably overeating. Healthy guidelines with eating and light exercise will help keep your puppy's weight down.
Do Puppies Get Fat Before They Grow?
Puppy's generally double in size at week 2-3 after birth and continue to increase size by 5%-10% each week. They are plump as babies, but they will begin to properly hold their weight as they start to grow. A small breed puppy may only grow in ounces, but a larger breed puppy may grow in pounds each week.
How Do You Know If Your Puppy Is Too Fat?
You can quickly tell if your puppy is too fat by looking at your puppy from above. When looking at your puppy, there should be a distinguished waistline. If your puppy looks more round or oval-shaped, then your puppy may be too fat.
What Is Meant By Puppy Fat?
Puppy fat is the fatty tissue on a puppy's body while they are young, but it disappears when they grow older in age, taller in height, and longer in length. It is basically the equivalent of baby fat for humans.
At What Age Does Puppy Fat Go Away?
Every puppy breed is going to vary. However, you will start to see less baby fat around 5-6 months in most breeds. At this point, the puppy's ribs should be visible.
Why Has My Puppy Suddenly Gotten So Fat?
Dogs are food-motivated animals, and puppies don't always know when enough food is enough. Puppies will eat and not realize that they are full. They may even beg for food right after eating. Because of overeating or overfeeding, the puppy will get fat pretty quickly. Because it is harder for them to digest in the first weeks of life, the weight can pack on pretty quickly.
How to Treat a Fat Puppy Belly?
There are 4 easy steps to treating your puppy's belly:
First, you can check your puppy's stool for worms or eggs of any kind. Make sure to collect a sample for your puppy's vet visit.
Second, you need to contact your vet to get a diagnosis. They will most likely ask you for a stool sample to be checked for parasites/worms.
Your vet is going to prescribe deworming if necessary. Usually, a medication that your puppy will need to ingest for a few days depends on the infestation severity.
Maintain a better diet for your puppy to help avoid worms/parasites in the future. Veggies like carrots and fruits like coconut will do wonders for your puppy's digestive system to prevent worms. Pumpkin is also a great compound to paralyze worms and clears them out of the intestine walls.
What Can Cause A Fat Puppy Belly?
Bloat is the most common cause of a fat puppy belly.
Peritonitis is an infection caused by puncture or ruptures.
Hemoabdomen is when there is blood in the abdomen cavity.
Urinary Tract Damage can cause painful urination, like a UTI.
Overeating is a leading cause of a fat puppy belly.
Worms/parasites can easily be treated with the help of your vet.
Ascites are when the belly fills with fluids from other organs.
Hormonal diseases like Cushing's disease is the overproduction of hormones.
Masses & Enlarged Organs can cause the belly to become distended.
Uterus: Pregnancy & Pyometra – Pyometra is a secondary infection resulting from hormonal changes in the female pup's reproductive tract. After estrus, the hormones are elevated, and the uterus is inflamed.
How To Tell If My Puppy Is Fat?
Here is a recap of all the ways to tell if your puppy is fat:
Check your puppy's body shape. Is the puppy more round/oval most of the time? Or is your puppy's waistline visible from above?
Feel for your dog's ribs. If your puppy's ribs cannot be touched without pressure, then your puppy may be fat.
Look at your dog from the side. Is there a larger mass or hardened belly?
Are your puppy's pad thicker than usual? This may be a sign that your puppy is fat.
Examine your dog's behavior. Don't forget that they may seem full or in pain. Make sure they are not eating too fast.
Weigh your dog. Your puppy should be gaining weight. Use the chart above to see what range your puppy falls under. If your puppy is gaining weight more rapidly, it may be fat.
Risks Of Obesity In Puppies.
If your puppy has excess fat, it can negatively impact its health. Obese puppies have a higher risk of developing many types of diseases. Which can include but is not limited to the following;
Cancer
Diabetes
Heart Disease
Hypertension
Osteoarthritis
Degeneration of joints
Puppies are a fantastic addition to any family. Making sure to care for them properly will keep them healthy and alive for much longer. If you feel that your puppy may be having any issues listed above, reach out to your vet immediately. There are plenty of home remedies and natural ways to help maintain a healthy weight and digestive system for your beloved pet.
References
Worms. https://thekennelclub.org.uk
Dog Bloated Stomach Home Remedies. https://topdogtips.com
Pyometra in Dogs. https://vcahospitals.com