While raising a prized pup is every canine lover's dream, many do not anticipate or wish to speak on the less attractive side of such an endeavor — male canine smegma and the toll it takes within your house. In this article, we will be discussing everything you need to know about smegma, from sheath to sheet cleaning, to keep both you and your furry friend happy and healthy.
How To Clean Dog Smegma Off Furniture?
Be aware of what is normal for your canine and their smegma production. A great way to keep an eye on your canine's smegma production is to perform a sheath cleaning every one to two weeks. If anything is off, make an appointment with your veterinarian. Finally, when it comes to cleaning your pet's smegma off surfaces, do not lose hope! Follow the steps below and do not forget to hug your hound!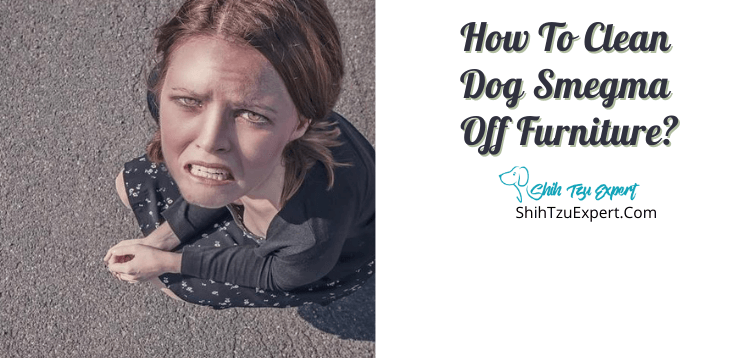 Why Does Smegma Smell So Bad [Like Fish]?
Smegma is a natural discharge produced upon arousal and released from the tip of a male canine's penis. The discharge is a combination of testicle fluid, bodily oils, dead skin cells, and moisture, such as sweat. If the residue is left unwashed, buildup on the foreskin of a canine's penis provides a perfect breeding ground for bacteria which can then produce a foul, fish-like odor.
Why Is It Difficult To Remove Smegma From Surfaces?
The contents of smegma make it especially difficult to remove from surfaces. Testicle fluid is thick and acidic, allowing it to both damage surfaces and harden, making it difficult to remove in one try. The oils found in smegma also play a part in the stainability of smegma as oils can only be removed with certain compounds. Bacteria may also be transferred to surfaces, bringing the smell with it.
That being said, we will provide many proven methods for cleaning smegma off several types of surfaces.
How To Clean Dog Smegma Off Walls?
Canine smegma has the potential to stain painted and wallpapered walls if not noticed early enough. If the smegma is caught before drying, simply take a cleaner and wipe it until the surface is clean. However, if the smegma is already dry, follow the steps below.
Take a bottle of Windex and spray the area the smegma is found on.
You can also use an at-home cleaning solution made of 1 part vinegar, 2 parts water.
Let sit for several minutes.
Wipe.
Repeat if needed.
If the stain will not go away, a new coat of paint may be necessary.
How To Clean Dog Smegma Off Fabric/Bed Linen?
Fabrics can be much trickier when it comes to cleaning canine smegma as the fibers allow for better adhesion. Multiple cleaning solutions may need to be used to reach a final result.
For Bed Linens:
Wet area with water to soften the smegma.
Rub the area with Fels Naptha or Hydrogen Peroxide to release the stain.
Wash linens in the washing machine with Oxiclean.
Repeat if needed.
For Furniture:
Wet area with water to soften the smegma.
Rub Fels Naptha on the area with a microfiber towel.
You can also use an at-home cleaning solution made of 1 part vinegar, 2 parts water.
Repeat if needed.
Rinse the area off with clean water.
How To Clean Dog Smegma Off Hardwood Floors/Dog Smegma On Floor?
Like cleaning canine smegma from walls, the process for cleaning hardwood floors depends on when the stain is found. If the smegma is found while still wet, simply take a cleaner and wipe until the surface is clean. However, if the smegma is already dry, follow the steps below.
Take Excalibur and apply it to the stained floor.
Hydrogen Peroxide is another great alternative.
An at-home solution may be used, as well, consisting of 1 part vinegar, 2 parts water.
Let sit for several minutes
Wipe away cleaning solution
Repeat if needed.
If the stain will not go away, sanding and staining may be necessary to keep the original look of the flooring.
Can I Use Oxiclean, Hydrogen Peroxide, Excalibur, Fels Naptha, Windex To Clean [How Effective Are They]?
Each compound mentioned both above and below is effective in its own way depending on the surface it is used on. Make sure to follow the directions provided and feel free to do your own research, as well!
Windex: One of its main ingredients, ammonia, works as an abrasive which removes stains without harming the surface it is cleaning. This is why Windex is great for cleaning smegma from walls.
Oxiclean: Oxiclean contains enzymes that break down tough stains, especially on fabrics. This cleaner is extremely effective for cleaning bed linens.
Fels Naptha: A simple bar of soap, Fels Naptha is meant to pretreat especially difficult fabric stains. It is formulated to break down even the toughest grease, making this product very effective for removing smegma from fabrics.
Excalibur: This product is made specifically for the purpose of both sheath cleaning and stain removal. It contains tee tree oil which is great at breaking down compounds and loosening up the smegma for removal.
Hydrogen Peroxide: Hydrogen Peroxide works as an abrasive by oxidizing compounds found in stains. It is able to break down the proteins found in smegma, loosening them up for removal. Hydrogen Peroxide is effective in all situations.
1 part Vinegar, 2 parts Water: An at-home cleaning solution, this works similarly to both Windex and Hydrogen Peroxide. The vinegar works as an abrasive to dissolve compounds found in smegma without harming the surface it is located on.
When cleaning any of these surfaces, it is important not to use anything too harsh that could strip whatever surface you are cleaning. Always check the ingredients if you are using something unfamiliar.
Do I Need To Wash My Dogs Privates [Sheath Cleaning]?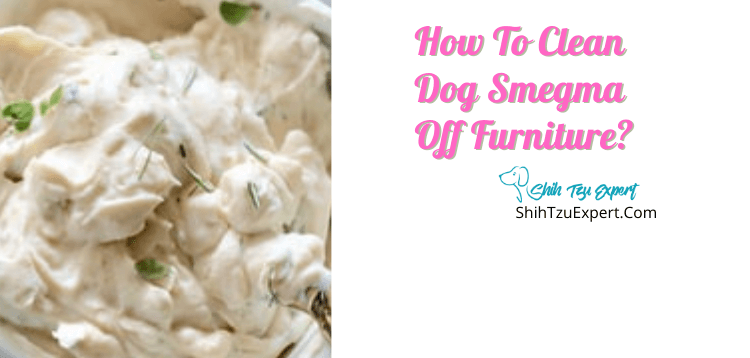 It is important to perform sheath cleaning on your male canine to prevent bacteria build-up from the oils, skin cells, and moisture found in smegma. The foreskin has folds that are a perfect breeding ground for bacteria and, if left unwashed, can cause more serious health problems, including infection.
Cleaning your canine's foreskin is not only a great way to keep your pet healthy, but also keep yourself happy by limiting the amount of smegma that may stain surfaces in your home.
How Do You Clean Smegma Off A Dog At Home?
Canine smegma can be easily treated and cleaned at home. If performed often enough, this will help preempt any smegma transfer that may occur on surfaces within your home.
Wet a cloth with warm water or use chemical-free wipes (such as baby or puppy wipes).
If the genital area is dry or flaky, use salt water as an antiseptic.
Gently push the foreskin back and lightly wipe away the excess smegma.
Rinse the area thoroughly.
Pat dry the entire area.
What Causes Male Dog Smegma?
Male Dog Smegma is naturally produced by the testes upon arousal. Blood flows to the testes, causing the smegma to be released from the penis. This can occur due to sexual arousal or general excitement which can last from minutes up to an hour.
What Is The Function Of Smegma?
Smegma functions as a lubricant for the purpose of sexual intercourse between canines. Its production is a natural occurrence and does not indicate a health issue unless other symptoms are associated linked to it.
Yellow Vs. Green Smegma
While the color of smegma can vary from canine to canine, it is important to take note of what is normal for your own pet. Most commonly, the smegma produced by a healthy canine will range from white to yellow. Production of green smegma may indicate an infection in which case a trip to the veterinarian is advised.
Can Neutered Dogs Still Have Smegma?
Yes, neutered dogs can still produce smegma. However, neutering is an effective way to decrease the amount of smegma produced. Since smegma is a result of blood rushing to the testes, causing small amounts of it to be released, neutering relieves some of this pressure during arousal.
Does Dog Smegma Go Away On Its Own?
If the smegma being produced is normal and not attributed to any other health concerns, it should go away on its own. If the smegma is being produced along with other symptoms — excessive licking, bloody or pus-filled discharge, strong odor — it is likely due to an infection that requires a visit to the veterinarian.
Can You Prevent Smegma In Dogs? [How]
Smegma production is a completely natural occurrence in canines and, while its production can be deterred, it cannot and should not be totally prevented. Neutering will decrease the production of smegma but will not cure it.
For canines with excessive smegma production leading to frequent infections, look for supplements infused with antibacterial properties, such as green tea, garlic, or honey.
Is There A Cure For Smegma?
While there is no cure for smegma (it is essential for healthy sexual intercourse between canines), there are ways to deter its effects. Consistent sheath cleaning can be done to keep your canine's foreskin clean and healthy, preventing buildup which may cause odor and/or infections. Additionally, neutering your canine will decrease the amount of smegma actually produced, allowing for more time between sheath cleaning.
How Does A Vet Treat Smegma?
If you notice a change in your canine's smegma or behavior regarding its smegma, it is important to get an opinion from your veterinarian. Foul-smelling or green smegma may be a sign of infection which could lead to more severe health issues if left untreated.
The vet will examine your canine's foreskin to check for signs of infection.
A blood sample may be taken in order to test for the presence of infection.
A sample of the smegma may be taken for bacterial culture to check the nature of the bacteria found.
Your canine's abdomen may be x-rayed or given an ultrasound to check for lumps or tumors if necessary.
If an infection is found within your canine, antibodies will be provided for treatment.
If your canine is prescribed treatment for an infection, be sure to follow the veterinarian's instructions to ensure the infection is wholly treated. Follow up with the veterinarian and monitor your canine's activity and genitals until the smegma production is back to normal.
What Does Dog Smegma/UTI Infection Look Like?
Symptoms of Dog Smegma/UTI Infection:
Increase in smegma production.
Inflammation of foreskin.
Inflammation of the testes.
Blood or pus found in smegma discharge.
Dry or flaky foreskin.
Excessive licking of the genital area.
Smegma Or A Sign Of Something Potentially Serious (STD, Etc)?
When checking your canine's smegma for a sign of something potentially more serious, it is important to know what is normal for your specific pet. Take note of smegma production as your pet ages and in what situations smegma production usually occurs.
Has the color of the smegma changed? Is it more green than usual?
Has the thickness of the smegma changed?
Is a foul odor accompanying the smegma?
Is the production of the smegma followed by excessive dripping?
Is your canine paying more attention than normal to the genital area? Are they licking more often?
Do you notice any blood or pus being discharged with the smegma?
Symptoms of STDs may include sores around the genital area, inflammation of foreskin and/or testicles, and excessive licking of genitals.
If any of these symptoms are present, a trip to the veterinarian is essential to ensure the health of your canine.
References
https://www.petmd.com/dog/general-health/dog-penis-heath-guide-everything-you-need-know