If you think your dog may be suffering from noise anxiety, you are certainly not alone. Up to fifty percent of dogs suffer from some sort of noise anxiety throughout the course of their lives.
Provided below are explanations, tips, and tricks to explain why your dog may be suffering from the noise of your washing machine and how to help.
Why Are Dogs Scared Of Washing Machines?
Just like humans, dogs suffer from anxiety and deserve the same understanding and treatment. 47 to 67 decibels is ideal for a washing machine in a household with a dog. 140 decibels (dB) and above will cause physical damage and discomfort. Reasonable noise levels for dogs are between 85 – 100 dB. Frequencies of 20,000 Hz and above will hurt the dog!
Follow the tips and tricks to make sure your furry friend is living a happy and healthy life along with you!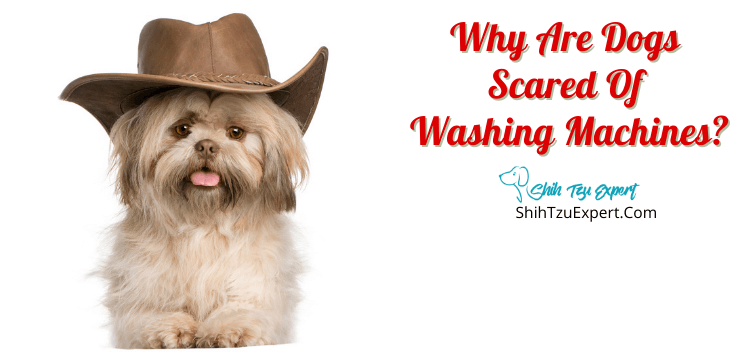 Why Are Dogs Scared Of Washing Machines?
Fear of loud or strange noises is extremely common amongst dogs because, just like humans, dogs can suffer from anxiety. Such anxiety towards loud noises, like a washing machine, can be due to many factors.
These include but are not limited to:
Lack of Exposure to the Noise: Maybe this is the first time your dog has heard the sound of a washing machine and does not understand its purpose. This could also be the case if a new washing machine was recently purchased and your dog is not used to the new sound.
A Negative Association with the Noise: It is possible the first time your dog heard the washing machine it became very fearful, making the sound a trigger for your dog's anxiety.
An Unassociated Medical Condition: If your dog is sick or has an injury, its anxiety may be increased and is now more triggered towards loud noises.
The Age of Your Dog: As your dog ages, its health declines and its brain chemistry goes through various changes. This can lead to an increase in anxiety which may or may not have been present before.
What Exactly Is My Dog Scared Of? [The Washer? Dryer? Loud Noises? Beep Sounds? Vibrations?]
The exact cause of the fear could be due to any of the specific sounds made by the washer or dryer, including the beeping, vibrations, and rattling. When trying to determine the particular cause of your dog's fear, it can be helpful to think of the environment your dog has already been living in and what noises they are used to. Is your dog used to the beeping noise on your microwave? Maybe your dog is already familiar with the vibrations of the dishwasher. By considering what noises your dog does not react to already, it is easier to determine which sound is causing the fear and anxiety.
When The Washing Machine Starts Dog Gets Scared And When The Spin Cycle Dog Is Absolutely Terrified?
How Noisy Is Your Washing Machine/Dryer?
To determine how noisy your washing machine and/or dryer are, check the decibel (dB) level of both appliances. This can be done with a physical decibel meter or with a decibel meter app on your smartphone. The decibel level of a residentially used washing machine or dryer usually ranges from 40 to 80 decibels. While models under 55 decibels are considered to be typically quiet, a range from 47 to 67 decibels is ideal when living with a dog.
How Many Decibels Is Too Loud For A Dog?
Dogs have extremely sensitive hearing and can, in fact, handle loud noises. If your dog avoids the washing machine or dryer this is most likely due to anxiety rather than physical ear pain. It is common for dog kennels' sound levels to range from 85 to 100 decibels.
However, exposure to sounds above 140 decibels can cause immediate damage and physical pain to your dog's ears and eardrums, so it is important to be thorough when checking decibel levels within your home. Similarly, high frequencies have the potential to cause harm. Frequencies that can hurt your dog's ears will range from 20,000 Hertz and up.
Puppy Terrified Of The Washing Machine
It is very common for puppies to be afraid of loud, new, or strange noises of all types as they are still becoming familiar with their new environment. This is also a time of stress and anxiety for the puppy as this is probably its first time being away from its mother. If your puppy is afraid of the washing machine, there are many steps you can take to alleviate this behavior.
Why You Should Not Comfort A Dog Scared Of The Washing Machine/Dryer?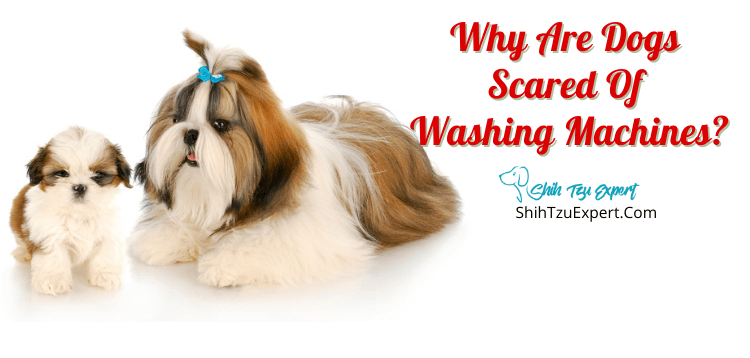 When you comfort your dog, you are reinforcing the behavior exhibited. The dog will begin to understand that if they are afraid of the washing machine or dryer, they are more likely to be comforted than if they are not afraid. It is the same concept as giving your dog a treat for good behavior. That being said, it is also important you do not scold your dog
How Do I Get My Dog Used To (Countercondition/Desensitize) Washing Machine Noises?
As stated above, you want to make sure you are not reinforcing your dog's anxiety by over-comforting your dog when they display fear-based behavior. If you do this, you will signal to your dog that they will be rewarded when they are scared. Instead, try ignoring your dog's behavior and replace comfort with other tools. Ignore the sound of the washing machine or dryer to show your dog they have the choice to ignore it, as well. It could even be helpful to sit with your dog near the washing machine or dryer to let them know you both are safe. You can also help desensitize your dog by playing recordings of the washing machine in spaces other than where the machine is actually located. You can counter-condition your dog by giving them a toy or treat every time the washing machine runs so they learn that something good happens when they hear the noise.
Why Do Some Dogs 'Freak Out'?
Just like with humans, some dogs are more predisposed to noise anxiety than others. This could be due to their past or due to their brain chemistry. All dogs are different and some react to loud noises more dramatically. If your dog is truly "freaking out," this could be because they are feeling physical pain caused by things like an ear infection or muscle pain. Consulting a veterinarian or dog trainer can help you to understand your dog better and get to the bottom of their noise anxiety.
Why Is My Dog Afraid Of Appliances?
While many dogs are afraid of loud noises such as thunderstorms, many dogs' noise anxiety can be linked directly to in-home appliances. Vacuums, washers, dryers, ovens, and microwaves have all been known to be a source of noise anxiety in dogs. This is due to the randomness and unpredictability of the sounds produced by the appliances as opposed to a noise like thunder which can be understood as a product of a rainstorm. For dogs, there is no rhyme or reason to these appliances, causing fear and anxiety to manifest in destructive or deviant behavior.
Why Does My Dog Hate Beeping Noises?
If your dog is specifically afraid of or does not like beeping noises, this may be due to a negative association with that particular sound. Try to think back to a time your dog could have been very scared by an unexpected beeping noise. Pay attention to the types of beeping noises your dog reacts to. Could this be due to a smoke detector going off? Or, is the fear generally only aimed at the beeping of the washer and dryer? Knowing what exactly your dog is afraid of and why will help you mitigate this behavior.
Why Is My Old Dog Is Suddenly Afraid Of Washer And Dryer?
If your dog has suddenly become afraid of the washing machine or dyer as they age, this is fairly common and may simply be because the chemistry within their brain is changing. It could also be due to new health conditions you have not caught yet. Always ask your veterinarian.
Why Do Older Dogs Develop Noise Anxiety?
It is very common for dogs to develop noise anxiety as they age, particularly if they live past their life expectancy. This may occur for several reasons. Your older dog may be suffering from other ailments that contribute to the increase in noise anxiety such as pain, cognitive decay, neurological and sensory decay, and endocrine imbalances. If you notice your dog's noise anxiety increasing with age, it is recommended that you contact your veterinarian to look for the cause. It could be something as simple as an ear infection or something that must be treated for the long haul such as arthritis.
Signs Of Noise Anxiety In Dogs?
It is always important to contact your veterinarian for a proper diagnosis. However, here are some symptoms and signs to look for:
Hiding or Trying to Escape the Environment
Pinned Back Ears or Panicked Look
Clinginess
Excessive Chewing, Licking, Digging, or Scratching
Uncharacteristic Urinating, Defecating, or Vomiting
Trembling or Pacing
What Causes Noise Anxiety In Dogs?
Noise Anxiety is very common among dogs and is often due to the way their brains function in a domestic environment. When a dog hears a loud noise an awareness mechanism is switched on within its brain allowing them to quickly decide if they are in danger or not. If the mechanism signals to the dog that they may be in danger, a fear response is triggered. For some dogs, this is linked to specific noises while for others this is in response to all loud noises. It is also common for noise anxiety to progress over time. For example, your dog's fear of the washing machine or dryer may get worse with each load.
How Can Noise Anxiety In Dogs Be Treated?
The first step to take if you think your dog may be suffering from noise anxiety is to always contact a veterinarian for a proper diagnosis.
Here are some of the common treatments recommended for your dog's noise anxiety:
Behavior Modification
Changing the Dog's Environment
Medication
Pheromones and Supplements
Pressure Wraps
Behavior Modification
Behavior modification includes desensitization and counterconditioning. As mentioned before, try getting your dog used to the sound of the appliances. Play recordings of the washing machine at low volumes and slowly increase it to help your dog become accustomed to the sound. You can also condition your dog to know that good things, rather than scary, occur along with the noise. This can be done by providing your dog with a treat or toy when the washing machine or dryer is on.
Change The Dog's Environment
You can help your dog by creating a safe space for your dog to head to when feeling anxious. This could be an entire room, a dog kennel, a dog bed, or anywhere your dog feels most safe. Playing soft music in this environment can help to calm them down. If you know you are about to run your washer or dryer it is recommended that you prepare a safe space beforehand if you choose to use this method.
Medications
Like humans, medications can be used to calm your dog down. This is usually only recommended for dogs with severe noise anxiety and should only be used when all other remedies have been tried. Be sure to discuss this option extensively with your veterinarian even when using over-the-counter treatments, such as Benadryl.
Pheromones & Supplements
This is a natural alternative for those who do not wish to give their dog medications. You can find natural pheromones and supplements which will provide a calming effect without the same side effects medication make have.
Pressure Wraps
Pressure Wraps are known to work very well when trying to calm your dog's anxiety. The pressure wrap provides a gentle pressure around the torso which provides a feeling of comfort and security. You can make one at home using leftover materials and fabrics or purchase one specifically for use on your dog.
Would A Thundershirt Pressure Wrap Help?
A thundershirt pressure wrap is a great choice when trying to help calm your dog's anxiety. Wrapping your dog in one of these will provide them with a sense of safety, security, and calmness, allowing their anxiety to decrease.
Can I Make A DIY Pressure Wrap At Home?
You can easily make a DIY pressure wrap at home. All you need is fabric, such as a t-shirt, and a way to secure the fabric on your dog. This can be done with t-shirts, scarves, and even gauze. Make sure the wrap covers your dog's torso.
Would Dog Calming Treats & Anxiety Medication Help?
Calming treats and anxiety medication help with dogs' noise anxiety because they target the chemicals in the brain which produce the anxiety hormone cortisol. Going straight to the source of anxiety within your dog's brain is a very effective way to lessen its effects.
References
https://vcahospitals.com/know-your-pet/fear-of-noises-and-places-in-dogs