Chickens and dogs are two completely different animals that have different needs. But what is the best way to introduce your dog to a chicken. Will they get along? Can they be friends? Will they hate each other? This article answers those questions and more.
How To Introduce Your Dog To A Chicken?
When introducing your dog to a chicken, you should take this one step at a time to ensure they are completely comfortable around one another so neither get stressed out. Chickens and dogs can be the best of friends, it just takes a bit of time and patience.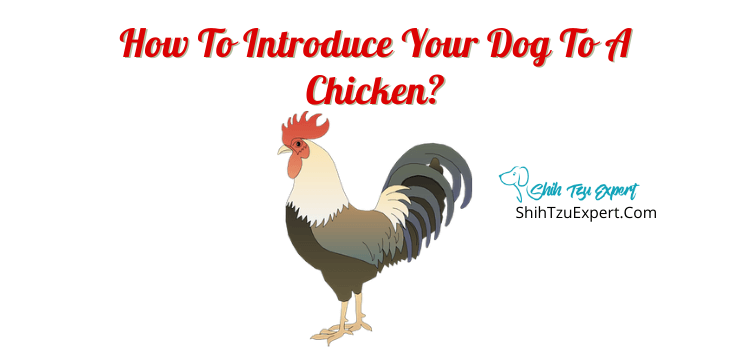 How Well Do Dogs And Chickens Get Along?
On the whole, dogs and chickens get along together; however, it depends on the breed of dog you have. For example, if you have a dog with a high prey drive, this is more likely to cause you problems than it would with a dog with a low prey drive. This is the most important thing to consider when deciding to get chickens when you already have dogs (or vice versa).
Can A Dog And A Chicken Be Friends (BFF)?
It is completely possible for a dog and a chicken to become BFFs! Both animals are sociable and thrive best when in a group. They're playful creatures and are highly intelligent animals. It's also important to remember opposites attract. Even though they may look and at first seem completely different, their personalities are quite similar.
How To Introduce Your Dog To Your Chicken [Step By Step]
Step one: Meet at a distance. This can be done by putting your dog on their lead and leaving the chicken in their run. Doing this will enable them to smell one another and will help them recognise each other upon their next meeting.
Step two: their first proper interaction. For the next meeting, it may be safer to keep your dog on the lead but the chicken can now be taken out of their run. The area they meet should be in a shared space they're both comfortable with. It may also help to soothe and pet both of them and possibly give them both treats. This will help put them both at ease, keep them happy and make them see this experience as a positive thing.
Step three: adding other animals. If you have other animals, it's at this point you can begin introducing them to the chicken. If not, skip this step.
Step four: taking your dog off the lead. It's at this point you can take your dog off the lead. This means the dog and the chicken will be able to interact freely. However, these encounters should be short and you should be there to keep an eye on them.
Step five: the last step. If step four goes to plan, you can now implement step five. It is at this step that you should be able to leave the two alone together for short periods of time. However, this step should only be done when you are confident that they won't hurt one another, so only do this when you are completely sure about it, otherwise it may not end well.
Do Dogs Get Jealous Of Chickens?
If you had your dog before you got your chickens and your dog notices you spending time with the chickens, there's a chance they'll become jealous as they feel they no longer have your full attention. Make sure not to neglect your dog too much and split time between the two and they should be alright.
Why Do Some Dogs And Chicken Don't Get Along At All?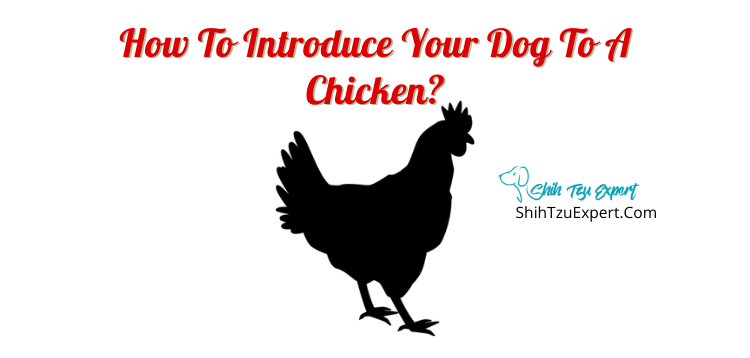 This is likely due to the breed of dog you have. If you have a breed of dog that has a high prey drive, they will feel much more inclined to hunt for the chicken. This can cause the chicken to become distressed and it may be best if the two are kept separate.
How Can I Safely Determine How My Dog Will React To My New Chicken?
If you already know what your dog's behaviour is like and are familiar with their breed's behaviour, you should already have a clear inclination of how your dog will react to a new chicken. If you think they'll react badly to the new chicken, keep them apart and only allow them to meet in a mutual safe space and keep your dog on a lead and the chicken in their run. They should be able to get along eventually, but all good things take time.
Do Dogs Eat Chickens?
Dogs are likely to kill chickens, even though this is often accidental and not on purpose. However, if your dog is well fed, they aren't that likely to eat the chicken as they just kill it for fun. They possibly see it as a toy and won't realise what they're doing.
How To Keep My Dog From Eating My Chicken?
To prevent your dog from eating your chicken, you should have a secure chicken run that has fencing that goes deep underground and use thick wire to stop your dog and/or other animals from digging under and getting in.
Why Did My Dog Attack My Chicken?
Your dog likely attacked your chicken because they saw it as a toy or thought they were playing a game and this is almost never done in a malicious way.
How Can I Train My Dog To Not Attack Chickens?
When you are going through the process of introducing your dog to your chickens, you should shout "STOP!" firmly if your dog tries to go for the chickens and pull them away if they are on a lead. As long as you are persistent and patient with this, your dog shouldn't end up attacking chickens.
My Dog Ate My Chicken What Should I Do?
You should start by removing the dog away from any other chickens you might have immediately and not allowing them unsupervised access. You then need to start re-training your dog to be around chickens, even better if it's with a professional dog behaviourist. Spending a few weeks doing this regularly should make your dog see that chickens aren't toys and that they shouldn't kill them.
Can You Raise A Chicken With A Dog?
As long as you train them both to be around each other (particularly your dog) this can easily be done.
Are Chickens Harmful To Dogs?
There are a number of diseases dogs can get from chickens if they get too close to them or eat their poop, including aspergillosis; histoplasmosis; coccidiosis; and salmonella.
What Dog Breeds Are Good With Chickens?
Dog breeds that are good with chickens: maremma sheepdog; komondor; tibetan mastiff; akbash; anatolian shepherd; great pyrenees; welsh corgi; bordie collie; australian shepherd; collie; shetland sheepdog; and kuvasz.
What Dog Breeds Are Not Good With Chickens?
Dog breeds that are bad with chickens: whippet; greyhound; borzois; italian greyhound; salukis; yorkie; jack russell; rat terrier; airedale; westie; labrador; golden retriever; and siberian husky.
Are Chickens Scared Of Dogs?
As dogs are often a lot bigger than chickens and are an entirely different species, chickens may be scared of them, as we all would be if there was a strange creature looming over us. This is why it's important to slowly introduce them to one another as this prevents both animals of being scared of one another.
Why Is My Dog Is Obsessed With My Chicken?
This is most common in herding breeds as they see the chicken as prey and become obsessed with ways to hunt it. Instead of keeping them apart, find ways to change the behaviour of your dog so they learn to see the chicken as an equal and stop being so obsessed.
Why Is My Dog Whining At My Chicken?
If your dog and chicken have only just been introduced to one another, this is completely normal. Reward your dog as long as they are calm and with time, they should stop.
How To Introduce A Chicken To A Dog?
Be incredibly patient and take your time when introducing the two. Don't let them get too close at first as this could go badly. Keep your dog on the lead and the chicken in the run and gradually let the two get closer until you believe it's safe for them to be left unsupervised.
Do Chickens Live Well Together With Dogs?
The two can live fairly well together. As long as the dog isn't a high prey breed and you have spent the time introducing them to one another, they should be fine.
Can A Puppy Be Around Chickens?
It's actually better if you introduce chickens to your dog whilst they are a puppy as this can help them in the long run to become more comfortable around them. So puppies and chickens together are perfectly okay.
How Do Dogs React To Chickens?
At first, your dog may be quite unsure about the chickens as this is a new creature, so you may find they whine a bit or are quite fidgety at first. This is completely normal and will calm down as they get more used to them.
Are Chickens Scared Of Dogs Barking?
Chickens often don't seem bothered by a barking dog and if you have introduced both animals, they'll probably be used to it.
Will The Chicken Attack The Dog?
Chickens aren't that likely to attack your dog, however, if your dog encroches on their territory, they may start pecking. Just make sure your dog is aware of the boundaries and this shouldn't happen.
How To Get My Chicken To Love My Dog?
Keep persistent with them being around each other when you are first introducing the two to one another and they should eventually become the best of friends.
[What Should I Do] My Dog Is Eating Chicken Poop?
Let's face it, none of us, including dogs, really want to eat poop. But if your dog is eating chicken poop, the risk of it harming them is very low. However, there is always a risk your chicken may have a disease, such as worms or salmonella, and these can pass onto your dog by them eating the poop. Even though this risk is low, it is best to keep your dog away from the chicken poop and to make sure they know they shouldn't really be eating it. It's better to be safe than sorry.
[What Should I Do] My Chicken Is Eating Dog Poop?
This isn't something to worry about too much as chickens often peck poop to try and find seeds and other bits of food that haven't been fully digested.
However, this is not something to make a habit of and you should keep an eye on your chicken(s) to make sure they don't get ill.
Will The Chicken Charge At My Dog?
A chicken isn't that likely to charge at a dog as dogs are bigger than chickens so this puts them off. Plus, chickens are relatively easy-going animals so aren't that bothered by dogs enough to charge at them.
Are Dogs Afraid Of Chickens?
A dog more than likely won't be afraid of chickens because it's in their instinct to kill chickens. However, if a dog has had a previous bad experience with chickens, they may be afraid of them.
Do Chickens Make Good Pets?
Chickens can make amazing pets as they are eco-friendly, you will have unlimited eggs, they're relatively cheap to own, they have their own personalities, and they are very sociable.
How Much Room Does A Chicken Need?
The absolute minimum for a chicken run is one square metre per chicken. However, the preferred space is two square metres per chicken.
Is It Expensive To Raise Chickens?
Other than having to buy a chicken coop, chickens are quite cheap to raise because you can feed them scraps and they will often peck around for worms and other insects.
Do Chickens Learn Their Names?
Chickens can learn their names very quickly if you call their name several times a day every day. You'll soon notice they tilt their head and respond when you say their name.
Can A Chicken Get A Dog Pregnant?
It's very unlikely that a chicken and a dog will mate, however, it has been known that smaller dogs will mate with chickens, so although the probability is incredibly small, there's still a small chance it could happen.
Can A Dog Get A Chicken Pregnant?
Like mentioned above, if it's a small dog, there's a very small chance the two will mate, but it's highly unlikely it will happen.
Can A Chicken Kill A Dog?
No, there is an incredibly slim chance of a chicken being able to kill a dog.
Can Chickens Become Emotionally Bonded With Humans Like Dogs?
Chicken's aren't that likely to become attached to humans, however, they will often follow their owner around as they associate them with being fed so may follow when hungry.
Why Is My Dog Petrified Of The Chicken's Beak?
Chickens use their beaks to peck at people, animals and other things so your dog may be scared that the chicken is going to use their beak to peck at them.
References https://www.omlet.co.uk/guide/chickens/about_chickens/other_pets/ https://www.backyardchickencoops.com.au/blogs/learning-centre/dogs-and-chickens-equal-great-friends https://www.thehappychickencoop.com/how-to-introduce-dogs-to-your-chickens-a-step-by-step-guide/ https://www.mypetchicken.com/backyard-chickens/chicken-help/Will-my-dog-attack-chickens-H175.aspx https://wagwalking.com/training/not-attack-chickens