Can you have a pet gerbil with a dog? It is possible to own a gerbil and a dog, but because they don't naturally bond in the wild, you may have to take some precautions in the introduction to make sure each pet is safe and feels loved.
How To Introduce Your Dog To A Gerbil?
When introducing your dog to a gerbil, it's important to do it slowly and in a way where the dog cannot grab or touch the gerbil if he gets excited and breaks loose. It's also important to keep the gerbil in a place the dog cannot access.
Gerbils and dogs can live together and even get along. It is important to keep in mind, however, that some dogs have a hunting instinct and may not get along well. Make sure you introduce your pets slowly to make sure they both remain safe.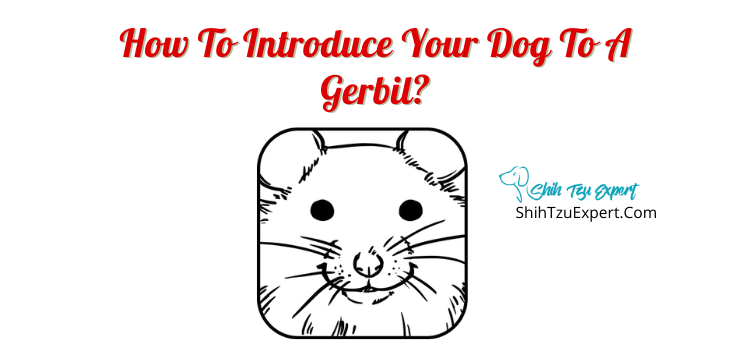 How Well Do Dogs And Gerbils Get Along?
It depends on the dog's breed and behavior. The instinct of most dogs is to attack small creatures that move quickly. If you own a breed that was bred to kill rodents, like a terrier, schnauzer, or dachshund, a gerbil will not be safe around it.
Hunting dogs are also prone to attack small animals by instinct. If your dog is a calmer breed, they can get along with a gerbil with some training and being properly introduced. Even so, a dog should never be left unattended with a gerbil.
Can A Dog And A Gerbil Be Friends (BFF)?
It may not be impossible, but don't expect a dog to be good friends with a gerbil. Two different species will not form strong bonds with each other. Dogs may learn that a gerbil should not be played with, but will probably not form an affectionate bond.
How To Introduce Your Dog To Your Gerbil [Step By Step]
Make sure the gerbil is in a safe place where the dog cannot attack it if something goes wrong, and that the dog is on a leash.
Keep the gerbil in its cage in a separate room. Place the cage where the dog can see it, at or below the dog's head height.
Take the dog into the room with a leash on. Use the leash to keep the dog back in case something goes wrong.
Reward the dog for staying calm in the room. Feed him treats or give him something else he likes. You can even give him any obedience commands he knows and reward him for obeying them.
If your dog gets excited or aggressive when he enters the room and sees the gerbil, take him out and try again another day. If he remains calm, keep bringing him closer and continue to reward him for good behavior.
Loosen the leash and allow your dog to move more freely around the cage. If he remains calm, you can drop the leash and allow him to wander the room and examine the gerbil.
 
Do Dogs Get Jealous Of Gerbils?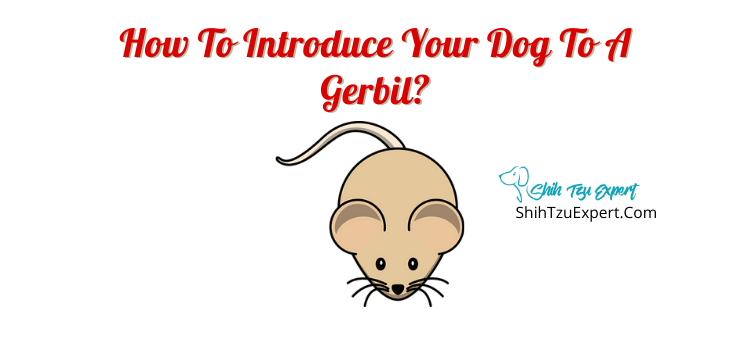 True jealousy is hard to measure in dogs who have different brains than us. A dog can get jealous of a gerbil if they see it's getting more affection than them at that moment.
Likely, the dog may not be jealous, but just want some of the attention the gerbil is receiving. If the dog gets jealous of other animals, it may get jealous of the gerbil.
Why Do Some Dogs And Gerbil Don't Get Along At All?
All dogs have an instinct to hunt. Though mild-tempered dogs may be obedient and get along okay with gerbils, other dog breeds that were bred for hunting small rodents may not get along with gerbils.
If your dog is a highly intelligent breed, they can learn that the gerbil is a part of the family and needs to be protected.
How Can I Safely Determine How My Dog Will React To My New Gerbil?
Have your gerbil in a cage in a separate room. Leash your dog and take it into the room with the gerbil's cage. Watch for how your dog responds when it sees the gerbil.
If the dog acts excited, scared, or aggressive, or tries to run right at the gerbil, it may not react well to the gerbil.
If your dog is calm in the presence of the gerbil, continue to bring him closer to it. If he maintains a calm demeanor, it may be okay for him to be around the gerbil with your supervision.
Do Dogs Eat Gerbils?
Many dogs have evolved to catch smaller animals and some may even eat them, though it's hard to say for certain what the wild, ancestral breeds would do to a gerbil.
While not all domestic dogs eat the animals they catch, there may be some breeds that will eat small animals they see scurrying around. Historically, however, dogs ate bigger prey than gerbils, so many dogs may simply kill one on instinct, but not eat it.
How To Keep My Dog From Eating My Gerbil?
Train your dog to remain calm around the gerbil if possible and always supervise the pets when they are together. The best way to keep a dog from eating a gerbil is to keep the gerbil in a cage in its own room and keep the dog out of that room.
Why Did My Dog Attack My Gerbil?
For many dogs, it's simply their nature to attack small rodents like gerbils. Hunting breeds in particular will attack gerbils on instinct. If your dog is not trained to remain calm around the gerbil, this could also communicate to him that it's okay to attack the gerbil.
How Can I Train My Dog To Not Attack Gerbils?
Slowly introduce your dog to the gerbil. Keep the dog leashed when it's being introduced and keep the gerbil in something safe like a cage or ball. Reward your dog for staying calm around the gerbil and when you hold the gerbil.
My Dog Ate My Gerbil What Should I Do?
Unfortunately, if your dog ate a gerbil there is nothing you can do. Normally, a dog will be fine after eating a gerbil, since historically they adapted to eat smaller animals. If you are concerned about your dog's health, monitor its behavior and if you notice anything unusual, call your veterinarian.
Can You Raise A Gerbil With A Dog?
You can raise a gerbil with a dog. If you plan to do this, it's best to start with a puppy and a gerbil.
When the puppy is small, it's still learning lots of things and its brain is still developing. This is the best time to desensitize, socialize, and train a puppy to behave however you want it to.
If your dog is grown, it is still possible to raise a gerbil with it, you'll just have to train it to not attack gerbils and keep the gerbil cage out of the dog's reach. Always supervise the dog and gerbil when they are together.
Are Gerbils Harmful To Dogs?
Gerbils are not harmful to dogs except for if they scare them. The quick motion of a gerbil can scare a dog if it's not used to it.
If the gerbil gets scared of the dog, it may thump its feet and the sound could cause the dog to get scared. The best way to avoid the fear is to get the dog and gerbil used to each other.
What Dog Breeds Are Good With Gerbils?
Mild tempered breeds are best for gerbils. Some examples of these breeds are:
Golden Retriever
Labrador
Great Dane
Greyhound
What Dog Breeds Are Not Good With Gerbils?
Terriers and hunting dogs are not good with gerbils. Some examples are:
Most kinds of terriers
Jack Russell
Schnauzers
Daschunds
Are Gerbils Scared Of Dogs?
Yes, gerbils can be afraid of dogs. Dogs are large, predatory animals while gerbils are small, prey animals. Without training and exposure, gerbils are likely to fear dogs.
Why Is My Dog Is Obsessed With My Gerbil?
Your dog is probably fascinated with the gerbil. If he continues to watch the gerbil and put his attention on it, it's probably his hunting instincts kicking in. He's probably thinking of hunting it or playing with it like a fun toy.
Why Is My Dog Whining At My Gerbil?
Your dog probably has an instinct to hunt. If he's whining at the gerbil, it's likely because he's antsy and wants to attack it.
How To Introduce A Gerbil To A Dog?
Introduce the dog slowly while the gerbil is in its cage. Use food or something it likes to bring it to the edge of the cage where it can see the dog and get curious. Make sure the dog cannot attack the gerbil and remain calm.
Do Gerbils Live Well Together With Dogs?
Unless the dogs are trained to remain calm around them, gerbils may not live well with them but can be okay with them.
Without training and proper introduction, gerbils and dogs will not naturally get along. If the gerbil learns the dog is safe, and the dog learns that the gerbil is both safe and not something to attack or play with, they can get along, though precautions still need to be taken.
Can A Puppy Be Around Gerbils?
Puppies are naturally full of energy and like to play. They may see a small, energetic rodent may as an appealing toy. If a puppy is supervised, it can be around a gerbil as long as it has been trained that it's not acceptable to attack the gerbil.
How Do Dogs React To Gerbils?
Dogs can have a wide variety of reactions including hunting reactions, fear, or simply remaining calm and uninterested. Their reaction is based on their breed, their training, and their past.
Some dogs will react in anxiety, excitement, or aggression. These different behaviors likely all stem from the instinct to hunt small animals. Other dogs may react in fear if they've never seen a gerbil or other small animal and it's a new experience for them.
Are Gerbils Scared Of Dogs Barking?
Gerbils could be scared of dogs barking if they've never heard the sound before. If they are unfamiliar with the sound, their instinct as prey animals may cause them to fear the bark. It will also depend on the gerbil's personality. Some are less afraid than others.
Will The Gerbil Attack The Dog?
Gerbils don't normally attack, but if provoked, they might. If the gerbil, is stressed, scared, or finds itself in an unfamiliar environment, it may bite as a natural reaction for protection. If
A gerbil with a bossy personality could bite at your dog if they are accustomed to being around one another and the dog behaves enough to be kind and gentle towards the gerbil.
How To Get My Gerbil To Love My Dog?
It may not be possible to get a gerbil to love a dog, but over time they may learn to be friendly towards each other.
If you keep the gerbil and dog together for a long enough time and train them both that the other animal is not anything to be afraid of, they may tolerate each other and even get along.
[What Should I Do] My Dog Is Eating Gerbil Poop?
It is not good for a dog to eat other animals' poop because they could get sick.
One of the best ways to keep your dog from eating gerbil poop is to keep the gerbil cage in a place where the dog can't reach it. If your gerbil poops outside of the cage, clean it up before the dog can get to it.
Eating poop can be caused by a nutrient disorder or behavioral issue as well. Feed your dog higher quality food, fiber, and probiotics to help with nutritional deficiencies. Pumpkin and pineapple are good sources of fiber. Ask your veterinarian about coprophagia (poop eating) preventatives as well.
Behavior issues that may cause a dog to eat poop include boredom, anxiety, poop in the environment, and attention from eating poop. Fixing these issues may also keep your dog from eating gerbil poop.
[What Should I Do] My Gerbil Is Eating Dog Poop?
It is common for gerbils to eat their poop. Their digestive system works such that they get more nutrients and important vitamins from eating it. While it may be okay for a gerbil to eat its poop, eating a dog's poop may be unhealthy for them.
The best way to keep a gerbil from eating dog poop is to make sure it is not kept anywhere where it has access to the dog's poop. You should also make sure the dog's poop is cleaned up.
Will The Gerbil Charge At My Dog?
An aggressive gerbil may charge at a dog if it feels bothered or threatened. Gerbils are not normally aggressive, but some things can cause them to be such as:
Loneliness for a long period of time
Stress
Not enough space to expel their energy
Injury
Bad experiences with dogs, other animals, or humans
If you notice your gerbil charging at you or your dog, consider what may be causing the aggression and help the gerbil either through training, socializing, giving it a more comfortable environment, or contacting a veterinarian.
Are Dogs Afraid Of Gerbils?
Dogs can be afraid of gerbils if they're not familiar with them. If a dog is not used to small things with quick movements, he could be scared by a gerbil scurrying around.
If the gerbil gets scared, it may thump its hind legs and the sound could scare a dog who's unfamiliar with it.
Do Gerbils Make Good Pets?
As with any animal, whether it's a good pet or not depends on what you're looking for and what you're able to invest in a pet. Overall, gerbils do make good pets as they are easy to care for and are very active, social, and often friendly.
Gerbils are clean compared to other rodents which means less cleaning for you! On the downside, they only live 3 – 4 years and are not good for children under 10 as they can be more difficult to handle.
Gerbils are social creatures, so when considering adopting one as a pet, plan to adopt at least two.
How Much Room Does A Gerbil Need?
A good rule to follow is having a space or cage that's at least 10 gallons or 6 x 15 inches per gerbil. Make sure, however, that the space is not so big that you'll never clean it, since cleaning the cage is important.
Is It Expensive To Raise Gerbils?
Gerbils are cheap compared to most pets. It will cost about $150 – $300 to purchase the gerbil, a cage, food, and all necessary toys and supplies. Each additional gerbil will cost between $5 and $10. If you're purchasing a gerbil from a breeder, it could cost up to $100.
The annual cost of having a gerbil is estimated to be $100 – $150 but could be more if special care or extra trips to the vet are needed.
Do Gerbils Learn Their Names?
A gerbil can learn to react to its name through training. To do this, you'll want to first make sure your gerbil is comfortable being around you. Then, you can begin calling their name and rewarding them with a treat when they recognize their name.
Can A Gerbil Get A Dog Pregnant?
No, dogs and gerbils are too different in their anatomy and behavior. Gerbils are much too small to breed with dogs and will not have a strong enough bond with the dog to have the desire to mate.
Can A Dog Get A Gerbil Pregnant?
No, a dog is too large and would likely not recognize a gerbil as a breeding partner. The anatomy of a dog and gerbil is also too different to allow them to breed together.
Can A Gerbil Kill A Dog?
A gerbil is so small, it is unable to kill a dog. Even their teeth are not large enough to do significant damage. Only if the gerbil were infected with an illness that transfers through a bite would it be able to kill the dog.
Can Gerbils Become Emotionally Bonded With Humans Like Dogs?
Because we don't have a strong understanding of gerbils' brains, we cannot say if they feel the same emotions we do. Gerbils can bond with their owners if they spend enough time with them, but observation suggests they may not form the same bond with their humans that dogs do.
Why Is My Dog Petrified Of The Gerbil's Beak?
If your dog has been bitten by a gerbil, he may fear the gerbil's mouth and teeth. If he's unfamiliar with them, he could be scared by them. The best way to keep your dog from being afraid is to train both animals to get along with each other.
References
17 easy-going dog breeds. BeChewy. (2021, April 27). Retrieved December 16, 2021, from https://be.chewy.com/behavior-breeds-10-easy-going-dog-breeds/
Cartwright, L. (2021, July 16). Do gerbils eat their own poop? Gerbil Welfare. Retrieved December 16, 2021, from https://www.gerbilwelfare.com/do-gerbils-eat-their-own-poop/
Cartwright, L. (2021, July 22). Do gerbils get attached to their owners? Gerbil Welfare. Retrieved December 16, 2021, from https://www.gerbilwelfare.com/do-gerbils-get-attached-to-their-owners/
Cartwright, L. (2021, September 14). Do dogs and gerbils get along? Gerbil Welfare. Retrieved December 16, 2021, from https://www.gerbilwelfare.com/do-dogs-and-gerbils-get-along/
Cartwright, L. (2021, September 16). How much does a gerbil cost? (gerbil price + annual cost of ownership). Gerbil Welfare. Retrieved December 16, 2021, from https://www.gerbilwelfare.com/how-much-does-a-gerbil-cost/
Cosgrove, N. (2021, December 10). How much does a gerbil cost? (updated in 2021). Pet Keen. Retrieved December 16, 2021, from https://petkeen.com/gerbil-cost/
Felderhoff, M. (7AD). Is it dangerous for dogs to eat their stool or other animal feces? Muenster Milling Company. Retrieved December 16, 2021, from https://muenstermilling.com/dangerous-dogs-eat-stool-animal-feces/
Gerbil bites: Do gerbils bite, does it hurt and what to do? Pocket Pets 101. (n.d.). Retrieved December 23, 2021, from https://pocketpets101.com/gerbil-bite/
Gerbil cages: How to set up the best gerbil habitat for your pet. BeChewy. (2021, January 20). Retrieved December 16, 2021, from https://be.chewy.com/ideal-gerbil-cage/#:~:text=%E2%80%9CA%20single%20gerbil%20is%20a,a%20good%20minimum%2C%20she%20adds
Hess, L., & Axelson, R. (n.d.). Owning a pet gerbil. vca_corporate. Retrieved December 16, 2021, from https://vcahospitals.com/know-your-pet/owning-a-pet-gerbil
Karim, N. (2014, July 23). Dogs feel jealous of rival pets, study finds. The Guardian. Retrieved December 16, 2021, from https://www.theguardian.com/science/2014/jul/23/dogs-jealous-owners-attention-study
Keeping gerbils as pets. RSPCA. (n.d.). Retrieved December 16, 2021, from https://www.rspca.org.uk/adviceandwelfare/pets/rodents/gerbils
Khan Academy. (n.d.). Species & speciation . Khan Academy. Retrieved December 16, 2021, from https://www.khanacademy.org/science/ap-biology/natural-selection/speciation/a/species-speciation
Levy, D. (n.d.). How to greet a new dog. Dog Care – Daily Puppy. Retrieved December 16, 2021, from https://dogcare.dailypuppy.com/greet-new-dog-3431.html
Mason. (n.d.). Why is my gerbil so aggressive? Pocket Sized Pets. Retrieved December 16, 2021, from https://pocketsizedpets.com/why-is-my-gerbil-so-aggressive/
Mies, C. (2018, March 19). Can dogs live with gerbils? . WagWalking. Retrieved December 16, 2021, from https://wagwalking.com/sense/can-dogs-live-with-gerbils
Niklas. (n.d.). Can gerbils learn their name? (here's how to teach them). Pocket Pet Central. Retrieved December 23, 2021, from https://pocketpetcentral.com/can-gerbils-learn-their-name/
PetMD. (2017, December 6). 9 signs your pet is jealous (and how to stop it). PetMD. Retrieved December 16, 2021, from https://www.petmd.com/dog/behavior/9-signs-your-pet-jealous-and-how-stop-it