The excitement of getting a new puppy is very real! They are adorable, they want to lick your face, they want to play and cuddle.
They also need to be toilet trained, learn where and when to sleep, will cry in the first few weeks, and will chew everything.
Are you regretting getting your puppy? Don't despair – they do get easier!
Is It Normal To Feel Regret After Getting A Puppy?
Have you bought your new puppy home and love how adorable she is? You have expectations of play time and cuddles and then the reality of a new dog hits you hard. Training and toilet training and crying through the night, not to mention accidents and chewed shoes. It is completely normal to regret getting your puppy and there are plenty of ways to get through it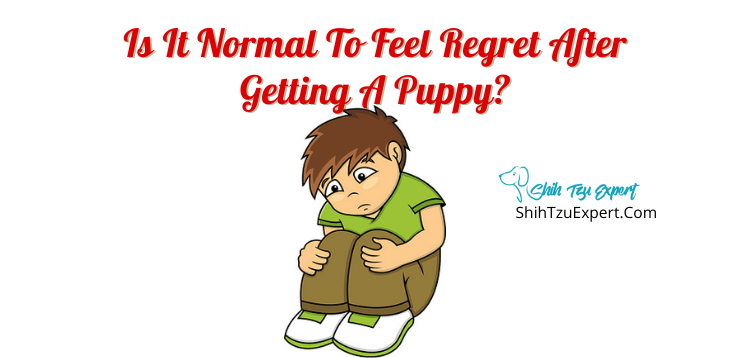 What Are Puppy Blues?
The initial excitement of owning a puppy will usually wear off after a few days and people start to realise the workload involved in getting their puppy trained. This can lead to the 'puppy blues' where you start to question 'what have I done?' This is especially prevalent if you have never had a dog before and were not entirely sure on what you were getting yourself into!
The puppy blues, whilst not an actual psychiatric condition, explain the struggle that you find yourself in when you are exhausted and numb, much like depression. The hard work of training a new puppy and having them adapt to your family can create a lot of anxiety
Do All Dog Owners Get Puppy Blues?
Not everyone will get the 'puppy blues' however it's a lot more common than you may think. A survey in Australia in 2021 showed that almost half (46%) of Australians initially regret getting a pet.
The blues don't just affect brand new dog owners too; they can affect someone who is even getting their second dog or have had a dog before.
Most owners will not talk about their puppy blues because they feel like they should be happy with their new dog and don't want to admit that this cute puppy is causing them to feel down.
Depression/Puppy Blues After Getting A Puppy
You may find yourself feeling depressed and anxious about your new puppy and questioning if getting her was the right thing to do. It can be hard to not feel overwhelmed and even find yourself feeling sad, crying, and feeling down. There are a lot of challenges when you bring a new puppy home, including
– Training
– The cost of a puppy and all the add-ons such as bedding, toys etc.
– The emotional and physical toll of training
You also find that you can be sleep deprived because your puppy might not be sleeping through the night, even whining and barking. You must get up every few hours to let them out to go to the toilet. Neglected sleep will make you feel worse and can adversely affect your mental health.
How To Cope With And Overcome Puppy Blues?
The first step is always acknowledging it. Admit you are feeling down and know that it's ok that your puppy is causing you to feel depressed.
Other ways to cope include:
– Find support by talking to other puppy owners, or owners who may have been through it in the past.
– Be prepared before your puppy comes home. Know where your puppy will sleep, where they will go to the toilet and have toys and a bed ready. Discuss the rules and boundaries with the family so everyone is clear and set up a structure.
– Dogs love routine. Set up a routine that includes walking, feeding, and playtime.
– If you don't live alone, share the duties, such as taking the puppy out to the toilet every 2hrs during the night. Give each other a break and perhaps give each other the opportunity to get a good night's sleep, at least every second night.
– Consider doggie day-care for a day off to give yourself a break
– Use a trainer. If you are struggling to reinforce certain behaviors get some professional help.
– Research. If you are not sure why your puppy is acting a certain way, do your research rather than make assumptions and adapt accordingly
– Give yourself a break. Puppies are hard work when you first bring them home and you can only do the best you can do. Take your time, be patient, and know that things get better.
How Long Do Puppy Blues Last?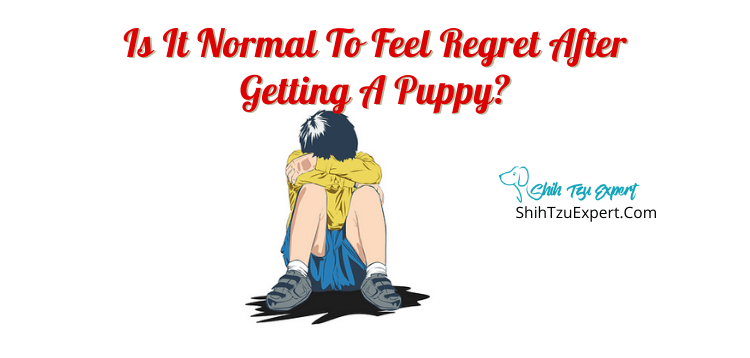 This completely depends on your experience, and everyone will be different. Typically, the blues will start when you first bring your dog home, although they can happen at any time. It can last for a few days, weeks or even months if the puppy behaviour is not addressed or they don't adapt well to your new home.
When Do I Get My Life Back After Puppy?
It's important to remember that your puppy will not behave like a puppy forever. They need to learn the house rules, test the boundaries, and establish a hierarchy. Whilst training and boundaries are very important, some puppies will have behavioral issues and / or anxiety that may need professional help.
Rest assured, they will learn and things do get easier!
When Do Puppy Problems Go Away?
This is dependent on many things such as the dog breed, behavioral issues, where you got your puppy from (rescue dogs may take longer to re-learn certain behaviors) and how much time has been spent training them. Some dogs may suffer from anxiety in a new environment and take even longer.
Most dogs will reach full maturity from 12-18months, but they should understand the house rules and their place in the household by 12 weeks. Whilst chewing might take a bit longer to subside they should understand where they should go to the toilet and should start sleeping soundly through the night.
What Is The Hardest Puppy Stage? At What Age Do Puppies Get Easier?
This again, will depend on the type of dog that you have! If you have never had a puppy before, the hardest stage might be the first few days at home whilst you adapt, and she also adapts to a new environment and learns to go to the toilet and sleep through the night. This can be frustrating for the new owner who is also struggling with the challenges of training.
Your puppy may settle down well but then after 12 weeks starts teething and so begins chewing everything in sight! This can be your most challenging stage as you try to save your shoes and teach your puppy what is acceptable to chew.
Do your research. By understanding the challenges ahead, you can be ready for each stage.
Is The First Week With A Puppy The Hardest?
The first week with a new puppy is usually the hardest for the new owner as they struggle with lack of sleep, cleaning up messes and taking your puppy outside every 2hours. It's important to set boundaries early and reinforce good behaviour and things will get easier as you go.
Feeling Overwhelmed With a New Puppy [What Should I Do]?
Don't take out your frustration on your new puppy. They are learning and growing, and they don't mean to overwhelm you.
They need love and guidance as they also adapt to a new home.
If you are struggling with feelings of overwhelm, talk to someone. Get some advice from those who have been there before, talk to other dog owners, the vet or get a professional trainer to help.
Take a day off by asking for some help or considering a doggie day-care centre.
It's ok to admit to feeling overwhelmed and it does not make you a bad pet owner, or a bad person.
How Do I Know My Puppy Is Happy?
All dogs will be different but there are some clear signs that most dogs will show you that indicate they are happy. They can include:
– Wagging their tail, which occasionally can include a whole 'bum-shake'
– Easy ears – ears that are not pricked up or held back
– A relaxed body
– A playful puppy that enjoys toys and walks
– Your dog is eating well
– Your dog is sleeping well. Dogs can sleep up to 16hrs a day!
– A social dog that interacts well with other dogs.
– Smiling. A relaxed mouth than can make your dog look like they are smiling
Are 2 Dogs/Puppies Easier Than Just 1?
Not always! Sometimes having two dogs can create even higher levels of puppy blues when you start comparing behaviours or you are trying to train two dogs at once. Whilst the two dogs might play together, they may also annoy each other so it's important to give them a break from each other. Particularly if there is a large age difference – allow them to have their own space to sleep and rest.
How Hard Is Taking Care Of A Puppy?
Your experience with dogs, your puppy type, and their experience before coming to your home will all affect how hard the initial stages will be.
It's important to be ready for the below:
– Lack of sleep as your new puppy adjusts. They may cry during the night due to isolation
– 2hr intervals for taking your puppy out for the toilet
– Patience as your puppy learns the rules
– Constant positive reinforcement of good behavior
– The occasional clean up of accidents.
– Puppy proofing the house to avoid them getting into things that are dangerous or chewing valuables.
How Long Does It Take To Bond With A Puppy?
Bonding with your puppy will differ from every dog and every owner. Each dog and each owner will have a different story that may affect trust and affection, making bonder slower. Most dogs will have formed a bond with their owners anywhere between two days and two months and the bond will form when your puppy develops trust in you. If your puppy is taking longer, they may have had a bad experience in the past that makes trust difficult – give it time.
What If I Don't Want My Puppy Anymore?
Your puppy will be hard work. They need training and they need to get used to their new home and new routine. Whilst you may experience the puppy blues in the initial phases, it's important to remember that this is completely normal. You are both getting used to each other and the new house rules and it's completely fine to have some anxiety about this. Hang in there because it's worth it when your puppy is housetrained, and they know their place in the house.
They will bring your home joy and happiness!
If you are having difficulty with training your puppy, or there are ongoing behavioural issues, reach out and get some support from a trainer or speak to your vet about options. Having a happy, healthy puppy will make your life easier and remove some of the anxiety you might feel.
When Should You Return/Rehome A Puppy?
Too many puppies are returned, or even illegally dumped because people realize the hard work associated with them and give up too quickly rather than be patient and hang in there!
If you have exhausted all options and you really cannot continue with your puppy, ask for support.
Reach out to dog rescue and have a discussion with them about your options.
Remember, it's important to consider your position before you even get a puppy. Are you ready to put in the time to train, is the house secure, is the family ready for a new puppy?
Will you be home in the first few weeks to help your puppy settle into their new home? All of these questions should be considered before you even start looking for your new puppy to avoid having to re-home them in the future.
What Should I Do With My Puppy All Day?
It's a good idea to be home a lot when you first bring your puppy home. This helps them to settle into their new environment, but also means that you can set and reinforce rules and structure early.
A few things that you can do with your puppy when you first bring them home include:
– Puppies love to play but they also love to sleep! You should ensure that your puppy has a safe place for them to be able to sleep as they will sleep a lot, particularly whilst learning a new environment and new rules.
– Ensure your puppy has some toys to play with. They love to explore and when they start teething, they will love to chew. Include some chew toys that they can use, rather than chewing your shoes or furniture.
– Take your puppy outside at least every 2hours to let them go to the toilet. Their bladder is small, but they also need to learn where to go. Encourage and reward them when they go to the toilet where you want them to.
– Don't overwhelm your new puppy. Play with them, give them a cuddle, but also give them some space and time alone to get used to their new surroundings as well as plenty of rest time.
– Set the boundaries early. If you don't want your puppy sleeping on your bed, don't let them on the bed at all. Reinforce good behavior with praise and treats so they start to understand the expected behaviors.
– Establish a solid routine. Puppies love routine and it will reduce anxiety in them.
References
https://www.nationalgeographic.com/family/article/getting-through-the-pandemic-puppy-blues-coronavirus
Your First Day at Home With a New Puppy: Tips For Day One