Ortho Weed-B-Gon contains harmful chemicals for your dog. Here we'll explore a variety of weed killers, natural alternatives, how a healthy lawn can coexist with pets and symptoms of chemical poisoning.
Is Weed-B-Gon Poisonous To Dogs?
When it comes to herbicides most need to be handled with discretion. They contain chemicals that are not safe for humans or dogs.
Is Weed-B-Gon Safe For Pets After It Dries?
It is ok to let your dog back on the lawn after the herbicide is dry. But it's crucial to be 100% certain that it is completely dry. Pay extra attention to the weather. If it rains, it is a good idea to let the chemical dry for an additional one or two days.
How Long After Spraying Weed-B-Gon Is It Safe For Pets?
After spraying Weed-B-Gon please allow one to two days of drying before letting your pets go out onto the lawn again. This must be a hard and fast rule for the safety of your pets.
How Safe Is Ortho Nutsedge Killer For Pets (Before And After Spraying)?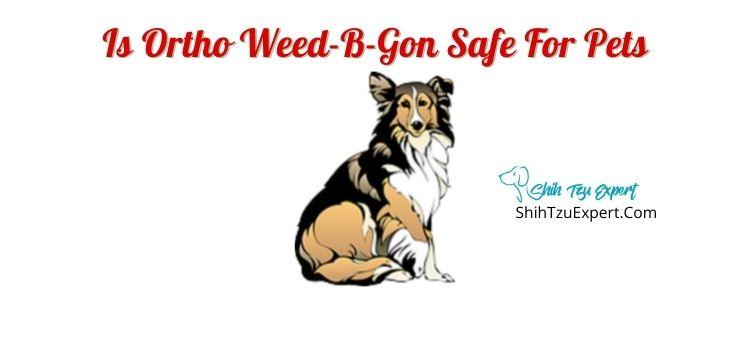 When your pooch is eager to get outside it can be tempting to let it go. However, if you have sprayed Ortho Nutsedge Killer on the lawn it is best to keep this chemical away from children, edible plants and your dog. Please wait approximately two hours before allowing children or dogs onto the lawn.
Is Homemade Grass Killer Safe For Pets?
It is possible to make homemade grass killer concocted from soap, vinegar, salt and water. Using these ingredients is a good solution if you want to avoid harmful chemicals on your lawn. It is also safe to let your dog onto the lawn, though it is not recommended. Dogs running around on the grass can interfere with the effectiveness of the solution.
Is Crabgrass Killer Safe For Dogs?
If you're in a battle with crabgrass, grabbing an herbicide is quick and effective. However, not all crabgrass killers are created equally. Some crabgrass killers are made from concentrated soaps, salts and vinegar while others contain harmful chemicals.
Familiarize yourself with the ingredients listed on the back of the product. This is the best way to ensure you can keep your dog safe in the event that it mistakenly runs out into the lawn. You can be more assured about possible consequences if you know what's in the product.
What Is The Best Pet Safe Clover Killer?
The best pet safe clover killers are those with more natural ingredients. These are things such as concentrated vinegar, soap and salts mixed with water.
What Is The Best Pet Friendly Foxtail Killer?
Being a pet owner for any amount of time and you'll soon learn that foxtails are one of the enemies. These little nuisances can get embedded into your dog's skin. The only way to get them out painlessly is by sedation at the vet. Do not attempt to pull them out yourself. This can seriously hurt a dog as foxtail has barb stems.
The best pet friendly foxtail killer is you. If you see one go ahead and pull it out and get rid of it appropriately. An eco-friendly option is vinegar. Pour it directly onto the plant to make a safe play zone for your pupper. Another thing you can do is mow your lawn regularly.
What Is The Best Pet Safe Dandelion Killer?
The best pet safe dandelion killer is a combination of vinegar and dish soap. Be sure to avoid getting the solution on the lawn and use the stream feature of the spray bottle to target dandelions.
What Is The Best Crabgrass Killer Safe For Dogs
There are plenty of organic big box store options for crabgrass killers that are safe for pets. But you may already have the ingredients for a DIY pet safe solution. Again, it includes dish soap, vinegar and water.
What Is The Best Creeping Charlie Killer That Is Safe For Pets?
The safest way to handle creeping Charlie is by pulling out the weeds. Creeping Charlie likes shady moist areas, so making sure the area has good drainage and perhaps exposing the area to sunlight by cutting branches can help. Keeping your lawn healthy by adding a layer of mulch is also a safer route.
Then of course, you can fall back on the DIY weed killer; salt, vinegar and dish soap.
Is Ortho Home Defense Harmful To Dogs?
The active ingredient in Ortho Home Defense is bifenthrin. Surprisingly this is a synthetic form of the extract derived from chrysanthemums. It is created to be used indoors to repel insects. It is safe to use around dogs, but as always with chemicals, use them with common sense if a dog is around.
It's not harmful for dogs to be near the chemical or sniff the chemical if done sparingly. However, if a dog ingests the insecticide it can prove to be harmful. Severity of the effects will also depend on the quantity ingested.
If this happens please contact your veterinarian right away.
Is Ortho Groundclear Safe For Pets?
The active ingredient in Ortho Groundclear is ammonium nonanoate which is a water soluble ingredient. This means that if it comes in contact with your skin or your pets skin. You can wash it off, no problem. It is considered pet-friendly.
However, with any chemical ingredient if it is ingested this is another story. Please contact your vet right away if your dog ingests the weed killer.
Is Pre Emergent Safe For Dogs?
Pre-emergent is a type of weed killing system that works to prevent weeds from growing rather than killing after they grow. While there are big box store options that contain chemicals — and these are harmful for dogs — there are safer alternatives.
Gluten meal can be applied to lawns as one option. Another option is using a vinegar solution. These are both pet-friendly options.
Is T-Zone Herbicide Safe For Pets?
T-zone is a broadleaf plants fighter. What makes this product pet-friendly is that it doesn't have pesticides or herbicides as ingredients. Another benefit to using this product is that it dries and is absorbed very quickly, making less of a hazard for dogs.
Is Iron Hedta (Fehedta (Iron Chelate)) In Herbicides Safe For Dogs?
Using iron chelating agents for weed control is another alternative to using harmful chemical herbicides. Iron hedta is effective for treating broadleaf weeds. Once it is done drying people and pets can safely walk on the treated lawn.
Can Weed Killer Kill Dogs?
No weed killer cannot kill a dog if the dog is simply wandering on a surface that has been sprayed with it. They may suffer side effects such as fatigue, nausea, or rashes. Some weed killers contain glyphosate. Glyphosate is a known carcinogen for people and dogs.
However, if your dog gets into a bottle containing weed killer and ingests a large amount this can possibly kill your dog. Please consult your veterinarian immediately if this occurs.
How Long After Spraying Weeds/Lawn Treatment Is It Safe For Pets?
The rule of thumb is to allow weed killers to completely dry before you or your dog walk on the surface. This can take 24 to 48 hours. Whether it is a pet friendly option or a weed killer that contains toxic chemicals, this is a good guideline to follow to keep you and your pet safe and allows the solution to effectively get rid of weeds.
What Happens If A Dog Walks On Pesticide Treated Grass?
Although we know we should stay off pesticide treated grass, sometimes life is out of our hands. Where we are able to change our shoes and socks after walking on pesticide treated grass, our dogs don't have the ability to change their fur and skin. After walking on treated grass it may develop the following side effects in the following body systems:
Neurological
Gastrointestinal
Cardiological
Pulmonary
Skin
Kidney
Liver
If something isn't normal in these systems please contact your vet right away.
What If My Dog Licks Weed Killer/Pesticide?
If your dog licks weed killer or a pesticide look out for the following symptoms:
Nausea
Vomiting
Diarrhea
Fatigue
Breathing problems
Dizziness
Drooling
Rash or skin irritation
Trembling
Call your veterinarian immediately if your dog develops these symptoms, as this can quickly turn into a serious medical emergency.
Does Rain Wash Away Pesticides?
Yes, rain along with wind can decrease the effectiveness of pesticides. During application a strong breeze can blow the mist away from the target. Additionally a few episodes of rainfall dilutes the chemical solutions which will require re-application of the pesticide.
How Long Does It Take A Dog To Show Signs Of Weed Killer/Pesticide Poisoning?
When your dog accidentally runs in the yard and rolls in pesticides the symptoms of poisoning can show up pretty quickly and even long after the incident. Symptoms can show up as soon as fifteen minutes or as long as several hours later.
The key is to observe your dog to make sure it is ok, and if anything happens, you should already be in contact with your vet or connecting with your vet immediately.
How Long After Spraying Roundup Weed Killer Can I Let My Dogs Out?
After spraying the yard with Roundup please keep your dog away from the sprayed surface for 48 hours.
What Is A Natural Alternative To Roundup?
There are some alternatives to Roundup; some we have looked at already include a salt, vinegar, water mixture along with hand digging and mulching. Additionally you can use boiling water, but this method will have to be more frequent (at least a few times a day).
Is It Safe To Use Fertilizer On My Lawn If I Have A Dog/Cat/Etc…?
Lawn fertilizers are loaded with synthetic ingredients and chemicals. They are toxic to dogs and have been the culprit of harming dogs and even death. Dogs can be harmed if they ingest or inhale fertilizer. The product is harmful even if it has properly dried. The chemicals can also leach out after rain.
If fertilizing your lawn is a must at your home, please look for pet-friendly alternatives.
Can Lawn Chemicals Cause Seizures In Dogs?
Lawn chemicals can cause seizures in dogs. Especially if a dog ingests a large amount of the chemical. Please practice discretion on how you store lawn chemicals in the house, garage or shed.
What Kind Of Lawn Fertilizer Is Safe For Dogs?
When looking for a lawn fertilizer that is compatible with dogs, look for labels that have non-toxic ingredients or are EPA certified. These will be pet-friendly. However, always read the instructions for proper usage, allow for appropriate drying time and always keep chemicals stored aways from dogs.
What Kills Weeds But Won't Hurt Dogs?
You can mix a concoction of vinegar, salt, water and dish soap at home that can kill weeds and not harm dogs. There are also plenty of pet-friendly organic options at the store for weed killers.
How Do I Detox My Dog From Pesticides?
There are a few ways to help your dog detox from pesticides. If there has been skin contact, help your dog to sweat it off if they are feeling up to it or provide it with a soothing bath. You can give your dog supplements; vitamin C is especially helpful for detoxing. Similarly milk thistle is great for detoxing.
How Long Does It Take For A Dog To Detox?
Detoxing is a process. The size of the dog and the amount of exposure to toxic ingredients can influence the process, too. Be aware that the detoxing process can take up to two weeks.
Can A Dog Recover From Pesticide Poisoning?
When taken care of properly and addressed quickly a dog can recover from pesticide poisoning, 100% percent.
Does Milk Help A Poisoned Dog?
Milk can certainly help a poisoned dog, but only up to a point. If your dog has ingested a large amount this will greatly affect your dog's outcome and you should contact your veterinarian right away.
It also matters the type of milk you give to your dog. Cow's milk won't do much to help your dog. Please ensure that your dog gets milk thistle if you want your dog to recover properly.
References
https://webwiser.nlm.nih.gov/WebWISER/substance?substanceId=108&identifier=Weed-B-Gon&identifierType=alias&menuItemId=69&catId=79
https://www.conncoll.edu/media/website-media/offices/ehs/envhealthdocs/Ortho-Brush-B-Gon-label.pdf
https://www.caninejournal.com/pet-safe-weed-killer/