Dog owners that bathe naked with their dog may seem strange at first, especially to non-dog owners. However, there are many reasons why bathing with your dog might be a great idea.
Is It Strange To Bathe Naked With Your Dog?
Bathing naked with a dog may seem strange, particularly to people that do not have a dog. But for many dog owners, bathing naked with their dog may solve some challenging problems. Understanding the benefits and risks associated with bathing with your dog can help owners maintain their dog's good health.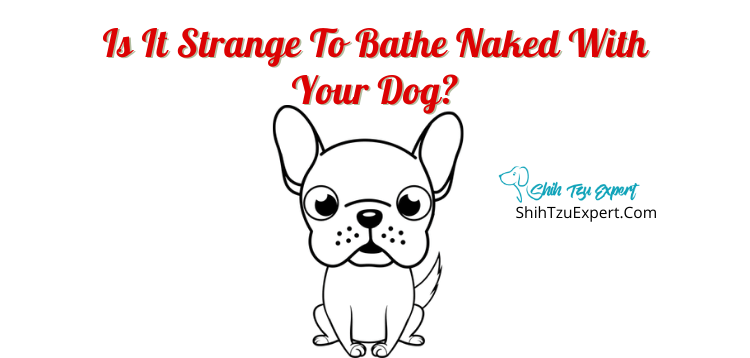 Is It Weird To Shower Naked With Your Dog?
It is not weird to shower naked with your dog. Dog owners who live in an apartment, small home, or condo with no access to a yard and hose or a large bathtub may find it challenging to get their large dog clean.
It is important to bathe dogs when they are dirty to maintain their good health.
There are dog grooming services available that will bathe your dog for you. Some service providers will drive to your location and wash and groom your dog out of the back of a truck or van. Other providers have a physical shop location where you can take your dog.
However, dog grooming services can be quite expensive, depending on your location.
Dog owners with large dogs who live in a place without the necessary infrastructure available for bathing their dogs may find that showering is a great way to keep their dog clean. Showering with your dog instead of paying a service provider to do it is a great way to save money.
Showering with a dog is also a great way to bond with it. Even if you do not have a large dog, bath time in the shower can be a way to bond with your dog of any size. Be sure to check on the correct frequency of baths for your dog's breed.
Since showering can be a messy endeavor, showering naked is probably the easiest way to achieve a clean, happy dog with a minimum amount of mess for the dog owner.
Is Taking A Bath With Your Dog A Good Idea?
If your dog is afraid of water, getting into the bathtub or small kiddie pool when bathing them is great way to keep them calm. Taking a bath with a nervous dog can help to reassure them and prevent them from being overly stressed.
However, bath time with your dog should be done without using soaps or shampoos. Dog shampoos are not necessarily healthy for human skin. Many dog shampoos contain pesticides that help prevent ticks and fleas.
The insecticides found in dog shampoos can be dangerous to humans. The primary ingredient, pyrethrins, can be very toxic if ingested. Since humans use shampoo around the face area, it is easy for shampoo to occasionally be ingested or be rinsed into the eyes.
Pyrethrins can also be absorbed into the skin. If it is absorbed into the skin, it can cause a rash or irritate the skin and cause itching or other allergic reactions. It is best for humans to avoid prolonged contact with dog shampoos.
Likewise, human shampoos and soaps are not good for dogs. The pH of dog skin (around 7.5) is different from that of human skin (around 5.5). Maintaining the appropriate pH balance for human skin and dog skin is necessary for our good health.
If the pH balance of the skin is disrupted, it can create some pretty severe problems. Skin with a disrupted pH balance can become infected by bacteria or fungi. Bacterial and fungal infections can be difficult to treat and, especially in dogs, may require a long-term treatment plan.
If you suspect your dog has a fungal infection, treatment is necessary and requires the help of a veterinarian.
While taking a bath with your dog has some potential benefits, it is important to fully understand the potential dangers associated with that activity.
Why You Shouldn't Bathe With Your Dog?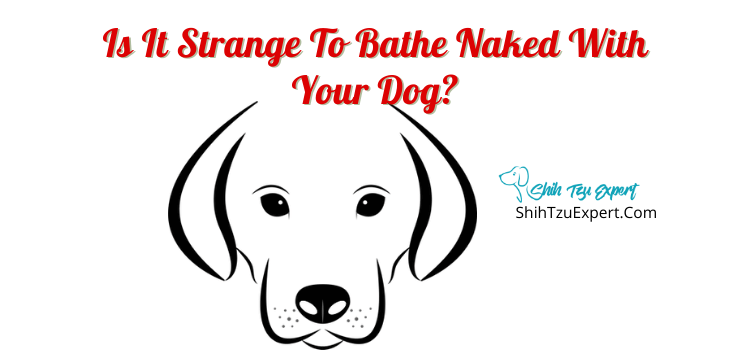 The toxic insecticides found in dog shampoos provide one important reason why bathing with your dog is not a good idea. However, it is not the only reason.
There are other drawbacks to bathing with your dog. First, dogs have claws and they can injure their owners when their owner is naked. Unprotected skin can be easily scratched.
Second, for dogs with a fear of water or bathing, getting into a bathtub or small pool can be risky for the dog's owner. It can be dangerous to get into a body of water, no matter how small, with a dog that is large and afraid.
Large dogs that are highly stressed and afraid may injure their owner, particularly if the person trying to bathe the dog is a small adult or child. There is a chance that a large dog could knock over a small person and cause that person to drown.
Dog owners should weigh the potential risks and benefits of bathing with their dogs before they try it for themselves.
Why Does My Dog Stare At Me When I Change Clothes (Is It Weird)?
Humans change their appearance every day. Changing one's outer appearance every day must seem weird to dogs since their appearance never really changes. Because that may be odd behavior from a dog's perspective, they might stare at their human while they try to figure it out.
When dogs see something they do not understand, like humans changing their outer appearance, they may stare at their human while trying to understand what is happening.
If having a dog staring at you while you change clothes makes you uncomfortable, train your dog to give you privacy. Dogs may not understand the human construct of privacy or personal space, but they are capable of learning to respect their owner's boundaries.
When Should You Not Bathe With Your Dog?
Dog owners should probably bathe every day. Dogs, on the other hand, should not be bathed every day. As a result, dog owners should not bathe with their dogs every time they are bathing themselves. It is okay to do it sometimes, but it should not be done every day.
Dogs have sensitive skin. How often owners should bathe their dogs depends on what type of breed their dogs are. Dogs without fur typically need a bath at least once per week. Dogs with longer fur do not require baths as frequently. Some dog breeds with thick, double coats, like huskies, should be washed infrequently.
It is important to understand your dog's bathing requirements so that they maintain good physical skin and fur health.
A dog owner who is unsure of the bathing requirements of their dog, such as when they should or should not bathe them, should ask their veterinarian for advice.
Why Does My Dog Want To Get In The Shower With Me?
Sometimes, dogs want to jump in the shower with their owner. The reasons for this behavior can vary. Diagnosing the reason behind your dog's behavior is important and can help you maintain a healthy life for your dog.
Dogs with separation anxiety may not want to be separated from their owner. These dogs are most happy when they are with their human at all times, even when their human is busy showering.
Some dogs love being in the water. It doesn't matter what form of water they are faced with – pool, bath, sprinkler, shower – they love water so much they want to be in it.
Other dogs may feel a strong urge to protect their owner, particularly if those dogs are afraid of water. Dogs with a strong protection instinct may want to stick to their human and protect them, even during a shower.
If having your dog in the shower does not bother you, think about allowing them to share your shower time, no matter the motivation behind it. On the other hand, if you are an owner that needs your privacy and personal space, train your dog to respect your boundaries.
Can I Get In The Bathtub With My Dog?
Dog owners can get in the bathtub with their dogs. Some dogs are so scared of being bathed that it is recommended that their owners do get into the bathtub. For scared dogs, they may need the reassurance and comfort that only comes from being held by their owner.
Before getting into the bathtub with their dog, owners should be aware of a few things.
Understand the bathing requirements for your dog's breed. Unless your dog is dirty from playing in the mud, ocean, or something else, follow the bathing frequency recommended by veterinarians.
Determine if you or the person who bathes your dog in the bathtub is big enough to handle the dog without being injured. Clip and file your dog's toenails before bathing to decrease the chances of being injured by scratching.
Decide if the bath will be with or without dog shampoo. If you are using dog shampoo, it is better to stay out of the bathtub to decrease the amount of your skin exposed to the shampoo.
Bathing with your dog can be a great method for calming both stressed puppies and anxious adult dogs. However, take some precautions to make bath time both enjoyable and safe for humans and dogs alike.
Is It Normal To Feel Ashamed If Your Dog Sees You When Naked?
Dogs are naked every day unless their owners dress them in cute sweaters or other outfits. But humans are not naked every day and most of us do not have a fur coat covering our bodies. It may seem strange to dogs that we change our appearance and as a result, they stare at us.
For some people, being stared at while naked, even if it's only the dog staring, can cause them to feel ashamed or embarrassed. This is a normal response, especially for people who are not used to being naked around other people.
Being naked in front of others can cause some people to feel vulnerable. That feeling of vulnerability can be unpleasant, especially if a person has received negative feedback about their physical appearance in the past.
It is completely normal and okay to feel ashamed or embarrassed when your dog sees you naked.
If you do not want your dog to see you naked, teach your dog to respect your privacy. It is important to establish boundaries with your dog. Continue to reinforce those boundaries when you feel uncomfortable. Dogs are smart enough to understand your privacy preferences.
Do Dogs Recognize A Difference When You Are Naked Vs Clothed?
Dogs can tell a difference between a naked human and a clothed human. They can even tell a difference between a human's different outfits. Sometimes, humans may wear a color or pattern that dogs do not like.
Researchers from New Zealand conducted a study that suggested dogs may react to certain patterns and colors that people wear. Stripes seem to make dogs react in a more submissive way according to the results of the study.
This research would indicate that dogs can detect differences in the clothing worn by their owner.
It is important for dog owners or people who interact with dogs to wear clothing that would cause dogs to be less reactive. Pay attention to your dog to see if your clothing has any effect on your dog's behavior.
Dogs may also need reassurance from their owners after they change their appearance. When a dog's owner drastically changes their clothing, hair, and/or makeup, dogs may be very confused. Take the time to show your dog who you are or allow them to observe the changing process.
Is It Wrong To Let My Dog Watch Me Shower?
Showering is a uniquely vulnerable time during a person's daily activities. We are naked and feel unprotected. Many of us find ourselves listening for strange sounds over the noise of the water.
If you are a dog owner with feelings of vulnerability while you shower, then letting your dog watch you while you bathe may not be right for you. It is not wrong to let your dog watch you, but even dogs need to respect our boundaries.
Dog owners with dogs that want to sit and watch while they shower can discourage that behavior by shutting the door so the dog cannot get into the bathroom. Give your dog a treat for good behavior after your shower.
References
"Can I Shower With My Dog?" January 17, 2018. Breeding Business. https://breedingbusiness.com/shower-with-dog/
CCSPA. "How Often Should You Bathe a Dog?" October 13, 2016. Central California SPCA. https://www.ccspca.com/blog-spca/education/how-often-should-you-bathe-a-dog/
Coren, Stanley. "The Clothes You Wear Can Affect a Dog's Emotional State." November 18, 2015. Psychology Today. https://www.psychologytoday.com/us/blog/canine-corner/201511/the-clothes-you-wear-can-affect-dogs-emotional-state
Hawk, Mark. "Can Humans Use Dog Shampoo Safely?" Animal Nerdz. https://animalnerdz.com/can-humans-use-dog-shampoo/
Lotz, Kristina. "How Often Should You Bathe Your Dog? Groomers Weigh In" May 25, 2018. The American Kennel Club, Inc. https://www.akc.org/expert-advice/health/how-often-should-you-wash-your-dog/