Dogs sometimes exhibit behaviors that may be strange such as jumping into a shower, barking while someone is showering, or excessively licking someone after their shower. It is necessary to know if these behaviors are safe and what to do to correct them if they are not.
Why Does My Dog Jump In The Shower With Me?
Dogs can display strange shower and bath behaviors because of fear. It is important to understand the causes behind a dog's odd or fearful behavior so that behavior can be corrected. Once dogs are trained to live without their fears, they can more freely live normal, healthy lives.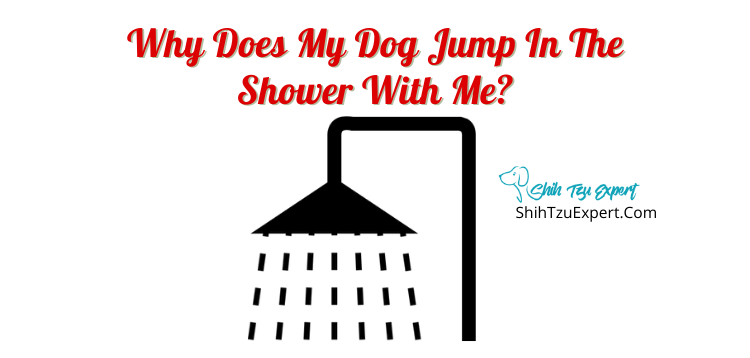 Why Does My Dog Love To Get In The Shower With Me?
Dogs love to be with their owners all of the time. They want to be with you, whether sitting, driving, or walking. It should be no surprise then when your dog also follows you into the shower.
If your dog is one that wants to shower with you, that is great. It is just one more opportunity for you to bond with your dog. It is also a potentially great opportunity for you to take care of the often difficult and unpleasant task of bathing your dog.
Can I Shower With My Dog?
Dogs start to smell if they are not regularly bathed. But bathing a dog can be a real chore, especially if you have a large dog. Bathing large dogs can be a messy task for dog owners and at the end of it, both the dog and the owner are usually soaking wet.
It may be easier to bathe large dogs if the owner combines their shower with bath time for their dog.
For smaller dogs, particularly if the dog is strongly bonded with its owner, showering with the dog can nurture the owner-dog bond. If your dog does not like to be left alone while you shower, showering with your dog is a good way to keep it calm.
However, because of the nature of a dog's skin, it is not healthy for a dog to be bathed every day. Limit bathing with dog shampoo to only a couple of times each week. Different breeds have different bathing recommendations, so talk to the vet about what is right for your dog.
The skin of dogs can be very sensitive, depending on the breed, and keeping your dog healthy may mean not using shampoo every day.
Is It Normal To Shower With Your Dog?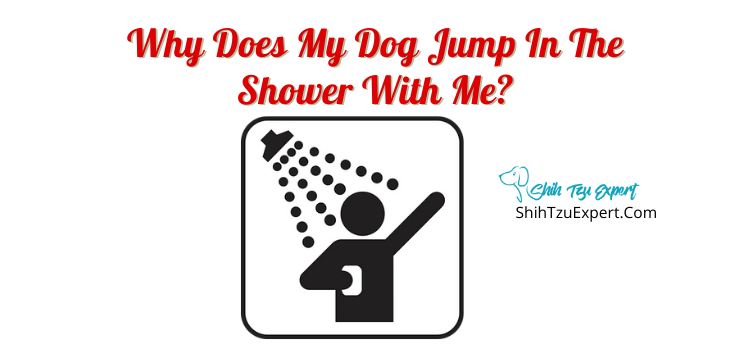 Many homes, particularly small apartments or condos, may not have a good place to bathe a dog. A bathroom in these small residences may not be able to accommodate a bathtub. Also, there may not be a backyard available to bathe large dogs with a hose.
For dog owners with no bathtub in their home or backyard, showering with their dog may be the best option.
Dog owners sometimes lead busy lives, especially if they have a job, extracurricular activities, hobbies, and/or children. A person's schedule can fill up fast, leaving little time for basic household chores like bathing the dog.
Busy dog owners may have little extra time in their day, so showering with their dog once in a while might be the most efficient way to keep their dog clean.
Why Does My Dog Jump On Me In The Water?
Dogs react in different ways when they are confronted with water. Some dogs are very afraid of the water and will exhibit behaviors that show stress or anxiety, such as excessive barking and pacing. Other dogs love the water and want to be in the water immediately when they see it.
Sometimes, dogs that love the water will jump on their owner.
The dog is so excited about being in the water that it jumps on the person it wants to play with. If it is a small dog, this may not be a problem. For larger breeds, however, this behavior should be discouraged because it could be dangerous, particularly if the dog is jumping on children.
When a dog is scared, it may also choose to jump on its owner, looking for someone to rescue it from the water. Dogs that are afraid of the water and exhibit anxiety should be handled with care. Take the following steps to help encourage your dog to like being in the water.
Use a small kiddie pool from which your dog can easily get in and out. For small dogs, provide a small stool that they can use to get over the side.
Use a highly motivating treat or a special toy, combined with a lot of praise to encourage the dog to enter the pool. The dog must enter the water on its own.
Encourage the dog to get in the water by entering the water yourself.
Get other water-loving pets to help encourage the scared dog by putting the water lovers in the pool and playing with them.
Why Does My Dog Cry When I Shower Him
Some dogs have a great fear of water. They want to do what they are told and get into the bathtub or shower, but they are very scared. When an owner forces their dog into a bath or shower, the dog may cry. Those crying sounds can be heart-wrenchingly sad and tough to hear.
For severely scared dogs, some steps can be taken to reduce the fear they have and make their bathing experience more comfortable.
Bribe the dog with treats to get them into the dry shower area. Allow them to leave after getting their treat, then throw another treat in there. Dogs need to associate the shower with good things.
Smear peanut butter on the wall while bathing them.
Put a favorite toy into the shower.
Make sure the water temperature is comfortable during the bath.
Keep the dog's paws from slipping in the shower by putting down a non-slip mat or another surface.
Use shampoo that does not irritate or burn their skin and avoid getting soap in their eyes.
Keep water out of their ears.
Remain calm and speak calmly to the dog as you bathe them.
Reward them with treats periodically throughout the bath so they continue to understand that good behavior results in more treats.
Following these simple steps can help you train your dog to tolerate or even enjoy time in the shower.
Why Do Dogs Follow You To The Bathroom?
Dogs are pack animals. They do not like to be left alone while a member of their pack goes someplace else. When your dog follows you to the bathroom, they likely do not want to be left outside while you shut the door and exclude them.
When you are with your dog, you may be giving him positive reinforcement to stick to your side without even realizing it. If you are speaking sweetly to it or periodically giving treats, your dog is more likely to want to stick next to you all of the time.
Pay attention to how you are feeling. If you are feeling nervous or stressed, your dog may be picking up on those feelings and is worried about you. Some dogs can even recognize if a person is ill or about to have a seizure.
If the dog seems to stay close to you in a way it normally does not, it may detect a health problem in you of which you are unaware.
Why Does My Dog/Puppy Get Scared/Freakout When I Shower?
Dogs that are afraid of water may fear for the life of their owner when that person gets in the shower. Water is scary and they feel the need to protect their owner from the scary water.
If you try to keep your dog out of the bathroom, that may only make the dog's behavior worse. This is particularly true if your dog has separation anxiety and does not like letting you out of its sight.
Your dog may also feel sorry for you because you have to get a shower and they know how bad that activity can be. As a result, they may show you how much they care and how sad they are feeling for you by acting crazy.
No matter the reason why your dog or puppy gets scared or "freaks out" when you get in the shower, that behavior can be improved through dedicated and consistent training. That training should include acclimatizing the dog to water and baths and helping them cope with your occasional absences.
Why Does My Dog Jump In An Empty Bathtub?
Some dogs instinctively know that a bathtub is a solid, safe space. When dogs sense a storm is coming, they may immediately jump into the bathtub because that feels like a safe place to be. Likewise, when fireworks are going off outside, dogs may choose to hide in the bathtub.
Sometimes, dogs may jump into a bathtub because they love bath time and want to bathe and play. If your dog enjoys their bath time, continue to encourage that behavior because the alternative is very difficult to manage.
If it is very warm in the house, or if a dog is overheating, it may jump into the bathtub to cool off. Bathtubs can be a cool place to hang out, just like a shady place in the sun.
Another reason dogs may jump into the bathtub is when there are a lot of loud noises or people in the house. Dogs may need to escape the chaos and the crush of people and find a quiet place to hang out.
Why Does My Dog Like To Sleep In The Bathtub?
During the summer months, there may be few places to sleep inside where a dog can stay cool. Bathroom floors with their tiled floors and cool bathtubs may provide a place where a dog can get comfortable in the heat.
In some parts of the world at certain times of the year, violent thunderstorms may occur frequently. Dogs that are scared of thunder may feel safer sleeping in the bathtub, especially when they feel a storm building.
If the area where your dog normally sleeps has been changed because of a new pet using the space, the dog may choose to sleep in the bathtub away from the new pet.
If a new person is in the bed where the dog normally sleeps, that could cause the dog to relocate elsewhere. Likewise, a new person in the house that is using the dog's sleeping area late into the night may also cause the dog to change its sleeping location.
Why Do Dogs Lick Your Legs After A Shower?
When people shower, they often use cleansers that smell good. If the cleansers smell good to humans, they may smell even better to dogs. As a result, when a dog owner gets out of the shower, their dog may lick their skin, trying to taste the residue from the cleanser left behind.
On the other hand, dogs that feel some separation anxiety may not be tasting their owner's skin. Instead, they may be showing their affection by giving sloppy dog kisses when their human is finally freed from the shower.
Your dog could be cleaning your skin after your shower, just like they do to themselves. They could be drinking the water left on your skin. Licking you might just make him feel good, so that's what he does.
Whatever the reason for the licking, it is highly recommended that you do not allow your dog to lick you after your shower. The residue left on your skin from the cleaning products used during your shower could be harmful or even toxic to your dog.
Train your dog not to lick you after a shower by discouraging that behavior. Ignore the dog and walk away when it starts. You can also tell the dog no and remove it from the room so that it starts to understand that behavior is not wanted.
References
"4 Ways to make your dog love water." December 1, 2021. Tractive. https://tractive.com/blog/en/good-to-know/water-dogs-summer-fun-activities
AKC Staff. "How to Teach Your Dog to Swim (and Love It, Too!)" January 1, 2009. The American Kennel Club, Inc. https://www.akc.org/expert-advice/training/how-to-teach-your-dog-to-swim-and-love-it-too/
Byer, Zoe. "Why Do Dogs Jump In Bathtubs." February 26, 2018. Wag! https://wagwalking.com/behavior/why-do-dogs-jump-in-bathtubs
"Can I Shower With My Dog?" January 17, 2018. Breeding Business. https://breedingbusiness.com/shower-with-dog/
Dan. "Why does my dog get in the bathtub?" Pet Dog Owner. https://petdogowner.com/why-does-my-dog-get-in-the-bathtub/
Erickson, Alexa. "Why Does My Dog Follow Me Into the Bathroom?" August 20, 2021. Family Handyman. https://www.familyhandyman.com/article/why-does-my-dog-follow-me-into-the-bathroom/