We may earn commission from qualifying purchases at no extra cost to you.
Learn more
The Italian Tzu, a hybrid of the Italian Greyhound and Shih Tzu, is a great companion dog. Drawing from the affectionate Italian Greyhound and sociable Shih Tzu temperaments, the Italian Tzu is a friendly, adaptable, and loyal homebody. Bred with the intent to serve as companions, this toy-sized breed knows both how to play hard and relax hard. Up for jaunts in the neighborhood and long stretches snuggled up at home, the Italian Tzu is perfect for a household with good balance between activity and chill time. While neither parent breed is known for its trainability or obedience intelligence, the Italian Tzu, with early and consistent training, is capable of learning necessary commands for skill and play. Animal-, kid-, and stranger-friendly, the Italian Tzu would be a great addition to a city-dwelling or neighborhood-residing family.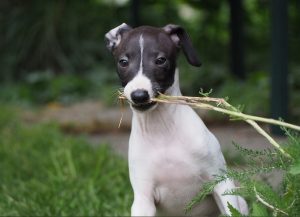 Origins
The Italian Greyhound, officially recognized by the American Kennel Association (toy group) in 1886, is believed to have ancient ties to royalty — a favorite of noble families from Russia to Scotland. Brought to the United States after World War II, Italian Greyhounds rose in popularity as an energetic family dog. They are known to be a bit skittish and, at times clingy, to their owners, yet frisky and eager-to-play when given the opportunity. The smallest of the sighthounds, the Italian Greyhound rivals its larger cousin, the Greyhound, in prey-reactivity, but much prefers the comfort of its owner's lap to anything.
The Shih Tzu, also of royal ancestry in China, did not make its way west until the 1930s, when the first pair was exported to England. The Shih Tzu quickly endeared itself to western families who loved its adorable look and affectionate personality. Thought to be a hybrid themselves — a descendant of a
Pekingese
and a Lhasa Apso — the Shih Tzu was officially recognized as a breed within the toy group of the American Kennel Club in 1969. Also preferring their owner's lap to any cushion in the home, the Shih Tzu is a pint-sized pal, excellently suited for life in an apartment with a doting owner or family.
It's no surprise, given these regal lineages and easy temperaments, that the combination of the Italian Greyhound and the Shih Tzu, the Italian Tzu is a loyal lap-lover. Devoted to their owners and preferring known company to strangers, Italian Tzus typically mix the most-adored traits of their pure-bred parents. Although not officially recognized by any American- or internationally-based kennel club, the Italian Tzu is certainly growing as a fan-favorite among small, mixed-breed aficionados.
Appearance
More closely-resembling its Shih Tzu parent, the Italian Tzu  will have a round face, wiry hair, a black snout, dark eyes and flop or button ears. Often the hair on their bellies will be sparser than on their back and legs, more closely resembling the growth pattern of the Italian Greyhound. Light pink skin spotted with darker patches can be seen on the belly or beneath the fur of the back. Like their parent breeds, the Italian Tzu often sports a friendly smile and that ever-endearing, curiosity-driven head tilt. White coloring with dark patches or all-over darker fur color is predominant in Italian Tzus.
Just as their overall appearance is more likely to resemble their Shih Tzu parent, Italian Tzus are likely to be smaller than their Italian Greyhound parent. Male Italian Tzus can be expected to grow to between 10-12 inches, weighing in anywhere from 10-16 pounds, while their female counterparts are, as-to-be-expected, on the slightly smaller side, standing between 9-10 inches in height and weighing just 9-10 pounds. Expect to have these companions close by for 12-14 years.
Temperament and Personality
Not all Italian Tzus are a 50/50 mix Italian Greyhound/Shih Tzu. As with many hybrid breeds, you may find multi-generational cross breeds where the parents are also mixed-breed, such as Italian Tzu x Italian Tzu. Knowing as much about your Italian Tzu's lineage as possible can be helpful in thinking about the personality traits you are likely to experience. Overall, the Italian Tzu is a playful and spritely breed who will be attentive and social with people and animals alike — an excellent family dog. Many owners report pets who are great with small children and animals, excited to play with squeaker toys, and can't wait to curl up with you on a rainy or cold afternoon.
Bred strictly as companion dogs, Italian Tzus will not be your task-completer, nor your guard-dog. You can expect a bit of barking and an occasional bout of bravado from this small breed, but no need to worry about territorialism or aggression — Italian Tzus are lovers, not fighters. With appropriate training and lots of loving attention, the Italian Tzu will reciprocate affection and obedience.
While they don't require excessive exercise or activity during the day, neither the Italian Greyhound or Shih Tzu parent breeds are known for their skill as service or support dogs. The Italian Tzu is best-suited for an individual, couple, or family with time and energy to play and cuddle.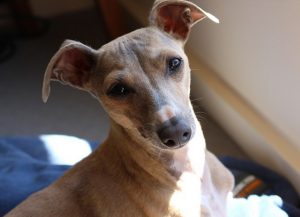 Training and Exercising
Just like their human owners, Italian Tzu's should get about 30 minutes of exercise a day. This could be in the form of a substantial walk or romp in the dog-park. The Italian Tzu, like other moderate-activity-level dogs, benefits from time socializing with other dogs to exercise both the mind and body. It's important to remember that due to their moderate activity need, Italian Tzus can be susceptible to extreme temperatures and time outdoors should be monitored closely.
Training should begin as soon as you bring your Italian Tzu home. Familiarizing them with a routine and behavior expectations from the start will make caring for your social pup much more manageable. Helping your pooch establish boundaries and commands will help ensure that dog-to-dog and dog-to-human interactions both inside and outside of your home are pleasant.
Health, Care and Grooming
With two low-shed parent breeds, the Italian Tzu follows suit with a straight, slightly longer and denser-than-average coat. These minimal-shedders won't clog your drains or jam your vacuum, although once-a-week brushing should be maintained for the comfort of your pet. Professional grooming may be preferred for bathing, as their sensitive skin requires veterinary-grade shampoo. Combined, regular brushing and shampooing will also help keep dander at a minimum — something to consider for those with fur-sensitivities.
Keeping a clean, tangle-free coat is not your only care-taking responsibility. Plan to brush your canine companion's teeth minimally three times a week. Watching for nail growth is also important. Consider scheduling regular groomings for your pooch — familiarizing them with these routines will be important as they may be resistant at first. Ensuring that you pair grooming with positive reinforcement increases the likelihood your Italian Tzu will find the experience spa-like and not torturous.
In addition to maintenance-based care, responsible pet owners know the importance of finding a trustworthy and gentle veterinarian to care for their four-legged family member. Research local vets in your area and reach out to set up an introductory appointment soon after bringing your Italian Tzu home. Together with your vet, you'll be able to make informed decisions about care, including whether or not to neuter/spay your pup. If, like most families, you're looking for just one new family member, consider neutering/spaying while your pup is still young. (Note: many adoption and breeding agencies offer this service as a component of contract, so be sure to ask if you plan to neuter/spay.)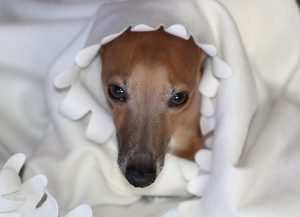 Getting your pet to know your vet, and vice versa will be particularly important as they age. Italian Tzus are prone to a handful of health-related concerns — not unlike many dog breeds — to keep an eye on.
Patellar Luxation: A mild to severe dislocation of the patella — kneecap — common in toy breeds. Patellar luxation does not necessarily cause pain and many dogs learn how to "shake" the kneecap back into place. Consult your veterinarian if you suspect signs of patellar luxation in your pet.
Hip Dysplasia: Typically more common in large-breed dogs, hip dysplasia can be an extremely painful condition for any dog. A genetic condition, the improper formation of the ball-and-socket joint, the hip, causes difficulty with sitting, standing, walking and running and should be monitored closely with the help of your veterinarian.
Epilepsy: Although only occurring in less than 1%  of dogs, seizures are the most common neurological disorder. Working with your vet, observe if the seizures seem to be related to an environmental condition, illness — including medications taken, or likely due to genetic make-up.
Progressive Retinal Atrophy (PRA): Split into two main categories, Progressive Retinal Atrophy is either an inherited or acquired deterioration of eyesight, eventually leading to blindness. Inherited PRA can typically be diagnosed when your pooch is still a puppy.
Paroxysmal Respiration: More commonly referred to as Reverse Sneezing, Paroxysmal Respiration typically occurs in episodes that sound far more alarming than they are. An action that is exactly as it sounds, the reverse sneeze occurs when air is inhaled when it should be exhaled — a typical sneeze. Despite the loud cough-like sound your dog may produce, they are in no pain and exhaling through the nose usually does the trick.
Occasional Allergies: Just like your human family members, and maybe even you, your Italian Tzu may have particular sensitivities to its environs. Environmental, skin and food allergies are well-documented across all breeds. Work with your vet to determine the appropriate course of treatment.
True to their small-size, Italian Tzus have small appetites, typically requiring only a cup of food over the course of a day. Working together with your vet, and thinking about your own schedule, determine if you want a singular mealtime either in the morning or at night, or twice-daily meals.
Bringing your Italian Tzu home
Not yet widely available, it may take some time to locate a breeder or shelter with Italian Tzus ready for their fur-ever home. Consider contacting local shelters and rescues who may be able to help you identify ways to determine parent-breeds of hybrids in their care. Another option is to contact local Italian Greyhound and Shih Tzu breeders to see if they have specific knowledge of hybrid breeders, or perhaps even breed that way themselves! Either way, be sure you are financially, emotionally, and physically ready to expand your household. Consider if a puppy or an older canine would best match your lifestyle and availability. From one dog-lover to another, make sure you have ample time for your new friend — the early investment in bonding will lead to a lifetime of memories.