Dogs that are too friendly with strangers can get into trouble: they accidentally injure people, start fights with other dogs, or even get kidnapped. Luckily, training can help correct this behavior.
My Dog Is Too Friendly With Strangers
Dogs sense human personalities and emotions and may gravitate toward strangers for a variety of reasons. However, it's safest for your dog to ignore strangers. Boost your dog's confidence so she does not fear them. Then, train specific behavior you want your dog to show to meet strangers safely.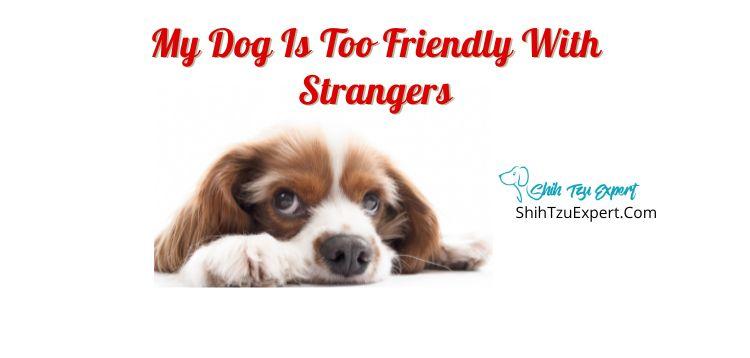 Why Is My Dog More Affectionate To Strangers?
One of the best things about dogs is their friendly personality. But sometimes dogs show more trust, affection, or friendship towards strangers than to their owners! This behavior baffles owners and can even lead to dangerous situations.
So, what causes dogs to be "too friendly" with strangers?
Is It Because It Dislikes Me?
We all want to be our pet's favorite person, so it can hurt if it seems like your dog prefers strangers. You might even worry that your dog doesn't like you at all. Luckily, there are several other explanations for this behavior that may apply to your dog.
Why Is My Dog Too Friendly With Strangers?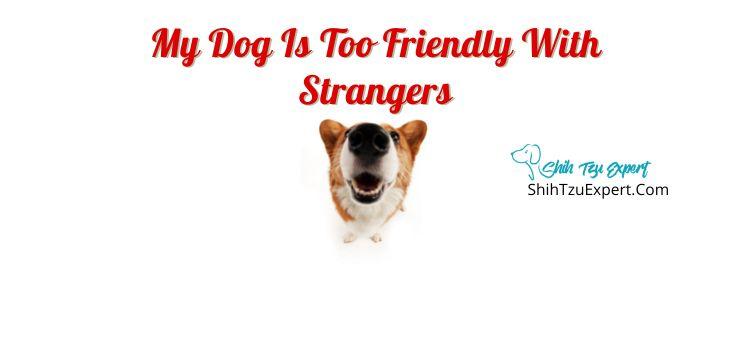 Because You Feel Comfortable Around The Stranger
Dogs are very sensitive to their owner's emotions. They can pick up on human body language and even the scents our hormones produce. If you feel comfortable around someone, your dog is more likely to behave in a friendly way, even if they've never met the person before.
Non-Threatening Body Language Of The Stranger
In addition to mirroring their owner's body language, dogs may respond to the stranger's body language. If the stranger approaches slowly and with an upright posture, or exchanges friendly eye contact with your dog, your dog may decide the person is not a threat.
Voice Tone Of The Stranger
If the stranger talks directly to your dog or uses dog-centered language like, "What a good boy!", your dog may be more likely to offer a friendly greeting. Most dogs prefer a high-pitched tone of voice and may react positively to this, even if the stranger is not speaking directly to them.
Friendly Breed
The age and breed of your dog can also play a role in their response to strangers.
Young dogs of most breeds like people, including strangers. As they get older, some breeds tend to pick one favorite human, while others are more outgoing. Examples of typically friendly breeds include:
Labrador Retriever
Poodle
Irish Setter
Boxer
Dog Has Been Trained And Rewarded For Trusting Strangers
Finally, your dog may have been trained to trust strangers. Most owners want to prevent their dog from showing aggression toward people or other dogs. If you have rewarded your dog for being friendly, he may greet strangers in a trusting or excited way.
Is Being Too Friendly And Too Aggressive/Hyper The Same?
Aggressive dogs are unlikely to trust strangers. They will react with fear, either by running away or growling, showing teeth, or barking to warn the stranger not to come close.
Friendly dogs, on the other hand, do not fear strangers and may run up seeking attention.
For some dogs, being "too friendly" means lots of happy barking, jumping, or trying to play when they meet a new person or another dog. Other friendly dogs may greet strangers more calmly, but fully trust the stranger and will follow their commands.
Why Shouldn't A Dog Be Friendly With Everyone?
Not all people feel comfortable with a strange dog running up to them, barking and jumping.
Other dogs may not like it either and may react to your dog with fear and aggression. This causes stress for dogs and owners alike, and can even result in injuries if one dog feels threatened and lashes out.
Overly excited greetings may also be a sign of anxiety in your dog. Whereas confident dogs can greet strangers calmly or even ignore them, anxious dogs don't have the skills to respond appropriately. They compensate by showing over-the-top energy and affection.
What Are The Dangers Of My Dog Being Friendly And Trusting Towards Strangers?
Even if the owner knows their dog is just being friendly, this behavior can be dangerous.
If your dog greets strangers by running towards them or jumping up, they can knock over kids or seniors, or scratch someone. Your dog could also pull the leash out of your hand and get into a dangerous situation, especially near busy roads.
There are dangers for less energetic dogs, too. If your dog trusts everyone and follows their commands, it becomes easy for someone to kidnap them. Overly friendly dogs are also less likely to act aggressively, even to protect themselves.
How To Train My Dog To Ignore Strangers?
Fortunately, training can help your dog respond appropriately to strangers. Focus on training that builds confidence, not just basic obedience.
You can also reward your dog for focusing her attention on you, rather than strangers. Teach your dog that you are the most fun person to be around!
My Dog Is Too Friendly With Other Dogs?
You can use the same training methods if your dog is too friendly with other dogs. Dogs also learn from examples set by other dogs. If you know another dog who shows good behavior by greeting other dogs calmly, ask their owner if your dog can spend time with them.
How Do I Get My Dog To Stop Being Friendly To Strangers?
When training your dog to be less friendly towards strangers, keep in mind: Training your dog to fear strangers leads to unpredictable and aggressive behavior. It's better if your dog can greet strangers calmly or just ignore them.
Here are some tips to get you there.
Teach It The Right Habits
A few behaviors and commands will help your dog remain calm when meeting strangers. Train your dog to follow these commands only when you give them, and not to take commands from anyone else.
Stay and Release commands. This allows your dog to greet others in a controlled way.
Walking well on a loose leash. This ensures your dog will stay by your side rather than pulling on the leash.
Treat/Reward Often To Reinforce The Habit
Reward your dog for good behavior with high-value treats during the training session. Be sure to bring treats with you on walks so you can continue practicing and rewarding good behavior.
Make sure to keep your dog engaged with you while on walks. Your attention is one of the best rewards for your dog. If your dog is focused on having a good time with you, he will be less likely to bother other dogs or people.
Be Gentle
Rewarding good behavior goes hand in hand with ignoring bad behavior.
If your dog greets a stranger too enthusiastically, do not react or even look at your dog. Once your dog calms down, reward him with a treat. Your dog will eventually learn that acting out does not produce a reaction, while a calm introduction produces a reward.
Don't punish your dog for being too friendly. This will just decrease their confidence and the unwanted behavior will continue.
Be Consistent
If you have a puppy, start socializing her while she is young. Expose her to a variety of people and situations. This will help increase your dog's confidence and make her more likely to keep calm around new people.
When training a specific behavior, use the same one-word phrase every time. Practice a couple of times every day for short periods. Make sure to take breaks to keep your dog from getting overwhelmed.
Practice the habit in different places: at home, around the neighborhood, and at the park.
Be Patient
It may take several weeks for the new behavior to stick. For the best chance of success, work towards the goal in small steps. Start by practicing at home with minimal distractions, before moving to your yard and then to the park.
Teach only one or two commands at once, to give your dog the best shot at learning them.
Use A "Stranger" In Real Life When Training
Give your dog practice with real strangers by enlisting friends who your dog doesn't already know. Have dog-loving friends take turns meeting your dog, and ask the "stranger" to only acknowledge your dog when he is calm.
Repeat this with several different "strangers", and only reward calm behavior.
How To Discourage Jumping At Strangers?
Many dogs jump up on people because they have received attention for this behavior before.
To discourage jumping, teach your dog that this behavior will not produce any response from you. Turn your back to them and do not acknowledge them until all four feet are on the floor. Ask friends to practice with your dog.
How To Train Not To Pull On The Leash When Meeting Strangers?
Don't punish your dog by pulling back on the leash. This will make the behavior worse and could even injure your dog.
Instead, train your dog to walk on a loose leash. Reward him for staying by your side and not pulling. If your dog pulls the leash, stop walking and tell him to sit. Once your dog sits, reward him with a treat before walking again.
How To Teach Not Too Friendly Ways To Greet Strangers?
Decide how you want your dog to greet people, rather than jumping or pulling on the leash. Then train for this behavior. Examples include:
Four on the floor: your dog can come near to greet the person but not jump up.
Sit or lie down for greetings: your dog should sit or lie down and then the person will greet him.
Go to place: your dog should go to a specific area, like their bed or crate, and the person may come to them for a greeting.
Why Do Dogs Gravitate Toward Certain People?
Dogs form special bonds with people who spend a lot of quality time with them, especially when they are puppies. People who consistently meet their basic needs also rank higher on a dog's list of favorite people.
Some dogs also prefer people who share their energy level and personality. For example, an active and outgoing terrier may gravitate towards someone sporty, while a reserved greyhound may prefer a more introverted person.
How Do Dogs Decide If They Like You?
Dogs like people who have interacted positively with them. Playtime is a crucial way to cement your bond with your dog. If you spend lots of quality time playing with your dog or teaching them new skills, you are more likely to become their favorite person.
Some breeds are also more likely to bond with just one person, for example:
Shiba Inu
Basenji
Greyhound
Why Does My Dog Behave Better For Other People?
The amount of attention your dog pays you can vary by location. For example, Your dog may stick close to you while out in public, but show more attention to strangers invited to your home. This is because your dog feels more relaxed when she is on her home turf.
Dogs also respond to human moods. If you are irritable or anxious, your dog may feel stressed and therefore gravitate toward another person.
How Can I Train My Dog To Be Friendly With Only Me?
Train your dog to ignore strangers. Build their self-confidence through socialization so they learn not to fear other people or dogs. If your dog knows strangers are not a threat, she will feel safe enough to ignore them.
Finally, spend lots of time building a strong positive bond with your dog. If you consistently meet their basic needs, engage with them through training and play, and reward them for good behavior, you will become your dog's favorite person!
References:
https://www.rover.com/blog/dogs-choose-favorite-person/
How to Stop Your Dog From Jumping Up on People