Ultrasonic bark stoppers are devices people may use to prevent theirs, or others, dog(s) from barking. But are these devices illegal? Are they cruel and do they harm dogs? Are they harmful for humans? And can you legally stop your neighbour from using this device?
My Neighbor Is Using An Ultrasonic Bark Stopper?
There is not much you can do if your neighbor has an ultrasonic bark stopper. The best thing you can do is have a word with your neighbor if it bothers you and if that fails, try speaking to your local council.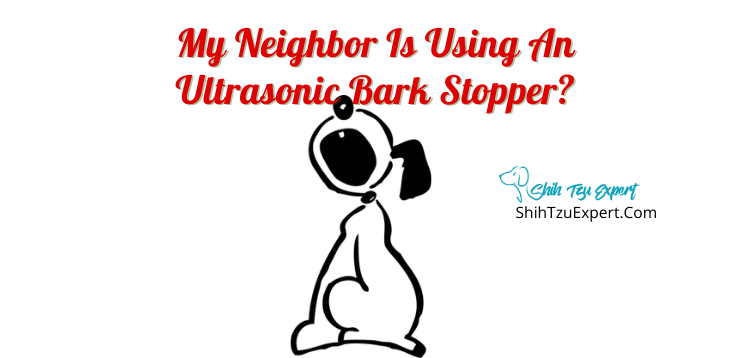 How Illegal Are Ultrasonic Bark Deterrent Devices?
It is perfectly legal to use an ultrasonic bark deterrent device. However, just because it is legal, does not mean it is ethical.
These devices can be very uncomfortable for dogs, which is kind of the point because it is this uncomfortableness that causes the dog to stop barking. The problem, however, is that if you own an ultrasonic bark deterrent device to prevent one of your neighbour's dogs from barking (or for preventing your own dog from barking), this can also stop other dogs from barking.
This could cause a problem, particularly if one of these dogs only previously barked to alert their owner to there being a stranger or intruder in their house. This device will also go off whenever they bark, therefore the use of this device could be putting your neighbours in danger. Therefore, it is important that you fully think things through before purchasing an ultrasonic bark deterrent device as even though it should provide you with a bit more peace and quiet, it could also be putting others at risk.
How Cruel Are Ultrasonic Bark Stoppers?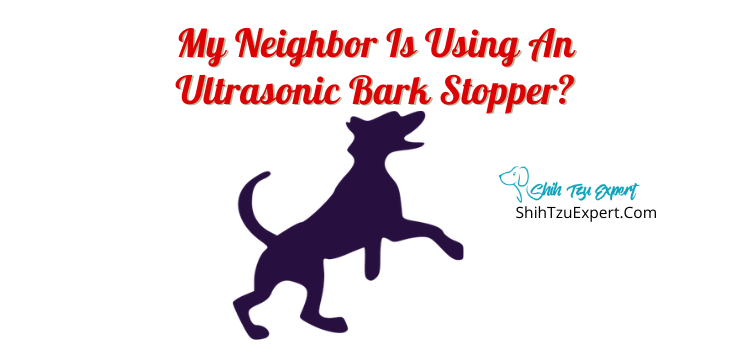 Ultrasonic bark stoppers are quite cruel to dogs as they use discomfort as a way to stop dogs from barking. They give the dog an unpleasant sensory experience and encourage them to behave in a way that is seen as acceptable to humans.
These devices create a sound that is heard by the dog and the sound they hear is what causes them to stop barking as they become startled by it and possibly causing discomfort.
However, it is important to remember that barking is completely normal for dogs and these devices cannot distinguish between happy or nuisance barking. The only purpose they seem to serve is conforming to human preferences and nothing else.
Do Anti Barking Devices Hurt Dogs & Other Animals?
There is a possibility for anti-barking devices to hurt dogs and other animals.
This is because if the pitch level is not at the right setting and the pitch becomes much higher than it should be, this can cause harm to your dog as the pitch will be too high for their ears to cope with. They can also be seen to do more harm than good as this type of training technique has been found to be much less likely to enforce positive behaviour in dogs, unlike positive reinforcement.
Can Humans Hear Ultrasonic Bark Stoppers?
Humans should not be able to hear ultrasonic bark stoppers because the frequency is often so high that only dogs can hear it. Humans can only hear up to twenty kilohertz, however, ultrasonic bark stoppers are built so the sound they emit is higher than this so as not to irritate humans.
Do Anti Barking Devices Hurt Humans [Teenagers Etc]?
Anti-barking devices have no way of hurting humans. The only being they are at risk of harming are dogs, but this can easily be avoided if the frequency and settings of the device are set so they have no way of harming your dog.
How Far Can Long Range Ultrasonic Dog Bark Control Devices Reach?
The range of the ultrasonic dog bark control device depends on whether it is an indoor or outdoor device. If it is an indoor device, the range can reach between ten and twenty-five feet. This is because it is designed for when your dog is in the same room as you. However, an outdoor device's reach can range between fifty and one-hundred and fifty feet. This is because these devices are not only designed to control your dog's barking, but also to control that of your neighbour's dog.
What is important to bear in mind with ultrasonic dog bark control devices is that the further away they are, the less impact they have. This is why it is best to keep the device close enough to where your dog is so as not to harm them but also so it is effective.
Can Ultrasonic Sounds Permanently Damage A Dog's Hearing?
It is possible for ultrasonic sounds to permanently damage your dog's hearing. This is why it is really important you ensure the sound and frequency settings on your device are at a safe enough setting so as not to harm your dog.
A number of the risks involved with these devices includes auditory effects, thermal effects, subjective symptoms, and functional disorders, such as chronic pain syndromes and other conditions that impair the dog's bodily functions, even if they present as normal. The auditory effects your dog may suffer as a result of these devices being on the wrong setting includes hearing loss and a temporary or permanent hearing threshold shift.
Some of the physiological effects that can be caused by extremely high sound pressure levels heating of the skin and other body tissues and a captivation in blood vessels and fluid-filled organs. The subjective risks and functional disorders can include fatigue, dizziness, headache, ear fullness, tinnitus, annoyance, balance disturbances, nausea, sleep disorders, and cognitive impairment.
What Should I Do If My Neighbour Is Using An Ultrasonic Bark Stopper?
There is not much you can do. Your neighbor is perfectly okay to use an ultrasonic bark stopper. It is also fairly unlikely for you to know that your neighbor is using an ultrasonic bark stopper. After all, humans should not be able to hear them, so it is not clear how you would know they are using one in the first place.
The only thing you really could do is to go round to your neighbour's and ask why they are using an ultrasonic bark stopper. It may be for your dog, one of your neighbour's dogs, or their own dog.
If you object to them using an ultrasonic bark stopper, for example, if it is preventing your dog from barking but you need your dog to bark to alert you to things, such as if there is an intruder in your house, make sure they know this. They may understand your reasons and decide to get rid of the ultrasonic bark stopper. But they will more than likely have their own reasons for having one. You may be able to come to a reasonable compromise, or you may not.
If you do not find this compromise, or if they refuse to work with you on the situation, you could always get other people involved.
You could talk to your other neighbours to see if they agree with you, or you may need to get the council involved. Just remember that there is not necessarily a right or wrong answer here and the best solution will be one that you can both comfortably agree on.
How To Legally Stop A Neighbour's Dog From Barking Incessantly Without Using An Ultrasonic Bark Stopper (Step By Step Guide)?
The following are steps you can take to stop your neighbor's dog from barking without the use of an ultrasonic bark stopper:
First of all, you can start by talking to your neighbor. Some people might not realize how loud their dogs are being as it just becomes something they are used to. Or, the dogs might only bark whilst they are out, so your neighbor will not know there is a problem. Only speak to your neighbor if you feel comfortable doing so. If you already know your neighbor, this should mean the conversation is easier.
However, if you are not sure of how your neighbor will react, it is probably best not to do this and to go straight to the next step.
The next step is to talk to your local council. You can do this by putting in a noise complaint about your neighbor and their dog(s) and the council should do something about this. It is completely understandable that you might not want to feel like you are telling on your neighbor.
This can cause hostility between neighbors. However, the council shouldn't tell your neighbor who made the complaint and it will be much better for you in the long run.
A plus side of contacting your council is that the dog may be barking due to a welfare issue. In this case, the council will contact a local dog protection service to take care of matters. Hopefully, this will not be the case, but if it is, you will be saving that dog's life.
How Does An Ultrasonic Bark Stopper Work?
An ultrasonic bark stopper works by using audio sensors that detect when a dog is barking. Once these sensors pick up on a dog barking, the ultrasonic bark stopper emits an ultrasonic sound that only dogs can hear.
This sound is to show dogs that their barking is unpleasant and that they need to stop. It is meant to be slightly unpleasant for your dog because it teaches them that every time they bark, this sound will be emitted. If the ultrasonic bark stopper does not appear to work at first, it may be a case of increasing the sound until your dog appears to submit to it.
Just be careful to not make it too high pitched, as this is what can damage your dog's hearing. Over time, your dog will come to learn that they will hear this unpleasant sound every time they bark. Therefore, they should stop barking unnecessarily. However, ultrasonic bark stoppers have no way of distinguishing between a dog barking unnecessarily and a dog barking because they are happy, excited, or because they have to bark.
This begs to question whether ultrasonic bark stopper devices are actually worth it because if they are teaching dogs that all barking is bad, your dog will probably never bark again and that is not the aim here. Due to this reason, it suggests it may be better to find other ways to get a dog to stop barking purely when they are barking unnecessarily and no other time because this should teach your dog the difference between acceptable and unacceptable barking.
The device also does not teach the dog why they are being punished and they just end up being confused about why they are experiencing this unpleasant feeling. There are other ways for you to stop barking, such as giving your dog a treat everytime they stop barking and making sure they are stimulated enough as sometimes this unnecessary barking can just come from boredom.
References
https://www.psychologytoday.com/gb/blog/all-dogs-go-heaven/202001/are-ultrasonic-dog-training-devices-really-safe-and-humane
https://www.exponent.com/knowledge/thought-leadership/2019/ultrasound-in-consumer-products/
https://www.rspca.org.uk/adviceandwelfare/pets/dogs/behaviour/barking