Your beloved pup is acting strange. It looks like he is scared to go outside… or poop… or both?
Bowel problems can cause a lot of distress for both you and your dog, so read on to find out why your dog is scared of pooping and what you can do about it.
My Puppy Is Scared To Poop
Puppies can appear afraid to poop, normally because of something threatening in their environment, pain or because of bad associations from the past. As long as there is no underlying health problem, this issue can mostly be fixed through encouraging and rewarding the desired behavior of pooping outside.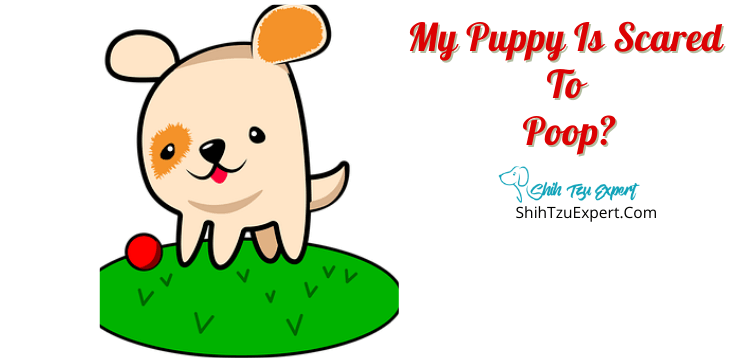 Why Is My Puppy Scared To Poop Outside?
If your puppy is a very young new addition to the family or a rescue pup, they might be too anxious to go outside just yet. It's a very overwhelming experience to move house, so be sure to give them lots of encouragement and take the transition to the garden slowly, together.
Reward their positive behavior with lots of treats, toys and affection!
Other environmental factors could also be making your puppy scared to go outside too. Dogs generally don't like loud noises, such as fireworks and loud music. Alternatively, your dog could feel threatened by other canines in the area.
Check that there is nothing outside disturbing them from pooping in peace.
Particularly bad weather such as wind, rain or snow can also put dogs off of going outside, quite understandably. Older dogs might benefit from a jumper during winter, as they are most prone to arthritis and their joints hurt more in the cold temperatures. If at all possible, creating a sheltered area could encourage your dog to use the toilet outside.
What Do I Do If My Dog Is Scared To Poop?
First of all, you need to work out the problem.
There are plenty of things that can cause your dog to feel threatened or afraid. Watch your dog for unusual behavior in response to a certain stimulus and make changes to ensure that they feel comfortable and safe. Try taking them to a more secluded part of the park or walk them along a familiar route so that they will feel more comfortable.
Using a gentle tone of voice, you can comfort and calm your dog by speaking to them. Just your presence and the sound of your words can help your pup to relax.
If, after a number of days, your pooch still hasn't pooped, it is a good idea to get them checked at the vets. Unusual bowel movements could be a sign of diseases or parasitic infections. These can usually be treated fairly easily with a dose of medications.
Should I Force My Puppy To Potty?
You can't force your puppy to poop on command, so there is no point forcing him to potty. What can you do?
Create a routine
Puppies will generally need to poop 20-30 minutes after feeding time. Keep your puppy's mealtimes regular and take them out for a few minutes after meals until they have done their business.
No luck the first time? No worries! Stay patient and take your pup outside again after a few minutes have passed. They will soon begin to associate pooping with going outside, especially when rewarded with their favorite treats.
Watch out for signs that your puppy needs to go.
A restless puppy, or a puppy that's sniffing around a lot, often means a puppy that needs to poop. Once you know your puppy's behavior, you'll be able to avoid so many messes in the house!
Avoid punishing your puppy for unwanted behavior such as pooping or peeing inside, you could actually put them off potty training! Instead, richly reward the positive behavior of pooping outside for much better results.
My Puppy Is Scared To Poop In Front Of Me [Why & What Should I Do]?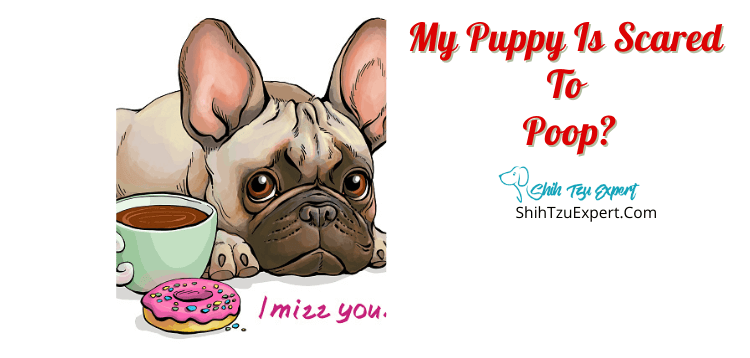 If your puppy is scared to poop in front of you in particular, it is possible that they have been punished for this activity in the past (for example, inside the house) and don't want to get into trouble again.
Remember: do not punish your puppy! Treats are a far better form of training!
You will have to form new connections in your puppy's mind, by rewarding them excessively for pooping outside, with food treats and play. Stay patient and motivated with your puppy and you will see the results in no time!
Alternatively, it could be that your dog is shy and would much prefer to find a more secluded spot to do their business. Finding a hidden spot under a bush could be all your puppy needs to feel comfortable. I don't think you would enjoy going to the toilet in front of an audience, so see what happens when you give them some privacy.
Puppy Afraid To Poop After Painful Bm [What Should I Do]?
If your dog has recently swallowed something painful to pass in his poop, experienced constipation, diarrhoea, worms or another stomach ailment, they might be afraid to poop because of the pain he remembers suffering from their last experience. No problems, if you follow this advice, they will be back to normal in a couple of days.
Firstly, make sure that they have been to the vets and received all of the treatment they need. Vets bills might be a little costly but the wellbeing of your furry friend is more than worth paying for good quality health care.
Next, just like with potty training, it's important to reinforce the idea that pooping is a good thing. Use treats and lots of affection until your buddy will start to normalize pooping again and no longer associate it with the fear of pain.
Just your presence might be all the comfort your dog needs to get over their feeling of fear.
With a little bit of recuperation, and a little bit of tender, loving care from you, your pup will be back to themselves, and their normal pooping habits, in no time. Make sure to give them some extra cuddles for going through such an ordeal!
Why Does My Puppy Act Like He Is Afraid To Poop Then Run Away?
You might have noticed your dog pooping and then racing away from it like a mad thing. There are a number of reasons to explain this bizarre behavior.
They are not running away from their poop, they are spreading it around to mark their territory.
Dogs are territorial animals and mark their territory with urine and faeces, to show their presence and communicate with other dogs. Why waste that beautiful steaming pile of poop when you could make it spread across the whole park?
As a newly potty trained pup, they're running around in excitement in anticipation of their treat
You have probably noticed that when your dog gets excited they show it, by exploding with energy – wagging their tail, jumping up and down and spinning in circles. A pup that has just finished potty training will still be expecting a reward for their good behavior and express their excitement by racing away ecstatically.
They had such a great poop that it deserves a victory lap around the park
As it is only natural to celebrate a good thing, who can blame them for speeding off for zoomies after a splendid poop?
It is fairly normal to see this type of behavior in dogs and does not mean that they are afraid of their poop. It is clear to see that dogs are all pretty crazy and strange creatures, but they make for a lot of great laughs and the best and most loyal of companions.
Why Does My Dog Hate Pooping?
It is unlikely that your dog really does hate pooping. Pooping is a natural and essential behavior. Most likely they are expressing this strange behavior because they have recently experienced something traumatic whilst pooping, they feel too uncomfortable or they are ill.
When a dog goes for a poop, they allow themselves to be completely vulnerable for a second. It is natural that a very anxious dog might find lots of stimuli in the surroundings too intimidating and will only poop in very selective spots. It's not a problem but it is a good idea to recognise behaviors such as these in your pup so that you can address them.
If your dog consistently refuses to poop, it is probably a sign of an underlying health condition or constipation. A balanced diet and plenty of water should be enough to prevent most dogs from getting constipated. Lots of exercise should also help encourage them to poop as it gets their metabolism going.
It is important to get your puppy looked over by a vet if they can't poop for some days, as without intervention it could result in serious and chronic damage through the stretching of their large intestine and cause a chronic condition known as megacolon.
My Dog Is So Scared Of Vet Offices That She Poops?
You arrive at the vets, your puppy has their tail between their legs and refuses to get out of the car. You lift them up and carry them, struggling in your arms, into the waiting room where they promptly poop all over the welcome rug. You awkwardly apologise to the unfortunate member of staff who has been tasked with cleaning it up.
But why did she poop in the first place?
Anxiety occurs in our pets just as it does in us humans and a fear of the vets is very rational. Imagine a foreign place that smells of chemicals and is full of gloved strangers that manhandle you and poke you with needles. Overcome with fear so much fear, your pet poops on the floor.
This is an entirely natural behavior when you think about it and there are a couple of things that can be done to avoid repeating the situation.
Start with helping your dog to feel as relaxed as possible.
Pheromone sprays, blankets and toys from home can all help your pup calm down. Try to make the visit to the vets as tranquil as possible and make sure to fuss and reward your pooch for their good behavior!
Try and always stay beside them or within their line of sight during your visit. They'll feel safe with you and hopefully won't feel so nervous that they need to poop.
Stay calm and make sure not to cause your puppy added stress by shouting at them or pulling on their lead. It will only add to their sense of anxiety and make future visits much more difficult.
If your dog does end up pooping at the vets, make sure not to punish them. Instead, try to comfort them so that they don't feel so scared and gradually you can teach them to relax and be calmer with each visit to the vets.
What Is Revenge Pooping?
Does it feel like your dog is pooping in the house on purpose? They have already been potty trained so has your dog been taking a dump on your favorite rug just to spite you for not feeding them enough? This sort of behavior is known as revenge pooping.
It turns out though, that dogs are not actually capable of this kind of emotional blackmail. Your pup pooping inside is caused by something different.
Your pup might just be anxious, bored or couldn't quite hold it for long enough.
If it feels like your dog has been pooping in the house on purpose, it could be a sign that they're not getting enough exercise. Make sure to take them for a regular leg-stretch daily and hopefully you'll leave the revenge pooping days behind.
Another reason could be that your dog is experiencing separation anxiety. If your dog is not used to being left alone or is left by itself for a long period of time, the stress they experience might cause them to poop in the house. You should train your puppy to get used to time by themselves in stages, by leaving them alone for gradually longer timeframes.
Irregular pooping behavior could also be caused by a disease. If your dog has suddenly started pooping a lot it could be caused by a food allergy, a bacterial infection, incontinence or flu. If they're pooping excessively, it is best to get them checked over by a vet.
References