When Your Dog Has to Go, They Really Gotta GO
Our pets have incredible senses of smell, which was an evolutionary advantage for them in the work we had them do: birding, hunting, sniffing out dangerous chemicals, etc. However, it can lead them into trouble in our urban environment with its myriad of sights and sounds. Sometimes their powerful sniffer can cause your canine companion to react to strong scents in their environment with… smelly results. Paired with digestive issues or simply a nervous stomach, your pet may find it irresistible to poop in public.
Why Does My Dog Poop In Stores?
Your dog may have decided that pooping in public is their new task in life for many reasons, and it's important to treat this behavior as rationally as any other. Whether it's medically related, psychological, or olfactory, your dog deserves to be treated with patience and care as you both navigate a way to end your pet's pooping habits.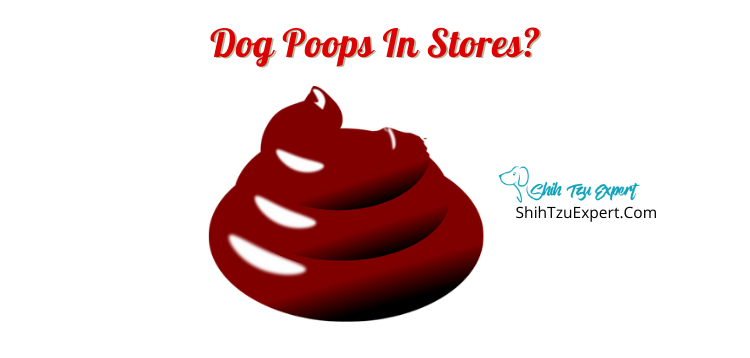 Why Does My Dog Always Poop In Stores?
Our dogs' noses are unbelievably powerful, with about 300 million olfactory receptors working overtime to discover new and interesting smells (this excitement towards new scents is called neophilia, and may explain why Fido can't resist sticking his nose in the garbage). However, sometimes this bouquet of scents can cause your dog to become excited, or nervous, or aggressive, depending on their psychology and past experiences.
Your dog may be pooping in public stores for a variety of reasons, which might be medical issues or traumatic experiences or olfactory overstimulation. Like biting or nervous peeing, this is a normal behaviour and can be remedied by paying attention to your dog's stimuli and adjusting around them.
Is It Illegal For Dogs To Poop In Public?
There are no rules for where your dog chooses to do its business out of doors, both in public locations and private property. After all, you are free to use public space with your pets just like any other tax paying citizen. What most councils and legislatures have done is implemented bylaws requiring dog owners to pick up their dog's poop. Failure to do so usually results in a fine, similar to other repercussions such as failing to shovel snow or to dispose of trash properly.
Why Does My Dog Poop Every Time We Go To Petsmart?
Petsmart is a smorgasbord of smells to a canine, so if your dog is pooping every time you enter the store it may be likely that they have developed a Pavlovian response to the stimulus it offers. Keep in mind that unlike other stores, this is a place filled with the sounds and smells not just of dog food and treats, but other dogs and other animals.
If your dog has an anxious history with encountering other dogs on walks or at parks, then this may be another location where they get nervous bowel movements. Perhaps your dog is excited by birds or rodents, and the sight of the hamsters triggers their bowel response. It's important to clock which behaviours trigger the response to poop, and either refrain from taking your dog into the store or work to eliminate those reactions. As always, do what is best for your dog.
What Happens When Your Dog Poops At A Pet Store Like Petsmart?
Of all the stores your dog may have occasion to visit, pet stores like Petsmart act like a giant olfactory neon sign saying "POOP HERE" with the volume of dogs who have gone to the bathroom in there. The employees are used to and prepared for dogs to make messes, and will have the supplies to help you clean up after a pet that has taken a potty break while searching for their new chew toy.
What Happens When A Service Dog Poops In A Supermarket?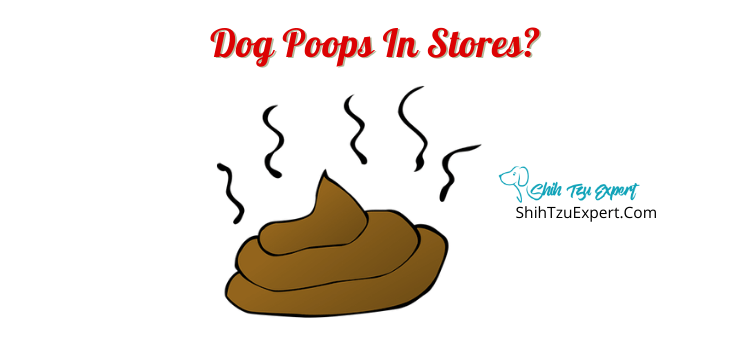 Like toilet trained dogs, service animals have the training to prevent this from occurring, so if your service animal is starting to defecate in public without being commanded (as they are trained to do depending on the needs of their owner) then there are other factors at play. They could be requiring a "skills tune up" and need to revisit some of their training. Or it could be medical issues rearing their heads, something that wasn't discovered during the screening service dogs usually go through.
In the U.S. at least, there are laws which allow businesses to remove a service dog and its owner if the animal is defecating–one of the only reasons they can do so–so it's important to be sure your animal is feeling fit to perform the job it was trained to do. And just like every other dog owner, those owners with service dogs are required to clean up after their pet.
What Are The Rules For Shopping With Your Dog [When It Comes To Pooping]?
As pet ownership in the post-pandemic age has boomed, more and more stores are becoming pet-friendly places where you can bring Fido along on your weekly trek to the mall. Concurrently, many places aren't, and are taking steps to discourage non-service animals from entering their premises. It's important to do your research if you are not someone with a service animal, and to ensure that if you are taking your dog out in public, you have done your due diligence to make your pet feel comfortable and safe.
Ensure your pet is properly trained, which means exposure to the sights and sounds and smells of a busy shopping centre, and be responsible enough to judge if they can be around such stimuli without bowel troubles. Expect that if accidents do happen, you will be the one picking up after them, and try to avoid such a scenario by giving your dog frequent urination opportunities out of doors before your trip. Businesses have the right to remove ill-behaved animals from their premises.
Why Does My Potty Trained Dog Poop In Stores?
If your dog is an otherwise well-behaved animal, with no neuroses that you know of or any occasions to develop trauma, then it may be a medical concern that is causing your pet to start pooping in public. Two of the most common ailments are intestinal parasites and inflammatory bowel disease, which may contribute to your dog being unable to hold its bladder when out for trips. Have your vet check for digestive issues or disease if you have accounted for all other possibilities.
Is It Illegal Not To Pick Up Your Dog's Poop?
Depending on where you live, the bylaws of your community may have variations in the method and nature of poop disposal for your pets. Some cities have municipal-wide garbage bins in their public spaces dedicated specifically for dog waste, including waste bags for owners to use. Others have designated off-leash areas where you can more easily track your dog and where forgotten fecal matter is less frustrating to public citizens.
But regardless of the methods employed to gentrify your pet's ablutions, most cities have a monetary penalty for refusing or neglecting to pick up your dog's waste products. While it might not be a prison sentence, it's better to abide by your community's bylaws and pick up after your pet.
How To Stop My Dog Pooping In Stores?
As with all doggy behavioural problems, you need to discover the source of the issue before you can hope to correct the behaviour.
Some causes of pooping can be out of both parties' control, such as an aging animal, in which case the best course of action is to see to their comfort and remove them from those environments entirely. Other causes might be fixed by a visit to a vet or a trainer, to receive new training skills or medication to treat underlying issues.
Sometimes it may just be a matter of time as your dog is getting used to a new store in a new community, or adjusting to new stressors in their schedule. Above all, listen to your dog's needs and don't push them into doing things that are detrimental to their wellbeing.
What Should I Do If My Dog Pooped In A Store?
Like most occasions in pet-ownership, the important thing is not to panic. If your dog poops because of anxiety, then yelling or raised voices may exacerbate the problem and reinforce their propensity for public bowel movements. If this is a regular occurrence that you're trying to train your dog out of, then make sure you have cleaning supplies and doggy poop bags stashed in your car or in your bag.
You can also ask employees for additional cleaning supplies or to hold your dog's leash while you clean up after them, but unless the store is specifically pet-oriented where they deal with pet accidents, don't expect them to do the work for you. You brought your animal out in public, you are responsible for their messes.
Works Cited
Flowers, Amy. "Why Does My Dog Poop in The House". Fetch, WebMD, 8 May 2021, https://pets.webmd.com/dogs/my-dog-pooping-everywhere#1
"How Powerful Is a Dog's Nose?". Phoenix Veterinary Center, 23 July 2020, https://phoenixvetcenter.com/blog/214731-how-powerful-is-a-dogs-nose
Huntingford, Dr. Janice. "15 Reasons Your Dog is Pooping in The House". Bowel Movements, Pet Wellbeing, 15 February 2020, https://blog.petwellbeing.com/5-reasons-your-dog-is-pooping-in-the-house.
Johnson, Moreika. "Why Is My Adult Dog Suddenly Going To The Bathroom In The House". Treehugger, Dotdash, 21 March 2021, https://www.treehugger.com/why-is-my-adult-dog-suddenly-going-to-the-bathroom-in-the-house-4864156
Rabblefox. "Pooping in pet stores". Dogforums, Vertical Scope Inc, 4th October 2013, https://www.dogforums.com/threads/pooping-in-pet-stores.216986/
'Why is My Dog Pooping in the House Suddenly". Super Scoopers, 15 November 2018, https://www.superscoopers.com/dog-pooping-in-house/
Wild, Karen. "How to stop a dog pooping in the house? Learn some good tips!". Wamiz, 8 February, 2021, https://wamiz.co.uk/dog/advice/884/how-to-stop-a-dog-pooping-in-the-house-learn-some-good-tips