If you are a pet lover, then you know how excited your furry friends get when they come home to a new and improved space! Pets deserve their own special area in the house – not just any spot they can claim as their own. That's why it is important to create an inviting and comfortable environment for them that they can call it home. But what should that look like? Redesigning your space doesn't have to be difficult; all you need is some careful planning, creativity, and of course our top 4 ideas on how to redesign your home for your pet!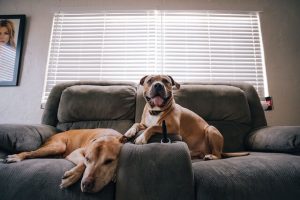 Create a Designated Space for Your Pet
Pets are important members of our families and deserve a comfortable space in our homes. Creating a designated area for your furry friend is not only beneficial for your pet's well-being but also for your own. It allows your pet to have a space they can call their own, while also keeping them safe and contained. Before creating a space, consider your pet's needs and personality. Experts at Personal Storage that decluttering your home is an integral part of the process. First, clear out the area and decide what furniture, toys, and other items you would like to include in their space. For example, if you have a dog, adding an extra bed or blanket with their favorite toy can help them feel at home in the space. Or, if you have a cat, consider adding a scratching post or some shelves so they can climb and explore. Next, decorate the space with pet-friendly items such as chew toys and treats. Some pets prefer a cozy and enclosed spot to retreat to, while others require a larger open area to explore and play in. Regardless of their preference, ensuring that your pet has a designated space within your home is a great way to show them love and care.
Make Sure There are Plenty of Ventilation
Ensuring your pet's health is absolutely essential, and proper ventilation is a key aspect of maintaining their well-being. By allowing fresh air to circulate throughout your home, you'll be providing your furry friend with clean and refreshing airflow, which is crucial for their respiratory system. There are many ways to facilitate ventilation, from opening windows to installing air purifiers. Regardless of your preferred method, be sure to prioritize proper ventilation for the sake of your beloved pet's health. Additionally, it can also help reduce pet odors and dispel any lingering pet dander, making the entire home a healthier environment for both you and your furry friend. It is scientifically proven that regular exercise helps keep your pet healthy and happy. Trust us, your furry friend will thank you for it!
Keep the Floors Clean
Pets make life more enjoyable, but it's no secret that they can create quite a mess. Whether it's shedding fur or tracking in dirt, keeping the floors clean can be a challenge. One way to combat this is by regularly vacuuming and mopping using products that are safe for pets. You don't want to use anything that could irritate your sensitive skin or eyes. Additionally, investing in high-quality mats can really make a difference. Not only do they add aesthetic appeal to your home, but they also help pick up shedding fur and dust bunnies that can accumulate on carpets and hardwood floors. With a little effort, you can keep your floors looking tidy and your furry friend happy and healthy.
Choose The Right Furniture For Your Pet's Space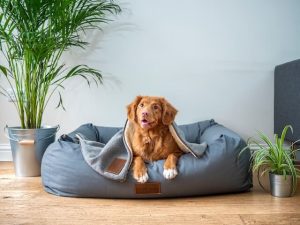 Furniture can really make or break a room's design, especially when it comes to pets. Not only should your pet have its own designated space, but the furniture in that area should also be comfortable and safe for their use. The type of furniture you choose for your pet's space will depend on your pet's size, activity level, and preferences. For example, if you have a small dog, you might want to invest in a pet-sized couch or bed with sides that can give them the feeling of safety and security. On the other hand, if you have an energetic pet such as a puppy or kitten, opt for furniture pieces that are sturdy and durable enough to withstand their playtime. No matter which type of furniture you choose, make sure it is pet-friendly and provides your furry friend with the comfort they need to feel at home.
Extra Tip: Don't Forget About Feeding Stations
In addition to furniture, don't forget the importance of a pet-friendly feeding station. Not only will it keep your pet's food and water bowls in one place, but it can also help make mealtimes more convenient for both you and your furry friend. There are many different types of pet feeding stations available on the market today, so be sure to take your time when selecting one. From elevated food stands to decorative dishes, you are sure to find something that will fit the style of your home and the needs of your pet. Also, try to opt for a feeding station that is easy to clean so you can keep your pet's mealtime area neat and tidy. Furthermore, be sure to wash the feeding station regularly and refill it with fresh food and water. With a designated feeding station in place, you can be sure that mealtimes will always be organized and stress-free.
Redesigning your home with your pet in mind requires you to think outside the box. By being creative and thoughtful in designing a tailored space for your pet, you can create a safe and enjoyable living environment for both of you. Creating a designated space, choosing the right furniture, making sure there is plenty of ventilation, and keeping the floors clean are just some tips on how to get started. Other ideas may include adding a scratching post or creating an outdoor space for them to explore. Ultimately, customize your home to make it comfortable for both of you – invest in pieces that are comfortable, durable, and most importantly pet-proof.