A dog being afraid of shadows can be a larger issue at work that invokes the fight or flight response.
Why Are Dogs Scared Of Shadows? [Sciophobia In Dogs]
A dog's fear of its shadow can be because of a variety of reasons including a former trauma, anxiety, or health issue. If the problem is not identified and treated quickly enough, it could become a larger behavioral problem for the dog.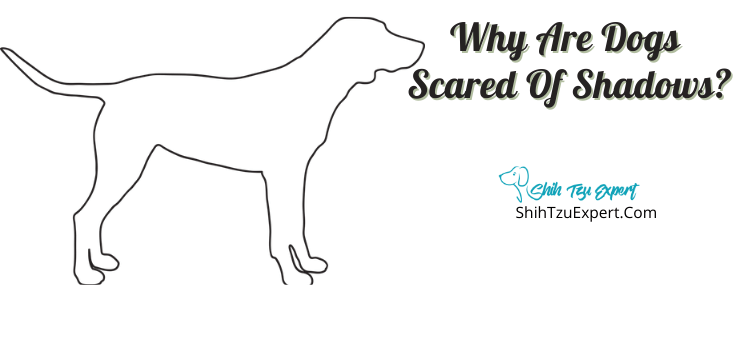 Why Is My Dog Scared Of Its Own Shadow And Growl?
The fight or flight response is an instinct that all animals have. It kicks in when we are faced with a mentally challenging or frightening situation. We either, run (take flight), or face it (fight it). Everyone from humans to dogs to wild animals has it.
A dog being scared of its own shadow could be the sign of a larger fear or trauma at work. If not taken care of quickly, this seemingly harmless behavior can morph into a larger problem.
Do Dogs See & Understand Shadows?
While dogs may not understand that shadows are just a perception and not a concrete or physical object, they have been known to be perceptive about shadows. While dogs may not have an understanding of shadows being shade, they could be used with hunting.
It can be theorized that dogs have some understanding of shadows.
Why Do Some Dogs 'Freak Out' When They See Shadows?
Chasing shadows is not healthy dog behavior.
While it may seem cute, shadow chasing can be rooted in anxiety or frustration for the dog. Some have theorized that a dog chasing its own shadow because it lacks mental and physical stimulation. A dog chasing its own shadow can become obsessive behavior.
What Is Sciophobia In Dogs?
Sciophobia is the strong dislike or fear of shadows.
This is more often found in humans rather than dogs. But sciophobia can still be found in dogs as well.
How Do I Train (Counter Condition / Desensitize) My Dog To Not Be Afraid Of Shadows?
To train a dog to not be afraid of shadows, you need to encourage exposure to the objects your dog finds threatening slowly while reinforcing desirable behavior with food or something positive.
To start:
Identify your dog's triggers or what your pet is afraid of.
Expose your dog to the triggers gradually. Start for five minutes at a time and work your way up to longer periods.
Avoid exposing your dog to the triggers outside of training.
Reinforce desirable behavior with clicks or treats to reinforce positive behavior towards the stimuli.
With time and patience, you can hopefully desensitize your dog to shadows and reward him for his positive behavior.
It takes time to desensitize your dog so make sure not to rush the process and reward the progress!
What Not To Do With A Dog Who Is Afraid Of Shadows?
If your dog finds shadows terrifying, you don't want to purposefully expose him to the stimuli that he finds threatening. This will not help your dog conquer their fears and could only make things worse. You need to desensitize him slowly and reinforce his behavior with positive rewards.
Should You Comfort A Dog Scared Of Shadows?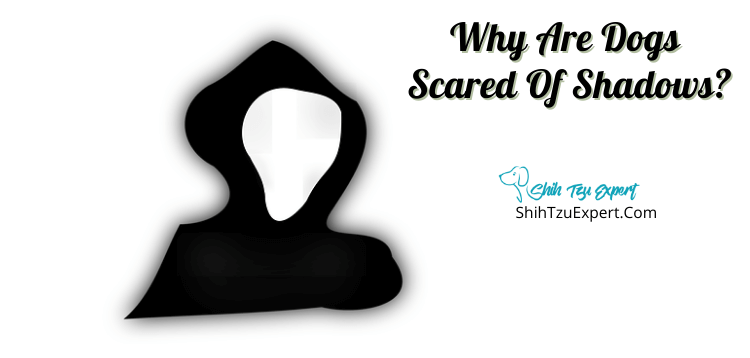 If your dog is afraid of shadows, you should be careful about comforting your dog when it is triggered by shadows. The simple gesture like cuddling or pampering your dog to soothe their fears can reinforce that scared behavior and make matters worse. It does not help build your dog's confidence in facing their fears.
What Exactly About Shadows Is My Dog Scared Of (The Look? Movements?)
The reason why your dog could be afraid of shadows could vary. It could be due to the look or the size. But the fear of shadows could come from the dog experiencing a past trauma or anxiety that could have resulted from lack of socialization or other causes.
Puppy Terrified Of Shadows?
A puppy could be terrified of shadows because it hasn't learned yet to distinguish what a shadow is yet. It could still be considered an unknown thing. Gradually exposing your puppy to shadows and reinforcing positive behavior will help your dog get past being afraid of shadows. Time and consistency with training would be key.
Why Is My Old Dog Is Suddenly Afraid Of Shadows?
As mentioned, your dog's sudden fear from shadows may have to deal with some sort of anxiety or a recent trauma the dog recently experienced. But for older dogs, it could be a sign of a larger health issue.
Any sudden behavioral change, like an older dog suddenly becoming afraid of shadows, could be a sign of dementia or another health issue developing in your dog. It could also be a sign of an eye problem developing with your dog. It could also be an obsessive compulsive behavior developing in your dog.
You should consult with your vet to determine a cause and develop a plan of action.
My Dog Is Getting An Increasingly Severe Fear Of Shadows?
While a shadow may be a triggering moment for dogs, unlike humans, dogs don't respond to actual memories as we do. Instead, they respond to the previous experience in regards to it being positive or negative. If they remember a negative experience that caused a worse reaction, that is what they'll remember.
The fear becomes a learned behavior. As a result, each time the dog is exposed to the fearful trigger, it can cause a worse reaction than previously had been experienced.
Why Do Dogs Chase Shadows?
Dogs chasing shadows can be a learned behavior from a previous traumatic experience, anxiety or separation issue, or frustration. Dogs kept in small spaces are more prone to behaviors like this.
Shadows can be mentally stimulating, especially in breeds that require more mental stimulation compared to other dog breeds. Making sure your dog is entertained and engaged appropriately will help keep them from developing fears or the habit of chasing shadows.
Can Chasing Shadows Be Dangerous To Dogs?
Chasing shadows may seem like a cute behavior for dogs to do, but can come problematic in the long run, even borderlining on transforming into an obsessive compulsive behvaior for the dog if it is not treated appropriately.
Will My Dog Grow Out Of Chasing Shadows?
If the behavior is caught early, your dog can grow out of chasing shadows.
To deter this behavior, check the environment for triggers such as reflective lights or things that could cause shadows. If you can understand the root of the behavior, you can help your dog grow out of it.
If your training to help desensitize your dog has been unsuccessful, you may need professional help with the assistance of a dog behaviorist to help curb the problem. You can also discuss the matter with your vet to determine the appropriate steps to take.
Should I Stop My Dog From Chasing Shadows? How?
Yes, you should deter your dog from chasing shadows. While the behavior may seem adorable while you watch your dog chase shadows, and could become the large issue.
You need to understand the root cause of your dog chasing shadows. Is it out of things like boredom, anxiety, or due to your dog's breed? Knowing the root cause will help you deter your dog from chasing shadows.
Why Does My Deaf Dog Chase Shadows?
Even though deaf dogs can't hear, that does not mean that can't sense touch or see. Your deaf dog could be triggered in the same way as a regular dog could whenever seeing shadows. It could cause obsessive compulsive behavior in dogs, which is something you want to avoid.
Dog Staring At Ceiling & Lights? [Light/Shadow Fixation]
In addition to being afraid of shadows or triggered by shadows, a dog can have a light fixation as well.
You want to avoid using lights or flashlights to trigger dogs for training or play purposes. This, like shadows, can cause obsessive compulsive behavior. You dog may actively seek out the light, which can make matters worse. Early prevention will help prevent obsessive compulsive behavior.
How To Stop Dog From Reacting To Lights Reflections/Shadows?
You need to learn to desensitize your dog from the triggers
One way to help deter your dog from chasing shadows is when your dog chases shadows, you get up and leave the area or room, leaving the dog alone. Eventually, your dog will learn that the reward of spending time is removed if they continue to chase shadows. Since your dog wants to spend time with you, they will eventually stop chasing shadows to be rewarded with time with you.
Puppy Is Afraid Of Reflections, Shadows, And Pictures
If your puppy is afraid of reflections, shadows, and pictures, discover what your puppy's triggers are and begin work to desensitize them before it becomes an issue. If you feel like it has become a problem beyond your control, you can consult with your vet to determine the best plan and treatment to help your dog.
Dog Is Afraid Of Shadows Inside The House
If you have identified your dog's shadow triggers come from insides the house, you can work to resolve the environmental triggers. Work to eliminate things that cause shadows like the sun coming through the windows or curtains moving. Simple actions like shutting blinds and eliminating curtains moving can cut down on the environmental triggers, and thus, your dog is afraid of shadows.
You can also engage in desensitization training to help your dog get past its fear of shadows.
Why Does My Dog Stare At Shadows?
Dogs may find shadows mentally stimulating.
There are various reasons why your dog might find shadows interesting, but staring at shadows might connect to a primal need to hunt. They might be naturally drawn to it and felt the urge to chase the shadows.
Do Dogs Actually See Shadows?
It can be theorized that dogs have some understanding of shadows. While they may not perceive shadows as humans do, dogs do have some understanding of shadows.
References
https://vcahospitals.com/know-your-pet/overcoming-fears-with-desensitization-and-counterconditioning
https://www.wikihow.pet/Desensitize-Your-Dog