Bully Sticks are a treat that, overall, have a generally great review among veterinarians and pet owners. They are a healthy and relatively safe treat that does not have a lot of health risks as many treats do. With some monitoring by the owner, these treats can be saved for all age ranges of dogs.
Why Does My Dog Cry When I Give Him A Bully Stick?
Crying when given a Bully Stick can occur in dogs for a wide variety of reasons. Often, it stems from the dog simply wanting attention from the owner or someone in the home. It could stem from the dog's excitement of having a treat or their simple need to gain attention and affection.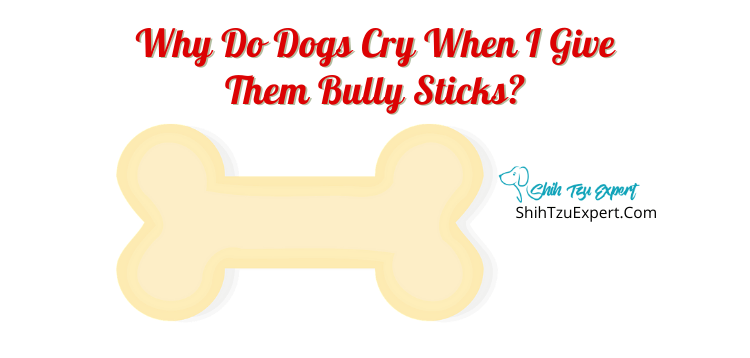 Dog Doesn't Eat Bully Stick But Cries When I Give Her One?
Dogs often cry or whine as a learned behavior. Even if they do not like the treat and want to eat it they may whine because they know the response they receive from that behavior. Whining can be associated with receiving a treat or receiving attention from their owner so they can often do it just to receive a response.
Can Bully Sticks Hurt My Dog?
Per the AKC, Bully Sticks not only give dogs something to chew on, but they are safe and have a lot of health benefits. Bully sticks break down very easily in your dog's stomach, which makes them easier for your dog to digest. They are free from artificial chemicals, additives, and preservatives to help sensitive stomachs.
Can I Give My Dog A Bully Stick Every Day?
Based on the Bully Stick directions, it is safe to give one every day. Bully Sticks are considered rather safe because they use a natural, single ingredient. You should not give more than one per day because it is important that treats do not make up more than 10% of a dog's caloric content.
Why Are Bully Sticks Bad?
One of the biggest dangers when using Bully Sticks is when they become small enough that they can be swallowed whole. This is dangerous because it poses risks for blockages and choking when the dog tries to swallow it. Bully Sticks can also be concerning because of their high caloric content and potential to carry mold.
Do Bully Sticks Cause Diarrhea In Dogs?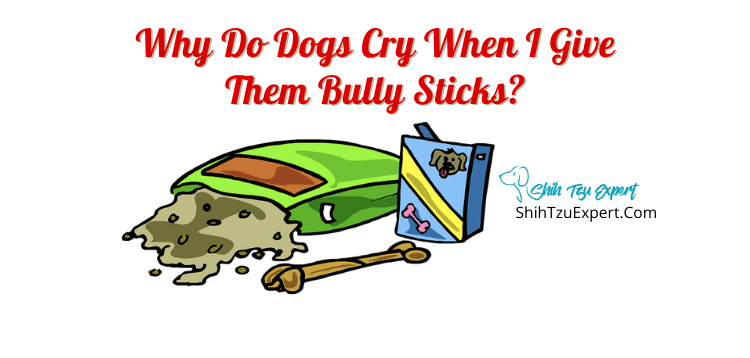 Diarrhea in dogs from Bully Sticks is not a common occurrence, but it is not impossible. Dogs do occasionally get diarrhea from the richness and also they could potentially have bacterial contamination. Bully Sticks are made from natural ingredients but it is important to remember to wash your hands before giving it to the dog because it.
Do Bully Sticks Smell?
Bully sticks have been noted to have an unpleasant scent, primarily due to their natural ingredients which cause them to break down. How much a Bully stick smells is dependent on how it was processed. For example, a stick may not be as processed but she will have an odor once the dog starts chewing on it based on the amount of bacteria on it.
How Quickly does A Bully Stick Expire?
When they are stored correctly, they can last up to two years. How long the stick actually lasts when your dog starts chewing on it is dependent on the dog and their size and chewing level and how long they are able to have it at a time. For a large dog who is an obsessive or aggressive chewer the Bully Stick would not last as long when compared to a smaller dog who does not focus on chewing.
Can Puppies Have Bully Sticks (Are They Too Young)?
There is currently no research that shows that Bully Sticks could be harmful to puppies. THe major concern with giving a puppy a Bully Stick is being careful to not allow them to damage their teeth. It is recommended by veterinarians that they only have them for around 10 minutes at a time and that they are monitored to watch for damage to their teeth or choking.
What Is Bully Stick Made Of?
One of the most desirable traits of Bully Sticks is that they only have one ingredient. They are made of high-protein beef muscle.
Dog Swallowed Bully Stick?
If a Bully Stick is swallowed the best thing you can do is monitor your dog. It will depend on the size of the dog and the size of the piece they swallow if you should be concerned. If you feel they may be at risk or something is wrong you should take them to your vet for examination.
What Are The Best Bully Sticks?
The Bully Sticks considered the best per rankings is the brand Best Bully Sticks. They are made with grass-fed and free-range beef, contain no harmful ingredients, and are fully digestible. Many of the competitors compared to Best Bully Sticks either did not use free-range beef, were not as digestible, or had to be used more frequently for similar results.
Bully Stick/Bone Aggression From Rescue Dog?
Rescue dogs are often prone to "resource guarding" because it has been necessary for them to survive. This is best described as when a dog is possessive or seemingly aggressive for an item that they do not want taken away from them. These dogs do not distinguish between someone being close to them or attempting to steal their resources so it is safest to not disturb them when they are eating or playing or in this case enjoying a treat.
Why Do Bully Sticks Turn White?
When Bully sticks turn white it is often due to the stick mixing with the dogs saliva. This is an intentional feature used to help the stick break down so that it is easier to digest.
Why Do Dogs Hide Bully Sticks?
The only explanation we have for hiding behavior in dogs is that it is part of their instinct. Through the years dogs have had to hunt and gather food and protect it from being scavenged. They may hide their treat because they want to return to it later and do not want a person or another dog to take it away.
Why Does My Dog Whine When He Chews His Bone?
When a dog whines when it chews it could likely be a signal of pain. This could be an issue with their mouth or teeth that has gone unnoticed. It is important to safely investigate to see that they do not have any sores, broken or missing teeth, or anything stuck in their teeth causing pain or discomfort.
Why Does My Dog Cry When He Has A Toy In His Mouth?
Often if a dog is crying or whining with a toy in it's mouth they could be trying to gain the owner's attention to get them to play with them. This could be considered attention-seeking behavior if the dog wants the owner to play or pet them. Also, if someone new or a visitor is over the dog could be wanting to show them their toy to gain their attention.
References
http://www.akc.org
http://www.vetnutrition.tufts.edu