Being the descendants of wolves, dogs can often inherit instincts from their ancestors. This can include various behaviors that are displayed differently given their domestic environment. Rolling around in their food or treats can be considered one of these instincts. Read on to discover why they do it, what it means, and if there's anything you need to do about it.
Why Do Dogs Roll In Food & Treats
There are several reasons that your dog can roll around in their food and treats. They can be bored, excited, marking their territory, or even acting on instinct handed down from their wolf ancestors.

What Are There Benefits Of Dogs Rolling On Their Food And Treats?
There are no real benefits to your dog rolling around in their food or treats. But it is all in all a harmless behavior. If you don't mind your dog doing this it can be considered a fun, quirky habit for your fog.
What Are There Disadvantages Of Dogs Rolling On Their Food And Treats?
The biggest disadvantages to dogs rolling on their food is: the mess that it makes and the smell/dirtiness of their coats afterwards.
When Should I Be Worried About My Dog Rolling In Food & Treats?
There isn't really a reason to worry about your dog rolling in food and treats. If it becomes an incessant habit or they show signs of a medical condition. At that point you should seek the help and opinion of your veterinarian.
#Why Does My Dog Roll On His Food & Treats Before Eating It?
Your dog is probably trying to mark the food with their scent. They don't want anyone trying to take their food. This is called 'resource guarding'.
Instinctual Behavior Trying To Hide Those Unwanted Scents
Dogs are the descendents of wolves, meaning that they share similar instincts. This includes hunting for food and stealth. While your pup may not have to hunt for their food, they have the instinct to cover their scent to avoid detection. They may do this by rolling in their food and treats.
Marking Behavior To Claim Ownership Or Territory
Similar to when your dog tries to cover his scent by rolling in food, he could also be trying to mark his territory. This is not the same as guarding. Guarding is considered to be an aggressive behavior whereas marking territory is just putting their scent and name on something he wants to claim.
Just Another Form Of Resource Guarding
When dogs don't want to share their food or other things they can guard them. 'Guarding' is their way of keeping the resource (food) to themselves. They can do this by growling or barking. It is always the best course of action to leave your dog alone while they eat so that they do not feel threatened.
Just Playing And Having Fun With The Food.
If your dog is young or just playful, they may roll around in their food because it is fun for them. It's an outlet for energy, the food may smell really good, or they're just too excited. You can think of it how some people like to roll around in piles of leaves in the fall. Giving your dog the activity that its breed requires can help to prevent this behavior if you don't want them to do so.
Rolling In Kibble A Form Of Self Massage (Just Like We Use Foam Rollers)
Everyone likes a good massage. Rolling in food and treats might hit that 'sweet spot' for your dog that he can't reach on his own. This behavior is similar to humans using foam rollers or other massage items to help get to hard to reach spots.
You Have Encouraged This Behaviour In The Past
Without knowing it, you may have encouraged this behavior in your dog. If you laugh or pet your dog after they've rolled in their food or treats, they see the behavior as something positive and will continue to perform it.
Telling Others About A Food Source
Dogs are pack animals. So that means that they take care of each other and make sure that the entire pack gets to eat. Since your dog considers you part of their pack, they may try to alert you that there is a food source available.
Communication
Sometimes the reason your dog rolls around in their food. They may be trying to tell you something. They could be bored, excited, or want to play.
 Anxiety
If your dog is nervous or anxious they may roll around in their food or treats. The smell could be familiar-and therefore comforting-to them.
Breed Specific Tendencies
There are no breeds that have a specific tendency to roll around in their food and treats. This is a very common behavior.
Just Being A Cute Puppy
Puppies are very curious about the things around you as they grow. So when they come across food or treats that smell good, they may make a bit of a mess. Rolling around and playing in their food or treats is a way for them to learn more and satisfy their curiosity.
Health Issues
While it is usually harmless for your dog to roll around in their food, sometimes it can be a sign of potential health issues. Some of those issues may include: allergic reactions, dental issues, or other similar issues. If you suspect your dog is having some health issues it is important to take your dog to the vet as soon as possible.
Environmental Factors
There can be certain things in your dog's environment that can trigger this behavior in them. There could be other animals that they are trying to guard their food from, something that they wish to mark their scent on, use to hide their own scent, or use as a way to communicate a message to you.
#How To Stop Your Dog From Rolling In Their Food And Treats?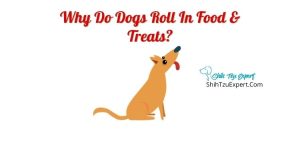 Here are several methods to get your dog to stop rolling in their food and treats:
Discourage The Behavior Don't Provide A Positive Response
If you don't want your dog to roll around in their food, you must let them know that. Don't encourage the behavior by giving them positive responses. This includes petting, smiling, laughing, etc. Instead, a gentle but firm 'no' will do. If you would like other tips on how to deter your dog from this behavior, you can consult a trainer for professional advice.
Make It Tried! Give Your Dog Plenty Of Exercise
If you give your dog plenty of exercise and playtime they are less likely to want to roll around in their food.
Provide Adequate Mental Stimulation
If your dog is bored, they will find ways to entertain themselves. One way is by rolling in food. A way around this behavior is to provide them with adequate mental stimulation. This can be playtime with you or other dogs or giving them toys that challenge their mind.
Consult With A Veterinarian
If you are concerned about your dog's behavior of rolling around in their food you can consult your veterinarian for advice on how to proceed.
Why Do Dogs Roll (Is It Normal)?
It is a normal, common behavior for dogs to roll. This includes rolling around in things such as their food.
Why Do Dogs Roll On Their Prey?
If your dog does this, it could be that there's something about the smell or it triggered their wolf ancestor instincts.
Why Do Dogs Roll In Grass?
This behavior is again linked to scent. They could be trying to mask or leave their scent. Once again, this can be linked to their ancestral instincts.
Why Do Dogs Roll Around In Smelly /Stinky Things?
As we've discussed, dogs have an instinct handed down to them from their wolf ancestors. 'Scent masking' is done as a way to hide their presence and stealthily follow their prey. Even though your dog doesn't have to hunt for their food, the instinct is still inside them.
Why Do Dogs Roll Around In Poop?
Dogs will roll around in poop for the same reason they roll around in other smelly things. The pungent scent masks their own, giving them a means of stealth.