Cats and dogs can live together and form strong friendships. If your cat is displaying aggressive behaviour towards your pup or slapping them for what seems like no reason, we're going to cover some of the reasons why and what to do to help your furry friends live more harmoniously.
Why Does My Cat Slap My Dog?
Your cat might slap your dog in a friendly way to engage in a playfight. At other times, it's your cat's response to feeling threatened or frustrated. Knowing what's causing the issue can help you to resolve it so that your pets can live together peacefully.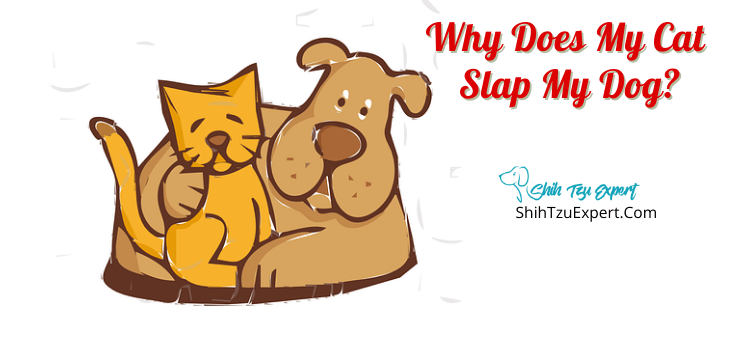 Why Does My Cat Swat At My Dog For No Reason?
You might think that your cat is attacking your pup unprovoked but the chances are, there's an explanation. Most cats display aggressive behaviour when feeling stressed, threatened or trying to protect their territory. Other times, a playful swipe might be misinterpreted as malicious.
Here are some of the most common reasons your dog is on the receiving end of your cat's aggression.
They didn't get a proper introduction
This might be the case, especially if your pup is a fairly new addition to the family home. Dogs and cats should be introduced to each other slowly, with boundaries and supervision, so that they can begin to develop a friendship. If they have never been through this process, there's a chance your cat is attacking because they feel as if an unknown dog is usurping them from their home.
Your dog is too demanding
We all know that cats and dogs have different limits of affection – whereas your dog could lap it up all day, your cat values their personal space. If your cat attacks your dog after they were cuddled up or grooming together, it could be that your dog didn't read your cat's "stop" signals.
From watching birds out of the window to spotting another cat crossing your garden, if your cat feels frustrated, they'll take it out on the first opportunity available to them, possibly your dog.
Your cat feels threatened
Instead of displaying aggressive behaviour, your cat might be acting to defend themselves if they're feeling scared by the presence of your pup or the way they're acting.
You should make sure that your cat has their own safe space, that's inaccessible to your dog. This could be a room that's accessible only to your cat, or a high up space away from the dog.
If you find that your cat seems to be picking on your particularly small dog or puppy, their hunting instincts have likely taken over and when they see that little ball of fluff running around, all they want to do is pounce. This could put your pup in serious danger so you should make sure to supervise your animals whenever they are together.
If you see your cat start to stalk your pup or display signs of predation, you should try to put them off by clapping your hands or getting in the middle of them. Through lots of repetition, your cat should eventually learn to correct their behavior.
It could be that your cat and your dog just don't get along. You should make sure that they're introduced to each other properly and then basic training might be able to help them achieve some sense of civility. If this isn't possible, you might want to think about rehoming one of your pets as it's not sustainable to have your cat and dog fighting every day.
If your cat and dog have fought in the past, your cat might be holding a grudge or feel so threatened by your dog that they will always attack. In this case, you should focus on creating a friendship between the two, positively reinforcing good behavior with treats and affection.
A cat in pain will feel grouchy and might lash out unprovoked at you or your pup. Severe personality changes could also be a sign of a neurological disorder. If your cat's behavior can't be explained by any of the reasons above, it might be worth visiting your vet.
How Can I Get My Cat To Stop Attacking My Dog?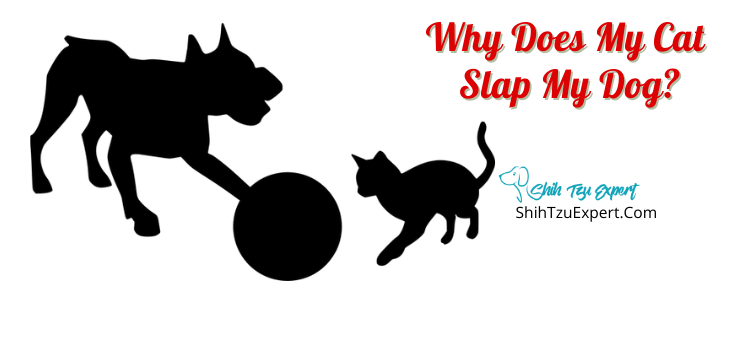 Make sure your cat and dog get to know each other slowly. Initially, introduce your new pet at a distance so that they can get familiar with the sight and smell of each other. Then you can start to introduce them face-to-face, under your constant supervision so that you can intervene if they don't get along. Reward them both for good, friendly behavior.
Even the bravest of cats will likely feel a little bit intimidated at first to be sharing their homes with a dog. It's best to make sure that your cat has some dog-free spaces to relax in and that your pup doesn't have access to their litter box. You could put a baby gate on your stairs or entrance to a room so that your cat can easily access it but your pup can't.
Both your cat and your dog need to learn which behaviors are acceptable. You can scare your cat by making loud noises when you see that they are becoming aggressive, to dissuade them from this behavior. You should also train your dog how to play gently with your cat.
If your cat knows that you don't like them attacking your dog, chances are they'll strike when you leave the room. Make sure to supervise the time your cat and dog have together, this way you can intervene if you see your cat being aggressive.
Divide your attention equally
A jealous cat will attack a dog if they feel like they are being ignored. Make sure to spread your love between both of your pets, so that neither of them feels left out.
An ever-present source of information, advice, and support, your vet can provide you with reasons why your cat is acting this way and what to do about it. A phone call might be all you need to figure it out.
Do Cat Slaps Hurt?
A cat slap without claws is one thing, but when cats get their claws out they can easily draw blood. These creatures have been evolving for years to be the best hunters, admittedly of garden birds, and can do damage when they want to. Don't underestimate them just because of their size!
Are Cat Slaps Dangerous?
A cat slap in the wrong place, such as an eye, can do some serious damage that might require medical attention. Wounds inflicted by a cat should be disinfected immediately as you never know where their paws have been and don't want to risk the chance of developing an infection. Without proper treatment, a simple infection can lead to serious complications for you or your pooch.
How Can I Tell If My Cat And Dog Are Playing Or Fighting?
Playing and fighting can often look similar. It will save you a bit of trouble if you know the key signs to look out for to determine whether your pets are being nice or nasty.
A dog that's fighting will have its haunches raised, ears flat and its jaws pulled back in a snarl, baring its teeth. In a real fight situation, a cat will start to hiss, flick their tail and puff up the hair on its backs and tails.
If you see any of these signs you should try to separate your animals.
Dogs and cats both display obvious signals to engage in play. You'll see your pup bow down on their front legs, with their bum and tail in the air, wagging excitedly. Your cat will roll onto its back, exposing its belly.
A playful dog might look like they're biting at your cat, but they won't be using their teeth. Cats will throw a paw but without using their claws. You'll notice that they seem to take turns attacking and defending. Both animals will appear relaxed, with their ears forward.
Why Does My Cat Hate My Dog?
It turns out that the common stereotype of cats and dogs being enemies isn't based on fact. Dogs and cats are perfectly capable of forming healthy friendships, they just need to be handled with care.
As we've covered, often a cat will attack your dog because they're feeling threatened. It's your job as an owner to make sure that both of your pets are feeling safe and comfortable, to encourage a calm and friendly environment.
Why Does My Cat Follow My Dog Around [Won't Leave The Dog Alone]?
It can be funny to watch your big, tough pup get chased around your house by your cute and cuddly cat. But when your cat starts to bother them persistently, you might start to be preoccupied with the longevity of your pup's patience.
A cat that won't leave a dog alone is most probably bored. They view the dog as a new toy and as a source of stimulation. This might be the case if they're young or full of beans, or maybe they're not getting enough attention from you.
You can try to distract your cat with new activities to catch their attention or train your dog to become desensitized to the cat and eventually ignore it. Putting a bell on your cat's collar will alert your dog to their approach, so they can decide whether or not they want to play.
If at the end of the day, you spot your cat and dog curled up together, you've got nothing to worry about. They've already formed a strong friendship, which you should encourage and nurture. Although accidents might happen inadvertently when play fighting, they shouldn't harm each other maliciously.
Does My Cat Like My Dog?
You'll know your animals like each other if they engage in play flights together, sleep and cuddle together or even civilly ignore each other.
It'll be much more obvious if your cat doesn't like your dog, you'll be in for lots of loud and violent clashes and chases around the house.
To ensure the friendship between your cat and dog has the highest chances of success, you should make sure that both animals have a safe space for themselves. You should also introduce them to each other slowly and let their bond develop over time.
How Long Does It Take For A Cat To Get Used To A Dog?
It'll take your animals different lengths of time to get used to each other, from a day to a few weeks or months, to never in rare circumstances. It mostly depends on their personalities.
There are a couple of things you can do to fast-track their friendship such as introducing them slowly, training them both, and supervising their time together. Some breeds of cats and dogs are also said to be more compatible with each other. Generally speaking, hunting breeds of dogs like German Shepherds and terriers will be harder to introduce to a cat, because their predator instincts are stronger.
With training, you can successfully desensitize your pets from each other in a couple of weeks. Until you are completely sure the animals are safe together, you shouldn't leave them alone.
Can A Cat Seriously Hurt A Dog?
In the worst-case scenario, a cat can cause fatal injuries to a dog, especially if your pup is very small or a puppy. A cat claw to the eye could scratch a retina or cause permanent blindness. Injuries can get infected easily and, left untreated, can result in amputations or death.
The majority of the time though, your cat will usually cause minor superficial to your dog, which shouldn't take too long to heal if you look after it.
It's important for both your cat's and your dog's safety that they get along well together before being left unsupervised to avoid any harm.
Should I Let My Dog And Cat Fight?
If you know that your cat and dog get along well, there shouldn't be an issue with letting them play fight together. It's best to supervise them so that you can step in if tensions get too high and the game turns into a real fight. This will be obvious by the change in your pets' behaviors, you might hear a low snarl from your dog or your cat hissing.
Should I Let My Dog Chase My Cat?
No, your dog should be taught not to chase your cat for a couple of reasons.
Firstly, getting into a chase situation will cause both of your pets to have a huge rush of adrenaline. This might cause their instincts to take over and result in one of them lashing out.
Secondly, it teaches your dog to disregard your orders and listen to its instincts. If not controlled, it could result in them repeating this behavior and taking off after birds or other dogs during your walks in the park!
Why Do Even Large Dogs Let Cats/Kittens Bully Them?
Most bullying behaviors, like swiping and fighting, is actually your cat playing. The fact that your dog lets it happen means that they're comfortable with the cat around. It's only when your dog fights back (and not playfully) that you have a problem!
Much like interacting with a pestering puppy, sometimes a big dog won't react to an annoying stimulus, like your cat. They know they're big enough to handle and they don't need to prove it.
If you find that your cat is continually pestering your pup, this is usually because they're not getting enough attention. Try to not to overly fuss your dog in front of your cat, or make sure they both receive some love!
References
https://www.thedoorbuddy.com/blogs/door-buddy/cat-and-dog-playing-or-fighting