If your dog consistently starts barking every time you kiss your partner, you have a problem on your hands when it comes to balancing your love life with your dog parenting. In this article, we will help identify some reasons your kissing might trigger this reaction, and some solutions you can try to remedy the situation.
Why Does My Dog Bark When I Kiss?
There are a lot of reasons that noisy bark is triggered by your kissing a partner. Perhaps a stress response, protective nature, curiosity, playfulness, or yes… just plain jealousy. In any case, loud, persistent barking can certainly ruin a mood and stop a good kiss in its tracks. Understanding the cause and choosing the right solution for your dog is crucial in breaking the habit.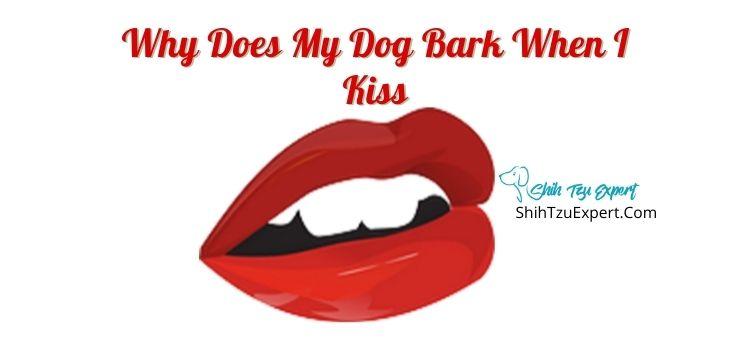 Isn't Humans Kissing Socially Acceptable For Dogs?
Generally speaking, dogs' rules around what is "socially acceptable" aren't nearly as strict as they are in the human world. Puppies learn manners from adult dogs like how to approach other dogs when to give them space, and what certain cues are being given. But these "manners" have a lot more to do with respecting boundaries and playing fair than kissing.
What is worth noting though, is that dogs don't inherently associate kissing with affection as we do. Many pick up on it as puppies when they begin to make the connection that kisses come hand-in-hand with loving energy and physical closeness from their humans. But it isn't innately understood.
It's not that kissing isn't "socially acceptable" to your dog as much as they simply might not understand exactly what is going on.
Do Dogs Have A (Strict) Moral Code?
Some studies have suggested dogs do abide by a kind of moral code of their own. Our furry friends can feel empathy and will make decisions with the consideration of what is "right" and "wrong". They seem to try to follow what we humans call, "the golden rule". What good boys and girls they are!
In terms of your kissing/barking issue though, moral code isn't the issue. And even if it was, dogs are pretty famously good at forgiveness! There's nothing morally "wrong" with admiration or intimacy for dogs (so long as nobody is being hurt). So don't worry– if your dog barks when you kiss partners, chances are they're probably not trying to make you feel any sort of shame around your own moral choices.
Are They Just Jealous?
In the case of many dogs and owners who experience this problem… yes, you can pretty much boil this behavior down to jealousy. But before you do, there are a variety of other reasons they could be barking such as anxiety, restlessness, trauma, or protectiveness.
It's important to notice your dog's patterns and body language before assuming they're "just jealous".
How Is Your Dog Ruining Your Love Life?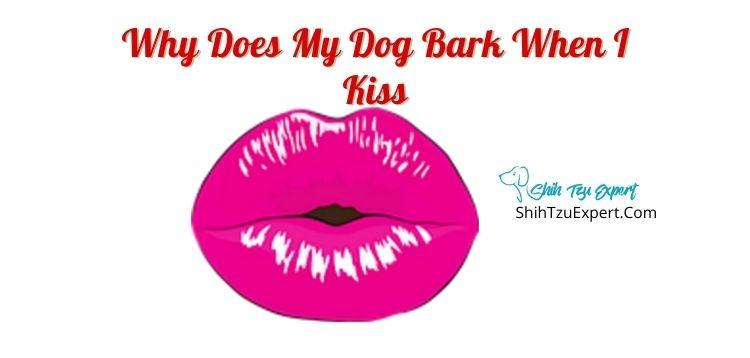 What your dog might not understand is that intimacy is a really important part of relationships. Whether it is a new partner or one you have established a relationship with, you should be able to share kisses in your home!
Once or twice is one thing, but if you truly cannot ever kiss a partner without triggering a loud persistent chorus of barks from your pooch, it could start to become a bigger problem.
15 Reasons Why Your Dog Barks When You Kiss Your Husband/Wife /Girlfriend/Boyfriend/Partner?
Your dog feels left out 
Your dog might perceive kissing as affection or play. In either of those cases, that's something they probably enjoy too! But for humans, kissing places a lot (hopefully all) of our attention on the person we're sharing the kiss with. 
They may be barking as a way of saying, "Hey! Don't forget about me! I like kisses too!"
Your dog thinks there is conflict and wants to protect you 
Again, when dogs see humans kissing, they won't always inherently know what it is. To them, it might look like a fight. Your dog could be barking to try and intervene if they think you could be in danger. 
Let them know you are safe and calm, and that your partner is not a threat. 
Your dog is not sure if they can trust your partner 
If your partner is new, or new to your dog, your dog might still be building trust with them to be sure they are not a threat to either of you. Even if your dog doesn't think they're hurting you, they might just not be comfortable with them being so close as to kiss you yet. 
Your partner feels uncomfortable around your dog 
Dogs are excellent at reading people's energy and can sense any discomfort directed their way. If they feel any anxiousness or restlessness from your partner, it might signal that there is some reason not to be totally comfortable, and they will likely react with similar anxious energy in return. 
Your dog is reminded of a negative experience
Some dogs will, unfortunately, experience traumatic events in their lives that cause them to react to triggers even though they might be completely safe. Your partner may remind your dog of someone that hurt them or you in the past. Similarly, kissing could remind them of a situation when something harmful happened.
Again, it is really important in this case to calmly signal to your dog that everything is okay. 
Your partner is unkind to your dog
So this is the worst-case scenario, and hopefully not the cause of the problem in your situation. But be sure you're listening to your dog's cues and can trust your partner to treat them well when you're not in the room. 
And if they don't… your dog is just doing you a favor. Show that person the door. 
They could just be curious 
The dog form of kissing is those big sloppy licks they give you. So when they see you locking lips, they might not know it's what we call a "kiss". 
Dogs, like humans, are curious beings that crave an understanding of their surroundings. So the bark could be your dog trying to say something as simple as, "Hey! That's funny! What's that you're doing?!"
Your dog is restless
If your pal hasn't gotten enough exercise on a given day or isn't getting enough exercise to let out their energy in general, they will pretty much find any reason to release some excitement. Love and playfulness you might have during a kiss are no exception. 
If your pup reacts in a similar way to a variety of situations and stimuli, be sure your dog is well-exercised. Tiring them out could help create a more peaceful atmosphere to set the mood. 
Your dog is sensing feelings of love in the air
Actually… they're smelling it! When we kiss people we love or admire, we release particular hormones such as oxytocin. If your dog's keen nose catches a whiff of something new in the air, they could be reacting to the change when they bark. 
You have a velcro pup 
For dogs who've developed some codependent tendencies, it can be really hard to leave your side. This can especially be the case with dogs living with a disability, coping with PTSD, and certain breeds that tend to be a little clingier. We call them "velcro pups". 
Velcro pups could be barking because they need your attention and closeness, and feel you are giving it to the person you're kissing. If this is the case, your dog might need help developing a healthier sense of independence. 
They're protective
Dogs can be protective of people and spaces and might become especially defensive around new people in their territory. Any sign that your partner is intruding on you and your dog's space (even nervous excitement around the kiss) could be a big red flag to your dog, and they might overreact by barking till the sun comes up. 
They're Protecting Their Recourses
In addition to being territorial over their space and owner, domesticated pets need an owner's attention to survive. They might associate your affection with being fed, going outside, and getting exercise. So the worry is if your attention is going toward someone else, those things could go with it. 
If this is the case, your doggo might be barking as if their life depends on it… because they literally believe it does 
Adjusting to Something Unfamiliar 
You and your dog share a life together. You share a home, and probably some sort of daily routine. If you are bringing a partner home for the first time, this could come as a pretty shocking addition to your dog's world. Barking is a way for them to work through it. 
They're Coping with Stressful Feelings 
On that note, it's important as dog owners to know that barking is not only a means of communication for our pets, but in some cases, it's also a psychological tool that they will use to release stress. 
Your dog might use barking as an outlet for uncomfortable feelings they experience around that unfamiliarity, curiosity, fear, or protectiveness. 
They're jealous 
Lastly, your dog might be jealous. They love you and they want your love and attention. At the end of the day, the physical closeness you're sharing with your partner and the loving energy and chemicals in the air could be kicking up some envy in your dog. 
They just need to know they're still your #1!
10 Things You Can Do If Your Dog Barks When You Kiss
Teach your dog a "quiet" command 
Owners can teach their dogs to be quiet on command. Essentially, you want your dog to know that you love it when they're quiet. Choose an action to do every time they bark along with the word "quiet" and reward your pet with treats and affection when they stop. With consistency, your dog will associate positive reinforcement with being quiet. 
Teach your dog a "place" command 
Similarly, you can add a "place" command, so you can tell your dog to give you space when you're with a partner. To train your dog to go to their place, choose a cozy, happy spot for them to retreat to, have them follow you there when you say "place" and point to it, and eventually, reward them for going there on command, all on their own. 
Like any command you train your dog to learn, it works best with daily practice and lots of positive reinforcement!
Be Proactive 
Start picking up on the patterns your dog shows you before they start barking. Maybe you even know the exact look in their eyes that comes before the noisy vocals ensue! Try to stop your dog in their tracks before they start barking and either calm them or divert their attention. Distraction can be a helpful tool. 
Ignore it 
So this one might be difficult. But if you and your partner are up for the challenge, try staying calm and pretending as though you don't even hear the barking. If your dog doesn't get the gratification of your attention, they just might give up on the noisy antics. 
Let them know it's okay
If you're sensing that your dog is reacting out of fear, protectiveness, or anxiety, helping them to know you're okay will soothe their nerves around the situation. 
Desensitize Them to Closeness 
One exercise you can try with your partner is inching a little closer and closer to one another in front of your dog. Reward your dog for staying quiet every time you step closer. If they start barking, stay close and ignore them until they stop. 
Give Your Dog Plenty of Exercise
If your dog is well exercised, their less likely to be on edge. And if they're exhausted from a big walk and lots of play, then they simply might not have the energy to involve themself in your time with your partner. Ideally, they'll be satisfied cozying up and resting on their own. 
Give Your Dog Plenty of Love 
We know, you're probably already really good at this one. But it's always worth a reminder: affection for dogs is as important as food and exercise. Your dog might be trying to tell you that they feel a little neglected. 
Be Sure Your Dog is Well Socialized 
The more people and variety of people your dog is around, the more comfortable they're likely to be with new people in their home. Help your dog's anxiety by creating comfort and normalcy around strangers.
Have Your Dog Spend Some Quality Time With Your Partner 
Whether it's protectiveness, jealousy, or distrust, having your dog bond with your partner will probably help them feel more comfortable watching you share closeness with that person.
Do Dogs Get Jealous Of Human Affection?
Like most things, it depends on the dog. Some have more anxious attachments to their humans. And yes, many get jealous of their humans' partners.
Keep in mind: your physical signs of affection are really important to your dog. It's how they know they're "good", that you love them, and they might even associate it with being fed, sheltered, and exercised. It can be uncomfortable for your best friend to watch you give similar signs of affection away from someone else.
Can Dogs Fall In Love With Their Owners?
The good news, scientists have studied dogs' brains and discovered that they do, indeed, love their humans. In fact, they develop feelings of love faster than humans. That's something worth smiling about, huh?
The hormonal changes that occur around love and affection are similar to ours. They're not "falling in love" in the romantic way humans do with their partners, but there is certainly a very real close, loving, affectionate bond between humans and dogs.
https://www.independent.ie/life/family/family-features/dogs-have-a-human-like-sense-of-morality-new-research-suggests-35459583.html
How to Teach Your Dog to Go to Their Place