Just because your dog bites your nose doesn't mean they're trying to hurt you. This article will explain some of the reasons your dog might bite your nose, how you can cut down on that behavior, what to do in case of a bite, and signs of aggressive bites.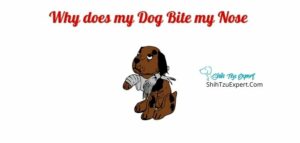 Why Does My Dog Bite My Nose?
Just Playing
Sometimes, dogs will nip at each other's ears and necks, but not in an aggressive manner. This is just how they initiate games with each other. Your dog may be biting your nose for a similar reason. They want you to know that they're in the mood to play.
Excitement
Dogs usually show their excitement with wagging tails, but they could also show it by biting your nose. Dogs often get carried away when they get overexcited, so they might show that with more force than you'd expect.
Delighted To See You Again
Dogs show their affection in a variety of ways; for your dog, nose biting might be one of them. If your dog is being gentle when they nip your nose, this is more likely.
When you leave the house, your dog has no idea when- or if- you're coming back. They've been waiting for you all day, so they're beyond thrilled to see you back.
However, dogs don't know their own strength, so you may want to discourage this behavior before their bites get sharper and start to hurt you.
Excessive Energy
When dogs have too much energy, they sometimes cross the line. If you play-wrestle with them, they might get too into it and end up overwhelming you. If you take them for a walk and start running, your dog may end up outrunning you. When your dog is excited, they may lose control.
If dogs have excess energy, they'll do what they can to get it out. They'll scratch the walls and floors. They'll gnaw at their bone a little harder. And sometimes, they might bite at your nose.
Just Seeking Attention
Dogs employ a wide range of tactics to get your attention, from scratching the walls to standing over you. So it shouldn't be a surprise that this could be a reason for your dog biting your nose.
Biting your nose probably guarantees a reaction from you, since you can't exactly ignore it. If that's why your dog is biting your nose, they may be trying to tell you something. Maybe they're bored and need attention. Maybe they don't feel well. Maybe they're hungry. Maybe they need to go outside.
Behavior Has Been Encouraged In The Past
If you don't teach your dog not to do something, they'll assume it's ok. So, if you've been letting your dog bite your nose without telling them no or disciplining them, they have no reason to think that's bad.
On a similar note, if you've been giving your dog attention and cuddles when they bite your nose, they might start thinking that biting your nose is something they should do.
And if your dog thinks the behavior is normal, they might take it further. Instead of just nibbling your nose, they might bite harder. So, it's important to discourage your dog from biting your nose.
Teething
Just like humans, puppies teeth as their teeth come in. And like human babies, they need something to teeth on to relieve their pain. They'll chew on whatever they can find- including your nose.
You can and should buy your dog teething toys so they don't take their urges out on you or your furniture. Also, to prevent them from seeing your nose as their personal teething ring, you should probably keep your pup away from your face.
Pup Hasn't Been Trained Not To Bite
Your puppy is still figuring out the world around them. They're more likely to use their mouths and noses to explore their world than their paws and eyes. The puppy could be biting your nose because they don't know any better. They don't know that biting your nose could be painful for you, or they could just be trying to interact with you.
Nature – Natural Instinct
Dogs have plenty of instincts, and these instincts can explain their weirder behaviors.
For example, the instinct to groom members of their pack could explain why a dog might bite your nose. Another instinct is their ability to sense our emotions. Dogs may bite your nose in order to calm you down since dogs do this to each other to calm each other down.
How to Get Your Dog to Stop Biting Your Nose?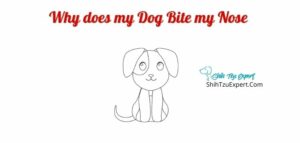 Plenty Of Exercise
The more exercise your dog gets during the day, the less energy they'll have at the end of the day. So, they'll be less likely to take out their excess energy on your nose or try to get you to play with them.
Plenty Of Attention
Make sure you're giving your dog attention so they don't try to seek it out by biting your nose. Play with them, take them on walks, and hang out with them regularly.
However, it is important to maintain a balance. You don't need to spend every waking second with your dog, and you shouldn't because you don't want your dog to form an unhealthy attachment to you. Just spend enough time with them so they know that they're loved and cared for.
Lots Of Playtime With Them
Playtime kills the above two items with one stone. Playing with your dog will wear them out and satisfy their craving for attention.
Discourage Biting
Scolding or punishing your dog may excite your dog further, which you do not want. If you've been letting your dog get away with biting your nose for some time, punishing them will probably confuse them.
The best thing to do is communicate that you will only reward good behavior, and nose biting does not count as good behavior. If they bite your nose, walk away.
Teach Them To Bite Toys
Dogs bite things; this is just a part of who they are. However, they don't need to bite you. You can redirect their attention to bones and other toys. Make it clear that they should be biting the toys and not you.
Socialize Them Starting At An Early Age
Socializing your dog will help them be more gentle and act more docile. It's important that they be introduced to other dogs early on so they can be more accustomed to doggy interactions.
You could try having playdates with your friends' and family's dogs. You could also sign them up for a puppy class, or take them to the local dog park.
Positive Reinforcement /Avoid Punishments
Punishing your dog could lead to more aggressive behavior in the future. The only punishment you should consider is a time-out, in which you ignore your dog for a short period of time (about 20 seconds).
Instead, you need to use positive reinforcement. Reward good behavior and ignore bad behavior. Only give them attention when they aren't biting your nose, and do not give them attention when they are. Give them a treat every time they don't bite you when they normally would (such as when you first get home).
When your dog is biting your nose, do not stare at them, do not talk to them, do not give them any attention at all. Try not to react, unless you want to make a groan of pain to communicate to your dog that biting your nose hurts.
Get A Dog Trainer
If you're struggling, you could get help from a dog trainer. A trainer could help you figure out why your dog is biting your nose and help you develop a plan to train your dog to stop.
Be Very Strict When It Comes To Biting Body/Face/Nose
You have to establish boundaries. You can't expect your dog to know when enough is enough, and you can't trust them not to go too far if you haven't been training them properly.
You need to make it clear that your body, face, and nose are off-limits to your dog when it comes to biting. Make sure to distract your dog with toys and other activities so they stop getting the urge to bite you.
Use Bite Inhibition
Bite inhibition is a training technique that can help your dog associate nose biting with pain. Yell "Ow!" when they bite you. The first time, it'll startle them and they'll stop mid-action. However, do not reward them for this pause, since they'll still think they're being rewarded for biting your nose. Wait until they're fully settled to reward them.
Keep yelping when they do it, and they'll get the hint.
How Do You Know When A Dog Is About To Bite?
Of course, dogs don't always bite for friendly reasons. Here are some signs that a dog may bite out of aggression:
Posture
Before they bite, the dog will take on a tense position. Their ears will be upright or pulled back, their lips pulled tightly together, their tail either tucked or raised, their chest puffed up. The goal is to warn you, to intimidate you into backing off.
Another posture they might take on is the stalking position. This includes bending low, head to the ground, stiff body, and intense stare.
Growling
You can tell the difference between an aggressive growl and a play growl since an aggressive growl is usually much lower. The dog might also lift the corner of their lip to show their teeth, or they might bare all their teeth.
Trying to Get Away
For whatever reason, a dog may be trying to get away from you. If they feel cornered or if they feel like you aren't respecting their space, they may try to bite you. You should let the dog come to you.
You Are In The Way
A dog will bite you if they think you are in their way, particularly if you are interrupting them with certain objects, a mate, or something they want to attack.
Dogs may become overly attached to their food, toys, or other prized objects, to the point where they might growl and bite at you to make sure you don't take it away. This is known as resource guarding. It is important to train your dog not to be possessive of what's theirs.
If you find a male dog with a female dog in heat, don't interrupt them. They will get frustrated, and then they'll take your frustration out on you.
Also, if you get between a dog and something they want to attack, they may redirect their aggression to you. If you see your dog attacking someone or fighting with another dog, you should approach the situation very carefully.
You Are Making The Dog Feel Threatened
If a dog feels threatened, they will lash out. For example, if your training methods make your dog feel defensive (such as pinning a dog to the ground), they may try to bite you.
Another example is if you enter the home of a dog who doesn't know you. The owner should be present so the dog knows that you're not a stranger because dogs can be very protective of their homes and owners.
Why Does My Dog Nibble My Nose And Ears?
Your dog may be expressing affection, trying to calm you down, or grooming you.
There are several things to consider when you are trying to figure out the reason your dog is nibbling on your nose. You should consider what happened when they first started biting your nose since that might give you the cause. You also need to consider what is different when your dog bites your nose since that might help you figure out if there's a trigger. If it happens when you first get home, for example, it's probably because they're excited.
My Dog Bit My Nose And It's Bleeding What Should I Do?
If there's a wound, you should clean it with soap and water. If there's blood, gently apply pressure to the area with a clean cloth to clear out the germs. Then, apply an antibacterial cream.
Should I Bite My Dog's Nose To Retaliate?
No.
Biting them back could result in three scenarios: your dog biting you more, your dog becoming confused, and your dog getting scared. As you can see, none of these scenarios involve your dog realizing that nose biting is wrong.
Biting your dog won't get them to stop. In fact, it'll reinforce the notion that nose biting is okay. Dogs bite each other's noses to communicate, but they know that you're not a dog, so biting their nose won't mean anything to them. Worse, your dog may get scared if you bite them and become defensive.
Why Does My Dog Nibble Me With Front Teeth?
When you live with a dog, they consider you a part of their pack. Dogs groom themselves by biting themselves with their front teeth, which is why they might bite you in order to groom you. They might also bite your hair, hands, or clothes.
Can Dog Bites On Nose Be Treated?
Yes.
As this article explains, cleaning a bite and applying antibacterial cream is good for bleeding scapes. If there's no scrape, you could just rinse it with warm water, dry it, and maybe add ointment.
How Quickly Does A Dog Bite On The Nose Heal?
It's normal for a dog bite to be red and swollen, but this shouldn't last more than a day.
It never hurts to visit the doctor, and you should definitely do so if the dog in question doesn't have their most recent rabies shot. If you get a fever, or if the wound keeps bleeding or becomes more inflamed, you should go to the hospital. You'll probably be given antibiotics to stave off infections.
Dog bites rarely break noses, but it's not impossible.
How Do I Get My Puppy To Stop Biting My Nose?
Puppies are less likely than dogs to know that biting noses is wrong, since they have less training. The best way to get them to stop is to stop giving them attention when they nibble on your nose and reward them when they don't bite your nose.
Do Dogs Bite Because They Like You?
Though you should always be on the lookout for signs of aggression, it is very unlikely that your dog is biting you because they don't like you. They're likely biting you because they like you; maybe they want to play, or maybe they're grooming you, or maybe they just want your attention. More often than not, dogs just don't realize they could be hurting you, which is why it's important to communicate that through bite inhibition.
References
https://pubmed.ncbi.nlm.nih.gov/20731205/
https://www.ncbi.nlm.nih.gov/pmc/articles/PMC4376831/