Whenever your dog cries and they appear to be in pain in some way, this is a worrying sign to any dog owner. This is why it's important you figure out the reasons behind the crying as it could be nothing to worry about, or it could be something really serious.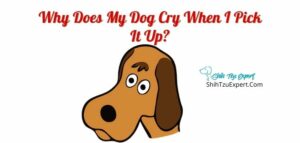 Why Does My Dog Cry When I Pick It Up?
There are multiple reasons why your dog might cry when you pick them up. They might be in pain. You might be picking them up wrong. They might have some unresolved trauma from a previous time. Either way, it's important to figure out the answer.
Why Does My Dog Cry When I Pick It Up Under Its Arms/Front Legs/Chest/Stomach?
They Are Picked Up The Wrong Way
Picking your dog up the wrong way can cause them quite a fair amount of pain. This is why it's important you learn the correct way to pick your dog up so that they don't come to any harm.
They Are Held The Wrong Way
Not only is it important to pick your dog up the right way, but it is also important that you hold them in the right way. This is so that they aren't hurt in any way, which will be apparent by them crying if you're holding them incorrectly.
Excitement
Some dogs love the closeness of being held by their human. If you're unsure whether your dog is happy or scared, look for signs such as tail wagging, their eyes open wide, and showing their tongue.
Fear
Some dogs might be fearful of being held, either due to bad past experiences or because you have moved towards them too quickly. Approach them slowly and if your dog really doesn't like it, put them down and leave them be.
Surprise
Your dog might be crying from surprise of you picking them up, such as if you pick them up from behind, so they can't see you doing it. It will likely be from shock, which is why you should always let them know you're near them and going to pick them up before doing so.
Shock
It's entirely possible for dogs to be shocked when picked up. This is particularly likely if your dog isn't used to being handled by people, especially if they are a puppy who you got from a breeder and they weren't handled by this person.
Anger > They Hate Being Picked Up And Carried
This will depend on the dog. Some dogs will hate being picked up. If they're a larger dog, they can be quite uncomfortable being carried and they also hate heights. Alternatively, if your dog is quite energetic, they will just want to be able to run around and not be restricted.
Anxiety
Just like us, dogs can suffer with anxiety. A sign of this is if they are crying and trembling. If you pick them up and they start to shake and cry, this might mean they have previously had a bad experience when being picked up, so will need lots of soothing to calm then down.
Attention Seeking
Most dogs love attention so when they aren't getting the attention that they want, they'll start crying as a way to get that attention. This is why you need to teach them to not cry to get your attention as you'll just give it to them naturally.
Still Recovering From An Operation E.G. Hernia, Spaying, Neutering
Just like us, dogs can take varying amount of times to recover if they've had surgery. If you pick them up too soon after the operation, it could hurt their wound. Just be gentle and check with the vet how long the recovery time is.
Physical Discomfort, Pain From A Dog Bite, Infection,
If your dog gets bitten, this can be extremely painful for them and also rather worrying for you. You will want to check the wound and possibly take them to the vet to get treated in case the dog that bit them has any diseases that could be passed on to your dog from the bite.
Scared Of Heights
This may sound surprising, but it's possible for dogs to be scared of heights and even more surprisingly, it's most likely larger breeds that will be scared of heights. However, this isn't something that can be changed so if this is the reason behind your dog's crying, just leave them to do their own thing without picking them up.
Past Traumatic Experiences
If you have adopted your dog and they went through something traumatic with their previous owner, or if they had some form of bad experience recently. For example, if you previously picked them up to do something they didn't like, they will now associate you picking them up with having to do something they don't like.
Leg Cramps
If your dog's muscles have been overworked, this can cause them to have cramping in the areas that have been overworked. This is why you should let them have plenty of rest so that cramping doesn't occur.
Abdominal Pain
It's very easy for dogs to get stomach upset, in particular if they eat something they shouldn't or if something in their diet changes. If this is the case, when you pick them up, this only causes more pain. This is likely to be the case if they also have diarrhoea and are vomiting.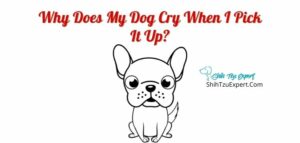 Spinal Problems Like Syringomyelia
If your dog has spinal problems, every time you pick them up, this can cause them to feel a sharp pain on their spine. If you believe it to be this, they'll need an MRI and possibly spinal surgery to solve this problem.
Tumor
It's not uncommon for dogs to have tumors and these can be quite painful, so if you are picking them up and holding them where their tumor is, this is only going to cause them more pain. If you suspect this to be the case behind their crying and pain, take them to the vet immediately.
Joint Pains Like Arthritis
Joint pains are incredibly likely in dogs, particularly as they get older and start developing conditions such as arthritis. It's likely they're be in pain, so try to get them to the vet as soon as possible so they can get help for the pain.
Infection
Just like us, dogs have lymph nodes all over their body and these will enlarge if they become infected. This means that if you accidentally touch an infected area whilst picking them up, they will cry out in pain.
Breathing Difficulties (Short Nosed Dogs – Brachycephalic)
If your dog is in lots of pain, this then tends to escalate to them having difficulties breathing. A sign that something is really wrong is if they are panting in cold weather as panting is also what they do to stop becoming overheated. This is a sign you should take them to the vet.
Vision Issues/ Eye Infections
A sign of eye infections can either be discharge coming from the eyes or the eyes being red. They might also have a fever. This can cause yelping, so if they don't just yelp when you pick them up but it seems to be constant, this could be a sign of an issue with their eye(s).
They Are Hungry
If you notice your dog appears to be barking at nothing and at the same time if you pick them up they start crying, this could be a sign that they are hungry. Make sure to feed your dog regularly and at the same times each day so they can get used to this schedule.
What To Do If Your Dog Cries When Picked Up
Do A Visual Inspection For Any Injuries
When checking your dog over for injuries, you'll want to observe them quite closely to see what they do. There might be some visual injuries, or you might have to look a little closer, such as if you notice them limping or continuously licking a certain area of their body.
Feel Along The Body Look For Possible Injuries
If you're feeling your dogs body for injuries, you need to gently touch each part of their body and you will be able to tell which one is injured if they become uncomfortable or yelp out in pain.
Consult A Vet
If your dog is injured or is in pain in any way, the best thing you can do is take them to the vet so the vet can take a look at them and see if there is anything they can do to help your dog manage the pain and treat their injury.
Train Your Dog To Enjoy Being Picked Up
Just like other dog behaviours, the only way you can get them to behave is to train them. Obviously, you can't force your dog to do anything they don't want to do. However, there might be times where it's necessary for you to pick your dog up, which means they'll have to get used to it.
Learn The Correct Technique To Pick Up A Dog Without Hurting It!
The best way to pick your dog up is the approach them from the side and to pick them up with both hands. The precise way to pick up your dog can depend on the breed/size of them, so it's best to search the best way to do this dependent upon what kind of dog you have.
Feed It
As previously mentioned, there is a chance when you pick your dog up and they cry that they are doing this because they are hungry. In this case, you should give them food and if they start crying, you know this was the reason behind it.
What Should I Do If My Dog Cries When Picked Up?
Try and figure out the reason behind why your dog is crying. It could just be that they don't like being picked up. They could be in pain or you might have startled them. You can try to train your dog to like being picked up, or take them to the vet to get the pain they're in checked out.
My Dog Is Lethargic And Cries When I Pick Him Up
If you notice your dog seems quite lethargic in general and then starts crying when you pick them up, this could be a sign that they are in pain somewhere or that something is wrong with them. Just to be sure, take them to the vet so they can check them over and give them treatment.
Does It Hurt My Dog When I Pick Him Up
It will only hurt your dog when you pick them up if you are picking them up the wrong way or if they have some sort of injury that causes them pain whenever you pick them up. Be wary of this and only pick them up if they don't seem in too much pain.
Dog Crying When Picked Up After Vaccine Shots?
Dogs might sometimes experience pain if they've been vaccinated, either where the vaccine was administered or because the vaccine might give them a bit of a fever. Keep an eye on them over the next few days and try not to do too much with them.
Dog Sensitive Under Armpit?
Just like us, dogs have lymph nodes under their armpits and these can swell if they become infected. If you notice when you pick your dog up they wince a bit or cry, this is likely a sign that their lymph nodes are swollen or they have been injured under their armpits.
What Is The Proper Way To Pick Up A Dog?
The best way to pick up your dog is to approach them from the side so that they can still see you so they don't get a shock. You should then pick them up using both hands as using one hand will either make it impossible to pick them up or cause them pain, depending on the size of them.
Do Dogs Like Being Carried Like Babies?
Dogs like to be carried like babies because it gives them more attention. They are able to see you and know that you are looking at them and care for them which is something they love.
Is It Okay To Hold A Dog Like A Baby?
It is perfectly acceptable to hold your dog like a baby, however, this way of holding your dog can cause them to become overly attached to you, which might seem like a good thing but if you're ever apart from them, it could cause them to whine whenever you're not around.
References
https://www.aspca.org/pet-care/dog-care/common-dog-behavior-issues/whining
https://www.vetstreet.com/dr-marty-becker/why-does-the-vet-check-my-dogs-armpits