Dogs sometimes flea bite humans. This behavior can be worrisome for owners who don't understand why it occurs or how to control it. Dog owners need to be comfortable with their dog's habits.
Why Does My Dog Flea Bite Me?
One common way dogs show humans affection is by flea biting, small nibbles that dogs make on their owner's body or clothing. Flea biting is not bad, but for dog owners who don't like it, once the reasons for flea biting are understood, the behavior can be stopped.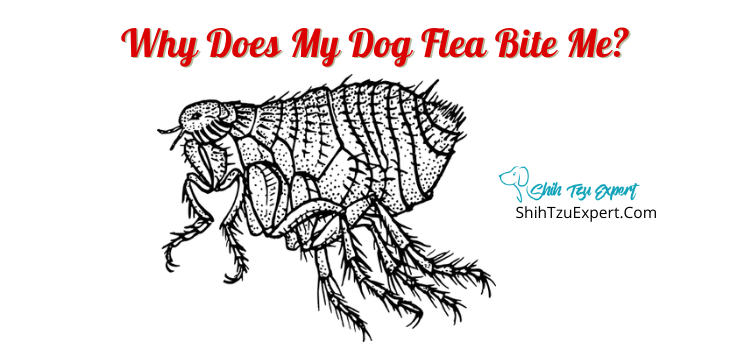 What Is A Dog "Flea Biting"?
Flea biting is a general term that describes the nipping or nibbling that dogs do to their owners. This nibbling behavior is one way that dogs show affection to their human.
Dogs may also flea bite other pets or their toys and blankets. The same reason may also apply in these scenarios. If your dog cares about or has affection for something, the way your dog may show that affection is through flea biting.
This behavior is called flea biting because it mimics the behavior that dogs exhibit when they have fleas on their skin and they are attempting to bite their fleas.
Why Does My Dog Give Me Flea Bites?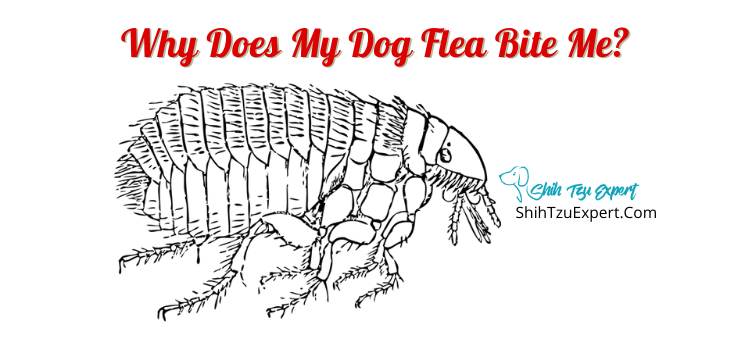 When dogs receive affection from their owners, sometimes they nibble or flea bite instead of licking their owner. These flea bites are not intended to be harmful to the owner.
Sometimes dogs flea bite their owners because they are bored and wish to play. At other times, flea biting may simply be a grooming behavior that the dog is performing because he cares for you.
There are times, however, when dogs flea bite their owners because they have fleas in their fur. If this last reason is the reason your dog is flea biting you, consult with your veterinarian to come up with a treatment plan to resolve your dog's flea problem.
How Can I Stop Dog Flea Biting Me?
For dog owners who want to discourage or stop the flea biting behavior from their dog, simply tell your dog no and reward his good behavior. Consistency is important whenever owners attempt to retrain their dogs and eliminate bad behaviors.
Dog owners who want to stop their dogs from flea biting can follow the following steps.
Regularly comb your dog's fur.
Dry bathe your dog once a week. Bathing with shampoo too often can cause other problems.
Clean your dog's paws frequently.
Engage your dog in regular, physical exercise.
Prevent boredom in your dog.
Check your dog's fur frequently for the presence of fleas.
Give your dog a chew toy to distract it from flea biting.
Following these steps should eliminate this nibbling behavior over time.
Should I Stop My Dog Flea Biting Me?
If your dog flea bites you and it doesn't hurt you or annoy you, there is no harm in allowing the behavior to continue. Dogs show affection for their owners by using this nibbling behavior and it is very sweet.
What Happens If A Dog Flea Bites You?
Dogs that flea bite their owners are not intending to cause harm to their owners. Normally, the flea-biting activity does not cause an injury. However, if the nibbling does hurt or breaks the skin, it is important to immediately fix the problem.
Retrain your dog to stop flea biting you. If the nibbling breaks the skin, immediately treat the area with antibiotic ointment to prevent infection.
Why Does My Dog Flea Bite Everything?
When dogs have fleas, they may constantly bite everything. The irritation they feel from the fleas seems to drive them crazy and they may flea bite many different things. It is important to treat or change out the toys, bedding, and furniture that they use to get rid of a flea infestation.
Why Does My Dog Nibble On Me Like Corn On The Cob?
Sometimes, dogs nibble on their owners to show affection. This nibbling behavior is sometimes referred to as "cobbing" by many dog owners because it seems like their dogs are eating a piece of corn on the cob.
Dogs may also nibble on their owners when they feel anxious or stressed. Dogs that have been home alone all day may exhibit this behavior because they are happy to see their owner. Dogs that nibble because of stress should be removed from the stressful situation if possible.
Why Does My Dog Nibble Me With Front Teeth?
Dogs may exhibit nibbling, or cobbing, behavior with their front teeth, starting from a very young age. Puppies will nibble on their siblings as a way to play. This nibbling can also help to alleviate some of the pain that puppies have when teething.
If puppies exhibit this behavior, buying chew toys for them may help to alleviate their teething pain and end the nibbling behavior.
Sometimes, mother dogs will use this nibbling on their puppies as a way to groom them. Puppies may grow up and emulate that behavior with their owners and groom their owners' clothes or skin.
Why Does My Dog Flea Bite My Cat?
Dogs that have a sweet, loving relationship with a cat may exhibit flea biting behavior with that cat. Flea biting most commonly denotes a sign of affection. As part of that affection, flea biting or nibbling may also be used to groom the cat.
Why Does My Dog Flea Bite Blankets?
A dog's favorite blankets may fall within its circle of affection. Just as dogs show their affection for people and other animals by flea biting or nibbling them, the same is true for blankets or bedding used by the dog.
Why Does My Dog Nibble On Me When I Scratch Him?
When dog owners scratch their dogs in an enjoyable way, their dogs may demonstrate their enjoyment of their scratches by flea biting. As long as the owners don't mind that little nibbling sensation, keep scratching because the dogs are happy.
Why Do Dogs Flea Bite Toys?
Favorite toys or loveys are objects for which dogs may feel affection. If that is the case, dogs may flea bite their favorites to groom the toy, similar to a child brushing a doll's hair. Owners should try to buy toys that can stand up to that kind of affectionate attention.
Can Humans Get Flea Bites From Dogs?
Humans can get flea bites from their dogs. Dog owners typically spend some time with their dogs in close contact daily, whether they sleep in the same bed or cuddle up together on the couch.
Any fleas living in a dog's fur will inevitably come into contact with its owner.
What Do I Do If Fleas Are Biting Me?
If dog owners find themselves getting bitten by fleas, it is important to treat the dog and any other pets immediately. In addition, all pet blankets, beds, and toys, as well as the furniture dogs lay on, should be simultaneously treated for fleas.
Why Fleas Are Attracted To Me? And No One Else Does?
Fleas are seemingly attracted to some people more than others. There is no known reason for why this occurs.
Fleas are attracted to animals with fur. However, in the absence of furry animals, fleas may be attracted to humans. The characteristics that most attract fleas are body heat, carbon dioxide, movement, and vibrations.
Can Fleas Live In Human Hair?
Fleas do not commonly live in human hair. Humans do not have enough hair for fleas to hide easily, so fleas prefer living on dogs instead of humans. However, fleas may occasionally be found in human hair, particularly humans that live with flea-infested dogs.
What Can You Put On Your Skin To Stop Fleas Biting?
Several EPA-approved chemicals can be applied to the skin or clothing to prevent flea bites. Repellents containing the following chemicals can be highly toxic so follow the instructions carefully.
DEET
Picaridin
IR3535
Oil of Lemon Eucalyptus (OLE)
Para-menthane-diol (PMD)
2-undecanone
Clothing can also be treated with any product that contains 0.5% permethrin to help repel fleas.
How Long Do Flea Bites Last On Humans?
Flea bites typically only last a few days on humans unless a person has an allergic reaction to the bite. If the flea bite lasts longer than a few days or a reaction occurs, it is a good idea for the person to see a healthcare professional.
What Smells Do Fleas Hate?
Because fleas use smell as a way to find food, scents that fleas hate can be used to repel them. Fleas hate several scents such as DEET, cedarwood, vinegar, lemongrass oil, mint, clove oil, citrus, and rosemary oil. Many of these scents can be found as essential oils and in oil blends.
Some of these oils are added to pet shampoos in a diluted form. Essential oils in their undiluted state can be harmful to pets so it is always recommended to only use veterinarian-approved products on your dog.
How Can I Tell If My Dog Has A Flea Infestation?
Dogs that have a flea infestation are easy to spot. One way to tell is if you notice your dog scratching more than usual. Another sign of a flea infestation is when you can see a dark-colored speck in your dog's fur and it jumps.
For every flea you see, there are many more you don't see.
Flea poop, also called flea dirt, is left behind on the dog's skin. Sometimes, flea larvae can be seen in the flea dirt on your dog. In addition, if you see tapeworm segments coming out of your dog's rectum, that also indicates a flea infestation.
If your dog is losing its fur in patches, that may be an indication of excessive scratching or biting at fleas. Additionally, irritated skin, or dermatitis, can also be a sign of fleas.
Some dogs, especially small dogs and puppies, can be in danger of losing too much blood to a flea infestation. When that happens, their gums may appear pale in color.
Can Fleas On My Dog Bite Me?
Fleas that reside on a dog will bite humans. Their preferred food source is animals, but if they end up on a human, they will bite. However, even though dog fleas will bite humans, they will not reside on them.
How To Remove Fleas From My Dog?
Dog owners can take several steps to remove fleas from their dogs.
Use a flea comb to comb through your dog's fur and remove fleas by rinsing the comb in soapy water.
Soak your dog in a bath and use a flea shampoo to wash its fur.
Give your dog either oral or topical flea medication. These may be over-the-counter or prescription.
Wash all of the dog's bedding, including any human bedding the dog sleeps on, in the hottest water possible and dry it on the highest heat level.
Use a heavy-duty vacuum on all rugs, carpets, and furniture then immediately throw away the vacuum bag.
How Dangerous Are Fleas To Humans?
Fleas can cause some human diseases. The most famous of these diseases is the plague which still occurs in parts of North and South America, Africa, and Asia.
Endemic murine typhus is another disease that humans can catch from fleas. This one is spread through infected flea poop that either enters the human body through a scratch or is inhaled. This disease is found in tropical and subtropical regions along the coast.
Cat scratch fever and parasites are also transmitted to humans from fleas, but these are not common diseases for dog owners.
References
Charlton, James. "Why Does My Dog Flea Bite Me?" April 28, 2021. Dog Needs Best. https://www.dogneedsbest.com/why-does-my-dog-flea-bite-me/#:~:text=One%20major%20reason%20why%20your,they%20are%20trying%20to%20groom.
DeAngelis, Zack. "8 Scents That Fleas Hate (And How To Use Them)." Pest Pointers. https://pestpointers.com/scents-that-fleas-hate-and-how-to-use-them/#:~:text=Fleas%20have%20a%20strong%20sense,lemongrass%20oil%2C%20and%20rosemary%20oil.
"Flea Bites." Cleveland Clinic. https://my.clevelandclinic.org/health/diseases/21718-flea-bites
Flowers, Amy. "How to Spot the Signs of Fleas." April 19, 2021. Fetch by WebMD. https://pets.webmd.com/spot-fleas#1
"Preventing Flea Bites." Centers for Disease Control and Prevention. https://www.cdc.gov/fleas/avoid/on_people.html#:~:text=Covering%20skin%20with%20long%2Dsleeve,with%20products%20containing%200.5%25%20permethrin.
Sonya. "Why Does My Dog "Flea Bite" Me? (and how to stop it!)" October 5, 2021.Sir Doggie. https://sirdoggie.com/dog-flea-bites-me/