Why Does My Dog Howl When The Phone Rings?
There are several reasons some dogs might consistently howl at the sound of a phone ring. In this article, you'll find a handful of the most common causes and solutions for breaking the habit before you're driven bonkers.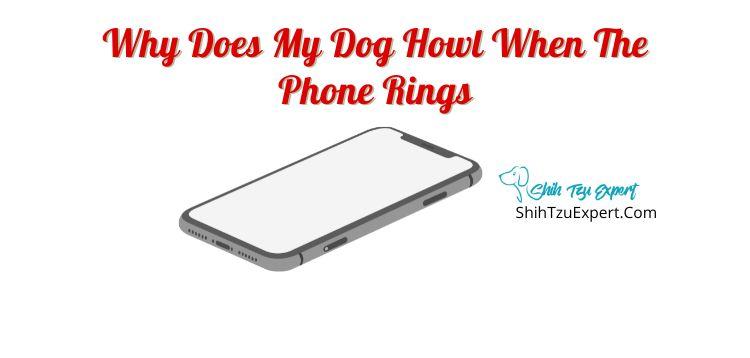 Why Does My Dog Howl When The Phone Rings?
If you're reading this, you might have a dog who howls at the top of their lungs every time you get a phone call. Good news? You're not alone. To your dog, howling is one of the only tools they have to talk to us! So if yours has a habit of howling every time they hear the phone ring, you can pretty much bet they're trying to tell you something.
Here are some reasons your dog might be howling when the phone rings:
Alarmed By The Noise
You may have heard the terms "Alarm Barking" or "Alert Barking" when it comes to noisy pups. They're terms for a dog's natural response to certain stimuli. A howl can be the result of very similar triggers for many dogs… It's not so different from how we might yelp when we're spooked by something!
If alarm is the cause of your dog's howls, you might be able to see it in their body language. Look for stiff, rigid movements, and try to soothe your pal by responding with a calm tone of voice that suggests there's no cause for alarm.
Annoyed By The Noise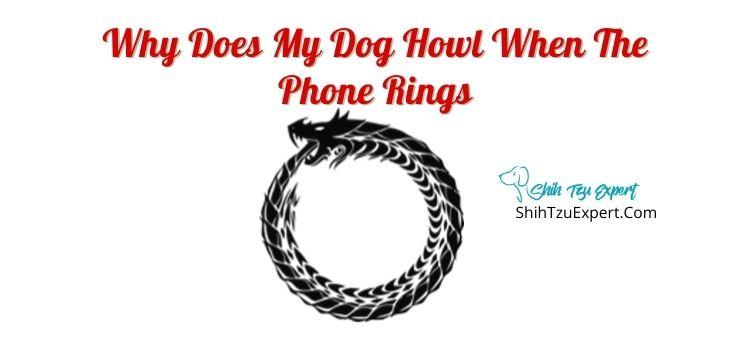 Doggos have pretty sensitive ears. Their senses are super powerful, and they can hear much higher frequencies than us. Something that sounds totally fine to human ears might be unbelievably irritating for your dog.
If annoyance is causing your dog to howl, trust us: they're not just being dramatic this time. They're hearing something your human ears can't, and it probably is… really annoying. The good news is that there are alarms that won't sound so annoying, so it could be an easy fix.
Alerting You That The Phone Is Ringing
Your dog is your buddy. And it's no secret, they want to do right by you. At times, dogs' desire to be helpful to their humans comes almost to a fault.
If your dog is howling at a phone ring could be very similar to how they let you know when someone's at the door. Start to notice patterns around the phone ring chaos… if they come and get you while they're howling, your dog probably wants you to know that thing that you sometimes talk into is making that noise again!
Copied The Behaviour From Another Dog
Just like children, young dogs (or dogs adapting to new spaces) mimic what they see. The younger the pup, the more they're likely going to be influenced by what they see other doggos around them doing.
Dogs are social creatures; if everyone around them howls when the phone rings, it won't take long for the habit to spread. If you're inviting a new pup into the family expect your other dogs to show them the way.
Ringing Tone Is Noisy And Disturbing
Okay do us a favor and imagine these sounds: People chewing loudly. Nails on a chalkboard. A crying baby on an airplane…
Do you know how sometimes when you hear these things you kind of just want to scream at the top of your lungs? This might be how your dog feels at the sound of that gosh darn phone ring. Again, the ring is going to be much more irritating to your dog's sensitive ears.
The only difference? They don't know the social rules of "inside voices", so they might unapologetically just do it… Scream at the top of their lungs, that is.
Feel Neglected And Left Out
We probably don't have to tell you that your dog likes attention. And many of them are pretty quick to notice: when your attention is on the phone, it's not on them. They also have probably noted that (for better or worse) the loud howling noises do, in fact, earn your attention.
That said, the reason for your dog's persistent vocals could be a classic case of FOMO.
Dislike Your Reaction To Phone Calls (Leaving The House Etc)
On a similar note, your pup might have a problem not necessarily with the ring, but with what happens after the ring. If every time you answer the phone you, for example, leave the house, pace around, or simply stop paying attention, this could be the cause of your doggo's protest.
Dogs are pretty good at picking up on patterns. Just like sit, stay = treat, it's pretty possible ringing phone = owner leaves. Try breaking your phone talking habits and see if your loyal (read: needy) friend has a different reaction to the ring over time.
How Do I Train My Dog Not To Howl When The Phone Rings?
Like most things, it all starts with identifying the problem. Your solution is going to vary pretty significantly depending on whether your dog takes issue with the actual sound of the ring or the behavior it foreshadows.
The good news? The problem is solvable. And a lot of owners have been successful in easing their dog's howling habit for a much calmer talking environment.
Start by picking up on your pup's cues. When exactly does the howling start? Do they move when they howl? Do they seem irritated or even in pain?
Once you think you've identified the root of it, here are some things you can try:
Change The Ringtone/Volume
If your dog is annoyed at the particular sound of the phone ring, your solution is pretty cut-and-dry: change the ringtone. Specifically, try something with a lower pitch or more of a soothing melody.
Before you go find an entire new ringtone, it could even be as easy as turning the volume down for your pup's sensitive ears.
Never Punish
The more it's researched, the more we're finding… punishing your dog just doesn't really work as well.
Dogs do, however, react really well to positive feedback. Essentially, they're probably going to be more responsive to "I love it when you're quiet" than "it makes me angry when you howl".
If you want to train them out of the habit, try rewarding your dog with lots of love and validation every time they don't howl at the ring of the phone.
Just Ignore The Howling
Typically, dogs live by an "acting is reacting" mentality and will respond to your response.
Though barking and howling are their best way of verbal communication, they are extremely good at reading our energy.
If they continue getting your attention when they howl, they're probably gonna keep doing it. Either because they receive attention (did we mention they like that?) or because they are noticing your alarm in response.
If it's at all within your ability, try pretending you don't even hear it. Your doggo might give up in time.
Desensitize The Dog To The Ring Tone
This might be a good exercise if it looks like your dog is reacting out of alarm. If they're howling at the surprise of an unexpected noise, it will probably ease up if the sound becomes more familiar. They need to know that the noise is a regular occurrence and that it isn't going to be followed by anything that puts either you or them in danger.
A good place to start with the desensitization method is by playing the ringtone on a super low volume. From there, gently increase and see if your dog's ears adjust to the noise.
Why Does My (1, 2, 3, …6) Months Old Puppy Howl When The Phone Rings?
When your pup is still young, they're still getting used to the world and constantly adjusting to new stimuli.
If your young pup is howling at the phone, the good news is that there might still be time to retrain the habit. You know what they say about old dogs and new tricks, right?
Why Does My (6, 7, 8….15) Years Old Dog Howl When The Phone Rings?
If your dog picks up the habit of howling at the phone later in its life, something significant may have happened the first time it howled when the phone rang. This could have been a total coincidence: perhaps an accidental tail-step at the same time as a phone ring. Or maybe a human accidentally encouraged a howl.
Naturally, your dog changes as they get older. During a dog's later years on Earth, their hearing and cognitive patterns could change pretty significantly. This might be a cause for a more mature dog to start howling at a phone ring later in life.
How Long Does It Take For A Dog To Stop Howling When The Phone Rings?
Many dogs will only howl so long as they are hearing the sound of the phone ring. If that isn't the case with yours, and they continue howling through the phone call, take it as a sign that it's probably not the actual sound that's bothering them. Start by trying to ignore your dog until they realize the howling isn't working.
What Not To Do With A Dog Who Howls When The Phone Rings?
Breaking dogs' habits can be fragile territory. Here are some things you'll want to avoid…
For starters, try not to do anything that your dog might take as a reward for the howling.
Some owners try to distract their dogs by giving them a toy. Others could think it's funny at first and respond with a smile, laugh, or a pat. Keep in mind, anytime you give your positive reinforcement, they'll be noting it for next time.
Do your best not to get angry or raise your voice. Your dog might find this cause for alarm and start howling more. In any case, when pets and owners get into this cycle of loudness and high energy, it tends to only make the problem worse.
Lastly, do not punish your dog physically… more on that below.
Should I Punish The Dog For Howling When The Phone Rings?
The most productive way to "punish" your dog, is just to withhold the attention that they want from you. Believe us: to them, that is certainly a punishing sentence.
Beyond that, we really can't recommend much negative reinforcement. And certainly not physically. The big issue trainers have found with punishment as a form of teaching is that it gives dogs no clues as to how they should behave. Without guidance, they can feel quite lost as to what kinds of behavior their owner would like.
And really, who wants to see that tail between the legs, guilty eyes face anyway? It's just a lose/lose for everyone involved.
Can & Do Dogs Destroy Phones?
Dogs can pretty much destroy anything they can get their mouth on. They are super curious about objects, especially their owners' objects, and your phone probably has your scent all over it. Many dogs are also naturally quite playful once they start investigating.
So in short… yes. Dogs have no problem destroying phones if they set their minds to it.
This is why setting clear boundaries with your pup regarding what is and is not a toy (the sooner in their life, the better) is so important.
Why Does My Dog Howl When The Phone Rings At Night/Morning?
Have you ever noticed how excellent your dog's internal clock is? Circadian rhythms are often super consistent and intuitive to our pets. That said, you might notice behavior shifting depending on the time of day.
Studies around this have shown dogs' energy to peak in mid-morning and early-evening, so that could describe your dog's habits being elevated at these times of the day. Likewise, tiredness, hunger, or lower blood sugar during specific hours of the day could make your pup more sensitive to noises.
Should I Take My Dog To The Vet? Or A Dog Trainer?
In terms of the dog's physical health, howling at the phone on its own is usually not a cause for alarm.
However, you may consider getting a Vet's opinion if the phone howling is one of several anxious behaviors your dog displays around noises, the prospect of being left alone, etc. Dogs can form pretty severe anxiety disorders. Luckily, there are a variety of treatment options to help them cope.
A Dog Trainer could be a good option if the problem becomes persistently frustrating or is a piece of a larger howling/barking/behavioral issue. There are several methods a trainer might use, including desensitization to the ring or incorporating a "quiet" command into your pup's repertoire.
How Much Would The Dog Trainer Cost & How Long Will It Take?
Prices for dog training range greatly depending on where you're located and the type of training you're after. But in general, the cost for a private dog trainer hovers around $50/hour.
As a general rule of thumb, owners tend to see the best results from consistent training and reinforcement. The trainer might be able to teach your dog to be quiet on command in just a few weeks if you help out by keeping up with consistent daily practice.
Most dogs (especially puppies) do best with brief, consistent practice. Try to set aside 10-15 minutes a day.
What Can I Do If My Dog Howls When The Phone Rings?
Training your dog to be quiet on command takes a lot of patience. In the meantime, try these tips when your dog howls at the phone ring:
First, pick up the phone or silence the ringer as quickly as you can. If your dog's ears are bothered by the noise, that should help right away.
If the howling continues, do your best to ignore it. Perhaps leave the room calmly or look in a different direction. Once your dog acknowledges the howling isn't getting your attention, they might slowly let up.
What Exactly About The Phone Rings That My Dog Is Scared Of (Noise? Vibrations?)
It totally depends on the dog, the ring, and the situation!
It's often an annoyance with the pitch or tone of your phone ring. Your dog picks up on super high frequencies that we can't hear.
Another thing to note: phone rings are often, by design, pretty alarming. Unfortunately, we can't tell our dogs that it's just the phone, or that it just makes noise so we know someone wants to talk! So they might react as though it's some sort of emergency.
If it feels as though your dog is reacting out of fear, it could be an external association with the sound of the ring. Unfortunately, if you've adopted a rescue, there might be past trauma that's triggered at the sound of a phone ring. If the dog has in some way connected the sound to danger or pain, they might howl in response.
Lastly, if the dog associates phone calls with neglect or some form of distraction, it could be the very common (but very real) "fear of missing out".
What Are Dogs Trying To Say When They Howl?
Unfortunately, we haven't figured out how to speak to dogs yet. At least, not in any human language. Wouldn't it be nice if we could throw it into Google Translate…
But in the meantime, we can pick up a lot of communication tools from our pet's patterns, demeanor, and body language. And they really are trying to talk to us! Here are some ways we might translate that howl into English:
"Woah! What's that noise?! It's hurting my ears!! Ouuuuchhh!"
"Alert! Alert! Everyone, be prepared: something just made a loud, alarming noise!"
"Mom/Dad! The thing is making the sound again! It's time to do that thing where you run to it and talk to it!"
"Noooooo! Not the ring! That means you're going to stop paying attention to me! Pay attention to me!"
Do Dogs Become Jealous Of Phones?
Yes– a lot of dogs do! We spend a lot of time on our phones in today's culture.
Remember: your pup's world is much smaller than ours. And you are probably at the very center of it.
Why Do Some Dogs Dislike Phones?
Many of us these days give our phones heaps of attention. They come everywhere with us. They help us with work. They might even be the first thing we look at when we get up in the morning. Oh what our dogs wouldn't give to be the same to us…
Their dislike could be coming from the place that dislike so often does: envy.
Though it's kind of sweet when you think about it that way, increased smartphone usage has shown effects on dogs' mental health. Remember to give them lots of love between talking or scrolling on your phone.
Do Dogs Howl When They Are Happy?
There are so many reasons a dog might howl. If your dog is howling, it's not necessarily safe to assume it's out of joy… but it is a possibility!
Sometimes dogs can become so overwhelmed with excitement that they simply overflow with a bold, happy howl.
Do Dogs Enjoy Howling?
Depending on the dog's genes and what exactly is causing them to howl, letting out a large "ow ow owwooooooo" can indeed feel very good for a dog.
This is even the case for anxious, alarm, or attention howling, as the solution of the howl might be super gratifying or cathartic for your dog. And on a happy note, some have suggested that the feeling of the howl might feel super similar to how singing feels for people.
Does Howling Hurt Dogs' Ears?
Rest assured: it's not likely that your dog's howling is doing anything to hurt their ears or impact their hearing.
Though noises like sirens or phone rings might trigger the howl out of alarm or annoyance, the sounds themselves are probably not causing any physical harm to your four-legged friend's eardrums.
Sources:
https://www.aspca.org/pet-care/dog-care/common-dog-behavior-issues/barking
https://vcahospitals.com/know-your-pet/why-punishment-should-be-avoided