We all know that dogs love to sniff everything, whether it's a good or bad smell. Dogs use their nose to understand the environment around them. Maybe you've noticed your dog sniffing around your belly button recently. Let's talk about why your dog could be smelling around your stomach area.
Why Does My Dog Sniff My Belly Button?
Dogs' sense of smell is so incredible that they can tell their owners when something is not right.. There are so many possible reasons your dog is smelling your belly button ranging from a harmless smell to being pregnant to having cancer. Pay attention to what your dog is trying to tell you. They might just save your life one day just by smelling your belly button.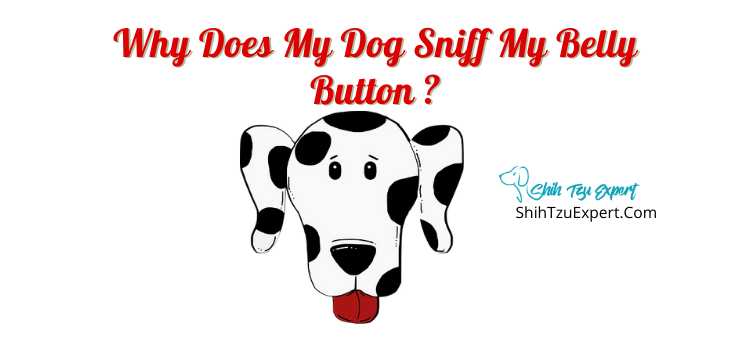 Should I Let My Do Sniff My Belly Button?
There is no harm for your dog to sniff your belly button. What you should do is find what exactly your dog is sniffing. It might mean absolutely nothing or it could be something. Dogs have an incredible sense of smell. Sometimes dogs can detect something wrong in a human way before we ever find out. So, it's okay to let your dog sniff your belly button.
Should I Worry About My Dog Smelling My Belly Button?
You might just want to pay attention to your dog and where he is sniffing on you. He might be trying to tell you something. Remember dogs can smell things that humans can't. They might just be smelling the dirt, sweat and oils coming from your belly button. They might be detecting a change in your hormones so ladies, your dog might know you're pregnant before you even do!
Should you worry? Don't lose sleep over it, but just keep in the back of your mind the possibility that your dog can smell something in your body that you can't.
Should I Stop My Dog From Smelling My Belly Button?
Absolutely not!
There are no cons to allowing your dog to smell your belly button but there are plenty of pros to doing so. You could have a build-up of bacteria or a fungal infection that your dog is smelling. You could be pregnant. You could have a serious illness where only your dog can smell that change in your body. This is why it is so important to get on the floor with your dog everyday not only to build a strong relationship with your pet, but also because they can detect if something is wrong in our bodies. Let your dog sniff your belly button and the rest of your body.
How To Stop My Dog From Smelling My Belly Button?
Find the cause of the smell. Once the smell is gone, your dog won't sniff there anymore.
Maybe you just need to clean your belly button more. If that doesn't stop the sniffing maybe your body is going through hormonal changes. If it's even slightly possible you could be pregnant, take a test. That way you'll at least know why your dog is smelling your belly. If none of those are the case though, it can't hurt to see a doctor. Your dog might be smelling an illness inside your body, but until you find out the problem and fix it, your dog won't stop smelling your belly button.
Why Do Dogs Lick Belly Buttons?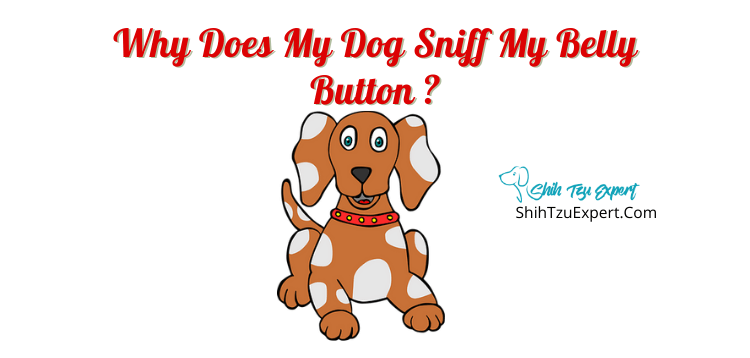 Like we already talked about, dogs are attracted to that smell of dirt, oil and sweat. You may have even noticed after going for a run or working out that your dog can't wait to lick off all that sweat. Your belly button can carry sweat so your dog just sees it as a perfect opportunity to lick a tasty treat, aka you!
Why Is My Dog Licking My Belly Button During Pregnancy?
Your dog knows you are pregnant. You might even notice your dog trying to lay on your belly more or protect your belly. They can sense the fetus inside of you. Your dog can sense all of the hormonal changes happening in you. Licking is also a sign of affection so your dog could also just be trying to show you and your baby some love.
Is It Bad To Let Your Dog Lick Your Belly Button?
No. The only reason it could potentially be bad to let your dog lick your belly button is if you have some sort of bacteria or infection in there. You wouldn't want your precious pet licking bacteria. That could turn into a problem. So, the moral of the story is keep your belly button clean and you won't have to worry about making your dog sick.
How To Stop My Dog Licking My Belly Button?
Keep yourself clean.
Take a shower immediately after working out so that way your dog won't be attracted to all the sweat on you. Don't let your dog near your belly button or even have your belly button exposed.
Why Does My Dog Like To Lick My Stomach?
Dogs can lick you for many reasons. They want to show you that they love you and you probably taste good to them. If your dog sees that when they lick you, you smile or laugh, your dog notices that. That's why they might continue licking your stomach. Again, if you are sweaty, your dog loves to lick the sweat off of you and you turn into your dog's very own lollipop.
Is A Smelly Belly Button A Sign Of A Serious Illness?
It could just be a sign of poor hygiene. Your belly button can trap a lot of dirt and bacteria and if not properly cleaned, it will produce a smell. If you have a fungal infection that will also smell. You could also have a cyst near the belly button and the puss that comes out of it definitely has an odor to it.
Overall, it's most likely harmless and you just need to clean your belly button more often with soap.
Can Dogs Sniff And Detect Illnesses In Humans?
Yes. There is still a lot of research to be conducted, but there are many cases and studies that show how dogs have detected illnesses in humans. Dogs are able to smell a certain chemical compound in humans and can detect cancer. There are even service dogs out there that are trained to detect when someone is about to have a narcolepsy attack. Dogs have also been able to use their sense of smell to detect when someone is having migraines, low blood sugar and seizures.
References
Why Do Dogs Lick Belly Buttons? Everything you Need to Know (knowyourdoodles.com)
Can Dogs Sense a Baby in Your Belly? – Wag! (wagwalking.com)
Why Do Dogs Lick People? (thesprucepets.com)
Why does my belly button smell? Causes and how to clean it (medicalnewstoday.com)