If your dog has suddenly started to poop in the house and regress in their training, this might be a cause for concern. But the reason why can vary from a change in schedule to being ill.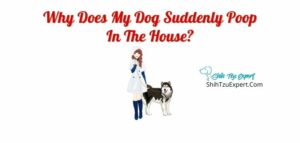 Why Does My Dog Suddenly Poop In The House?
There are many reasons why your dog might have suddenly started pooping in the house. They could be ill, have a bad or change in diet, feel anxious or fearful, have a schedule change, or be too distracted by various things outside.
Why Does My Dog Suddenly Poop In The House?
Changes To The Diet
Any change to your dog's diet can cause your dog to poop unexpectedly. This is why you should gradually introduce new foods into your dog's diet so their digestive system gets chance to get used to them, so you can eventually make them a main feature of their diet.
Bad Diet
You need to make sure your dog has a good diet, as a poor diet means that your dog will be pooping more frequently and have bulkier bowel movements. If you give them a good diet, they'll not need to go to the toilet as frequently, meaning accidents are less likely to happen.
Still Potty Training
Potty training takes a lot longer than you might think, so just because your dog poops outside a few times, it doesn't mean they're fully trained. You need to keep up with this training, which can be helped by implementing a schedule they can get used to.
Potty Training Is Inconsistent
Training dogs will take up a lot of your time, so only commit to getting a dog if you can commit to the amount of training they require. The only way your dog can learn is by you regularly training them and if there are gaps in their training, this is going to affect their toilet habits.
Distracted
Dogs get distracted incredibly easily, so if you let them outside, they are likely to want to explore. Even though they're familiar with their environment, they will still want to explore it to see if there's anything new they can find, so might forget to go to the toilet.
Schedule/Routine Changes
Dogs rely on the same routine as once they get used to it, they train themselves to learn at what points during the day they can expect something to happen. So if this changes in any way, they might poop because that's the time they're used to pooping.
Ageing
As dogs get older, their ability to go to the toilet gets worse as their cognitive function worsens. This means anything they have been trained to do, they are likely to forget how to do. As they are also likely to have arthritis, this can make squatting painful, which also means they are likely to poop inside.
Medical Issues
There are medical issues that your dog might encounter that could lead to them pooping in the house. This includes food allergies, food poisoning, infections, IBD, and intestinal parasites.In this case, it's really important to take them to the vet so they can be treated.
Anxiety
Just like us, dogs can also experience anxiety, particularly separation anxiety. If your dog is used to you being at home a lot and the amount of time you spend there changes, this can increase their anxiety, which can lead to unexpected pooping, even if they're toilet trained.
Fear
Dogs experience fear just like we do and when they are scared of something, it means they are less likely to be fully in control of their toilet habits, so are likely to poop inside your house through fear.
Stresses
Just like with fear, stresses can also cause your dog to poop unexpectantly in your house. These can be a variety of things, so it's best to try and figure out what these stresses are and try and eliminate then as much as you possibly can.
Outside Is Too Noisy
Dogs have very sensitive hearing, so any noises that might not seem that loud to us can be very loud to dogs. They are unlikely to want to go outside to poop if there are loud noises outside, so will probably go inside the house instead.
Being Stuck Inside The House For Too Long (Rain, Snow Etc)
It can be very easy for your dog to poop inside the house if you end up not letting them out due to various reasons, such as poor weather. Try and let them out if you can, but remember not to scold them if they do poop inside the house because it's not their fault.
Intestinal Parasites
It's very easy for dogs to come into contact with parasites, such as in your back garden or at the park. These create inflammation in the gastrointestinal tract, which can cause diarrhoea and makes dogs likely to have accidents in the house.
Food Allergies & Intolerances
Food allergies and intolerances are quite uncommon in dogs, however, given some of the food that can cause a reaction in their gut, such as beef, dairy, and chicken, it can be very easy for them to be given these foods, such as from leftovers from your dinner.
Too Much Stimulation During Potty Time
Dogs' senses are very strong, so you need to try and make sure there are as few distractions as possible. If your dog finds this area is too overstimulating, they are unlikely to poop in this area and would rather poop somewhere calmer, such as inside.
New Additions To The Household Pets/Family Members
Your dog experiencing new additions to your household means they can go through stress. In cases like this, try to keep them to a specific routine, so they know exactly when they can expect to be let out to go to the toilet.
Marking Its Territory
This is the least likely reason behind your dog pooping in the house, although, it is still a possibility. If this is the case, the most likely place they will poop is along the walls and this can be stopped by using synthetic pheromones and retraining your dog.
What Can I Do About My Dog Pooping In The House?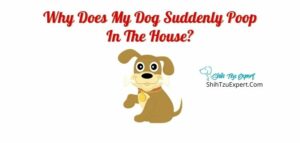 Determine The Root Cause
Once you have determined the root cause of the problem, it should make it easier for you to solve it. It may be something simple that involves some potty training, or it may be more serious and may require you taking your dog to the vet.
Consult A Vet
Whenever your dog starts exhibiting any new behaviours that cause you concern, particularly if it seems to be a medical issue. The vet will be able to look at your dog, find out the problem and give them treatment for the problem.
Extend The Potty Training Period
It's far too easy for dog owners to assume that just because their dog has gone to the toilet when and where you want them to a handful of times that they are fully potty trained, even though they're not. So extending this time gives them more time to get the hang of it.
Use An Indoor Potty
Even though you want your dog to go to the toilet outdoors, sometimes creating an indoor potty for them and gradually encouraging them to go outside can work really well. Create a space indoor and cover it with newspapers and once they've used it, take some of these outside to encourage pooping outside.
Add More Potty Breaks To The Schedule
Having a schedule is important to potty training your dog because this is something they can quickly pick up on, so they know when to expect to be let out to go to poop. If you are leaving a lot of gaps in this schedule, try and add some more potty breaks and see what works best for you and your pup.
What Are The Signs That Your Dog Needs To Potty?
One of the signs your dog needs the potty is general restlessness. This includes pacing, panting, circling, whining, and barking.
You should also look out for anything to do with their body posture. This includes sniffing the ground, lowering their body posture, curving to the ground, and squatting.
A pretty big clue that your dog needs to potty is if they are sat waiting at the door. This is because they know to poop outside, so they are just waiting for you to open the door to let them outside.
If your dog has previously pooped in the house, you might see them go back to this part and start sniffing around. If you notice them doing this, this is a sign they need to poop so you should let them out immediately.
They might also need to poop if you notice them sniffing at or licking their groin or rear end. Whenever you notice this, or any other signs mentioned, you should let them outside immediately just for your own peace of mind.
Why Is My Dog Suddenly Pooping In House At Night?
If your dog is pooping in the house at night, it is likely that you let them out to do their last poop of the day too early. In this case, try letting them out as late as you possibly can so they don't poop inside the house at night.
Why Is My Older Dog Pooping In House All Of A Sudden?
As your dog gets older, their cognitive function is likely to diminish slightly over time, which means anything they've previously been trained to do, they lose the ability to do, which can mean pooping in the house.
Is My Dog Pooping In The House On Purpose?
Your dog will never poop in the house on purpose. It will either be a complete accident in a way that they can't control it, such as being ill or getting older, or it will be because they cannot go outside, such as being overstimulated or being too distracted.
What Are The Dangers Of Dog Poop In House?
The main danger of dog poop is that it can make humans very sick due to the bacteria and parasites that are in it. It can also contaminate waterways and harm the environment, so make sure you clear it up to look after yourself and the world around you.
What Do You Do When A Dog Poops In The House?
You should clean the mess with an enzymatic cleaner to prevent them from pooping inside again, or at least, in that exact same spot. You should also use synthetic pheromones, which are useful if your dog is pooping due to stress.
What Causes A Potty Trained Dog To Regress?
The main reason behind potty training regression in dogs can be anything medical, so as long as they get treated, they should eventually go back to being fully potty trained. Another reason can also be a change in schedule, so if their schedule does have to change, make sure you do it gradually.
How Long Does Potty Regression Last?
There is no specific amount of time that potty regression lasts as all dogs are different. This will likely depend on how long they have regressed for and the efforts you are making into getting them back to being fully trained.
Do All Dogs Go Through Potty Training Regression?
It's unlikely that all dogs will go through potty training regression, however, it's possible that a vast amount of dogs will go through this. This will depend on whether they go through any of the causing factors and how they cope with those.
At What Age Do Puppies Regress?
Puppy training regression normally occurs in dogs between four months and a year. However, it is known that older dogs can regress in their training too, but younger dogs are much more likely to go through it.
Can Illness Cause Potty Training Regression?
It is possible for illness to cause potty training regression. This is because illness can sometimes cause them to lose control of their bowels, which isn't their fault. This is why you should get them to the vet quickly so they can be treated and pick their potty training back up.
Should I Punish My Dog For Potty Accidents?
No, you should never punish your dog for pooping in the house. This isn't going to solve the issue because your dog isn't going to know why they are being punished, so they will continue to poop in the house, sometimes unaware that they're doing something wrong.
Why Won't My Dog Go To The Bathroom Outside Anymore?
This can be because of any of the reasons mentioned as to why they regress in changing, however, the likely reasons are health problems, fear/anxiety, poor house training, and marking.
Why Does My Dog Poop In The House After Going Outside?
If your dog has already been outside and then poops in the house, this is likely due to distraction. They may have become distracted by something outside, which is why you should keep an eye on them to ensure they go to the toilet before you let them back inside.
How Long Can A Dog Hold In Poop?
As long as dogs are healthy, they tend to poop around an hour after eating, but can hold their poop in for at least twelve hours and sometimes longer.
What Happens If A Dog Holds It Too Long?
It can cause emotional stress, but make sure not to scold them if they have tried to hold it in but have pooped inside because this will add to their stress.
How Long Should I Wait To Take My Dog Out To Poop After Eating?
As long as your dog is healthy, they will probably poop around an hour after they have eaten. However, this all depends on the schedule you have given your dog and what they are used to.
How Often Should I Take My Dog Out To Poop?
You need to establish a routine when letting your dog out to poop. This should be when they wake up, both in the morning and after any naps they have, after eating and drinking, after they've done some sort of activity, and before they go to bed at night.
Is It Better To Feed Dog Before Or After Walk?
This depends on your personal preference. However, if you walk your dog after they have eaten, you should wait at least 30 minutes beforehand. You should also be aware that if you walk your dog before they have eaten, this can cause them to feel lethargic.
How Do You Reset A Dog's Digestive System?
Instead of completely changing the food straight away, do it gradually. Give 25% new food and 75% old food for a few days, then change it to 50:50, then 75% new food and 25% old food, before moving to 100% new food.
Is There A Litter Box For Dogs?
Yes, you can get a litter box specifically for dogs. You could just use one that's meant for cats, but this might only work if you have a small dog.
How To Eliminate The Smell Of Dog Poop From The House?
Make sure you clean the area thoroughly to ensure your dog doesn't poop there again. Then, open a window and spray a nice room spray to get rid of the initial smell.
References
https://www.petmd.com/dog/behavior/dog-pooping-house-why-and-what-do
https://www.cdc.gov/healthypets/connect/newsletter/pet-poop-saftey.html