Repetitive behavior in a Shih Tzu dog can indicate a problem.
It may be cleaning his muzzle of food debris, or it may be due to being anxious or fearful.
When we observe a dog licking the air, we should be alert and ask why.
Why Does My Shih Tzu Lick the Air?
When your Shih Tzu dog licks the air nonstop, it is possible that your dog is feeling unwell and requires your help. The reasons can be both physical and psychological.
It can be due to dry skin, a change in their diet, or high levels of stress and anxiety. However, in some cases, it can also be a sign of a more serious medical condition that needs immediate attention.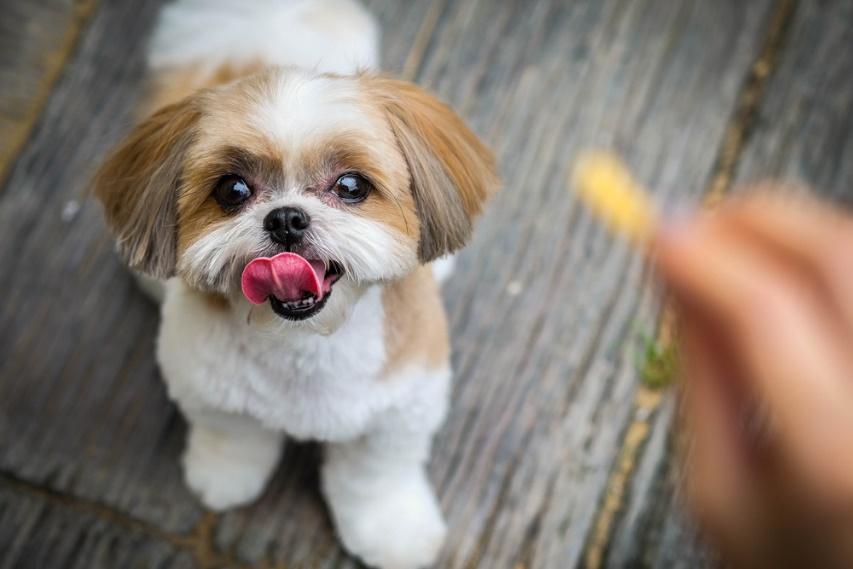 When Is Licking Air Normal?
Dogs have been known to lick the air when they are confused, stressed, or feeling anxious. If your Shih Tzu is afraid of storms, for example, you might notice that they lick the air.
They may also exhibit this air licking behavior if they have something stuck to the roof of their mouth or stuck in their mouth like peanut butter, another treat, or even part of a toy. When this happens, open their mouth to investigate.
If it is due to peanut butter residue, it is normal, and you have nothing to worry about. However, if you find something stuck and you can't get it out, then take your dog to the veterinarian immediately.
Why Does My Shih Tzu Keep Licking the Air (Constantly / Nonstop All Day)?
If you notice that your Shih Tzu licks the air constantly and almost nonstop throughout the day, the behavior could result from excitement or anticipation. However, it can also be the activation of their digestive enzymes.
When this happens, it can cause your dog to experience a dry mouth, which often leads to licking. It can also be indicative of hunger. However, if it becomes too excessive, it could result from a compulsive disorder or an underlying medical condition.
If it is a compulsive disorder, you will notice the dog becoming regular and consistent in this behavior and could also be a function they use to reduce their stress levels.
Gastrointestinal disorders have also been shown to cause dogs to be obsessed with licking the air. Inflammation of the intestine, colitis, gastritis, and giardiasis are the most common problems often associated with air licking behavior.
Are Shih Tzus More Likely to Lick the Air Compared to Other Breeds?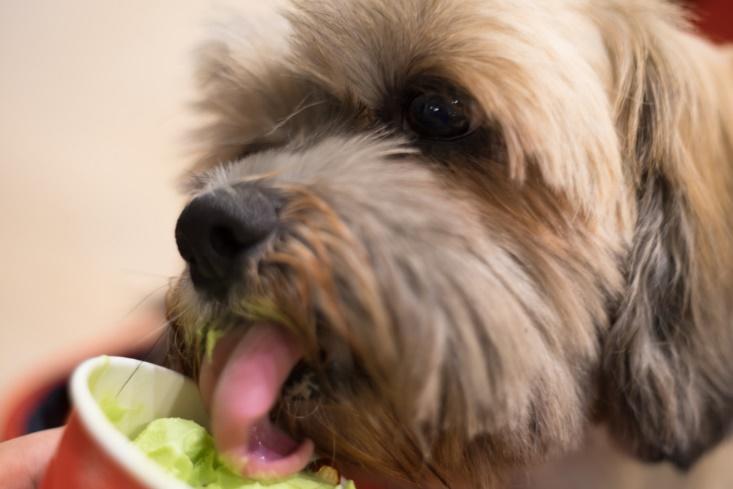 Some dog breeds are more predisposed to compulsive disorders than others. However, Shih Tzus are no more prone to air licking than other breeds of dogs. Air licking behavior is not a behavior that is seen more in a particular breed.
Dogs that are more prone to this type of behavior are dogs that are more susceptible to anxiety. Being small, Shih Tzu dogs can get lonely when they do not see their owner and then become anxious.
How Do I Get My Dog to Stop Licking the Air?
Regardless of why your dog is constantly licking the air, you should consult a veterinarian so that together you can find a solution to this problem.
A poor-quality food may cause your dog to lick the air due to an allergic reaction. If this is the case, change the food immediately. If the air licking is due to stress or anxiety, find ways to minimize situations that induce these feelings.
Additionally, brush your dog's teeth daily to improve their hygiene and offer them plenty of high-quality and durable play toys for daily exercise time.
Visit your veterinarian if the problem persists. As mentioned above, the causes can be varied. Observe the times when your dog starts licking the air and discuss it with your veterinarian. Together you can find the right treatment.
Is Air Licking a Compulsive Disorder?
If you notice that your dog licks the air excessively, he may have a compulsive disorder. When dogs perform the same behavior without stopping, and it interferes with their normal life, it is time to pay attention.
We should be alert when we notice this behavior at unexpected times. Dogs tend to lick the air in specific situations, and it is perfectly normal behavior, like when they are hungry, have food stuck in their mouths, or when they experience dry mouth.
However, if you notice the air licking behavior becoming compulsive, it could signify a more serious medical condition.
Why Does My Dog Lick the Air When I Pet Her?
One of your dog's favorite moments is when you play with him and pet him. When your dog is feeling good, you may notice that he licks the air. It doesn't mean your dog has a problem. It means he loves the attention.
When you scratch your pet, you are communicating your affection for him. Strengthening the bond with your pet is positive and essential for his development.
If you notice that he licks the air while you pet him in a specific area, make sure you check that he does not have a wound or anything that may be bothering him.
Is Dog Licking Air a Sign of a Seizure?
If your Shih Tzu exhibits aggression, barking, excessive biting, salivation, disorientation, or he is licking the air, it could be a sign of a seizure. The most common cause of seizures in dogs is idiopathic epilepsy. It is an inherited disorder without an exact known cause.
Why Does My Dog Lick the Air [Specific Situations]?
A Shih Tzu dog may exhibit the repetitive and constant behavior of licking the air in specific situations:
Moistening its nose
When perceiving strong odors
Gastrointestinal problems
Food allergies
Anxiety or stress
Joy
Pain
Consult your veterinarian if you are unsure about the cause.
Conclusion
If you notice that your Shih Tzu licks the air, it isn't necessarily something you need to worry about. However, if it becomes a regular behavior and you have ruled out normal air licking causes, it is time to visit your veterinarian. They can help pinpoint the cause and can determine if the air licking is the result of another more serious medical condition that requires immediate attention.
There are different reasons a Shih Tzu may have adopted this habit. The first thing to do as a dog owner is to stay calm and observe what is happening around this behavior.
Then, if necessary, record the behavior and consult with a veterinarian. This behavior could be due to an allergy or excessively dry skin or could signify a more serious problem.
References
Why Do Dogs Lick The Air, and Why Does It Matter?
https://www.dvm360.com/view/help-my-dog-licks-everything
https://www.smalldoorvet.com/learning-center/medical/seizures-in-dogs