The Chinese say Shih Tzu have frog mouths, but what happens when your Shih Tzu really mouths a frog or toad? In this article, we examine why dogs lick toads, how to treat dogs hurt by toads, and how to keep your dog from licking toads in the first place.
Why Do Shih Tzu Lick Toads?
Shih Tzu may lick or bite a hopping toad to see what it is. Toad toxins can get dogs high or even kill them. Wipe the toxin off your dog's gums and get veterinary help. You can stop your dog from licking toads by watching it closely, especially at night.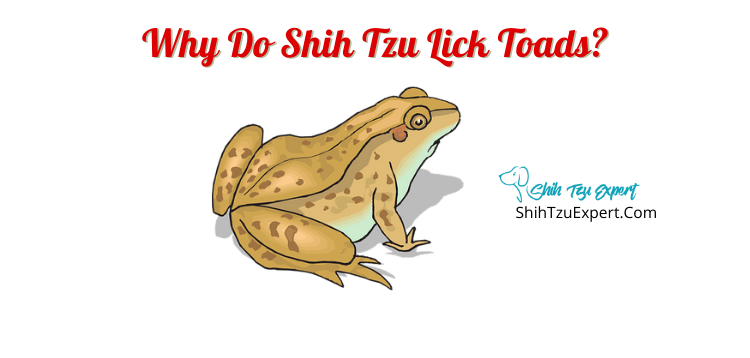 Do Dogs Get High By Licking Toads?
A chemical found in the skin of certain toads affects the brain and can cause hallucinations. This causes dogs that lick toads to shake, slobber, and get way too excited, acting like they are high. Their pupils may even dilate, like the pupils of a person on drugs.
We do not know exactly what it feels like to dogs when they are acting like this. However, people can get high from this chemical, so perhaps dogs can too.
What Happens When My Dog Licks A Toad?
When your dog licks a toad, the dog's tongue puts pressure on the toad's skin. In response, a toxic chemical comes out from glands behind the toad's eyes. These glands are called the parotoid glands, and they are visible on the toad's neck as small bumps, kind of like warts.
Next, the dog absorbs the toad's toxin through its gums. From the gums, the toxin spreads to other parts of the dog's body, including the central nervous system. This can cause serious problems, like seizures or even cardiac arrest.
Are Toads Poisonous To Dogs?
Yes. Frightened or injured toads release toxins that taste bad to make predators let them go. In small amounts, the effects of the toxin wear off eventually, but exposure to too much can make dogs very sick or even kill them.
Do Dogs Lick Toads To Get High?
At first, dogs lick toads just because they are curious. Their hunting instincts attract them to movement, and they sniff and taste new things to understand them better. But once a dog realizes what a toad's chemicals can do, the dog may lick it again just to feel the effects.
Can Dogs Get Addicted To Licking Toads?
Some dogs lick toads repeatedly, despite the negative side effects. Either they are addicted to licking toads or they just don't remember what happened to them before.
Why Would My Dog Start Drooling Instantly Soon After Licking A Toad?
Toxins from toads make a dog's gums sore. The gums get swollen and slimy, causing the dog to drool a lot.
What Are The Symptoms Of Toad Poisoning In Dogs?
Symptoms include bright red gums, tremors, enlarged pupils, vomiting, panting, and foaming at the mouth. Your dog may also paw at its mouth because its gums are irritated.
Is It Deadly For A Dog To Eat Toads?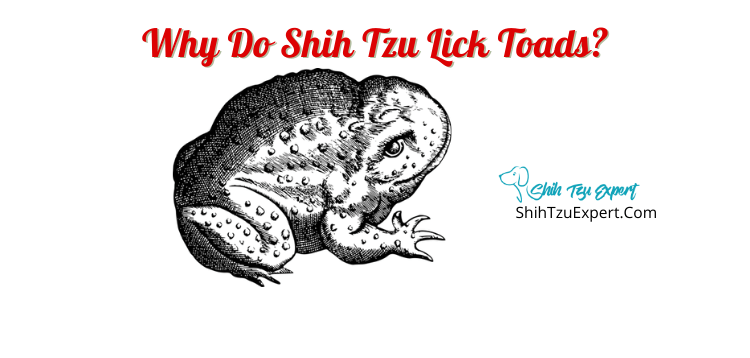 It can be. If a medium-sized dog absorbs a lot of the toxin from a toad into its body, it could die in fifteen minutes from cardiac arrest.
The medium-sized dog category generally includes dogs that weigh between 20 and 60 pounds. The Shih Tzu, on the other hand, is considered a toy breed, weighing only 9 to 16 pounds. Since Shih Tzu are smaller than average, toad poison may be an even bigger threat for them.
Eating a toad transfers more poison than just licking it, so consuming one could be very bad for your dog. If your dog eats a toad, you should quickly take the dog to the vet.
Luckily, most pets that get cane toad poisoning will live if they are treated quickly. However, if your dog absorbs a lot of the poison, it may have to stay the night at a veterinary clinic until its body's systems go back to normal.
Do All Toads Have a Hallucinogenic Effect On Dogs If Licked?
No. Only large toads that release a significant volume of psychedelic chemicals can make dogs hallucinate. The most common culprits are the cane toad and the Colorado River toad.
Cane toads evolved in the Amazon and southern Texas. They were introduced to many other places to control insect pests, but unfortunately, they then became pests themselves. Now they are widespread in Australia, the Caribbean, and other parts of the United States, like Hawaii.
The Colorado River toad, on the other hand, is only found in the southwestern United States and northern Mexico. It is listed as threatened in New Mexico and endangered in California, but its numbers are stable in the rest of its range.
Both the cane toad and the Colorado River toad secrete a hallucinogen called bufotenin, but the Colorado River toad also secretes one called 5-MeO-DMT, which is even stronger.
Is Common Toad Poisonous To Dogs?
Yes. If licked or bitten, the common toad (Bufo bufo) can poison a dog. It releases toxins from its skin just like all the true toads.
The common toad lives in parts of Europe, Asia, and Africa, so its home range does not overlap with that of the cane toad or the Colorado River toad.
How Long Does Toad Poisoning Last In Dogs?
This depends on the length of time and the amount of poison. Often the effects are mild and temporary, but greater exposure can be more serious.
How Do Vets Treat Toad Poisoning In Dogs?
Right away, before you even go to the vet, you should clean your dog's mouth with a wet rag to get rid of as much of the toxin as you can.
Before the toxin is absorbed into the body, it appears as a milky paste stuck to the gums, tongue, or roof of your dog's mouth. You can use a lightly dampened cloth to carefully scrape this paste off and remove it.
After each wipe, wash the cloth to make sure you are truly removing the toxin, not just rubbing it in. Rubbing in the toxin causes it to dissolve through the mucous membranes of the mouth and spread to other parts of the body, which is exactly what you don't want.
Running water should not be used to rinse a poisoned dog's mouth. The toxin may cause your dog to have poor motor control. If the dog doesn't have control over its own body, it could accidentally breathe water from a hose or tap into its lungs and drown.
Once you have cleaned your dog's mouth as much as possible, take it to your local vet immediately.
How the vet treats the dog will depend upon how much poison the dog's body has absorbed. If there was a lot, the dog may experience breathing problems. If your dog has trouble breathing, the vet might put an oxygen mask on the dog until its breathing returns to normal.
If the dog is vomiting or its heart rate is abnormal, the vet can give it medicine to get these symptoms under control. The vet might also use an IV to keep the dog's blood pressure steady and remove the toxin faster.
Other life-threatening problems for dogs with lots of poison in their systems include convulsions and stiff legs. If your dog experiences these symptoms, nervous system issues are likely to blame.
Minor muscle spasms due to mild nervous system poisoning can sometimes be regulated with medicines. If the concentration of poison in the dog's nervous system is very high, the vet may need to induce a coma to prevent brain damage.
One thing the vet should not do to treat this condition is make your dog vomit. Since toad poison is absorbed by the mucous membranes of a dog's body rather than digested, forcing the dog to puke will not get rid of the poison.
Frogs Vs Toads Which Are More Poisonous To Lick For Dogs?
There are many different species of frogs and toads. Frogs generally have smooth, slimy skin and long back legs, while toads have bumpy skin and short back legs. Different kinds of frogs and toads have different amounts of poison in their bodies.
The most poisonous frogs, dart frogs, are much more poisonous than any toad. A single golden dart frog contains enough poison to kill ten humans! Luckily, dart frogs live in rainforests, so you and your Shih Tzu will probably never meet one.
How Do I Get My Dog To Stop Licking Cane Toads?
Don't let your dog out at night without supervision. Cane toads are most active after dusk.
Be careful during rainy months. Cane toads like damp weather.
Avoid keeping your dog's food or water bowls outside. Toads could poison the food and water if they touch them. If your dog is outdoors frequently and needs an outdoor water bowl, make sure the bowl is elevated so toads can't reach it.
Put up a screen outside your fence. If you dig the bottom 10 cm into the ground and stretch the length 50 cm past the end of the fence, toads will be unlikely to get past the mesh barrier.
Switch off your outdoor lighting at night. Lighting attracts bugs, and bugs attract toads that want to eat them.
Remove cane toads from your yard directly. Multiple tools exist for this purpose, including funnel traps–which target tadpoles of the toad–and HopStop, a spray applied to adult toads. If possible, clear the area your dog frequents most of any toads that could cause it harm.
Is Frog Pee Poisonous To Dogs?
Frog pee is not poisonous, but it may carry harmful bacteria. If your dog touches frog pee, you should wash the area of contact so your dog won't get an infection.
References
https://info.animalemergencyservice.com.au/cane-toads-and-dogs
https://www.sbs.com.au/news/thefeed/story/dogs-licking-cane-toads-how-dogs-are-using-cane-toads-get-hallucinogenic-high
https://toadsnfrogs.com/poisonous-frogs/