Dogs often fear the things they can't understand. Bubble gum is a common fear for dogs, especially puppies.
Why Is My Dog Scared Of Chewing Gum?
The sound
Your dog may find the loud noise of chewing gum (especially when popped) to be a danger. Dogs can hear three times as loud as a human, so the popping noise would be enough to scare them.
Linked to a bad experience
Dogs often link objects to a bad memory or experience they had. For instance, if they were scolded, even beaten, while someone was chewing gum, they will associate that moment with the chewing gum.
Smell
Chewing gum comes with many different smells and flavors. Dogs have a very keen sense of smell and may detest the odor from the gum. Mint flavor and orange flavor are very strong to dogs and smells they don't necessarily like.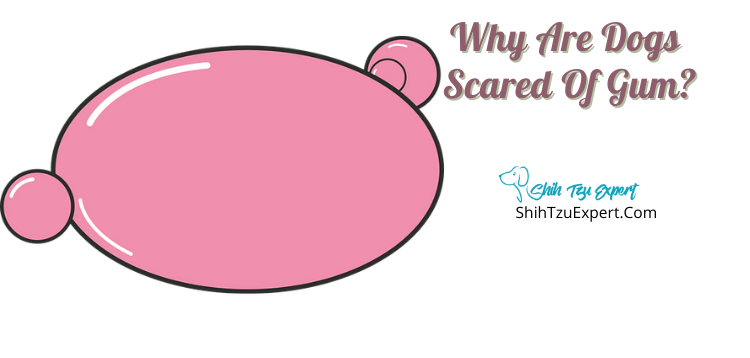 Why Is My Dog Scared Of Gum Popping?
Dogs can hear three times as well as humans. Little sounds to us, that may seem normal and not that loud, can sound extremely loud to dogs. The sound of gum popping, to us doesn't sound bad at all, but to a dog it's loud. Loud noises often startle and scare dogs.
How Do I Train My Dog To Not Be Afraid Of Gum?
If your dog is scared of gum, there are only a few things you can do to help. You can practice conditioning exercises. Find something that sounds like gum (bubble wrap works best) or use gum itself and pop the bubble wrap close to them. Reward with treats and use positive reinforcement and pets to show them it's okay and to not be afraid. If this doesn't work, your best option would be to simply stop chewing gum.
What Not To Do With A Dog Who Is Afraid Of Gum?
Do not force your dog to cower and be afraid of gum by chewing it around them or by not taking necessary training practices. You don't want your dog to suffer. Don't chew gum in their face, or pop your gum loudly around them.
Should You Comfort A Dog Scared Of Gum?
You should always comfort your dog when they are scared of something. If gum is something that frightens them, it's good to comfort them and show them that gum isn't something to be afraid of.
When chewing gum, give them extra attention and treats perhaps, tell them they are okay and a good dog. This will help them overcome any fear and show them there's nothing to be scared of.
What Exactly About Gum Is My Dog Scared Of (The Smell? Look? Noise? Sounds? Vibrations?)
There isn't too much about gum a dog can be afraid of. The biggest thing about gum that we think dogs are scared of is the sound. When you pop or chew your gum, it can be loud and startling to dogs. The next thing would be the smell. Dogs have a very keen sense of smell and such an artificial smell that gum has can be disturbing to dogs. Orange and mint flavors tend to be more extreme for dogs.
Puppy Terrified Of Gum
Puppies are usually scared of many things, as they are still learning what's safe in the world. Your puppy is probably scared of gum because they are scared of the popping noise gum makes. It is very loud to them and is cause for fright. They don't understand yet that gum is just gum. If your puppy is showing early signs of fear towards gum (jumping, whining, hiding, etc.) when you are chewing it, make sure to comfort them and give them positive reinforcement to prove to them that gum isn't something scary.
My Dog Is Getting An Increasingly Severe Fear Of Gum?
Your dog may become more and more scared of gum. Some dogs have anxiety problems and can't overcome their fear themselves, it only gets worse. It is important to take action while the fear is only starting so your dog doesn't continue to get worse.
Is Gum Dangerous To Dogs?
Gum is extremely dangerous to dogs because of the amount of xylitol found in gum. Just one piece of gum can cause your dog to become deathly ill. Not only that, but they can also choke if they attempt to eat gum.
Is There Dog Friendly Gum?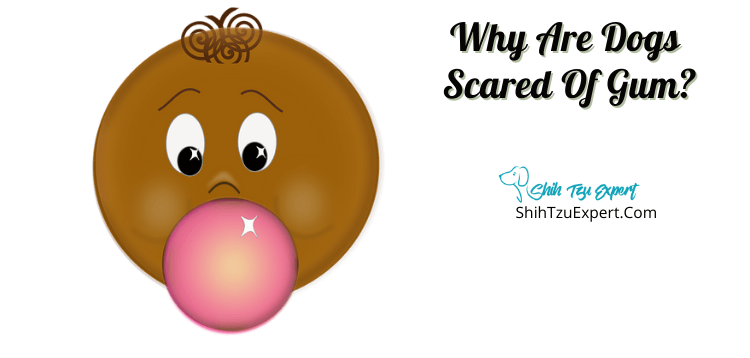 There are some brands out there that contain no xylitol and are made from all natural organic materials. However, the majority of gum on the market is toxic to dogs. You usually have to order dog friendly gum online and it can be hard to find.
Dog Ate Xylitol Gum! [What Should I Do]?
If you suspect your dog has eaten gum here are the measures you should take right away.
Call your vet or the Pet Poison Helpline (800-213-6680)
Do not induce vomiting

If your dog is showing signs of hypoglycemia, vomiting could make it worse.
There is currently no treatment for xylitol poisoning. Your vet will proceed with the necessary actions. They will monitor your dog for 12 hours to ensure their blood sugar levels and liver are functioning properly.
That being said, most dogs do recover from xylitol poisoning as long as they've received proper medical care quickly.
Can Dogs Eat Sugar Free Gum?
Absolutely can no dog ever consume sugar free gum. Sugar free gum is extremely toxic to dogs. Sugar free gum contains a substitute called xylitol. One piece of sugar free gum can cause a small dog to become deathly ill. Xylitol acts quickly and causes liver failure and seizures.
How Do I Get Gum Off My Dog's Paw?
Dogs will walk through anything without realizing. Someone may have just spit gum on the sidewalk and they walk in it. Examine the gum stuck to their foot, you may just be able to peel it off with your fingers. If your dog has long hair l, you may have to shave the gum out.
If the gum is stuck to the pad of their foot, carefully take a cotton ball soaked with water and dishwashing soap. Work around the area to help loosen with gum from the paw. If that doesn't work, try again and this time soak the cotton ball with oil as well. Do not let your dog chew or lick the gum off of their paw!
Why Are Dogs Scared Of Gum?
Some dogs tend to be very skittish. Most dogs fear what they do not understand. Gum is such a foreign object to dogs, so it makes sense that they don't understand it. Dogs can hear three times as much as humans, so when you pop or chew your gum loudly it can be quite disruptive to dogs and sound loud or very scary.
Memory association to the object can also be at play. If you've ever scolded your dog while chewing gum, they may remember that and associate gum with that bad memory. There's little we can do to help dogs get over their fear.
It's important to comfort dogs while chewing gum, and show them that they are safe and gum isn't something to be scared of. If you have tried training activities and they aren't working, the best thing is to simply stop chewing gum.
References
https://www.akc.org/expert-advice/health/dog-accidentally-eats-gum-can-gum-make-my-dog-sick/
https://animals.mom.com/how-to-remove-gum-from-dog-paws-12297374.html