If your dog has gone from sleeping in their bed to sleeping on the floor all of a sudden, you may be wondering what made them decide to do this. On the whole, it's not something to be all that concerned about, but there may be times where concern is needed.
Why Is My Dog Suddenly Sleeping On The Floor?
There can be multiple reasons why your dog may start sleeping on the floor. It could be something to do with the temperature. It could be that they are in pain. Alternatively, they may have felt threatened by someone new coming into the home. If you believe it to be something serious, take them to the vets immediately.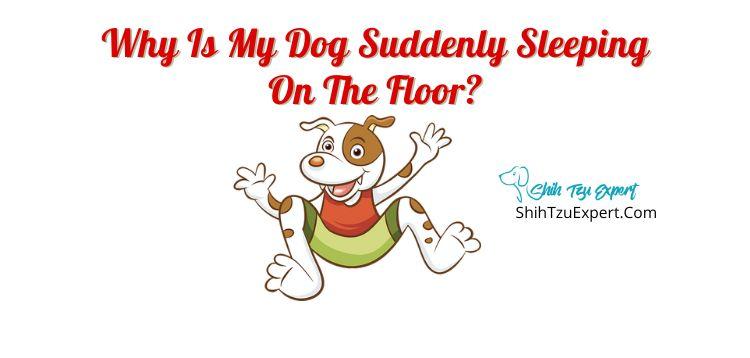 Puppy Likes To Sleep On Cold Floor During The Winter (Will It Get Sick)?
Don't get too worried about it as your dog will be sleeping here because they like it. If there was anything wrong, they'd show signs of it. Just keep an eye on them and if anything appears to be wrong, take them to the vet.
How Bad Is It For Dogs To Sleep On Hard Floor?
It's not bad at all for dogs to sleep on the floor. However, if your dog is in pain, it's an entirely different story. For example, if your dog has hip problems or arthritis, then sleeping on the floor will only worsen their condition.
Why Does My Dog Sleep On The Floor Next To My Bed?
Your dogs sleeping place tends to depend on where you are. Dogs love to develop a close bond with you and one of the ways for them to do that is to sleep as close to you as possible and in this case, it might be on the floor next to your bed.
Why Is My Dog Suddenly Sleeping On The Floor (Instead Of His Bed)?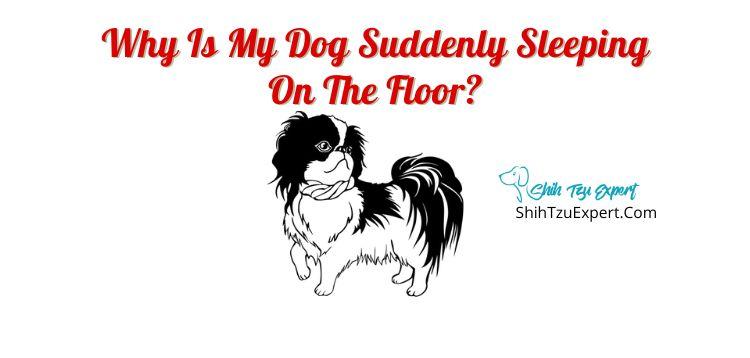 Like Some Humans Dogs Naturally Like Sleeping On The Floor
There may be some dogs that prefer sleeping on the floor. If you've just adopted a dog, there's a possibility they always used to sleep on the floor so don't know any different. You can always try giving them treats to get them to sleep in their bed but if they seem happy sleeping on the floor, leave them to it.
Weather Or The Dog Bed Is Too Hot For The Pup
When it's hot, your dog's bed will more than likely absorb any excess heat, so the inviting feeling of a cool floor may be more appealing to your dog. An alternative to their dog bed when it's hot is to get them an elevated mesh bed that allows air to circulate, although your dog may prefer the floor.
Weather Or The Dog Bed Is Too Cold For The Pup
The other alternative, weather-wise, is that the weather is too cold for your dog to sleep in their bed. The dog bed may be placed in a colder spot so in the winter months, try and move their bed to somewhere warmer, such as near a heater or in a sunny spot.
Dog Bed Is Very Uncomfortable
You may have chosen an uncomfy bed, or the bed you initially bought for your dog is too small and they have now outgrown it. If your dog seems uncomfortable in their bed, look at getting a different type of bed or one that they can comfortably fit in or put a blanket over the top of it.
Dog Bed Is Very Noisy
Believe it or not, it is possible for dog beds to be rather noisy. There are certain materials dog beds are made out of that make a noise that your dog won't like. Try and buy a bed not made from noisy materials and your dog is more likely to want to sleep in it.
Dog Bed Is Very Dirty
Dogs spend a lot of time outside and due to this, they can pick up a lot of dirt. If they are then coming inside and getting straight into bed, any dirt they pick up outside is going to go all over their bed. In this case, make sure to wash their bed regularly so it's nice and clean for them.
Dog Bed Is The Wrong Size
The dog bed might be too big or too small. Dogs like to feel fully supported in their bed so a bed that's too big won't be able to do this and a bed that's too small means their head and possibly back legs are going to be hanging off it, and that's not comfy for anyone!
Dog Bed Is Worn Out
If your dog has had their bed for quite a few years, over time, it's likely it will wear down. In this case, either look at getting them a new dog bed or, if that's not possible, putting a cushion on or a blanket may help add them a little bit more comfort.
Dog Bed Is Itchy
Another possibility for some discomfort regarding their dog bed is that it's itchy. If when you see them getting into bed they continuously scratch themselves, this may be the cause of the issue. In this case, if you cannot get a new dog bed, either put a cushion or blanket on top.
Dog Bed Doesn't Have A Rigid Enough Mattress (It's Too Soft)
Dogs need a bed with a hard surface as the ones with a softer surface don't offer them the right amount of support. Plus, if you have an older dog, if their bed is too soft, they'll struggle to get out of it.
Dog Bed Is In A Place Where It's Too Cold Or Too Warm
The placement of your dog's bed is imperative to how well they are able to sleep at night. If their bed is placed somewhere too warm, your dog is going to want to sleep on the floor where it's cooler. If it's too cold, they'll want to seek out warmth from elsewhere.
There Is Something Else Wrong With The Area Where The Dog Bed Is
In all honesty, there may be absolutely nothing wrong with the area, they may have just found an area they prefer better. In this case, it may be best to try and move their bed into their new favourite area as they are probably more likely to sleep in it that way.
Someone Or Something Has Invaded Its Territory
This is likely to happen if you have recently bought a new pet, particularly a dog, or even a new baby, into your home. Particularly if it's another dog and they have slept in their bed, this means their scent will go on the bed and will put your dog off their bed.
Dog Has Some Sort Of A Pain
This may be hip pain, arthritis, or anything else that may be causing them to be in pain. In a lot of these cases, sleeping on the floor isn't really going to help them but regardless of that, you should be taking them to the vets to get this pain checked out.
Dog Is Ageing
Your dog aging can come with a lot of health issues. Even if they don't have a specific health problem, they're going to struggle with getting in and out of bed more than they used to. You will need to put this into consideration when thinking about where your dog sleeps.
Dog Is Jealous
Feelings of jealousy will mostly be linked to a new dog coming into your home. If they are both sleeping in the same area, your dog may see them as an intruder so will want to sleep somewhere where they feel safe. Try and introduce the two naturally so they can get used to one another before sleeping in the same room.
Dog Is Protesting
If you have bought your dog a new bed, they may be sleeping on the floor to protest against this new bed. They may not have seen anything wrong with their old one. Or, if you are trying to get them to sleep in their current bed and to get off the floor, they may continue to do so out of spite.
To Ease Sore Muscles And Joints
Older dog are more likely to suffer with sore muscles and joints, although, this can also be applied to dogs of any age. This means moving around is painful for them and if their bed is difficult for them to get to, they're less likely to sleep in it.
Just Being Stubborn
Dogs love to get their own way so if you don't let them get their way, they're going to bring out their stubborn side. If you keep trying to make them sleep in their bed when they don't want to, they'll more than likely sleep on the floor to try and prove a point.
Just Like The Vibrations From The Floor
A lot of dogs find it soothing to lie down on a floor where they can feel vibrations. It also makes it easier for them when lying on the floor to feel the vibrations of your footsteps, so they know when you're coming to either feed them or give them attention.
What To Do If Your Dog Is Suddenly Sleeping On The Floor?
Try and find out the reason why your dog has started sleeping on the floor. Has their bed become uncomfortable? Is it too hot/cold where their bed is? Are they in pain? Once you figure this out, you'll be able to solve the issue to make your dog able to sleep in their bed.
Change The Location Of The Dog's Bed
If you figure out the reason why your dog is sleeping on the floor is due to where their bed is placed, it may be time to look for a new place to put their bed. Try somewhere that's a bit warmer or in a shaded spot. If they're still not interested, maybe consider something else.
Make The Dog Bed More Comfortable
We all want a comfortable bed. So if the issue your dog has is that their bed is uncomfortable, then there are plenty of ways you can make it more comfortable. Try putting a more comfortable cushion on top or putting down a few blankets on top of the bed and hopefully your dog will find this more comfortable.
Make The Mattress/Cushion On The Dog Bed More Rigid
If your dog's bed is too soft for them, try and buy them a harder bed. If you can't do that, place a cushion that's a bit harder on top of their bed so it's more comfortable for them. Remember: just because a bed is soft, doesn't mean it's the comfiest option for your dog.
Make It Easier For It To Get The Bed
Old age, health issues, or having stiff joints and muscles can make it very difficult for your dog to get to their bed, particularly if their bed is upstairs. Try and keep their bed downstairs or in an easy-to-access place so they don't have to struggle more than they already do.
Why Has My Dog Started Sleeping Under The Bed?
Dogs like to be close to their owners. If your dog is sleeping under your bed, it might be because they want to be close to you, or, it could be something more serious, such as something or someone invading their safe space and them feeling too scared to sleep there.
Is It Normal For My Dog To Lay On The Kitchen Floor?
As long as there doesn't seem to be anything wrong with your dog that has caused this to happen, then this can be completely normal. However, if there seems to be something wrong with the bed or with your dog, this needs to be looked into and resolved immediately.
References
https://www.alaskasleep.com/blog/reasonsdogsleepsonfloor
Why Is My Dog Suddenly Sleeping On The Floor? 7 Real Reasons
8 Reasons Why Your Dog Is Suddenly Sleeping on the Floor