When it comes to having your dog sleep with you in your bed, people can be pretty divided. There are those who say that they can't sleep without their furry friend next to them. Others refuse to let their dog in their room during the night at all. Whatever camp you fall into, you might still worry that you could hurt your dog in your sleep.
Will I Crush My Dog in My Sleep?
Sleeping with your dog is one of the best parts of owning a dog. They're amazing cuddle partners, can make you feel safer, and it can strengthen the bond between you. But when you sleep with your dog there's always a fear that you might accidentally roll over and hurt them. As long as your dog isn't a puppy and isn't a really small dog, then the odds of you crushing them in your sleep is small. But there are still things to do to make sure you and your stay safe and get a good night's sleep.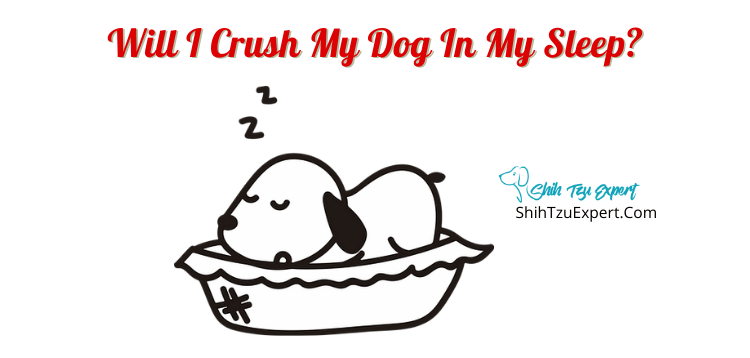 Can You Crush a Puppy in Your Sleep?
Puppies are small, vulnerable, and delicate.
If they sleep with you in your bed and they are too small, you could hurt them in your sleep.
Before you let your puppy sleep in your bed with you, make sure they are old enough to know to move out of your way when you roll over in your sleep.
Is Rolling Over on Your Grownup Dog in Your Sleep a Serious Concern?
By the time your dog is an adult, they are going to be better at knowing what's comfortable for them and what's not.
If you toss and turn in your sleep, your adult dog will most likely just move out of the way.
And if you do happen to roll over onto them they are big enough and sturdy enough that they shouldn't be seriously hurt.
Rolled Over on Puppy and Crushed It While Sleeping [Will It Die]?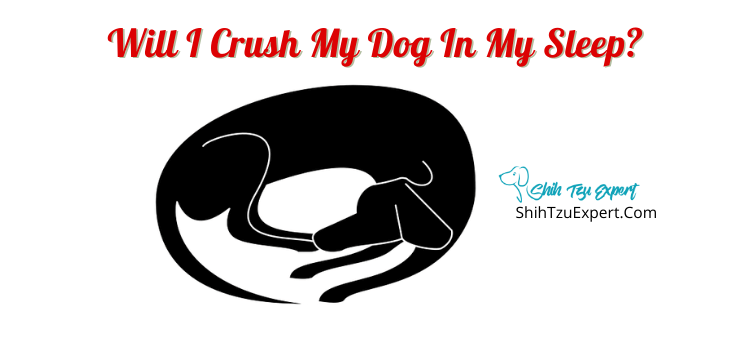 If you do roll over on your puppy in your sleep, the severity of the consequences depends on the circumstances.
How long were you on top of your puppy? If you are seriously concerned for your puppy's health, check on a few things first before going to the vet.
Does your puppy show any signs of injury? Trouble breathing, snesitivity to being touched, a limp or not wanting to put pressure on a limb – all of these are signs that your puppy is hurt.
Taking your dog to the vet if you are worried is always the best course of action.
Should I Pet My Dog While Sleeping?
There's really no reason not to pet your dog while you sleep!
There are lots of good reasons to pet your dog.
It brings comfort to you and your dog, it helps to strengthen the bond between you and your dog, and it also helps you to know where your dog is when you're sharing the bed. This keeps you from accidentally rolling over on them in your sleep.
What Are the Risks of Letting Your Dog Sleep in Bed with You?
There are two sides to every story, and some people don't like to let their dog sleep in the bed with them. There are some bad things about letting your dog sleep with you.
Risk of disease transfer if your dog is sick.
Fleas, ticks, and other parasites can get in your bed.
Having dog fur and dander in your bed can aggravate your allergies.
You could have a poor night's sleep – your dog could kick, run, whine, even bark in their sleep, making it hard for you to rest.
If your dog has overprotective tendencies, then having them sleeping in bed with you can make that worse.
What Are the Benefits of Letting Your Dog Sleep in Bed with You?
There have been multiple scientific studies on the benefits of letting your dog sleep with you.
It can reduce loneliness and depression in you and your dog.
It has been proven to lower blood pressure.
It can reduce nightmares and bad dreams.
It can create a sense of safety for you and your dog, meaning a better night's sleep for you both.
It creates a strong bond between you and your dog.
Can I Catch a Disease from My Dog If It Sleeps on My Bed?
The only way you would get sick from having your dog sleeping in your bed is if they are sick.
Making sure you have a healthy dog is the key to not getting sick.
Healthy means having no fleas or ticks, no parasites, no infections, and no wounds. Regular vet checkups are highly recommended to make sure your dog is healthy and happy.
Will My Dog Develop Behavioral Problems If It Sleeps on My Bed?
Your dog will most likely not develop a behavioral problem from sleeping in your bed.
However, if your dog already has some issues, then sleeping with you in your bed can exacerbate them.
If your dog is territorial, they can become very overprotective. If they have a problem with boundaries, sleeping with you can make that worse.
The key is making your sure your dog is well trained before letting them sleep in bed with you.
Why Do Dogs Like to Sleep Next to You?
To your dog you are their best friend.
Sleeping next to you brings your dog a sense of comfort.
They are able to know that you are safe.
Dogs are pack animals, and in the wild they will sleep together for all of these reasons, but also for warmth.
In short, your dog likes to sleep next to you because they like you!
At What Age Can I Let My Dog Sleep in My Bed with Me?
Most experts agree that you should wait until your dog is a little bit older.
The age can vary from dog to dog, but you should wait until they're at least four months old.
You should also make sure that they are completely potty trained and have some basic obedience training as well.
For some puppies this takes less time and for some it takes longer, so it will depend on your puppy how long it takes for them to meet these requirements.
Why Shouldn't Your Dog Sleep in Your Room?
There are a few reasons your dog should not sleep in your room.
If your dog has behavioral issues such as being territorial or being defensive of you, then they should NOT sleep in your room with you, as this will only make that behavior worse.
Another reason to keep your dog out of your room is if they aren't fully potty trained. This will keep them from ruining any of your possessions by peeing on them while you sleep.
Your dog might also be more active at night, and if they can't settle down then they will keep you awake at night.
Why Do Dogs Sleep with Their Bum Facing You?
We've all been there, the moment you and your dog get comfortable in bed and then your dog turns around and puts their bum right in your face.
If your dog sleeps with their bum in your face it's a sign that they love you very much and want to protect you.
By sleeping facing away from you they are positioning themselves to face anybody that comes in the room while you sleep.
Do Dogs Like It When You Lay Your Head on Them?
Your dog may or may not like you laying your head on them – it really depends on your dog.
Some dogs will love having you lay on them because they see you as a part of their pack and snuggling like that just cements your bond.
Other dogs will see it as an invasion of their personal space and become uncomfortable with you if you don't respect that space.
Watch your body dog's body language when you are cuddling with them. If they move away from you or start avoiding you when you try to be close to them, then the chances are that they do not want you to invade their personal space.
Does It Hurt My Dog When I Lay My Head on Him?
Laying your head on your dog should not hurt them.
You should always be gentle with your dog, and if you lay your head on your dog make sure that they stay comfortable.
Laying with your dog will increase your bond with them as well.
How To Ensure Safety When Sleeping with Your Small Dog?
Smaller dogs are definitely more prone to accidents when sleeping with you in bed.
There are a few things you can do to ensure the safety of your little pup when sleeping with them.
Train them to sleep close to your chest and not by your feet so you can keep a better eye on them.
When you first start sleeping with your small dog check on them regularly throughout the night to make sure they are sleeping where they should be.
Keep them close to your body throughout the night so you can always feel where they are.
Will My Dog Eat Me in My Sleep?
In short, no.
Your dog sees you as their best friend, so they will not be inclined to eat you in your sleep.
They might have nightmares or dreams that cause them to growl or snarl in their sleep, but that's as bad as it should get.
How To Make It Easy for My Dog to Get on to My Bed?
If you have a small dog or an elderly dog, then getting up and down from your bed can be difficult or even dangerous for their health.
Luckily, there are ways to make it easier for them to cuddle with you at night.
You can build or buy stairs or ramps for your dog to make getting on and off the bed easier and safer.
Why Won't My Dog Sleep on My Bed?
Some dogs will simply refuse to sleep in your bed with you.
That's perfectly normal and not something you should be overly concerned about.
Some dogs get uncomfortable sleeping in a bed instead of the ground. It can get too hot, you could be moving around too much, or there could just not be enough space for them.
Your dog might also be a "watchdog" and have a hard time settling down at night because they are too on alert to sleep. They feel the need to protect you, so they might not sleep very well.
Can I Train My Dog to Sleep on My Bed?
You can absolutely train your dog to sleep in your bed!
You can train your dog to do almost anything.
The trick to training your dog to sleep in your bed is to make it worth their while. Make it fun, give them treats and lots of praise. Make being in your bed a fun and rewarding activity, and your dog will want to be in your bed as much as possible.
You should also work on getting your dog to stay in your bed during the day, just for about ten minutes at a time, to reinforce the behavior that you want.
References
https://www.petmd.com/dog/care/is-it-safe-to-sleep-with-pets
https://www.thehonestkitchen.com/blog/6-reasons-shouldnt-let-dog-sleep-bed/