Some people get very worried when they accidentally step on a puppy!
These people have not meant to hurt their puppy, but they are genuinely worried after stepping on a dog.
Let's go over the facts you should understand if you've stepped on a puppy…
Accidentally Stepped On Puppy
It is never a good idea to step on a puppy. Puppies are small and they can get very seriously hurt or damaged by human accidents. In most cases, stepping on a puppy will only shock them. You should calm them down, and help rebuild their trust through playing. If you have worries about the damage you should contact your vet to prevent long term harm.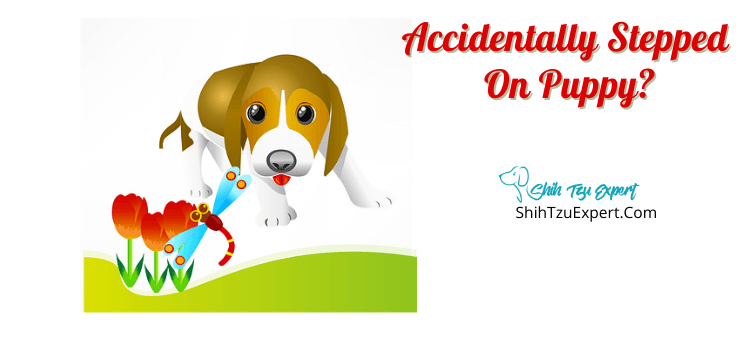 Is My Puppy Going To Be Okay?
When you step on a puppy it can be very scary. This is especially true when you haven't done it before.
Compared to puppies people are very big and very heavy.
You could be worried about squashing your puppy or giving them a serious injury.
It's important to understand that puppies get into accidents a lot. Most of the time they are fine. However you need to check with your own dog if they are exhibiting signs of pain. If they are you should always take your dog to the vet.
How Dangerous Is It For The Puppy?
A few things will help you to decide if accidentally stepping on your puppy is really dangerous.
Most of the time, stepping on your puppy will be alarming and unpleasant but not dangerous.
However, use your own judgement.
These factors can all influence how dangerous it is for a puppy:
The size of your puppy. Is your dog small? If so, a human stepping on them will be more dangerous than for a larger breed.
The age of your puppy. Younger puppies will have more danger of harm from being stepped on.
The force you stepped on them with. If you landed on them heavily, you will cause them more harm.
If you're in any doubt about potential harm to your puppy you can always call your vet.
What Is The Most Dangerous Area Step On?
When you accidentally step on a puppy you will want to check the area you stepped on them.
Their paw is the easiest place to tell if you've caused them a dangerous injury. Dogs with a paw injury will be easy to spot, as they will limp. They might also lick their paw if it's hurting. A dog paw is also the most common area to step on, as they like to be near you!
However, if you've stepped on a puppies rib or torso area you might cause more dangerous, but less visible, injuries.
If a rib has broken, this could cause internal injuries. Most seriously these will cause death.
A dog will usually exhibit signs of pain, so if you're worried, gently touch the area to see if the dog will let you. If they don't like it, call your vet.
How To Give First Aid & What Is The Best First Aid? /What To Do If I Accidentally Stepped On My Puppy
If you have accidentally stepped on your puppy there are a few things you should do:
Give your puppy a cuddle and some love.
Speak calmly to your puppy.
Check your puppy in the affected area.
Give your puppy a treat.
If you need to, call the vet.
When Should I Take It To The Vet?
If you know your dog, you will probably notice when it's not acting like it's usual self.
This is especially true when your puppy is in pain.
These are some key things to check for to discern whether your dog needs a trip to the vet:
Licking at the stepped on area.
Growling or barking.
Not letting you touch the area,
Lethargy.
Broken skin or bleeding.
Vomiting (which is a sign of internal damage).
Will There Be Long-Term Damage?
If you step on a puppy you need to check if they're injured quickly.
If you check them all over and respond to their pain you should be able to mitigate injury.
If you take a severely injured puppy to the vet, they will do all they can for it. This will usually prevent long term harm to your dog.
Be careful though – you could have caused accidental harm that you don't notice. If this goes unchecked there could be a serious issue for your puppy.
If you have stepped on your dog with considerable force you should take it to the vet.
How To Help A Puppy Recover Quickly?
To help a puppy recover quickly if you step on it, you should do a few things.
You should firstly comfort your pup. Hug them and talk softly to them to calm them down.
If they're not injured, playing with them or giving them treats will bring them back to normal in no time.
If they are more seriously hurt, take them to the vet. They may get treatment and will need to rest inside without much walking.
Will There Be Psychological Damage?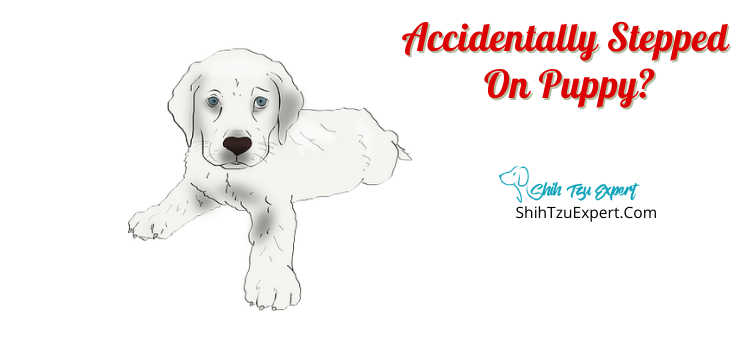 When you step on a puppy you might worry that you will scare them and give them lasting psychological damage.
It's true that if you have a puppy their experiences when young can shape them as they are older.
You might be worried that stepping on them will make them timid around humans.
However if you comfort your puppy straight away and if you don't make a habit of hurting them, you shouldn't cause any lasting psychological damage.
Accidentally Stepped On Puppy's Head /Back/Little Paw/Leg/Stomach
Where you step on a puppy can change what you should look for.
Here is what to check for to see if your puppy is seriously hurt.
If you step on their head check for:
Dizziness or drowsiness.
Abnormal or different sized pupils.
Circling, pacing, head pressing or other manic behavior.
If you step on their back you should check for:
A change in spine shape.
Difficulty breathing.
Pain when touched.
Little paw
Limping.
Licking the paw.
Leg
Limping.
Hiding their leg underneath their body.
Licking the leg.
Stomach
Vomiting.
Pain for touch.
What Do I Do If I Accidentally Step On My Puppy's Leg?
If you accidentally step on your puppy's leg, you need to check that it's not broken or fractured.
Check that your puppy is not limping, or in pain.
Make sure your puppy is calm. Maybe play a game with them or give them a cuddle.
Make sure your puppy rests, and don't take them for a walk for 24 hours.
If you're worried about a break, call your vet and arrange an X-ray.
Can You Break A Puppy's Foot By Stepping On It?
Terrible accidents do happen.
Sometimes, people step on a puppy's paw, and due to the size difference between humans and pups, they can break the paw.
It is rare to break a puppies paw if you step on them lightly.
You can harm a puppy though, so it's always best to check they're ok if you accidentally step on it.
Fortunately, serious breaks are quite easy to spot.
If they're broken, puppies sometimes make a loud noise signifying pain. They are likely to limp. They are likely to hide their foot.
If you see these signs, take them for an X-ray.
Puppy Got Stepped On And Is Now Limping
If your puppy got stepped on and is now limping it's probably very upsetting.
Puppies don't experience pain the same way as people – your puppy might not realise walking is hurting them.
If you have a very excitable or inquisitive puppy, it will probably still want to play, even if it's hurt.
Do not let your puppy walk and run on a limp.
It can seriously harm your puppies' developing bones.
Take your puppy to the vet, and keep your puppy indoors and resting as much as possible.
What Happens If You Accidentally Step On A Dog's Tail?
We've talked about the most common place to step on a dog, which is their paw, but what if you step on their tail?
A sleeping dog's tail can often be in the way of its clumsy owner.
If you step on a dog's tail they will be upset and nervous at first.
You should give the dog lots of hugs so it's no longer upset. Also, be more careful around their tail in future.
I Accidentally Fell On My Dog [What Should I Do]?
Falling on your doggy can be a bit more dangerous than stepping on them.
This is because a fall is going to bring more weight and impact on their fragile bones.
If you've fallen really hard, we would always advise calling your vet for specific advice.
You should also figure out the reason for your fall.
Is it something you can prevent in future?
For example, if you tripped over your puppy's lead, you might want to invest in some good training time so that your dog walks calmly beside you. This will help prevent accidents in future.
How To Stop Accidentally Stepping On The Puppy?
If you're stepping on your puppy a lot, there are a few things you can try to prevent this.
Preventing accidents around your puppy will help you bond more.
Crate train your puppy.
Sit down when playing or training your puppy.
Make sure there is lots of space.
How Bad Should I Feel After Stepping On The Puppy?
It's natural to feel really sad after hurting your puppy accidentally.
You probably love your puppy more than anything and want to protect it.
It's the worst feeling in the world to think you're a bad dog owner.
You also can't apologise to a puppy.
However, if you love your puppy they will know this. They will forgive you again in no time!
Why Is My Puppy Scared Of Me After I Stepped On It Accidently?
If you step on your puppy accidentally for the first time, it's probably going to be a bit nervous.
Think about it from the dog's perspective – you're really big and tall and have just hurt them out of the blue.
They might be wary because they can't predict what you're going to do.
It's easy to calm them down – do something they like, and they will soon realise you are the fun owner you've always been!
How Should I Apologise And Gain The Trust Back After Accidentally Stepping On My Puppy?
The top 5 ways to help regain your puppy's trust are:
Be slow and calm when approaching your puppy.
Speak in a low soothing voice.
Cuddle and stroke your puppy.
Give the puppy a treat.
Play with your puppy to make it happy and bond with you.
I Stepped On My Puppy And Killed It 🙁 [How Do I Learn To Live With This]?
If you've had a fatal accident you'll naturally feel terrible.
It would be very unusual if you didn't feel bad.
The feeling of guilt will fade in time, but it's ok to feel sad.
Remember, it was an accident. Accidents can happen, and no one will blame you or think it's your fault.
There are lots of great memories to look back on with your puppy, and you can cherish that you gave your puppy the best life and a lot of love.
What Is The Best Thing To Do When You Accidentally Step On A Puppy?
As we've come to understand, the best thing to do is avoid stepping on a puppy.
When this has accidentally happened, however, you will need to comfort your puppy.
Next, you need to check it's not hurt.
Finally, you should call your vet if you have any serious concerns.
References
https://www.dogster.com/lifestyle/i-stepped-on-my-puppys-foot-what-should-i-do
https://wagwalking.com/condition/internal-injuries