Oh, no! Your puppy fell and hit her head! This experience can be quite troubling. What do you do? It's important to know what to look for after your puppy's fall and how to respond. Catching a serious injury and getting it treated right away may save your puppy's life.
I Accidentally Dropped My Puppy On Its Head [Will It Be Ok?]
Many times, a small fall will lead to mild injuries or your puppy may escape injury altogether. Nevertheless, it is important to observe your puppy closely for the next few days after the fall. For any signs of abnormal behavior, you should call your vet immediately. Thankfully, in most cases puppies will heal quickly or escape with little injury.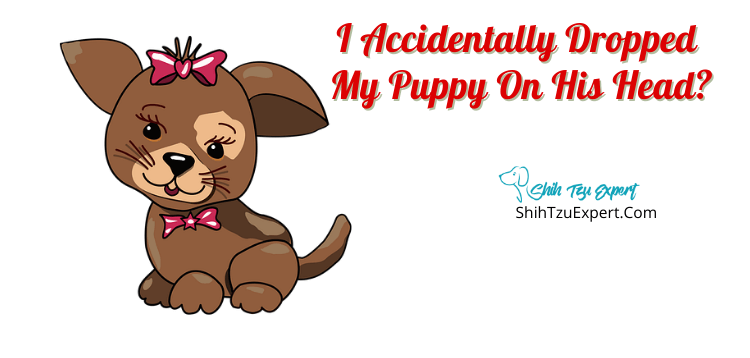 My Puppy Jumped Out Of My Arms/Off Deck And Hit His Head On Concrete?
The first thing to do is to examine the puppy. Look for signs of injury and concussion. If your puppy received any cuts or bruises from the fall, monitor her closely over the next few days and check for other signs of illness or injury.
If your puppy does not appear to be feeling better after a day or two, or something seems off about her behavior, contact your veterinarian. Restrict her exercise and keep her quiet.
It may also be a good idea to decrease the chances of your puppy jumping out of your arms in the future. You can do this by teaching her to relax in your arms or by holding her in a more secure way.
What To Do If You Drop Your Puppy On Its Head?
Examine the puppy for signs of broken bones, trauma, or concussion. If your puppy's spinal cord was injured in the process, it's best to keep her still. If you are unsure of a spinal injury, don't move her and call a veterinarian.
A fall on the head may often only result in minor pain or injuries, but if it results in something more fatal, it is important to make sure the puppy receives immediate care. Timing is critical to avoid long-term damage or even death in some cases.
How Can You Tell If A Puppy Is Okay After A Fall?
Start by checking for a concussion, sprains, breaks, abdominal or thoracic injuries. Your puppy may be a little sore, but as long as she gets better over the next few days and shows no abnormal behavior, she should be okay.
Check your puppy for signs of injury or bleeding over the next 48 hours. If you notice anything concerning, you should call a veterinarian to get her checked out.
After How Long Do Head Injury Symptoms Appear In Dogs?
Head injury symptoms can appear in as little as a few minutes or hours but can take up to 48 hours or even longer to fully show.
It is important to closely monitor your dog the next few days after the accident to make sure there are no symptoms of injury developing.
Do Puppies Get Hurt Easily & Permanently [Aren't They Resilient]?
Puppies can be easily hurt by all the activities they participate in but thankfully they are more resilient than adult dogs. This is because their bones have not fully developed and hardened which makes them more flexible. Puppies also tend to heal much faster than adult dogs.
Though they are resilient however, puppies can still incur injuries.
Because a puppy's bones are not completely hardened, when they do break and are not properly set, they can heal in an abnormal shape. As they continue to solidify when the puppy grows, they can be permanently mal-formed. This is why it's important to have a veterinarian give proper care.
If brain injury occurs, permanent damage to the nervous system could result. If the puppy's spinal cord or nervous system has been damaged, it can lead to permanent paralysis, weakness, or clumsiness. However, if the puppy is treated right away, there's a good chance she will fully recover with time.
Dropped Puppy On Concrete/From Stairs 🙁 [What Should I Do]?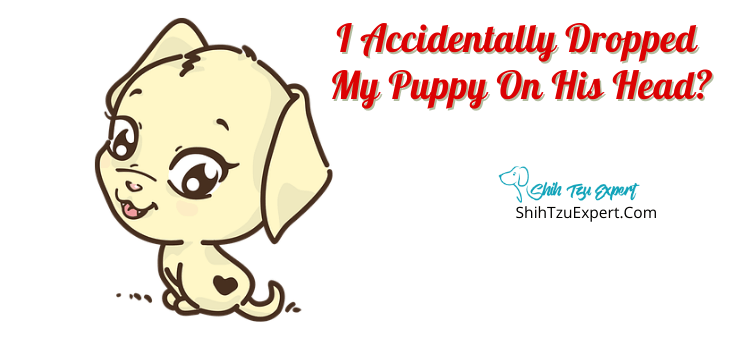 If you dropped your puppy from the stairs, it's important to check her for signs of injury or concussion. Pay special attention to broken bones, sprains, punctures, or bruises.
If you find your puppy has any broken bones, keep her still and relaxed. Call the veterinarian and take your puppy in for a visit.
If you don't notice any immediate signs of injury, continue to watch your puppy for at least 2 days for changes in behavior.If you notice a change, examine her thoroughly for any signs of illness or injuries and call a veterinarian.
Dropped Puppy On Her Back [Will My Puppy Survive]?
If you dropped your puppy on her back, she will likely survive. Puppies are more flexible than adult dogs, meaning their bones are less likely to break but this doesn't mean there is no risk in dropping a puppy.
It's important to look for injuries that may have been caused by the fall. If you notice a concussion or trauma in any part of her body, it's important to get emergency veterinary treatment. A major injury like this could result in death if she is not treated right away.
How To Treat?
If a puppy falls on her back, the type of treatment she will need will be depend on what her injuries are.
If she's received only a minor injury, such as a bruise, scrape or cut, all that's needed is to stop the bleeding, keep the wound clean, and give your puppy rest. For more serious issues, a veterinarian should be contacted.
If the injury is a fractured a bone, the veterinarian will need to set it in a cast. If the break is serious enough, surgery and the use of bone plates, screws, pins, orthopedic wires, or bone grafts may be required.
Post-surgery, you will likely need to administer antibiotics and pain relievers. The puppy will then need to go through physical therapy and have restricted activity for 4 – 12 months, depending on the severity of the break.
If the puppy has a brain injury, a veterinarian will supply her with oxygen and fluids until she is stable. A veterinarian may also control the blood pressure and pressure in the head through the use of medicines and keeping the puppy's head raised.
In some cases, surgery may be necessary, and a feeding tube may be used to feed the puppy until she has stabilized.
How To Make Sure I Don't Drop My Puppy On Her Back?
Hold your puppy in a secure position and close to your chest. When picking her up, place your non-dominant hand around her chest and your dominant hand around her back half.
Once you have her close to your chest, you can move her under your dominant arm and place your dominant hand under her chest between her legs. Secure her rear end between your arm and side.
Holding your puppy this way will make her more comfortable and keep her more secure. Get your puppy used to being handled so she will learn that your arms are a safe place. Then she'll never have a reason to try to move or escape.
Can Dropping A Puppy Kill It :(?
If you drop your puppy, there's a good chance she will survive. If she receives a concussion or trauma in any part of her body, there's cause for concern. Damaged organs or internal bleeding can cause death if they are not quickly identified and treated.
If any signs of trauma, concussion, or uncontrolled bleeding are noticed, the puppy should be seen by a veterinarian immediately.
My Puppy Fell And Is Now Drowsy/Sleepy [What Should I Do]?
If your puppy has been hurt by the fall, she may sleep a little more the first day or two. While watching your puppy's sleeping behavior, it's important to watch for anything abnormal. Although she could just be a little sore, sleepiness can also be caused by a severe injury.
Check her for other abnormalities. Is she limping, whining, or bleeding? Are her appetite, bowel movements, coordination, and eyes normal? If you notice any changes or if you are concerned about her health, reach out to a veterinarian.
(Newborn, 4, 6, 8) Week Old Puppy Fell Off Bed/Couch?
A bed or a couch isn't too far of a drop so there's a good chance your puppy will be okay.
Nevertheless, a small puppy can still be at risk of an injury by falling from that height.
Check your puppy for any physical or behavioral abnormalities. Handle and feel the puppy. If she shows signs of discomfort anywhere, get her checked by a vet.
How To Stop A Very Young Puppy Falling Off The Bed/Couch?
It may be best to avoid having your puppy on the bed or couch unless you are actively holding or watching them. Having them on the furniture can teach them that it's okay to be up there and may create some undesirable behavior down the road.
If you do want to have your pup on the bed, however, bed rails may be the best option to keep them from falling off.
What Are The Types Of Of Head Injuries A Puppy Can Get From Falling?
There are many different head injuries a puppy can get from falling. These include:
Concussion
Trauma
Fractured skull
Bruise
Cut
Scrape
Neurological injuries can also occur from major head injuries or neck/spinal injuries
What To Check For If You Drop A Puppy?
When your puppy falls, observe her for 2 – 3 days and look for injuries and abnormalities in behavior. Some injuries will be immediately apparent while others may take a few hours or even a few days to fully show.
Immediate things to check for are:
Lethargy
Abdominal swelling
Pupils being different sizes
Abnormal eye movements
Disorientation, confusion or incoordination
Seizures and difficulty breathing
Bleeding from the ears or nose
These signs could indicate internal damage, head trauma, or a concussion. If you notice any of these symptoms, you should immediately contact a vet.
Check for other injuries and broken bones as well. Look for:
Difficulty and unwillingness to stand
Pain or difficulty lying down or getting up
Limping or a stiff gait
Whining more than usual
Broken legs or other leg injuries
Pain and stiffness in the neck
Puncture wounds
Cuts, bruises, and scrapes
If you find any bleeding, make sure it is stopped and the wounds are kept clean. If you notice any injuries other than simple cuts, bruises, and scrapes, such as a puncture wound, you should contact a veterinarian so your puppy can receive proper care.
What Are The Common Signs Of Head Trauma In Puppies?
When your puppy has just gone through a fall, one of the first things you should check for is head trauma. Head trauma can result in injury to the brain or skull. The signs to look for include:
Confusion or disorientation
A staggered, drunken, or disoriented walk (ataxia)
Eyes are red or bloodshot, don't move or react normally, pupils are different sizes
Eyes don't react when shining a bright light into them
Bleeding from nose or ears
All these are signs that the brain function is hindered or may be damaged somehow. Inflammation of the brain can also cause these symptoms. Whatever the root cause, neglecting or even delaying care can result in brain damage or even death.
How To Give First Aid At Home?
After a fall, monitor your dog for symptoms and signs of injury. If a serious injury is suspected, call a veterinarian immediately. Your veterinarian will help guide you through the next steps.
In the meantime, these are some things you can do to care for your dog until she can be seen by a vet:
Watch her breathing. Difficulty breathing will require immediate vet care.
If your dog stops breathing, keep her mouth closed and wrap your hands around her muzzle in the shape of a cone or funnel. Blow air into her nose, keeping her mouth shut. You should see her chest rise as you breath.
Continue by giving her 15 – 20 breaths per minute until she either begins to breathe on her own or you arrive at the animal hospital.
If your dog is bleeding, stop it. This can be done by placing a clean towel on the wound, or by wrapping it, and applying pressure.
The towel should not be moved until well after the bleeding has stopped and clots begin to form.
If the towel gets soaked, put another one on top.
In most cases, the bleeding should stop within 5 – 10 minutes but it may take longer in some dogs.
If you notice extreme bleeding and are unable to control it, take your dog to the vet immediately.
If blood is coming out of your dog's eyes, nose or mouth, she will usually take care of it on her own by swallowing or licking it. Bleeding from these areas could mean internal head injury and the best thing to do is to get her emergency treatment.
If your dog's ribs are broken, you'll want to be very careful moving her.
Keep her as still as possible. Don't cause her to struggle. Allow her to do whatever she wants in order to keep her still and relaxed.
To move a small dog, pick her up behind the front legs (where her chest is) with one hand, and right in front of her back legs with the other hand.
To pick up a large dog, create a sling with a blanket or towel, or a stretcher with a hard, rigid surface such as a board.
If your dog has an open wound, it's important to keep the wound covered with a clean towel. This will help to avoid infection. This is especially important for wounds with broken bones protruding from them, as bone infections can cause more complications.
If your dog can't get up, she may have a back injury. If this is the case, slide a rigid object like a board or baking pan under her and use it to transport her to the vet.
If you don't notice any situations needing immediate care, continue to monitor her over the next few days. Some fractures or internal injuries may not be noticeable until a few days later. Watch for:

Abnormal behavior
Abnormal breathing
Signs of pain and decreased appetite
Modified behavior when eating or drinking
Dropping food
Drooling
Abnormal stool or bowel movements
If she expresses any of these symptoms, that could mean she has a serious internal injury or broken jaw.
When Should I Take A Dropped Puppy To The Vet?
Whether or not you should take your puppy to the vet depends of what kind of injury she has.
As soon as your puppy shows any signs of concussion, trauma, broken bones, or internal injury, she should be taken to the vet for immediate emergency care. If you notice limping, sprains, or open wounds, you should contact your veterinarian to set up an appointment.
For a simple injury such as a scrape, cut or bruise, there may be no need to take your dog to the vet unless she continues to get worse a few days later.
Can A Puppy Be Treated For & Recover From Head Trauma?
A puppy can be treated for head trauma and there is a good chance she will fully recover when given enough time. The important thing is to make sure she gets immediate treatment and the brain does not go too long without oxygen.
If the brain was injured, sometimes permanent neurological issues can develop. In many cases, however, these issues can improve over the course of a few years.
When your puppy falls, it's important to monitor her symptoms an get her immediate vet care when you notice something wrong. In doing this, you may just save her life, or give her a more healthy future.
References
Abraham, M. (n.d.). Broken bones. The Kennel Club. Retrieved November 4, 2021, from https://www.thekennelclub.org.uk/health-and-dog-care/health/health-and-care/a-z-of-health-and-care-issues/broken-bones/.
Aiello, S. E., & Moses, M. A. (2016). Merck Veterinary Manual. Merck Vet Manual (11th ed.). Merck & Co. Retrieved November 2, 2021, from https://www.merckvetmanual.com/.
American Veterinary Medical Association. (n.d.). Pet first aid – basic procedures. American Veterinary Medical Association. Retrieved November 3, 2021, from https://www.avma.org/resources/pet-owners/emergencycare/pet-first-aid-basic-procedures#fractures.
Animal Surgical and Orthopedic Center. (2020, October 29). Fracture repair surgery for Dogs: Animal Surgical & Orthopedic Center. Animal Surgical and Orthopedic Center. Retrieved November 5, 2021, from https://www.animalsurgical.com/what-to-expect-when-your-dog-needs-surgery-for-a-fracture/.
Buzhardt, L. (n.d.). First aid for falls in dogs. vca_corporate. Retrieved November 6, 2021, from https://vcahospitals.com/know-your-pet/first-aid-for-falls-in-dogs.
Easter, F. (2015, June 30). How to lift and hold a small dog. Dog Training Nation. Retrieved November 5, 2021, from https://www.dogtrainingnation.com/dog-safety-tips/how-to-safely-lift-and-hold-a-small-dog/
Evans, E. K., & Fernandez, A. L. (2019). Current trends in the management of canine traumatic brain injury: An Internet-based survey. The Canadian veterinary journal = La revue veterinaire canadienne, 60(1), 73–79.
Goodson, W. H., & Hunt, T. K. (1979). Wound healing and aging. Journal of Investigative Dermatology, 73(1), 88–91. https://doi.org/10.1111/1523-1747.ep12532775
Horwitz, D. F. (n.d.). Counseling pet owners on puppy socialization and establishing leadership.
Hunter, T., & Downing, R. (n.d.). Brain injury in dogs. vca_corporate. Retrieved November 4, 2021, from https://vcahospitals.com/know-your-pet/brain-injury-in-dogs.
Ochoa, S. (2020, September 9). I dropped my puppy: (how to check your puppy). HoundGames. Retrieved November 4, 2021, from https://www.houndgames.com/i-dropped-my-puppy/#How_resilient_are_puppies.
Platt, S. R. (n.d.). World Small Animal Veterinary Association World Congress Proceedings Online. Mexico City. Retrieved November 10, 2021, from https://www.vin.com/apputil/content/defaultadv1.aspx?pId=11196&catId=30758&id=3854287.
Vet Med Emergency and Specialty Care. (n.d.). What should you do if your dog suffers a head injury? – VETMED. Vet Med AZ. Retrieved November 6, 2021, from https://vetmedaz.com/2018/09/27/what-should-do-if-dog-suffers-head-injury/.
Wag. (n.d.). Growth plate injuries in dogs. WagWalking.com. Retrieved November 4, 2021, from https://wagwalking.com/condition/growth-plate-injuries