We may earn commission from qualifying purchases at no extra cost to you.
Learn more
With their striking, wolf-like appearance, friendly disposition, and remarkable endurance and strength, Alaskan Malamutes make appealing companions for many.  Malamutes have also been cross-bred with multiple breeds, including Siberian huskies, German Shepherds, golden retrievers, and labrador retrievers, to create hybrids with various characteristics and personalities.  Read on to discover more about these fluffy, loving dogs, including their history, care, disposition, and more!
All you need to know about Alaskan Malamute mixes
The Alaskan malamute was originally bred by the Malemiut Inupiaq people in Alaska, and is thought to have descended from dogs that crossed the land bridge from Siberia to Alaska, possibly of East Asian origin.  Malamutes share close genetic relationships to Siberian huskies.  They were bred to pull heavy sled loads of supplies between camps and villages, and also assist with hunting large game such as polar bears and seals.  Unlike huskies, malamutes were not bred for speed, but rather strength and endurance.  While huskies are known for their sled racing prowess, malamutes are built to pull heavy loads long distances.  Malamutes became particularly valuable during the Klondike Gold Rush of 1896, and were later also used in the Byrd Antarctic expeditions and World Wars.  Malamutes gained AKC recognition as members of the Sporting Group in 1935, and the Alaskan Malamute Club of America, Inc was formed.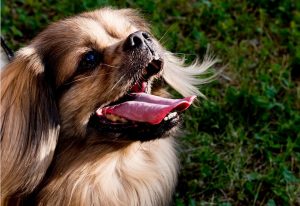 Alaskan malamutes have been mixed with multiple other breeds throughout the years to form hybrid dogs.  Some of the more popular malamute hybrids include the malamute/German Shepherd mix, known as the Alaskan Shepherd, the malamute/Siberian husky mix, known as the Alusky, the malamute/Golden retriever mix, known as the Alaskan Goldenmute, Alaskan Golden, or simply Goldenmute, and the malamute/labrador retriever mix, known as the Alaskan Malador.  These breed mixes have come about for multiple reasons related to both health and other characteristics.  Aluskies have been used for carting, sled pulling, and hauling loads.  The Goldenmute likely originated in the mid-1800s in North America.  Alaskan Shepherds likely date back to the early 1900's, also bred to pull sleds and carry packages, but additionally for hunting and guarding purposes.
The life expectancy, size, and appearance of an Alaskan malamute mix can vary according to the breed that the malamute is mixed with, but generally, these will be medium- to large-sized dogs.  Life expectancy for a malamute/malamute mix is usually in the 10-13 year range, although some may live up to 15 years.  A female malamute usually weighs around 75lbs and stands 23" tall, while males weigh in at 85lbs and stand 25" tall.  Some males may weigh up to 100lbs, and females under 75lbs.  Alaskan Shepherds fall into a larger range, at 65-130lbs, and 21-28" tall.  Goldenmutes and Alaskan Maladors tend to be towards the malamute's smaller range, at 60-75lbs and 22-24", while Aluskies can fall between 45-100lbs, and 20-28".
Malamute mixes can be expected to have the malamute's characteristic thick, double-coated fur, consisting of a dense, soft, woolly undercoat up to 2" thick, and a coarser outercoat that is about 1" long.  Malamute color combinations include all white, black and white, gray and white, sable and white, and red and white, and they have a wolf-like appearance.  Most mixes are also combinations of these colors, with Aluskies and Alaskan Shepherd also possibly having brown tones to their coats.  Malamutes can have a variety of different coat markings, from facial masks and blazes, to splashes of white on their bellies, legs, and feet; Aluskies in particular also usually inherit the facial masks common to their parent breeds.
Some malamute mixes are recognized by hybrid breed organizations.  The Alaskan Shepherd is recognized by the Designer Breed Registry (DBR), and the International Designer Canine Registry (IDCR).  The Alusky is also recognized by those organizations, as well as the American Canine Hybrid Club (ACHC), the Designer Dogs Kennel Club (DDKC), and the Dog Registry of America, Inc (DRA).
Health and Care
While hybrid dogs are thought to possibly be able to avoid some of the health problems common to their parent breeds, Alaskan malamute mixes can still inherit some of them.  Some health problems common to malamutes include musculoskeletal issues such as hip and elbow dysplasias, eye disorders such as hereditary cataracts and heremalopia (day blindness), epilepsy/seizure disorders, osteochondrodysplasia, kidney issues, skin disorders, congenital heart problems, inherited polyneuropathy (a lack of coordination/instability), cerebellar hypoplasia, diabetes, thyroid issues, and zinc deficiency.  Alaskan Shepherds and Aluskies may also have issues with cartilaginous exotosis, a bone illness related to calcium buildup, obesity, degenerative myelopathy, and von Willebrand disease, which results in excess blood loss.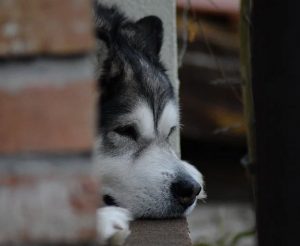 Some steps can be taken to optimize a malamute mix's health.  Teeth should be brushed 2-3x/week, and nails trimmed about 1-2x/month, or when they can be heard clicking on hard floors.  Some recommended tests for a malamute mix that can prevent or catch issues early include elbow and hip exams, ophthalmologist exams, and DNA tests that look for polyneuropathy.  Spaying or neutering is also recommended for any dog in order to prevent unwanted litters, decrease certain behaviors such as marking and aggression, and potentially improve lifespan.
Essential Products and Grooming Accessories
Malamute mixes need plenty of grooming!  Grooming should be started by removing loose fur and debris, especially during shedding season.  Deshedding rakes that can penetrate the dog's coat are recommended for this process, such as Furminator brand products.  Slicker brushes, which consist of tightly-packed, long pins also are needed.  Slicker brushes can reach deep into the dog's undercoat, removing knots and mats, and stimulating the release of beneficial skin oils.  A pin brush can also be used to smooth the dog's top coat and distribute oils, finishing off the grooming process.  Other grooming supplies include nail trimmers.  Scissor-type clippers that can generate appropriate force work best for larger dogs such as malamute mixes.  Nail grinders are another option.  Malamute mixes rarely need bathing, but when they do, specialty deshedding shampoos are recommended, and natural ingredients such as oatmeal and aloe vera help to improve coat and skin health.
Malamute mixes will also need collars, leashes, harnesses, and other supplies.  Collars are needed to attach identification tags.  A properly fitted collar allows for two fingers to be slid between the collar and the dog's neck.  The malamute is a strong, sturdy dog that was bred for heavy pulling, so a quality harness that is well-constructed from durable materials such as reinforced nylon or leather, with steel or metal buckles and leash attachments, is recommended for exercise.  Malamutes (and Aluskies) love having a job to do when exercising, so a dog backpack could be another consideration.  Dog backpacks should have padded straps and be made of breathable, waterproof fabrics for maximum comfort.  Malamute mixes should also have durable leashes, again made of materials such as nylon or leather.  Bungee combination leashes or leashes with padded handles (which both can lessen shock for the owner and dog) may also be good choices.
FAQs
Are malamute mixes good with children and other pets?  Are they family-friendly?
Malamute and malamute mixes are generally considered to be family-friendly dogs.  They are patient and affectionate with children, and become attached to their families.  However, malamute mixes are larger, energetic, and exuberant dogs, so they can overpower younger, smaller children, and may not be the best choice in those circumstances.  Children should be supervised and taught to respect the dog.  Aluskies, Maladors, and Goldenmutes are all mixes of dogs that do very well with families.  Malamutes are friendly towards strangers, but Alaskan Shepherds can be more suspicious of them due to their German Shepherd mix.  Malamutes have a strong prey drive, and usually view other animals, including cats and small animals as game, which is a characteristic that can be enhanced when mixed with other dogs with high prey drives (i.e. Aluskies).  Malamutes usually do well with other dogs, but should have early socialization.  Malamute mixes such as Aluskies and Alaskan Shepherds also tend to do better with other dogs than purebred malamutes.
Are you a good match for a malamute mix?
Malamute mixes are dogs that will require lots of open space and exercise, and therefore are not good for apartment-dwellers or sedentary individuals.  Their notorious digging habits mean a sturdy, buried fence is required.  Malamutes were originally bred in the Arctic, and their thick coats are better suited to cooler climates.  Malamute mixes are intelligent and friendly, but also headstrong and stubborn, so they are better for experienced dog owners.
Pros and cons of getting a malamute mix
Some cons of a malamute mix include its strong, stubborn, independent streak (especially when mixed with a German Shepherd or husky), high demands for space and physical/mental stimulation, and, in the case of Alaskan Shepherds, propensity towards overeating/obesity.  Pros, on the other hand, include loyalty to families, friendliness, and companionship.
Temperament and Personality
Malamutes are generally friendly, affectionate, gentle, loyal dogs that do well with people.  They have strong pack instincts, like companionship, and do not like being left alone for long periods of time-they may become destructive.  Malamutes do have a strong prey drive, and they are known for their tendencies to dig, and counter or trash surf.  Malamutes are intelligent, sensitive dogs, and are sometimes used as therapy dogs (i.e. for hospital visits).  Along with their intelligence can come a tendency to be strong-willed or stubborn, and they also can have an independent streak.  Purebred malamutes generally do not make good watchdogs, as they like all people, and rarely bark, although they are known to make a characteristic "woo woo" noise.  The temperament and behaviors of a malamute mix can vary based upon the other parent breed, but generally they do not stray far from the malamute's amicability.  The German Shepherd influence in an Alaskan Shepherd does, however, create a good watchdog, as these mixes inherit the Shepherd's vigilance and suspicion, along with its courage.  Aluskies may howl, and often have the husky's tendency to jump fences, along with the malamute's digging.  Overall, though, most malamute mixes are loving, family-friendly dogs.
The Basics of Grooming
Malamutes have a double coat, consisting of a thick, coarse outer coat that's about an inch long, and a long, woolly, dense undercoat of about two inches in length that guards against cold and wetness.  The breeds they are commonly mixed with (German Shepherds, huskies, golden retrievers, labrador retrievers) also have full double coats, so malamute mixes will more than likely be heavy shedders, and are not hypoallergenic dogs.  Grooming requirements include brushing anywhere from weekly to daily, depending upon the time of year-malamutes fully shed their undercoats twice a year, over a period of about three weeks.  Brushing keeps the dog's coat clean, stimulates and distributes oil production evenly, improves blood circulation, removes knots and tangles, and removes loose hair and debris.
Misting the dog's coat with water prior to brushing can help prevent loose hair.  A slicker brush or undercoat rake is recommended in order to fully get through the dog's coat to its skin and remove debris and loose hair.  Slicker brushes (vs pin brushes) also keep the dog shinier, and are more productive at promoting skin oil production.  Some dogs may need to be desensitized to grooming, starting by alternating between using one's hands and a brush through the dog's fur.  Otherwise, malamutes are usually odorless dogs and are fastidious about keeping their coats clean, a trait also seen in huskies, so baths are rarely needed-perhaps as little as 1-2x/year, but never more frequently than every 6-8 weeks (with anti-shedding shampoos recommended).
Top Tips for Finding a Malamute Mix
Malamute mixes can often be found in shelters or through rescue organizations, as some of these hybrids can be unintentional.  The Alaskan Malamute Assistance League is a good place to start.  This is a national volunteer rescue network that lists local and state affiliate rescue organizations on its site.  Aluskies can be found on the Siberian Husky Rescue Site.  Some other examples of malamute rescue organizations are the Alaskan Malamute HELP League in Canada, Moonsong Malamute Rescue in the US, and Saints Sled Dog Rescue in the UK.  The Alaskan Shepherd mix also could be found through German Shepherd rescues; some examples of these are Shepherds Country Haven & Rescue in Canada, All Shepherd Rescue in the US, and UK German Shepherd Rescue in the UK.
Malamute mix puppies can also be found through breeders.  Expect to pay $800+ for Alaskan Shepherd puppies, and $1000+ for Aluskies.  Malamute mix puppies can sometimes be found through breeders of their parent breeds (malamutes, German Shepherds, huskies, etc).  Responsible breeders should meet with potential buyers in person and allow them to see where the puppies are raised, and meet parent dogs.  Parent dog veterinary and health records should be provided, and written contracts made as well.
Overall, the estimated cost of dog ownership range from $150/month, according to Rover, to $400-800/year, according to the ASPCA and AKC, with some estimates up to $90,000 by Forbes magazine, accounting for emergency veterinary costs.  Normal costs of dog ownership include food, supplies, veterinary checkups and vaccinations, flea, tick, and heartworm preventatives, toys, and boarding.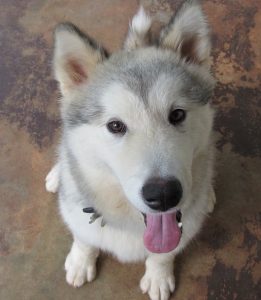 Training and Exercising your Malamute Mix
Malamutes and their common mixes are intelligent dogs, but can be stubborn and headstrong with independent streaks, meaning that they will need a strong, firm leader and consistency when it comes to training.  Malamutes can have a tendency to want to be dominant in households, meaning that all family members need to be on board with establishing boundaries.  Malamutes and malamute mixes do best with jobs to do, otherwise they can become hard to handle.  But, thanks to their intelligence, malamute mixes are usually easy to housetrain.  Some training tips include keeping sessions short to maintain the dog's interest, using basic, concise commands, and using positive, rewards-based training methods, with plenty of treats and verbal encouragement.
Alaskan malamutes are strong, high energy dogs with plenty of endurance, and their mixes will require lots of vigorous exercise (huskies, labrador retrievers, and golden retrievers are also known to have high exercise needs).  Expect a malamute mix to need 1-2 hours/day of exercise in order to avoid an anxious, destructive dog.  Malamutes were bred to pull heavy loads (up to 1500kg) long distances, so they (and their mixes) like to have a job to do while exercising, with both a physical and mental stimulus.  Some recommended forms of exercise include running, fetching, hiking with a backpack, dog sports (agility, conformation), weight pulling, recreational sledding or carting, and skijorking or skatejoring (pulling a person on skis or skates).  Instead of fighting the malamute's tendencies to dig, providing their mixes with a place to do so (i.e. a sandbox) is often more productive.  Malamute mixes like to have space, but should be kept in securely fenced areas.  Fences should be buried into the ground due to the malamute's tendencies to dig under them, and, for Aluskies in particular, also must be high enough to prevent the dog from jumping over them.  Also of note is that malamutes and their mixes do not tolerate high temperatures well, so care should be taken exercising them in warm environments.
How to Feed and Dietary Requirements/Restrictions of Malamute Mixes
Malamute mixes should be fed high-quality food, with high nutritional value and few fillers.  They should be given large breed formulations that meet their energy and exercise needs, which can change with life stage.  Feeding amounts can fall between 2-5 cups/day, spread out over 2-3 meals, depending on the specific mix, its size, and its activity levels.  One note is that Alaskan Shepherds can have a tendency to overeat and become overweight, so care should be taken to not overfeed. 
Popular Names for Malamutes and Malamute Mixes
Some popular names for malamutes and malamute mixes include Loki, Zeus, Bear, Kodiak, Odin, Nanook, Rocky, and Thor for males, and Nala, Koda, Luna, Maya, Bella, Bailey, Athena, and Aurora for females.
Summary
With high exercise requirements, plenty of fur, and a tendency towards stubbornness, Alaskan malamute mixes need active, experienced owners.  But, in the right situation, these striking hybrids make friendly, loyal, loving companions.  If you're looking for a fluffy, affectionate exercise companion, then an Alaskan malamute mix should be a strong candidate for your next best friend!
Other Similar or Comparable Dog Breeds
Other breeds similar to Alaskan malamute mixes include Bernese Mountain Dogs, Labrador retrievers, Siberian huskies, German Shepherd/husky mixes, Rhodesian ridgebacks, and Alaskan huskies.