Are you thinking about bringing a new dog into your home but not sure how your current furry friend will react? This article will help you understand if German Shepherds and Shih Tzu's get along, and if they are meant to live together!
Do German Shepherds Get Along With Shih Tzu?
Both German Shepherds and Shih Tzus are wonderful pets for you and your family. Having them together is a wonderful idea, but make sure you do your research, start socialization early and keep an eye on your furry friends if you want to keep them together!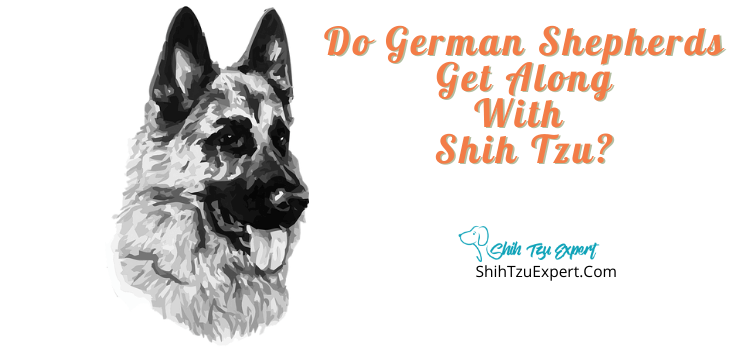 Do German Shepherds Like Shih Tzu?
German Shepherds don't instinctively like or dislike any dog, including Shih Tzu's. When it comes to any dogs, it all depends on their history and socialization if they are going to like or get along with another pet you bring into the house.
German Shepherds are known to be incredibly protective and territorial dogs. It is highly advised that you start socializing your shepherd when they are young, so it is more likely they will get along with other pups, like a Shih Tzu.
If your shepherd has never met another dog, or is known to have a hard time being friendly with other dogs, it is possible they may not like a Shih Tzu. This is not a breed specific issue, but an issue of a lack of socialization.
A socialized, friendly German Shepherd dog should have no problem getting along with a Shih Tzu!
Why Do Some Shih Tzu Don't Like German Shepherds?
Just like how German Shepherds don't have a preconceived like or dislike to other breeds, Shih Tzus don't automatically get along with or fight with German Shepherds.
Shih Tzus, just like other dogs, need to be socialized at a young age to ensure an easy transition to life with another dog, like a shepherd.
If you're noticing that your Shih Tzu does not like a German Shepherd, it might be because they are intimidated by how big that other dog is. Shih Tzu's are small and German Shepherds are big. The Shih Tzu might feel like it needs to protect itself from a larger dog.
Another reason why a Shih Tzu might not like a German Shepherd is because they may be territorial or dominant. If a dog is trying to show dominance over another, they may become aggressive. Your Shih Tzu may be doing this to a German Shepherd.
Do German Shepherds Bite/Kill Shih Tzus?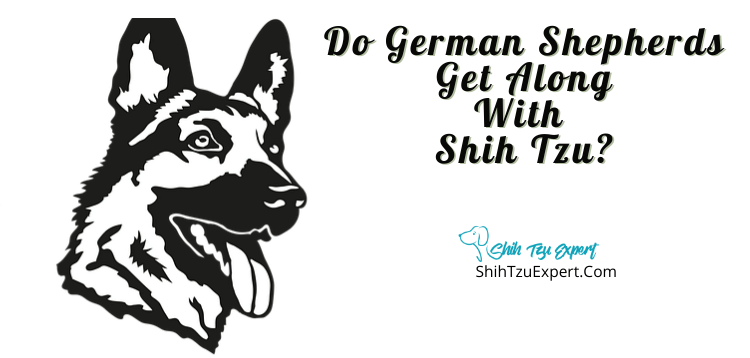 It is not common for German Shepherds to just attack or even kill other dogs, even small ones. However, German Shepherds are a very territorial, protective breed. They may feel the need to attack or defend their territory if they feel threatened.
Shepherds also have a strong prey drive. They may see a small dog like a Shih Tzu as something to hunt.
It's important to not only socialize your shepherd to other dogs, but make sure they meet smaller dogs during their early years. If they are used to small dogs, they will know they are not a threat and not prey. This is true with all small dogs, including the Shih Tzu.
My Shi Tzu And The German Shepherd Are Fighting Constantly [What Should I Do]?
It isn't uncommon for your small dog to pick a fight with your big dog, so a Shih Tzu going after a German Shepherd is not rare.
Small dogs may go after big dogs because they want to prove they are tough, regardless of their size. This can be dangerous for many reasons, one being if your big dog fights back, this could threaten your little dog's life.
The best way to stop fighting between your Shih Tzu and German Shepherd dogs is to prevent it from happening in the first place. If you notice your Shih Tzu or German Shepherd growling or showing dominant behavior toward the other dog, separate them.
Make sure until you are 100% sure, do not leave your Shih Tzu and Shepherd alone without supervision. If a fight starts, you need to separate the dogs immediately. The SPCA has resources to teach you how to properly stop a dog fight once it begins.
Can A German Shepherd Mate With A Shih Tzu?
It may seem silly because of the size difference, but a German Shepherd can mate with a Shih Tzu!
There are ongoing debates as to whether or not it is a good idea to mate big dogs with small dogs. Some experts say it is a bad idea because it increases the chance of health issues, while others say it combines the best of all the breeds involved.
Due to the size difference, if the two breeds are to mate, the male has to be a Shih Tzu and the female has to be a German Shepherd.
Do German Shepherds Get Along With Other Small Dogs?
German Shepherds will get along with any dog if they are properly trained and socialized from a young age.
Because of their size, if a German Shepherd is not well trained or socialized, they can be a danger to other dogs, especially small ones. It is up to the owner to make sure they get to know small dogs early on so they get along with them!
Is It Better To Have 2 Shih Tzus? Instead Of A Shih Tzu And A German Shepherd?
If you can afford it, having two dogs is almost always better than having one. Dogs need companionship, a playmate and a sense of security. Having a pair of dogs takes some of the pressure off of you as an owner.
There are proven benefits to having two Shih Tzus. They get along well together and because they will be the same size, the risk of injury during play time or the rare scuffle is much less.
You can of course have a German Shepherd and a Shih Tzu in the same home. No matter what dogs you want to bring together, you will need to train and socialize them early.
If you want to have a German Shepherd and a Shih Tzu, you can. However, it may be easier to have two Shih Tzus instead.
Are Shih Tzus Aggressive Towards Other Dogs?
For the most part, Shih Tzus are one of the least aggressive dog breeds. They are known for being cuddly, friendly dogs. However, there are always exceptions.
Some aggressive behaviors you may see in your Shih Tzu could include growling and nipping at other dogs. It's important to socialize your Shih Tzu early on in their growth and training to avoid any aggression.
Which Dogs Can Easily Live With A Shih Tzu?
If you have an aggressive Shih Tzu who is dog friendly, there aren't any dogs that shouldn't live with them! However, because of their small size, you may find it best that they live with other small dogs.
The best dog to live with a Shih Tzu is another Shih Tzu, because they will most likely have similar personalities and temperaments. But with a dog friendly Shih Tzu, there is almost no dog they won't become friendly with!
Do German Shepherds Get Along Well With Other Dogs?
German Shepherds are bred to be territorial guard dogs. Because of this, without the proper training, they can become aggressive towards other dogs.
If your German Shepherd is raised around other dogs through classes, dog parks and other events, they are much less likely to be aggressive towards other dogs.
The more you socialize your German Shepherd, the more they will get along with other dogs.
What Dog Pairs Well With A German Shepherd?
German Shepherds are a large, high energy breed. Because of this, the best dogs to pair with them are other large, high energy breeds.
If you have a German Shepherd and are planning on getting another dog, the best options include a Lab, Husky, Golden Retriever or other German Shepherd.
References
https://www.ccspca.com/blog-spca/education/how-to-break-up-a-dog-fight/
https://wagwalking.com/training/get-along-with-a-small-dog