We may earn commission from qualifying purchases at no extra cost to you.
Learn more
Two breeds known for their striking looks, athletic abilities, and strong-willed yet loyal personalities are the Weimaraner and the husky.  Active individuals with dog experience may therefore be drawn to their mix.  Known as the Weimarsky, the Weimaraner/husky mix is a unique one, and this article will discuss various aspects of its background, temperament, care requirements, and more!
What Is this breed?  All you need to know about this breed
The Weimarksy is a mix of the Weimaraner and Husky breed dogs.  When the husky parent is an Alaskan (vs Siberian) husky, the mix also is referred to as the Alaskan Weimsky.  Weimaraners were originally bred in Germany in the Court of Weimar in the early 19th century as smart, speedy, courageous hunting dogs that were able to handle big game, such as bear and deer.  Later on, they were trained to hunt smaller prey, such as birds, foxes, and rabbits.  Known as the "gray ghost" dog, Weimaraners were first brought to the US in 1929, and were first bred in 1938.  In 1942, the Weimaraner Club of America was formed, and the breed was recognized by the AKC in the Sporting Group later that year.  Weimaraners grew in US popularity after World War II, leading to a period of irresponsible breeding and resulting temperament issues.  This improved in the 80's, with another increase in AKC registrations in the 90's.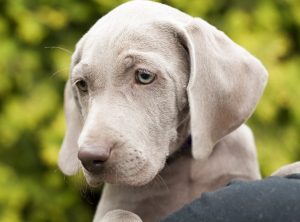 Siberian huskies originated in Northeast Asia by the Chukchi people as descendents of the original sled dogs, bred for guarding, sled-pulling, and companionship.  In 1908, they were brought to Nome, Alaska, during the gold rush as sled dogs.  Alaskan huskies share a genetic relationship to Siberian huskies, but are the result of crossbreeding with European breeds such as German Shepherds, Salukis, and English Pointers to improve the dog's performance.  In 1925, Siberian huskies gained attention in the US when they rushed a life-saving serum to Nome in only 5.5 days after a diphtheria outbreak.  Siberian huskies were recognized by the AKC in 1930 in the Working Group.  They were recognized by the United Kennel Club in 1938, and were first registered in Canada the following year.  The exact origin of the Weimarsky is unknown, but hybrid or designer dog breed mixes first started to become popular in the 1990's, as mixed breed dogs were thought to be able to avoid some of the health issues that can be common to their  purebred counterparts, and also were bred for certain temperament/personality characteristics.  At this time, only the Alaskan Weimsky is recognized by the DRA (Dog Registry of America, Inc).  Because the Alaskan Husky is considered a mixed breed itself with varied characteristics, this article will focus on the Siberian Husky/Weimaraner mix (Weimarsky).
Weimaraners and huskies have average lifespans of around 11-14 years, so the Weimarsky should also fall into this range.  Weimarskies are strong, athletic dogs.  Weimaners generally weigh anywhere from 55-85lbs, with females falling into the lower end of this range and males towards the higher end, while huskies can weigh anywhere from 35-60lbs, again with males tending to be heavier than females.  So, the Weimarsky mix is a medium to large dog, likely weighing in the 45-70lb range, depending on gender and dominant parent breed.  Weimaraners stand between 23-27" tall, while huskies are only slightly shorter in the 20-24" range, so the Weimarsky can be expected to be within a few inches of two feet tall.
The coat of a Weimarsky can be varied.  Weimaraners are known for their striking gray coats.  Siberian huskies are commonly seen with black and white or gray and white coats, however, they can also come in various combinations of red, brown, and sable colors.  So, the Weimarsky can be seen in any of these combinations.  The coat of the Weimaraner is smooth and sleek, while the husky's medium-length double coat is thick, so the Weimarsky can fall anywhere along this continuum.  Eye color can be of particular interest, as the Weimaraner has clear light blue eyes, and the husky's eyes can be blue, brown, amber, or bi-colored-one brown, one blue, leading to interesting, attractive combinations seen in mixes of the two breeds.
Health and Care
Although mixed breed dogs are generally considered to be less prone to health issues than their purebred ancestors, Weimarskies can still have tendencies towards some of the problems their parent breeds face.  Common health issues found in both breeds include joint or bone issues such as hip dysplasia, and various eye diseases, such as cataracts and various corneal problems.  Weimaraners are also prone to bleeding disorders, including one called von Willebrand's disease, which causes excess bleeding, and hypothyroidism, while huskies can develop a skin issue known as zinc responsive dermatitis.  One critical health issue to be aware of in deep-chested dogs is gastric torsion, or bloat.  This condition, which occurs when the stomach becomes bloated with air or gas and twists upon itself, is life-threatening, and requires immediate medical attention.
In order to properly take care of a Weimarsky and avoid these health issues, care should be taken to the dog's coat, eyes, and ears.  Regular veterinary check-ups should occur, and heartworm and flea and tick preventatives should be given.  Some tips to try to help prevent bloat include avoiding feeding the dog large meals, and keeping it from exercising vigorously immediately before and after eating.  Of course, as with all dogs, spaying/neutering the Weimarsky is highly recommended in order to prevent unwanted litters, decrease unwanted behaviors such as spraying/marking or aggressiveness, and to increase lifespan.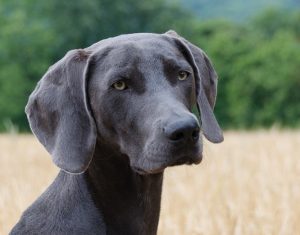 Essential Products and Grooming Accessories
Several types of grooming brushes are recommended for the Weimarsky.  Specialty deshedding rakes, such as Furminator products or rubber curry brushes, likely will be needed in dogs that inherit the husky's thick undercoat, especially during biyearly sheds.  Pin brushes, which consist of blunter, widely-spaced pins (similar to a human's brush), and metal combs can also be used on dogs with husky-like coats.  For dogs that inherit the Weimaraner's smoother, sleeker coat, brushing can be accomplished using a simple bristle brush, consisting of tightly-packed bristles.  The Weimarsky will also need nail trimmers.  As a larger dog breed, scissor-type clippers are most appropriate, as they can generate the force needed for a thicker nail.  Nail grinders also can be used for dogs who do not tolerate clippers.  When bathing the Weimarsky, natural shampoos with ingredients such as aloe vera and oatmeal to promote coat and skin health should be used.
The Weimarsky also requires other supplies, including leashes, collars, and harnesses.  Collars are important for attaching identification and vaccination tags, and are considered to be properly fitted when two fingers can be slid between the dog's neck and the collar.  The Weimarsky is a mix of two strong, athletic dogs that were bred to hunt and pull sleds, so a well-constructed harness made out of heavy-duty materials is recommended to best control the dog on walks and runs.  Materials to look for in harness construction include leather or reinforced nylon, with metal or steel leash attachments and buckles.  The harness should fit securely, and a belly strap also is a good idea for Weimarskies, since they can be escape artists.  No-pull harnesses can be helpful for training purposes and for dogs who have a strong tendency to pull.
Similar considerations should be made when selecting a leash for the Weimarsky.  Leashes should also be made out of strong, durable materials such as nylon or leather.  A six foot leash is recommended to both give the dog room to roam and keep it safe, unless the dog is being trained to obey commands, in which case leashes up to 20 feet may be useful.  Dogs that pull strongly may benefit from a bungee combination leash, which is a standard leash with a portion made of bungee to lessen shock on both the dog's and owner's bodies when the dog pulls suddenly.  A padded leash handle may also be helpful to the owner.  The carabiner of the leash, which attaches onto the dog's collar or harness, also needs to be strong and durable, with steel being a good option.
FAQs
Is the Weimarsky good with children and other pets?  Are they family-friendly?
The Weimarsky is a mix of two breeds known to have high prey drives.  So, they would not be the best breed for households with cats or small animals such as rabbits, guinea pigs, and hamsters, as they will chase and potentially harm them.  Huskies tend to be good with other dogs, especially when introduced early in life, while weimaraners can be dominant and aggressive with them, especially dogs of the same sex.  So, early, proper socialization of the Weimarsky to other dogs is recommended.  Weimarskies can do well with children, especially their friendly husky sides, but their weimaraner lineage can cause them to be rather rambunctious.  So, they may not be the best choice around smaller, younger children, and all children need to be taught how to properly interact with the dog..
Are you a good match for the Weimarksy?
The Weimarsky does best with an experienced owner.  With high exercise requirements and a tendency towards destructive behavior if left alone for too long, especially without adequate activity, the Weimarsky would not be appropriate for apartment living, or for households where the dog will be alone for prolonged periods.  Yards must be very escape-proof-Weimaraners and huskies are both known for their abilities to jump over and dig under fences; opening doors and gates is also within their capabilities, and the love to run.  Weimarskies can be stubborn, and do best with firm but gentle owners who can provide them with plenty of exercise or a job to do.
Pros and cons of owning a Weimarsky
Pros of owning a Weimarsky is that they can be very loyal, affectionate, and friendly companions.  They also are great for active individuals who want an exercise buddy.  Cons of owning a Weimarsky include that they can be stubborn, and require firm, patient training.  Weimarskies can be escape artists.  They also can become destructive if their exercise and companionship needs are not met, and should not be owned by those with small animals or sedentary lifestyles.
Temperament and Personality
A Weimarsky can demonstrate any combination of temperament and personality characteristics common to its parent breeds.  Weimaraners and huskies are both known to be highly intelligent, affectionate breeds, with strong bonds to their families.  They like to be around their owners, and often follow them around the house.  Weimarskies will likely have a playful, outgoing, friendly nature.  With that comes a dog that can be high-strung and has plenty of energy-this is a breed mix that has high exercise requirements (both mental and physical), and can become very destructive (chewing, digging, etc) if left alone for too long, especially when not given adequate exercise beforehand.  Weimarskies are also a mix of two breeds known for their tendencies as escape artists, with strong prey drives towards small animals (cats, rabbits, etc).
In terms of barking levels and watchdog abilities, huskies tend to bark lower to moderate amounts and are friendly towards strangers, and thus are not the best watchdogs.  Weimaraners, on the other hand, are vocal dogs, especially when kept alone for too long or when confined without adequate exercise.  They tend to be reserved towards strangers, and make good watchdogs.  So, the Weimarsky's traits in this area will depend on its more dominant parent breed.  Weimarskies can also be on the rowdy, strong-willed side, so skilled, consistent training is a must.  For the right owner, the Weimarsky will be a loyal, smart, affectionate, high-energy companion with great character..
The Basics of Grooming
The coat and grooming requirements of a Weimarsky will depend upon its more dominant parent breed.  Both breeds do shed, but the Weimaraner's sleek, smooth, shorter coat can be controlled with weekly brushings.  Huskies, however, have a medium-length double coat consisting of a guard coat, and a thick undercoat.  The undercoat is thoroughly shed twice a year, and needs to be regularly raked out, especially during this period.  The top coat can be kept in good condition with weekly brushings.  So, the amount that a Weimarsky sheds can depend, but this will not be a hypoallergenic dog either way.  Bathing is as needed-huskies usually only need a few yearly baths, as they are relatively self-cleaning, but weimaraners enjoy rolling in stinky areas, so the weimarsky could inherit this tendency, as well.
Other maintenance requirements for the Weimarsky are common to all dogs.  Nails should be trimmed once or twice a month, or when they can be heard clicking on hard floors.  Teeth brushing is recommended several times a week.  Ears should be checked and cleaned with a veterinarian-recommended cleaner and cotton regularly, especially in dogs that inherit the weimaraner's longer, floppier ears.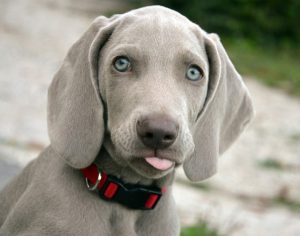 Top Tips for finding a Weimarsky
The Weimarsky is a relatively rare breed mix, and specific breeders are difficult to find.  However, a variety of rescue groups specializing in Weimaraners and huskies do exist, as these dogs are often purchased by households who do not have a full understanding of the training, exercise, and care requirements of the breed.  Mixes of the dog breeds can often be found within these rescues, as well.  Some examples of Weimaraner rescues are Great Lakes Weimaraner rescue, Weimaraner Rescue of the South, Weimaraner Rescue of the North, Tri-State Weimaraner Rescue, and Oregon Weimaraner Rescue.  Some husky rescues include Husky House, Forever Husky, Hairy Houdini Siberian Husky Rescue, and Forever Husky Animal Rescue
It may also be possible to find Weimarsky puppies through various breeders in local areas.  Care should be taken to ensure that breeding is done responsibly.  Features to look for in breeders include allowing potential buyers to have in-person visits to meet parent dogs, providing potential buyers with parent dog veterinary records, and showing potential buyers where puppies are raised.  Responsible breeders should also have written contracts with their buyers.
The price of a Weimarsky puppy is variable, but should likely fall within the $500-1000 USD range.  After purchase, estimates of the overall cost of dog ownership vary from $150/month as per Rover, to $400-1800 per year, as per the ASPCA and AKC.  High-end estimates of dog ownership costs range up to $90,000 from Forbes magazine, which took into account the possibility of emergency veterinary care.  Normal factors involved in the cost of dog ownership include food, supplies, veterinary care, toys, and boarding; preventative treatments such as flea/tick and heartworm preventatives and regular check-ups can help prevent unforeseen costs, as well.
Training and Exercising your Weimarsky
The Weimarsky is an intelligent, strong-willed dog capable of learning, but one that also requires a strong, confident owner who displays leadership.  Both huskies and weimaraners can be difficult to housebreak.  Training requires consistency, patience, confidence, willfulness, and dedication.  The Weimarsky is a mix of two breeds that can be headstrong, with tendencies to become mischievous or easily distracted if they do not view their owners to be firm, dominant leaders.  Still, this should be done with gentleness, as the dog will not respond well to anger.
As a mix of two dogs with high exercise requirements, expect a Weimarsky to need lots of exercise, playtime, and purpose to be happy.  Weimaraners were bred for all-day hunts, while huskies were bred for long-distance sled pulls, meaning that a Weimarsky will need runs, long hikes, field work, rally or agility training (or other dog sports such as flyball), or other vigorous exercise in order to prevent a bored, destructive dog.  Daily exercise of a couple of hours is recommended.  Because huskies were bred to run, and Weimaraners have a strong tracking instinct, a Weimarsky should be kept on leash at all times when not in a very securely fenced yard.  Due to their husky heritage, care should be taken to not overexercise the Weimarsky in the heat, although the dog should do well in cold conditions.
How to Feed and Dietary Requirements/ Restrictions of the Weimarsky
The Weimarsky should be fed twice daily, generally in amounts of 1.5-3.5 cups total, depending on the size and activity level of the dog.  Huskies are dogs who will avoid eating when full, so the Weimarsky may also inherit this tendency, but care still needs to be taken to ensure the dog does not become overweight.  Food should be high quality, consisting of few fillers with protein, carbohydrates, healthy fats, and vitamins.  More active dogs may have higher protein requirements.  As previously mentioned, avoid feeding the dog immediately before or after exercise, as this may lead to gastric bloat.  At least two hours before and 30 minutes after vigorous activity is recommended.
Most Popular Names
The most popular dog names in 2019 according to Rover included Duke, Milo, Max, Rocky, Buddy, Cooper, Teddy, Bear, Jack, and Charlie.  The most popular female dog names included Bailey, Bella, Molly, Luna, Daisy, Lola, Lily, Lucy, Sadie, and Zoe.
Summary
In conclusion, for the right owner with patience for training and the time and energy to devote to providing proper exercise, the Weimarsky will make a great pet.  Smart, friendly, and happy, this breed mix is not right for all households, but will provide fantastic companionship for those who want an affectionate exercise partner and loyal friend.
Other Similar or Comparable Medium & Large Dog Breeds
Other breeds comparable to the Weimarsky include German Shorthair Pointers, Alaskan Malamutes, Samoyeds, Chinooks, Vizslas, Border Collies, Foxhounds, Dalmatians, and Golden Retrievers.