Shih Tzu's are among the top 5 most expensive breeds to own and maintain.
Aside from normal daily expenses, such as food, they require a lot more in vet bills throughout their lifetime.
Are Shih Tzus Expensive To Maintain?
Shih Tzus are on the top 5 list of most expensive dogs to maintain. The most expensive part of having a Shih Tzu is the actual purchase of the dog and the vet bills that will most likely occur during their lives. Shih Tzus are more prone to many different alignments than other dogs.
Making them a bit more costly especially later in their lives. Fortunately, because Shih Tzus are a smaller breed, their food cost and their grooming costs are very small. No matter what breed you end up with, make sure you have a decent amount of funds saved in case of any emergency. And remember, always try to adopt!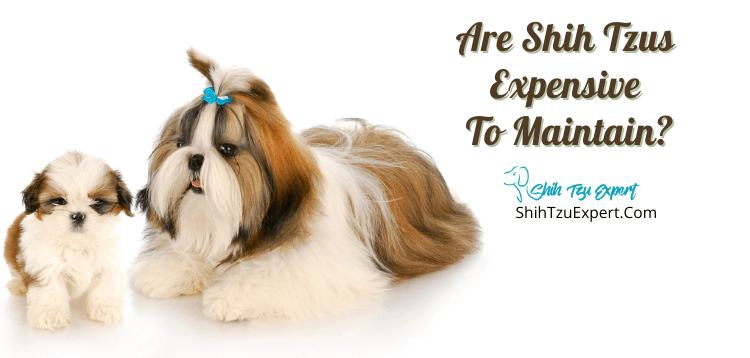 What are The Biggest Expenses?
Shih Tzus come with many bills. It starts with purchasing a purebred Shih Tzu puppy which can cost anywhere from $750.00-$3,000 in the United States, depending on the breeder and where you purchase it from. After that their biggest expenses include their grooming fees and their vet bills.
Average Cost Of Owning A Shih Tzu
Here we look at the realistic costs of owning a Shih Tzu. Including daily, weekly, monthly, and yearly.
Daily- Around $3
Weekly – Around $22
Monthly – Around $100
Yearly – Around $1,180
Total Cost Of Owning A Shih Tzu From Purchase/Adoption To 16 Years Old and Beyond
The first year of life for a Shih Tzu will cost slightly more than the yearly average later on. That cost being $2,570 because of first year shot fees and the cost of the puppy itself. With that in mind, the total cost of a Shih Tzu from a puppy to 16 years would be around $20,270.
Fixed Initial One Time Expenses
Costs That Recur Through A Shih Tzu's Lifetime
The Cost To Feed A Shih Tzu (Daily, Weekly, Monthly, Yearly)?
Luckily, since Shih Tzus are such small dogs, they do not cost too much to feed. Good quality dog food will cost around $2-$3 per pound, so a 30 pound bag of dog food for $55. Shih Tzus typically only need 1 ½ cups of food a day. This means a 30 pound bag of dog food would last about 80 days or 3 months. Broken down it looks like this:
Daily Cost- .50 cents
Weekly- $4.2
Monthly-$18
Yearly- $216
How Much Does It Cost To Buy/Adopt A Shih Tzu Puppy [Free, Low Priced, Expensive]?
The cost of a Shih Tzu will depend on where you're getting your dog. For instance, if you are adopting, the dog will be fairly inexpensive. The range is usually $50-$150 at an animal adoption facility. When getting a Shih Tzu on the low priced end it could be around $250. Rescue pounds will charge about $350. And if you're buying a registered Shih Tzu from a breeder the average cost is around $1,200.
Price Range For A Shih Tzu
Designer Dogs
Designer dogs involve the exclusive cross-breeding of two different breeds. There are many designer needs of Shih Tzu. Here are a few examples of the most common ones.
Shih Poos (Shih Tzu + Poodle)
Affen Tzu (Shih Tzu + Affenpinscher)
Aussie Tzu (Shih Tzu + Australian Shepherd)
Mal Tzu (Shih Tzu + Maltese)
French Tzu (Shih Tzu + French Bulldog)
Designer Shih Tzu breeds have an average price range of $200-$800.
Show Quality Shih Tzu
If you are looking to purchase a purebred Shih Tzu (typically considered show quality) you will want to go to a reputable breeder. The cost will be at least $1,200.
AKC Registered Shih Tzu
AKC, or the American Kennel Club, puppies come with all of their needed shots, deworming, they are registered and microchipped. For an AKC Registered Shih Tzu, it will cost $2,500 for a puppy.
Imperial Shih Tzu
An Imperial Shih Tzu, a specialty breed, will cost anywhere between $2,000-$3,000.
Adopting [Animal Shelter/Rescue Group]
Adopting from an animal shelter or rescue group is the best way to get a dog!
There are so many dogs in the world that are abandoned and in need of a home. If you're looking to get a dog, the most ethical and helpful thing you can do is to consider shopping at an animal shelter. ESPECIALLY going to a kill shelter where you will be saving an innocent dogs life. Aside from it being the right thing to do, it's also much cheaper than going to a specialty dog breeder. The average cost of a puppy from an animal shelter is $150, with first year shots included. For an older dog it is around $50.
Veterinary Cost For The First Year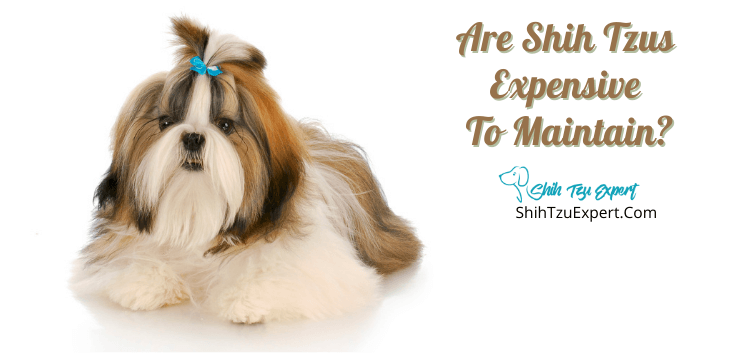 In the first year of a Shih Tzus life, like all other puppies, you will need to get them their first year shots, and parasite protection. If you so choose, you can spay or neuter your puppy in this first year as well. You can also choose to have your dog microchipped. Depending on where you live your vet bill in the first year (as long as there are no emergencies) will cost $100-$300.
Veterinary Cost For (2, 3, 4,…16) Years
For the rest of your dogs life, unless something happens to your dog, there is no need to bring them to the vet. But always have money aside for emergencies. Shih Tzus have a few more problems than the average dog. These problems include:
Allergies
Anal glands
Eye problems (there are a great deal of eye infections that Shih Tzus are more likely to get)
Ear mites
Hip Dysplasia
Breathing problems
All of these have different costs depending on the severity of the issue.
Grooming Cost For Shih Tzus
A Shih Tzu, being a small dog, fortunately will only cost around $40 to be groomed. A dogs nail clip will cost an extra $10-$15. Like most dogs, it's a good idea to have them groomed once a month, unless they get extremely dirty.
Licensing Cost
If you get your Shih Tzu off craigslist or another unregistered site, it will cost around $250-$300 to license your dog.
Microchipping Cost
The average cost of a dog microchip is about $45.
Dog Walking
Typical dog walkers will charge $30 for one hour walks. In larger cities you can expect to spend a little bit more.
Dog Sitting
National pet sitting averages are around $25-$30 a day. At the low end, it could be around $15. Overnight visits will cost a bit more at $75-$80 per night.
Professional Training
Pet training services can range depending on the trainer and the area you're in. The average group training session is $30-$50 a class. Private training can cost between $45-$120 per class. Boot camp training will cost $500-$1,250 per week.
Pet Insurance
You can find pet insurance for as long as $10 a month, depending on the service you choose and the vet you have. More expensive pet insurance can cost up to $155 a month.
Cost Of Dental Treatment
Sometimes dogs need a good teeth cleaning, like we do. Typically, a tooth cleaning for a dog costs around $300. Most vets will tell you it's a good idea to have your dogs teeth looked at/cleaned at least once a year.
Cost Of Neutering
At most veterinarians, they will charge around $175 for a dog neuter. For a female spay, it will be around $200. However, there are usually many options you can look at for low cost spays and neuters.
Other expenses
There are many other expenses you will want to spend when getting a dog. Here is a list of some you may want to consider along with their costs!
Dog hair clippers- $25
Dog hair brush- $5
Toys- $2-$20
Dog Shampoo- $5
First aid kit- $10
House training pads- $25
Toothbrushes- $5
Toenail clippers- $10
Leash- $5
Collar-$5
ID tag-$5
Dog bed-$20 (for small dogs)
Dog crate-$50
Odor spray-$10
Food and water bowls- $5 each
Poop bags- $10
References:
https://spiritdogtraining.com/how-much-does-a-shih-tzu-cost
The Cost of Shih Tzu Puppies & Adult Dogs (with Calculator)