Dogs are known as one of the best companion pets for humans due to their social and loyal personalities. But what if your dog needs a companion when you're not around? In this article, we break down the different types of pets your dog could live with, how to introduce them, and how to watch out for aggressive behaviors.
Best Animals To Live With A Dog [Best Pet For My Dog]
Dogs can get along with many different types of animals if given the proper socialization and introductions. Smaller animals, such as rabbits or rodents, can live with dogs but will need to be watched during every interaction. Always monitor the body language of each animal to keep both safe.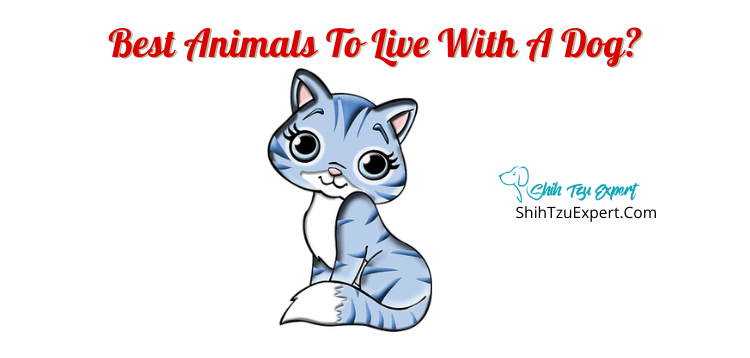 What Animal Is A Good Companion For A Dog?
If you are looking at getting a companion for your dog, another dog may be just the thing! Dogs are very social creatures, and having another dog to play with is often a welcomed change.
However, dogs are also known to be very territorial. Some dog's will be hostile towards a new dog, viewing them as a rival. It is important to introduce the two in a neutral area. Make sure they have their own food and water bowls too so they do not have to share.
A good neutral area may be a place in your house that the older dog does not occupy often. Getting a friend to bring your new dog to the park to meet your old dog may also work as a neutral meeting space.
Once they become acquainted with each other, they are likely to snuggle, and play together. They will also be able to keep each other company whenever you need to leave the house.
Despite popular beliefs, another good companion for a dog is a cat. This introduction takes a little bit more patience and planning. Like with introducing your dog to a new dog, you will need to introduce the two to each other in a neutral setting to avoid any territorial aggression.
Keeping your dog on a leash when first meeting the new cat is a good way to keep your dog from any aggressive behaviors towards the cat. Allowing them to get acquainted with the scent of the other first will help get them used to one another.
What Pet Is Most Similar To A Dog?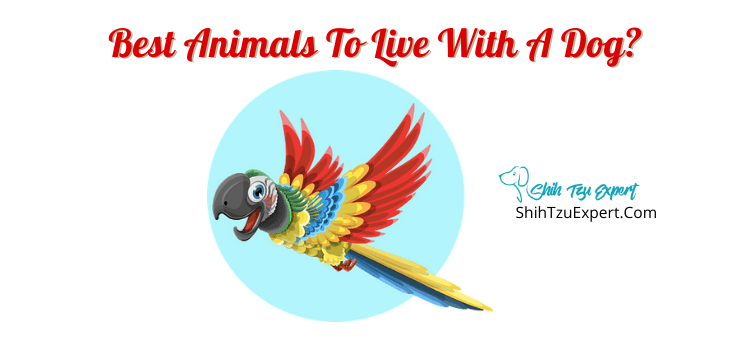 The reason why we love our dogs is because of their loyal, loving, and playful nature. They're trainable and fun to be around. No animal can quite match their personality, but there are a few that can come close.
Rabbits are similar to dogs in their love of cuddling. They will choose to sit next to you to show their affection. They may also lick you as a sign of affection, depending on the individual rabbit's personality.
While rabbits are often thought of as being shy creatures, they can also be high-spirited and social animals. Their personality will shine through after they get acquainted with their new home. Smaller rabbits also tend to be more active than larger ones.
The Best Small Pets To Adopt If You Already Have A Dog?
If you already have a dog, it may surprise you the number of different small pets you could adopt. The biggest factors are your dog's prey drive and the way you introduce the two to each other.
Dogs can be good friends with guinea pigs if given the proper socialization to each other. It is a common reaction for the guinea pig to be scared of the dog at first, so make sure to watch their interactions closely.
Using a hamster ball to keep your guinea pig safe from the dog during the first few interactions could be helpful. Though be sure to not let your pooch pounce on the ball. That will likely scare the guinea pig worse.
If your dog remains calm and gentle with the ball and the guinea pig inside, you are on the fast track of getting them to be good friends!
Hamsters, mice, and chinchillas are all small animals that can live with dogs. Similar to a guinea pig, carefully supervised interactions are the key to forming these relationships! Start the animals off slowly with short meetings and watch their body language.
Birds are another small animal that make an excellent pet to coexist with a dog.
What To Look For When Adopting A Pet That's Compatible With Your Dog?
Do some research on the different characteristics of your dog's breed. Are they typically thought of as hunters of prey? Or are they known to be more gentle with other animals?
Another question to ask yourself is about your dog's personality. Is your dog excitable and playful? Or do they tend to be more calm and gentle?
If your dog tends to be on the more active and playful side of things, a smaller pet may not be the best option. An energetic dog is likely to scare smaller animals, and even with the best intentions could unintentionally hurt or kill the smaller animal.
Instead of getting a smaller pet when you have an energetic dog, another dog may be a good option for a new pet. A fish, or any animal that never leaves its cage or tank, could also work well.
If your dog tends to be more calm and gentle, then you can likely have your pick of any animal. Calmer dogs will be easier to introduce to smaller animals. While the process will still take time and patience, a more gentle dog is likely to react well to a smaller animal like a rabbit.
Why Do Some Dogs Find It Hard To Get Along With Other Pets?
Some dogs have communication problems and poor socialization skills. Your dog could also have a problem with aggression. This can surface when your dog feels fearful, defensive, or possessive over something they view as theirs (i.e. a toy, home, or even their owners).
If the reaction is one out of fear, your dog is likely to hide behind you while still growling or barking at the new animal. This could be the result of a previous attack your dog experienced.
Some dogs may react aggressively based on your reactions. If you suddenly tighten their leash while introducing them to the new pet, they will likely lash out more because this will heighten their anxiety. Any sort of negative reaction from you towards them will make them more fearful, which will result in more aggression.
If you try to calm them down while they are growling or barking, they may conclude that you are rewarding them for their aggression towards the new animal.
Both of these situations can be avoided with proper training and control of your dog. As long as your dog understands how to focus and calm down, you should not have a problem with them being introduced to a new pet. Since your dog can also sense your emotions, keeping yourself calm during the interaction will also be helpful.
Pet To Avoid Adopting If You Already Have A Dog?
Depending on whether or not your dog has a prey drive, you may not want to get a smaller pet. Pets from the rodent family are known to occasionally cause a dog's prey instinct to surface. This can be combated sometimes with proper training but could be avoided entirely if you chose a different pet.
Pets from the reptile family tend to not mix well with dogs.
A pet snake is not a good choice if you already have a dog. Snakes tend to look similar to a toy in the mind of a dog. A snake will attack if it feels threatened, which may result in your pooch being bitten.
Having a snake and dog together runs a high risk resulting in both ending up hurt or worse.
A turtle is also not a good pet to adopt if you already have a dog. While it is not safe for the turtle, it is also likely that a larger turtle could snap and easily kill your dog no matter how big the dog may be.
Turtles also tend to carry Salmonella. If your dog happens to lick the turtle, they run a high risk of getting an infection. This can result in many health issues for your pooch, such as fever, stomach problems, lethargy, and many others.
Do All Dogs Get Along With Newly Adopted Pets?
Sadly you cannot ever fully know if your pooch will approve of your new pet. There is a good chance that your dog will be jealous of the attention given to another pet in the house. This could cause them to lash out at the new animal.
Your dog may also come from a breed that is known for heightened hunting instincts. These dogs will have a harder time accepting a smaller animal as a pet since they instinctively view it as prey.
One of the best ways to ensure that your dog will get along with a new pet is having the two of them grow up together. Getting an animal while your dog is still young will encourage the pooch to view it as a normal part of their life. It is still important to keep the other pet safe since puppies are prone to biting and being very playful.
How To Train My Dog To Play Nice With The Newly Adopted Pet?
There are steps to take to make the introductions run a little bit smoother.
Train your dog to focus and listen to the "no!" command.
Keep both animals safe.
Start small.
Slowly let them get closer.
The first step before getting another animal is to make sure your dog is properly trained for the introduction process.
Teaching your dog to listen to you when you tell them "no" is key. Make sure your dog understands what "no" means and that they are willing to drop anything in their mouth or move away from something when you tell them that.
Also, teach your dog to focus on you when they become a little too excited. A completely understandable reaction might be for your dog to growl at the new pet. By getting their attention you can help them to calm down.
To train your dog to focus, use a particular sound or word that you want them to associate with the task. If they look at your face when you make the sound (sometimes you may have to add their name before or after), give them a treat to reward them. Continue this process until you are sure they will follow the command.
Once you have the basic part of that training down, move your dog to a more distracting environment. Find a place with a lot more noise, like the park or a room in your house with other people in it. Practice the command in this setting.
After training your dog, you can start to introduce it to the new pet. It is important to keep both animals safe during introductions. Keeping your dog on a leash will help them to stay a safe distance from the new pet. Do not pull too tightly on the leash though as this may result in rising levels of anxiety in your pooch.
Make sure to keep the other pet in a safe spot as well, like its own cage or a hamster ball. This allows the two to get comfortable with seeing and smelling each other.
Keep the first few meetings short and pay attention to the body language of both pets. If either looks fearful or aggressive, end the introduction for the day and try again another time.
As they begin to get more comfortable, you can start letting them be near each other. It is important to still supervise all meetings with a new pet, especially if the animal is small, like a rodent.
How Long Will My Dog Take To Accept The New Pet As A Friend?
The process of getting a dog to accept a new pet and befriend it depends on the dog. It will not likely happen overnight. You must have patience with the animals.
Since dogs are creatures of habit and like a sense of normalcy, it will take a while for your dog to be okay with a new pet. This is okay. Never try to force them to play, as this could result in harm to either animal if aggression or fear is felt.
The process may take a few days or a week or two depending on your dog's socialization skills. For some dogs, the process may take a month.
Dogs That Are Good With Small Animals
The good news is that there are some dog breeds known for being good with other small pets. These dog breeds include:
Boston Terriers
Cardigan Welsh Corgis
Collies
Golden Retrievers
German Shepards
Maltese and Malti-Poos
Poodles
Pugs
This is not an extensive list, as many other dog breeds could be good with small animals. Research your particular dog breed, or consult with a veterinarian about the breed's history of interactions with other small pets.
This list also does not mean that your dog will be good with a small pet. It also depends on every dog's personality.
What Animals Do Dogs Hate?
Any animal that is not a pet on your property is likely to be growled at. Your dog views your home as its territory too and wants to keep it and you safe. Anything they perceive to be a threat will be chased and/or growled at.
Squirrels are common for dogs to chase after and bark at.
Raccoons are also creatures that dogs are not too fond of coming across. Raccoons are known to be dangerous animals since they can sometimes carry rabies. It is good to keep your dog away from any interaction with a raccoon.
Your dog also can sense your response when you see an animal. If you are feeling tense or anxious at the sight of another animal, your dog will react with aggression towards it.
References
https://anticruelty.org/pet-library/rabbit-personalities-and-lifespan
https://vcahospitals.com/know-your-pet/dog-behavior-problems-aggression-unfamiliar-dogs-diagnosis
https://www.dogbreedinfo.com/petreliability.htm#S