We may earn commission from qualifying purchases at no extra cost to you.
Learn more
When winter time arrives, many pet owners want to enjoy the endless outdoor activities with their furry friend. Hiking, camping, hunting, or exploring the snowy world in general are some of the things that dogs love to explore. When you take your pup outside into the cold, many wonder if a jacket would be good for their pup to wear.
Having a jacket available for your pup for chilly outdoor trips is never a bad idea. Below are some tips and what you should look for in an outdoor jacket as well as our top 5 picks for the best warm dog coat.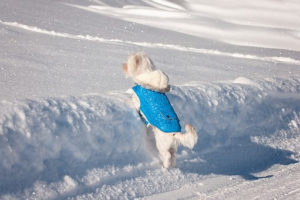 What to look for when buying a winter coat for your dog
There are many features that you should research when searching for the perfect outdoor, winter adventure dog coat. Some features that should be looked at carefully are size, insulation, safety features, machine-washable, waterproofing, convenience, weight, and reversible. Many of these features are readily described on the brands site, not always on partner sites such as Amazon.
Size
It is incredibly important that your dog's coat fits them properly, not too tight and not too loose. If a coat is too tight, your dog could end up feeling very uncomfortable and not very agreeable when you attempt to put the coat on them. Make sure that when you fasten a coat onto your pup, you have room to slide at least two fingers near the fasteners. If you cannot get your fingers between your pup and the fasteners, then the jacket is too tight. You also do not want a jacket that is too loose and seems to be falling off of your pup every time they move. Most brand sites provide a measurement guide or measurements of the product. If a sizing guide is give, follow the directions provided in order to figure out the best fit for your pup. If product measurements are given, compare them to the measurements of your pup. Typical
sizing guide measurements will ask you to measure the length of your dog
(neck to tail) and width (around the middle). If a brand or company does not have any product measurements or sizing guide, you can call the customer service line and see if they can provide product details that way.
Insulation
Pet owners want their dog to be as warm and comfy as they are
when outside in the cold
. Insulation is important for some dog types, not necessarily all of them. If you have a pup with thick, long hair, insulation might not be a deciding factor. Typically,
dogs with shorter hair need thicker insulated coats
for winter activities. Insulation can be identified as fleece, down, sherpa, or thick layers of a different material. Most brands will give a product description that lists what materials the coat is made up of. Many of the materials are safe to machine wash, and work just fine for your pup.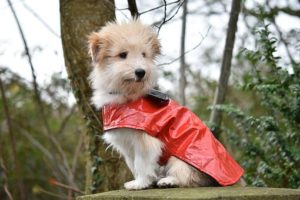 Safety Features
If you are walking or
riding a bike
at nighttime, you usually want to be visible so that you don't get hit by a car or end up injured by accident, you should want the same for your pup. Safety features can include breakaway fasteners, bright colors, reflective stripes, and more. Breakaway fasteners are a big safety feature that should not be overlooked when purchasing a jacket for your pup.
If you take your dog hiking
and they wander off and become stuck on something, you want them to have the chance to break free so they don't injure themselves trying to escape. Breakaway fasteners can be described as buckles or clips. Velcro is an okay option but usually does not release as fast as buckles. Any jacket that requires you to fasten it like a belt (putting a prong through a hole) or tie it is not a quick release feature for your pup.
Bright colors can help your pup be more visible to you and others. Not all people are dog lovers and it's better that they can spot your dog coming towards them rather than them being unprepared to be greeted by your dog. The bright colors can also help when the sun goes down or if you are in an area of thick foliage. Some bright colors can be neon pink, green, yellow, or orange. Any color darker than those is not considered bright enough to be a safety feature. Coats can also have a reflective stripe attached to them, if a brand does not carry a dog coat that has that feature, you can find reflective stripes on Amazon that you can attach yourself. Making sure that your pup is visible at all times and that they have the ability to escape when they become stuck, are features that should not be overlooked when purchasing a coat for your pup. Knowing your pup is wearing a coat that is safe for them can help both of you enjoy your outdoor adventures a bit more.
Machine-Washable
Those are words that most pet owners desire when looking at dog products. If you can toss your pup's coat into the wash, that makes life so much easier. Most companies will have this information available in their product details, if they don't then emailing or calling customer service can help solve the problem. Many products will state that they are machine-washable but that they should not be put in the dryer. When washing the product, note whether or not it states the temperature the product should be washed on or if it needs to be washed by itself. Usually they will state that the product needs to be laid flat to dry, hung, or line-dried. There are a few products that will say it is okay to tumble-dry them on a
low heat
. Most companies do not want the product
dried in a dryer
because it can alter the size and shape of the product. If the washing instructions do not specify how to dry the product, line drying is a safe default method.
Waterproofing
Unless you live in an area where it never rains, snows, or precipitates of any form, then you don't need to worry about whether or not the dog jacket is waterproof. When looking at a jacket for your pup, waterproof is always a good feature to have. Waterproof means that no matter how hard it's raining or snowing, your pup will be warm and dry, not soaked to the bone. If a coat does not state in the product details that it is waterproof, then it probably does not have that feature. Many people are confused about the difference between water-resistant and water-proof. As mentioned previously, if a dog jacket is waterproof, your pup will be kept dry. If a dog jacket states that it is water-resistant, this means that the product can ward off water for a short amount of time but ultimately cannot keep your pup dry. A water-resistant coat might be a good idea for at-home activities or short walks. A waterproof coat is exactly what you need for camping or long outdoor activities such as hiking.
Convenience
Let's face it, some excellent dog coats are simply not convenient for you or your pup. Sometimes a dog coat might have outstanding features but can be a pain to fasten or store. If the product description sounds too tedious for you and your pup, move on to the next option. There are dog coats and jackets that are easy to fasten and store. Some products come with their own bag to store the coat in, others may fold up in such a manner that makes storing them simple. If you are worried about the storage or fastening process, calling or emailing customer service can help answer those questions. Occasionally, searching the product name on youtube can lead to a video showing you how to fasten or store the product in an easy manner.
Weight
Have you ever tried on a coat or jacket that feels like chainmail when you wear it? I'm sure you didn't enjoy that feeling, and neither would your pup. If a dog coat is described as having multiple layers of heavy material, then it probably does not function well for your pup. Coats and jackets that are lightweight but remain waterproof and warm and the ones that you will want to research for your pup. Heavier jackets might sound like they will work, but they can end up restricting movement for your dog or lack protection against snow and rain. Most coats and jackets provide information about the weight of the product in the product details. If the weight is not noted, either move on or call customer service to find out more about the product. Reading consumer reviews can also help with finding out whether or not the product is lightweight enough.
Reversible
Some dog coats and jackets feature a bonus detail, reversible. Whether or not a coat or jacket is reversible is not a major deciding factor but if that's something you are looking for specifically then there are jackets that can do that. If a coat or jacket is reversible, this means it can be worn with the inside out or the outside in, there is not a specific side the jacket or coat should be worn on. This can come in handy if your pup tends to be a bit messy or you just want to have it worn a bit longer before washing it. If a coat or jacket is reversible, this will be noted in the product details.
Our Top 5
Ruffwear Powder Hound:
Ruffwear is a big name in the dog coat market, it should be as they have a-lot of products to offer for your pup. Their products range from outdoor coats to life vests and camping gear. The Powder Hound is available in three different colors and features a size selector on the brand's website to assist you in choosing the best size for your pup. Size options range from XXSmall to XLarge. Key features noted about the product include weather resistant fabric, zippered closure, reflective trim, and machine washable. Many customers praise this product for it's warmth and fit. The Powder Hound is available for $67.50 on the company website, pricing does vary depending on size.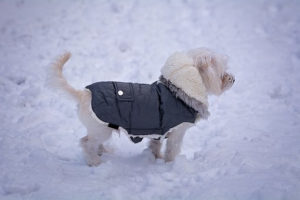 Hurtta Summit Parka:
Hurtta is just as well-known as Ruffwear and also features a wide range of products for your pup. The Summit Parka is available in four different colors, mud, raven, cherry, and orange. The company website offers you an option of selecting what breed your dog is in order to help recommend select sizes that would fit your pup based off of their breed. If you do not know the breed of your dog, they do have a measurement guideline that you can follow. The measurement guideline describes where you should measure on your pup and features a short video demonstration of measuring. Key features that are mentioned for this product are reflectors, waterproof material, comfortable fit, adjustable back length as well as belt and collar, a recloseable opening for a harness and attachment loops, an integrated harness for small sizes, and machine washable. The best information for this product can be found on the company site, but if you live in the U.S., then the product has to be ordered through Amazon. The Summit Parka is available for $71.51 on Amazon, pricing does vary depending on your dog's size.
Petcee Waterproof Fleece Lined Reflective Jacket:
Petcee is the least expensive option out of our top five choices. This jacket is available in six different colors and sizes range from an XS to a 5XL. XL measurements are given as an example to help determine what size your pup would be. Amazon provides a picture of a sizing chart in order to help with determining the correct size. Key features of this jacket include fleece lined, waterproof and windproof, reversible, opening for a collar or leash, and reflective trim. The Petcee jacket is available for $15.99 on Amazon, pricing varies depending on the size.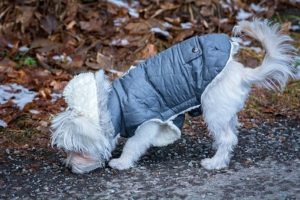 Non-stop Primaloft Long Distance Jacket:
This Europe-based company is not as well-known as the above mentioned brands but still belongs in the top five because of it's Primaloft Long Distance Jacket. The Primaloft Long Distance Jacket is available in only one color, light blue, and ranges from a S to XL. There is a sizing guide on the company website in order to help determine the right size for your pup. This jacket boasts warmth, packability, insulated straps, comfort and protection. It is also noted that this particular jacket has been picked as a best choice for mushers that have taken part in the Iditarod and Finnmarksløpet. If this jacket works for mushers, it will definitely be a good fit for you and your pup's outdoor adventures. The jacket is available for $79.99 on the company website and does not vary depending on the size of your pup.
Canina Styles Down Puffer Coat:
If you want your pup to be a bit more stylish while staying warm, Canine Styles Down Puffer Coat is an excellent option. This is the priciest coat out of our top five but it has some very appealing features. This coat is available in brown, cranberry, hot pink, navy, orange, loden, and black. There is also a sports version that is available in navy, orange, and turquoise. There is a sizing chart and a how to guide in order to help determine the right size for your pup. Key features of the coat include snow-repellent, water-resistant, velcro neck and chest closures, and 100% duck down. These coats are machine washable and can be fluff dried. This coat may not be ideal for hiking or camping, but it can be a perfect fit for playing in the yard or neighborhood walks. Pricing varies on the size of your pup, the coats are available on the company website.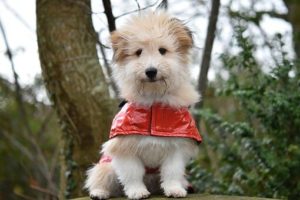 A few thoughts to consider about dog coats:
There are some last thoughts to consider when buying a coat for your pup. One thing to keep in mind is that it might not be necessary to buy a jacket for your dog if you do not frequent or live in a place where the temperature does not drop below 45 F. If where you are living is consistently above 45 F year-round, then perhaps a lighter jacket that is not fleece-lined would be ideal. Coats and jackets for dogs are necessary when the temperature is between 45 and 20 F. When the temperature reaches 20 F dogs can be subjected to frostbite or hypothermia. Common signs of it being too cold for your pup can be shivering, consistent whining, or lethargy.
Some pet owners question how to get their pup comfortable with wearing a coat. Just like anything else, start having your pup adjust to it when they are younger. If you adopted an older dog, treat-training is another excellent method to get them used to wearing a coat. Training your pup to wear a coat is a process, not an overnight achievement. Begin with putting the coat on your pup for short, brief periods of time around the house or in the backyard. Make sure you offer praise and treats while your pup is wearing the coat, so they can associate the coat as a good thing. Slowly extend the length of time your pup wears the coat and soon they will be comfortable wearing it all day or even sleeping in it!