We may earn commission from qualifying purchases at no extra cost to you.
Learn more
Winter is coming – and as a dog owner, you want to make sure your pet can survive the season, and all the trials and tribulations that may come with it. Winter can be a particularly difficult time for dogs, especially those who are unacclimated to colder weather. In cases of extremely cold weather, staying outdoors for a long period of time can be potentially dangerous to your precious pup; therefore, finding a way to keep your dog safe and warm without compromising its happiness and comfort may seem like a challenge. However, with the advent of insulated dog houses, your furry friend can experience the luxury of lounging in their own humble abode while still being protected from the harsh winter weather. By thoroughly researching the opinions of dog owners and experts alike, we have compiled a list of the top 10 best dog houses for the winter season:
Top 10 Best Dog Houses for Winter             
Petmate – Indigo Dog House with Microban
Overview: The Petmate Indigo Dog House is an igloo shaped structure that comes in three different sizes. Perfect for all kinds of weather, this dog house's thick walls and durable insulation are particularly effective at keeping out the winter chill. The house comes with a ventilated roof that allows for fresh air circulation, and its extended doorway provides adequate protection from rain, wind, and snow. But the Indigo Dog House's most unique feature is its use of Microban technology, which fights against the growth of microbes and other organisms that may cause staining and odor damage to the house. This dog house is also an Amazon bestseller, meaning you can order it online with ease, and it is highly recommended by dog lovers.
 Pros:
Igloo-shaped
Available in 3 different sizes
Built from highly durable materials
Microban technology can prevent stain and mildew damage
Extended doorway for rain and wind protection
 Cons:
Some customers noted the arrival of damaged parts. As with all things you order online, be sure to check for shipping damage.
Sizes may not be big enough for the largest dog breeds.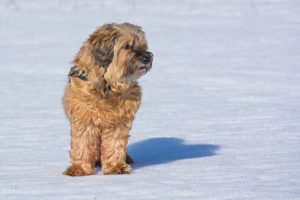 ASL Solutions – Insulated Dog Palace & Floor Heater
Overview: Does your dog have a bit of a regal attitude? Do they like being treated like royalty? Then the ASL Solutions Insulated Dog Palace with heated floors is the perfect house to make your dog feel like a king or queen. As the name suggests, this dog home comes with an electric floor heater built into the house itself. However, the house also notably features a self-closing door and polystyrene insulation to trap heat inside, ensuring that your dog stays warm and cozy even in the coldest temperatures. This dog house is also Easy to clean; with slightly angled floors and a drain hole, you can rinse the house's interior with warm water to rid of any dirt or debris. Finally, if your dog is prone to bouts of anxiety, the house also has a see-through window, so your dog will be aware of its surroundings. Though a bit pricy, the state of the art features are worth the investment.
Pros:
2-4 inches of polystyrene foam for insulation
Floor is raised and heated
Self-closing door and see-through window designed for dog's comfort
 Cons:
Expensive
Only comes in one size
Pets Imperial – Extra Large Insulated Wooden Norfolk Dog Kennel
Overview: As the name suggests, the Pets Imperial Insulated Wooden Norfolk Dog Kennel is a house made for larger dogs in mind. This wooden dog house is sturdy and professionally insulated, containing a layer of timber, Styrofoam, and plywood to lock in warmth. Though wooden dog houses are more expensive, and this model is no exception, the Norfolk boasts durability, claiming to last for years through rain, wind, snow, and storms. While this may be the case, Pets Imperial hasn't claimed that this house is waterproof – therefore, you may want to store this house in your garage, or paint on your own weather resistant varnish to ensure its longevity. Either way, your pet will be well-protected in this behemoth bungalow.
Pros:
Built to withstand even the harshest winter conditions – professionally insulated.
Made from durable and long-lasting materials
Thick walls for extra insulation
Removable floor for easy cleaning
Roof is openable for ventilation
Cons:
Doesn't explicitly claim whether or not the wood is water-resistant
Only comes in one size, meaning that this isn't for smaller dogs
One of the pricier dog houses on the list. 
Suncast – DH350 Dog House
 Overview: This dog house can be assembled in a snap – literally! The Suncast DH350 Dog House is notable for being easy to put together with no tools required, as each part can be snapped together and locked into place. Sounds too good to be true? Don't worry – despite it's effortless assembly, the pieces to this dog house lock together so tightly, they provide a virtually leak-proof structure. The DH350 is also advantageous because it is made from durable resin that can tolerate exceptionally cold temperatures. As an added surprise, the house comes with vinyl door flaps that you can personalize with your pet's name.
 Pros:
Constructed out of durable plastic
Removable roof, which provides easy access for cleaning or quality checks
Easy to assemble – there is no need for any tools
Crowned floor for water resistance
Vinyl door flaps that can be customized
Very affordable
 Cons:
Since the floor is close to the ground, you may want to elevate it for added insulation
You will need to add a blanket, bedding, or a heating pad to the floor to improve the insulation
Only comes in one size. It is a bit on the smaller side.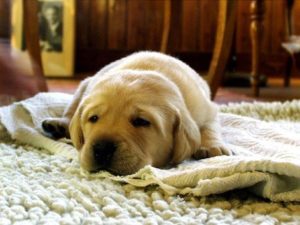 ASL Solutions – DP Hunter Dog House with Floor Heater
 Overview: ASL Solutions makes a swift return to our list with the DP Hunter Dog House. A slightly cheaper alternative to the Insulated Dog Palace, this house provides exceptional protection and warmth from the coldest temperatures. The DP Hunter Dog House comes with an additional floor heater; however, EPS foam lines the roof and walls, and the house is made from weather resistant polystyrene, which allows for remarkable insulation. Other features – such as a raised floor, self-closing door, built-in thermostat, and window panels – all make this a great buy. If you aren't willing to pay $300+ for the Dog Palace but still want a house with comparable features at half the price, this may be a great option.
 Pros:
Amazing insulation – walls and roof are wrapped in premium EPS foam; exterior made from weather-resistant polystyrene.
Self-closing door comes with its own window, so your dog can look outside
Built-in thermostat
Comes with an additional 30-watt heater
 Cons:
Only comes in one size – Can house dogs up to 25 pounds, though reviews suggest that they can work for dogs slightly above.
Only for smaller dog breeds.
Confidence Pet – Waterproof Outdoor Dog Kennel
Overview: This simple-looking dog house is tougher than it appears to be. Made from durable, rot-resistant, molded plastic, the Confidence Pet Waterproof Outdoor Kennel is sturdy, but also comfortable and easy to assemble, aspects that give both dogs and their owners peace of mind. This model comes in three different sizes, and are spacious enough to provide dogs with plenty of room – the largest size can easily fit two big dogs. Though the plastic is waterproof and easy to clean, it does need the help of a fleece blanket or thermal heating pad to give it an insulation boost on colder days. However, if you are looking for a more durable take on a more traditional dog house, this might be the best option for you.
Pros:
Spacious interior, giving your dog plenty of room to lounge and stand comfortably
Built with durable, molded plastic that ensures its sturdiness and weather-resistant capabilities
Comes in three different sizes
Easy to clean
Cons:
Blankets, heating pads, and/or a dog heater may be needed to add extra insulation during the coldest winter days
Has an open doorway, meaning the house is more exposed to wind, rain, and snow. May need a tarp or blanket to put over the doorway for added protection
No windows, and only ventilation source is the doorway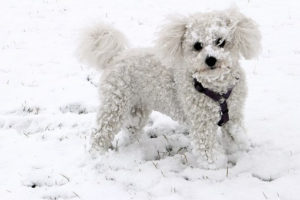 Petsfit – Outdoor Dog House
 Overview: When conjuring up the image of a conventional dog home, something like the Petsfit Outdoor Dog House is probably what comes to mind. This dog house does not come with insulated walls, but it does have raised flooring and comes installed with door flaps that keep out cold drafts – a feature that many dog houses lack. Another interesting aspect of this dog house is the roof. Not only is the roof extended further from the door, prohibiting rain from seeping into the interior of the house, but the roof itself is hinged, which makes for easy cleanup. This house also comes with a number of great characteristics, such as walls made from kiln-dried cedar, waterproof roofing, adjustable feet, and windows. Though this dog house appears to work best for mild winter conditions, users have reported that it works well in very cold weather.
 Pros:
Roof is hinged, allowing for easy access to cleanup or to check for damage.
Roof extends past the door and is waterproof, making it weather resistant
Elevated and removable flooring
Comes with door flaps
Available in four sizes – extra-small, small, medium, and large
30-day warranty
 Cons:
Does not come with adequate thermal insulation
Floor slats may have small gaps which allow air to pass through – therefore, you may have to place a blanket or bedding on the floor for added insulation.
Slightly more expensive than other dog houses with a similar design
Precision Pet – Outback Log Exterior Dog House
Overview: The Precision Pet Outback Log Exterior Dog House has a sleek, cabin-like design that makes it appealing to the eye. But beyond its aesthetics, the Outback is made from durable natural cedar, and is encased in a weather resistant varnish. While most dog homes made out of wood are on the more expensive side, the Outback is surprisingly affordable for its quality. The house's off-center, elevated flooring protects your pup against cold drafts and water damage. Despite this, the doorway does not have extra rain protection, and the wood may need extra treatment to be able to withstand precipitation beyond medium rainfall. Still, the Outback is a great option for year-round dog housing, especially if your winters are more mild – and it's pretty to boot!
Pros:
Made from wood
Weather resistant coating
Slanted roofing and floors
Affordable
Great for larger dogs
Comes with 12-months of guaranteed protection
Cons:
Doorway does not come with adequate rain protection
May need to add a separate coating, such as a polyurethane coating, to improve the lifespan of the paneling, particularly if you see heavy rain or snow during the winter 
Petmate – Barnhome III Dog House
 Overview: Lauded as a dog home that is easily transferrable, the Petmate Barnhome III Dog House is an ideal dog home for owners who frequently take their dogs on long outings. This house is perfect for pets and owners who do a lot of travelling, trekking, camping, and hiking. The Barnhome III is encased in highly durable, rot resistant PVC, which makes it a good, temporary shelter in bad weather conditions. The house has a raised floor for extra insulation, channels that prevent water from flooding the entrance, and a ventilated rear for air circulation. Though it comes in four different sizes, this house is more catered to small and medium sized dogs. Overall, this dog house is a wonderful option for people and pets who are on-the-go.
 Pros:
Easy to travel with
Highly durable design makes it weather resistant
Easy to clean
Ventilated rear
Well-insulated walls and flooring
Comes in four different sizes
 Cons:
Since this house comes with an open doorway, you may have to purchase separate door flap for added insulation.
Despite the variety in sizing, the house is more suited for small and medium dog breeds.
Pet Zone – Cozy Cottage Durable Plastic Dog House
Overview: Almost a hybrid between the ASL Insulated Dog Palace and other durable, plastic dog houses, the Pet Zone Cozy Cottage Durable Plastic Dog House is both compact and affordable. The most unique feature this house has to offer is its double walls, which trap cold air between the exterior and interior walls, allowing for some insulation. However, unlike the Dog Palace's highly insulated walls, the Cozy Cottage does not have any foam or other insulating materials. Nevertheless, this house is sure to provide ample protection from the elements while also being easy-to-maintain for pet owners.
 Pros:
Double-walled for durability and insulation
Made from hard, stable plastic
Roof can be removed, making it easy to clean
Portable
 Cons:
Cannot house dogs over 175 pounds
Can be easily movable, which is not ideal for climates that feature strong winds, or dogs who are more rowdy.
How much is too Cold for Dogs in Winter?
Generally, dogs can withstand colder temperatures longer and better than humans can. However, once the temperature outside hits 45 degrees Fahrenheit or below, your dog is more likely to feel the effects of the weather. Signs that your dog is too cold can include shivering, change in skin color, lethargy, frostbites, and burrowing (a sign that they are trying to find a warm place to hide). Temperatures 30 degrees Fahrenheit and below can potentially be dangerous for your dog, and can lead to dog hypothermia. Furthermore, weather conditions like rain, sleet, strong winds, and snow can exacerbate the feeling of being cold. When you and your dog find yourselves outside in these conditions, you should seek shelter immediately.
With this being said, however, your dog's ability to handle cold weather varies based on a number of different factors, including coat type, coat color, body composition, body fat, age, health, and conditioning for certain environments. Adult dogs with thicker and double layer coats, darker fur, larger bodies, and more fat are less susceptible to colder weather than dogs without these traits. Additionally, dogs who are used to colder climates may not be as affected by winter weather than dogs who are used to warmer climates.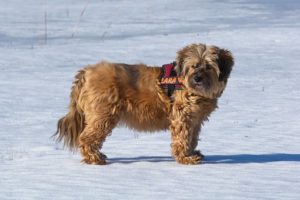 Insulated vs Regular Dog Houses
If you are unfamiliar with dog houses built specifically for winter conditions, you may be wondering how they differ from your typical dog house. One of the key differences lies in thermal insulation. Insulation is a layer of protection built in your dog's house that isolates the inside of the house from the outside temperature. Since a dog's body temperature naturally increases or decreases in response to their surroundings, thermal insulation can help prevent cold, external air from affecting the inside temperature of the home. Insulation can come in different forms, but all insulating components are made from thick materials such as polyurethane, polystyrene, fiberglass, cellulose, and mineral wool. Regardless, any form of insulation can be crucial to all winter dog homes.
Alongside thermal insulation, dog homes built for cold conditions usually have other mechanisms in place to prevent cold air from entering the home. This includes, but is not limited to: extended doorways with flaps to keep out cold drafts, double walls to increase the distance between the inner walls and the outer wall, well-protected and strong walls to prevent cold air from seeping through, and raised flooring to prevent the internal floors from being effected by the cold ground.
In contrast, regular dog houses tend to not have all of the above characteristics, particularly insulation. While some regular dog houses can be perfect for year-round weather, or mild winters, the best dog houses have these additional elements that make them more suitable to winter conditions.
Can I use a heater in my dog house?
Dog heaters can be excellent additions to your dog's home, and can provide your pup with extra warmth. Heaters made for dog houses are unique in that they are encased in a protective housing and have automated temperature settings, which can protect your dog's hair and skin from getting burned. Heaters can be installed either on the inside or outside a regular dog home, provided that all safety instructions are followed accordingly. Heaters used in human homes do not have the same automated settings that dog heaters do – therefore, you should not use a human heater to heat up your dog's home, since it could cause your dog to suffocate.
How to build a DIY dog house for winter?
If you consider yourself crafty, you may want to take on the challenge of building your own DIY winter dog house. While there are many great options for winter dog homes on the market, building your own can give you a chance to design a home catered to your canine companion. Before you build your dog house, there are a few things you should keep in mind. Mainly, do not pick a dog house that will be too difficult to build. While it may be difficult to pass up on building the biggest and best dog house you can find, it is important that you find a house that both meets your dog's needs, and is within your skillset.
To begin constructing your DIY dog house, gather all of the tools you will need beforehand. If you are not familiar with construction, you may also want a good set of blueprints to reference as you build. Keep in mind that you should always measure twice and cut once for accuracy.
For the house's structure, try selecting thick, high quality, rot resistant and insect resistant woods. The floors should also be made from wood or brick, and should be raised to trap the cold air between the ground and the floor of the house. When selecting a style of house, make sure that it has a strong roof, and wrap the roof, floor, and walls in insulating materials to improve heat retention. Additionally, make sure to seal the edges where the walls meet to prevent cold air from entering. 
With all of the strategic ways in which insulated dog houses keep cold air out, it's still important to make sure that your dog is getting fresh air. Therefore, the front door should have a flap, and small holes should be drilled in certain spots of the house to allow for fresh air circulation. If you plan on keeping your dog's house outdoors, make sure to line the house with waterproof materials. Rot resistant wood also helps your dog house withstand snowy and rainy conditions.
While you finish building your house, always double check the structure before allowing your dog to enter. There is always a chance that a nail that is out of place, or a sharp object left inside the house that may hurt your dog.
Dog care tips for winter
As the weather becomes colder, your dog's needs may change. For instance, cold weather causes your dog to burn more calories. Therefore, your dog needs to be fed more frequently to make up for the calories burned. Additionally,
extra equipment such as heated dog beds,
thermal kennel pads, heated blankets, and heated dog bowls can be used to keep your dog warm and comfortable when the temperatures outside are extremely cold.
Extra Equipment for Winter Dog Houses
As you go through our list of the top 10 best dog houses for winter, you may notice some houses have suggested supplemental equipment to enhance the dog home's preexisting design. This extra equipment can improve the quality of your dog's house by adding additional warmth and insulation, providing your dog with optimal heat, comfort, and coziness:
Dog House Furnaces
Dog house furnaces are easy to install, and are a quick solution for those looking to give any dog house some extra heat; they are particularly useful for days that are extremely cold and damp. Furnaces are moderately pricy and require manual installation, but the investment is worth it, as they usually last for a long time.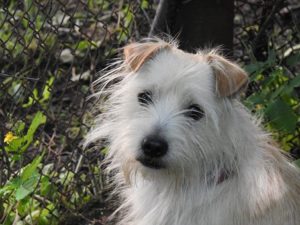 Thermal Pads
Thermal pads are heated mats that can serve in place of your dog's bed, or rest underneath your dog's bed to provide warmth. Heating pads can also increase the distance between your dog and the floor. Thermal pads can come in a variety of styles, the main distinction being the mechanism that causes the pad to heat up. Most heating pads need to be plugged in, while other pads use self-heating and heat-retention materials, which use your dog's body heat to generate warmth. If your dog is prone to chewing, a self-heating pad might be the best option. However, you can also thread the electric cord through a PVC pipe, or use a conduit to keep the cord protected.
Heated Dog Bowls
Naturally, water freezes in cold weather, and the water in your dog's bowl is no exception. Hydration is important to your dog's health, so a heated dog bowl can ensure that your dog will drink plenty of water. Before buying a heated dog bowl, check to see that its temperature limits are suitable for regional climate. Dog bowls that remain intact at below 20 degrees Fahrenheit are preferred.
Fleece Blankets
Fleece blankets are an easy and cheap way to keep your dog warm. You can spread blankets out on the floor of your dog home, or pile them on top of the dog bed to give the house some added insulation. They are easy to wash, since you can throw them in with your regular laundry, and are fairly inexpensive, meaning you can buy multiple at one time.
What to look for when buying a winter dog house? The Buying Guide
When buying the perfect winter dog home for your pet, there are a number of different factors you may want to consider. For instance, dog homes can come in a variety of different shapes and sizes, and these need to be taken into consideration when deciding which house would provide your pet with the most comfort and warmth. You don't want to buy a house that is too small for your dog, because they wouldn't have the appropriate amount of space to lie down or stand up comfortably. However, if a dog has too much space, they will lose heat faster. Therefore, you should choose a dog house that gives your pet just enough room to stand, turn around, and lie down.
As previously mentioned, insulation is an important aspect to consider when purchasing a dog house. Thick, insulated walls, and elevated floors are best at blocking cold air from entering the house. Igloo type dog houses are the most ideal, since their walls are already thicker than most standard dog houses.
Another important feature for all dog homes is its ability to resist water damage. Waterproofing dog houses is especially important in the wintertime, since snow can pile up on the roof of the house and melt. Rain and sleet can also contribute to potential water damage. Therefore, the roof of your dog house should be reinforced with a waterproof lining to ensure longevity, and to keep your dog dry and warm.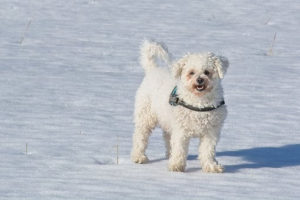 Additional aspects to look for in a dog house are a closable door, durability, and ease when it comes to setting up and maintaining the house. Closable doors are especially important for dog houses that are kept outside, and thick curtains or flaps are ideal for keeping cold air from seeping in from the front door. However, if possible, it is best to store your dog house somewhere inside your home, such as a garage, to guarantee that your dog won't be too exposed to the elements.
Durability is another vital characteristic for dog houses placed outdoors. When cold weather is combined with other environmental factors like snow, sleet, storms, and strong winds, dog houses are more likely to deteriorate. Therefore, winter dog houses need to be built to withstand harsh weather conditions. Be sure to check your dog house weekly to make sure it is in good shape.
Do small dogs need extra protection in winter?
Typically, smaller dogs are not as well-equipped to handle colder conditions than larger dogs. This is because small dogs tend to have less overall body fat and a thinner layer of muscle covering their bodies, which doesn't provide much insulation. Additionally, because of their size, smaller dogs lose heat faster than larger dogs, since larger dogs can conserve more energy. Moreover,
smaller dogs may lack a thick or double coat,
meaning that they are extremely vulnerable to the cold. Therefore,
small and toy dog breeds
tend to need extra protection during the winter months. Fleece blankets and proper outerwear (coats, hats, scarves, etc.) can provide your small dog the extra insulation it needs to stay warm and toasty, even in the dead of winter.