We may earn commission from qualifying purchases at no extra cost to you.
Learn more
If you're a dog owner and want to give your pet the ultimate freedom of going in and outside as they please, you're probably considering installing a dog door. With so many dog doors to choose from though, picking one specific to your dog can be overwhelming. Luckily there are a few easy steps you can take to decide the perfect dog door to purchase!
Measuring Your Dog Door
The main components of a dog door
are its flap size (height and width), the installation height, and the rise. The flap size is the passage opening, i.e. the measurement of the inside frame. The rise is the step over height from the ground whereas the installation height is the height the door is mounted at. You'll want a flap size large enough for your dog to comfortably walk through and the lowest possible step over height specific to your dog's height and age. The entire height of the pet door is the combined height of the step over, flap, and door frame.
So what is the best way to take these measurements? This might sound like a daunting process, but with the following tips and tricks, measuring your dog will be a breeze! You'll want the following for an accurate measurement: a bare wall, a ruler or measuring tape, a pencil or tape, a carpenter's or bubble level, some books or boxes, and ideally a partner to assist you.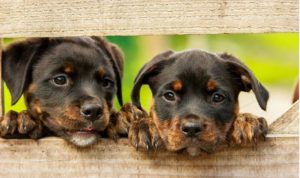 Step 1: Measuring the Height of Your Dog
Position your dog against the wall with their feet squared and head at their natural standing height.
Place your level on top of your dog's shoulder and adjust the level until the bubble inside is centered.
With the level still on top of your dog's shoulder, mark the wall with your pencil right under the level.
Now measure the distance from the floor to your pencil mark with your ruler or measuring tape.
Step 2: Measuring the Width of Your Dog
Gather some books or boxes and block off about half of a door, leaving however much room you estimate your dog's width to be.
Call your dog over and have them walk through the door.
Adjust the amount of room left for your dog if there is still lots of space between the books/boxes and your dog. Your dog should be able to move comfortably through the door.
Measure the distance from the far side of the door to the side of the books/boxes closest to where your dog went through the door.
Step 3: Measuring the Step Over of Your Door
Your step over height should be as low as possible so your dog can comfortably walk over it as they get older. While steps are usually at least 3", the step over height should never be more than 1/3 of your dog's height. Generally, young or tall dogs are able to clear a door with a steeper rise of 7-9" while older or shorter dogs often prefer a rise of 3-5".
Step 4: Measuring the Flap
You'll want to add an inch or two to your dog's height and an inch or two to your dog's width when deciding what size flap to purchase for your door. The extra room in either direction will ensure your dog will be safe every time they go through the door as dogs have a tendency to run through doors and prevent your pet's collar from getting caught on the top of the flap.
Step 5: Measuring the Installation Height of Your Door
Now that you have estimates of your step over and flap size, you'll want to consider the full height of your dog door. To estimate a comfortable installation height, repeat step 1 of measuring your dog's height, but now make a mark at the lowest point on your dog's chest. Measure the distance from the floor to this mark and subtract your measured step over height. This will give you an estimate of how far off the ground your door frame should be installed. The step over measures just the lip of the dog door frame, so your installation height and step over combined should not exceed the measurement of your dog's lowest point.
These steps will ensure an accurate measurement of your pet's dimensions so you can purchase a dog door that they can comfortably use for the rest of their life! Now that you have these measurements, let's take a look at the different sizes and types of dog doors available to you.
Dog Door Sizing
When choosing which size dog door to purchase, you'll want to consider your dog's height, weight, as well as breed and build. Below are a few general guidelines to follow when selecting a dog door specific to your pet! Note that larger dog doors are more expensive than smaller doors because of the additional materials and manufacturing larger doors require. If your dog is not finished growing or in between suggested sizes, consider purchasing the larger or the two dog door sizes. A properly sized door will last your pet much longer! Typical dimensions of a dog door by size are 6"L x 12"H (small), 8"L x 16"H (medium), 11"L x 19"H (large), and 15"L x 28"H (extra-large).
Dog Door Sizes by Weight:
Small: dogs up to 20 lbs
Medium: dogs up to 40 lbs
Large: dogs up to 100 lbs
Extra-large: dogs 200 lbs and over
Dog Door Sizes by Height: 
Small: dogs up to 11 inches tall
Medium: dogs up to 15 inches tall
Large: dogs up to 18 inches tall
Extra-large: dogs up to 27 inches tall
Dog Door Sizes by Breed
Small: Chihuahua, Dachshund, Miniature Pinscher, Maltese, Miniature Poodle, Miniature
Terrier, Pomeranian, (and cats)
Medium: Terrier, Beagle, Sheltie, Spaniel, Corgi, Basset Hound, Miniature Schnauzer,
Pug, Shiba Inu
Large: Golden Retriever, Siberian Husky, German Shepherd, Labrador, Greyhound, Rottweiler,
Bulldog, Pitbull, Collie, Dalmatian, Chow Chow, Poodle, Schnauzer
Extra-Large: Alaskan Malamute, Great Dane, Great Pyreenes, St. Bernard, Newfoundland,
Mastiff, Bernese Mountain Dog, Sheepdog, Bloodhound, Boxer, Doberman, Greyhound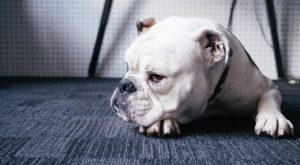 Why are accurate pet measurements so important? 
By purchasing a pet door specific to your pet(s), your pets will be able to use the door comfortably for years to come. It also makes maintenance of the door easier for pet owners since oftentimes owner only need to replace flaps of well-considered pet doors rather than replacing the entire door assembly. Moreover, every brand uses different measurements for their pet door and flap sizes so you'll want to check the exact specifications of each dog door you're considering to ensure a proper fit.
Ok, so what brand should I buy?
Now that you know how to properly measure your dog, you may be wondering how to pick a dog door brand. When comparing dog door brands, you'll want to consider your dog's size but also the type of dog door you need. Do you live somewhere cold where you'll need a door with insulation? Do you want your pet to be able to use the door while you're away at work? Here are a few of the best dog doors on the market based on various needs you might have.
BarksBar Plastic Dog Door – Most Affordable: With essential features like a self-locking panel and magnetic flap closure, this dog door is one of the most affordable on the market. Its durable aluminum lining ensures this unit will last you for a long time. The locking slide panel is removable and its flexible vinyl flap provides great insulation.
PetSafe's Freedom Sliding Glass Door – Best for Patio Doors: While this door is not the most energy efficient or weather resistant, it is extremely easy to install with no cutting or professional help needed. It's also offered in several different sizes, which is rare for sliding glass doors. This sliding glass door even comes with a magnetic flap and latch kit.
Ideal Pet Ruff-Weather Door – Most Energy Efficient: This top-rated door comes in various sizes and offers a dual flap design that keeps draft out and heat in. Not only is structural foam frame strong and secure, but Ideal Pet offers a limited lifetime warranty!
SureFlap Pet Door – Most High Tech: This microchip-detecting door can be programmed with up to 32 different functions ranging from letting approved dogs into your home to self-locking. This door is compatible with all major microchips and even comes with a collar tag for your pet. The door is compatible with wall-installation (with the additional purchase of the SureFlap Tunnel Extender) and uses flashing lights to warn you when its battery is low. The SureFlap is only available in a smaller size.
High Tech Pet Electric Door – Best Combo of High Tech and Insulation: Many other high-tech doors are not very energy efficient, but this door boasts superior insultation with an air-tight seal and a door made of bulletproof, military-grade resin. as well as automatic locking and directional sensing. This programmable door includes an ultrasonic waterproof collar and features automatic locking and directional sensing amongst other safety features just as closing under gravity power only.
PetSafe Extreme Weather Door – Best-Insulated: This door's 3 flap system claims to provide over three times the insulation of single-flap doors. While the panel is a manual snap on, it is available in multiple sizes!
Should I buy a glass sliding door or wooden door?
There are many factors you should consider when choosing what type of pet door to purchase. A major factor in picking your dog door should be where you plan to install it. Dog doors can be installed in wooden, steel, French, screen, or sliding glass doors or a separate wall of your house. Installing a dog door on a wall requires more effort but is a great option for those who are concerned with aesthetics or security. If you choose to install a dog door in a wall, you'll want to make sure you seal up any leftover spacing between your dog door and the hole in the wall. In addition to door location, you'll want to consider the climate of where you live for choosing a dog door with panels and openings appropriate for your climate. You can purchase dog doors with a single or double flap or with weather and energy efficient flaps.
You'll also want to consider how much supervision you're willing to put in. Busy pet owners might consider electronic dog doors that allow your pets to come and go as you please.
Another factor to consider is the rise that is most comfortable for your dog. Metal or wood doors often have adjustable step overs or multiply heights of steps, while sliding glass doors usually have a fixed rise. If you opt for a sliding glass door, make sure to select one that will still be comfortable for your dog as it grows and ages as you will not be able to make any adjustment to a sliding glass door. Moreover, the quality of dog door is a major factor in price. Larger, high-quality doors such as any that maximize energy efficiency will cost more than economical options such as wooden doors. Aluminum or plastic is a popular material as aluminum products generally have long lifetimes and premium plastics can be quite durable.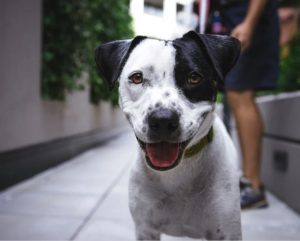 Other Things to Keep in Mind When Choosing a Dog Door
How Big Will My Dog Get?
Before purchasing a dog door, you'll want to ensure you pick a dog door based on your pet's breed. Measuring your dog for a door is an essential step, but you'll also need to consider whether your dog will grow much larger. A dog that will grow much taller will require a "high-aspect-ratio" pet door with a taller frame to ensure your pet will fit after growing. Similarly, if you expect your dog to grow wider, you'll want the width of your pet door and flap to allow for growth. Considering the final size of your dog will help you purchase a door that will last your dog through its full growing phase. If you're expecting your dog to grow taller, look for brands who offer a "tall" option for each size.
Pet Weight:
Your pet's weight is an important factor in what size dog door to purchase, but it's also important when considering the durability your dog door will need. While dog flags might work well for smaller dogs, a larger dog may require an electronic or electromagnetic dog door. Your pet's weight should also be a consideration in choosing the right frame for your dog door. Plastic frames work well for smaller dogs but can be damaged by larger dogs or dogs who have a tendency to chew. If this sounds like your pup, consider a dog door with a durable metal frame.
Security:
You may want to consider a dog door that locks or is only activated by a sensor on your dog's collar. This can prevent unwanted animals such as raccoons from going through your door and into your home, especially if your dog door is large enough for various animals to fit through. Children are another reason to consider purchasing a dog door with a locking mechanism. To prevent any accidents with young children who can access dog doors, pet owners with children often opt for dog doors with a magnetic trigger on their pet's collar.
Multiple Pet Home:
If you have multiple pets, ensure your pet door's step over height and flap size works for all pets by taking measurements of your smallest and largest pet. The flap height should be 1-2" taller than your largest pet, while your step over should be 1/3 of your smallest pet's height. This will allow all your pets to use the pet door comfortably! Cats will be able to use a dog door comfortably so long as your flap size isn't smaller than their head. The suggestions above for measuring your dog properly are also applicable for cats!
Age, Agility, and Health
A low step over will be particularly handy for older dogs or dogs with any health issues. A pet door that is too high off the ground will be difficult for dogs with injuries or dogs in old age to use comfortably. You'll want to purchase a properly sized dog door that lasts your pet throughout its lifetime.
Build
If your dog has a particularly deep chest or is low slung, you'll want to pay special attention to your step over height. Your pet should be able to comfortably clear the step over without their chest hitting the step. A pet with longer legs and a higher chest are often more comfortable stepping over a higher step.
Armed with the knowledge of how to take the perfect measurements for your dog door, test out a cardboard mock door! If you're unsure of what size door will work pet for you and your pet's needs, simply cut out a hole in cardboard that matches the dimensions of the dog door you're considering purchasing and ask your pet to walk through. This is an easy way to test out different flap sizes, especially for cat owners who may struggle more with asking their pet to stay still for measurements. Having a cardboard mock door is also helpful in training your pet how to use the door so they will be prepared for when their perfect dog door finally arrives!