We may earn commission from qualifying purchases at no extra cost to you.
Learn more
Tetherball toys can be a lot of fun for dogs. Many dogs love playing tug of war, or chasing toys. Tetherball toys come in many forms that allow your dog to play in the way they like best. You can buy flirt poles, which let you play with your dog without turning yourself out. Tetherball toys you can set up for solo play also give your dog a way to burn off energy when you're out of the house. This can be a real house-saver if your dog gets destructive when they're bored. Whether you're looking for an outdoor toy for your furry friend to play with while they're outside, or you want something they can use indoors, there's a tetherball toy for you and your pet.
What to Consider Before You Buy a Tetherball for Dogs
Price- Budget is a big concern when picking toys for your dog. Cheaper toys are more wallet-friendly, but they are normally of low quality so the toy will get destroyed quickly. If your dog really loved that toy, now you have to buy a replacement. Cheaper toys are also frequently made with more questionable or outright dangerous materials. You should buy the highest quality toys that your budget can handle. Reviews are massively helpful when trying to find the most budget-friendly quality toys. Some expensive toys have a high price, but the quality doesn't live up to the price tag. A cheaper toy could be exactly the same, with the only difference being the brand.
Materials- Many dogs have preferences for their toys. You also need to think about your pet's safety. Not all materials are safe for dogs. Some just aren't safe for puppies or dogs who might destroy and ingest their toys. Think about how your dog plays and what their favorite toys are made of when selecting a new one. Make sure you pick something that can handle your dog's chewing habits and play style. Rope is great for playing tug, but it doesn't tend to handle chewing well. Rubber is good for chewing, but it can be hard and might not work for a toy where you dog can send it flying and risk injury to the dog or bystanders.
Location- Where do you want your dog to play? Do you want them entertained while they're inside, or do you want them to play outside? If your dog is indoors all day you'll want a toy they can play with inside. If they tend to be outside, the toy should be able to handle the weather and the sun. This also decides what materials you should get. Some materials get brittle if they're left in the sun, so be sure to pick toys meant to be set up outdoors if that's what you want. Indoor toys should be picked out and set up so nothing in your home gets damaged.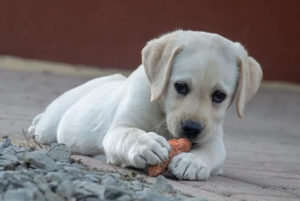 How will they use it? Will you be playing with your dog, or do you want something they can use while you're away? If you want a lure toy to use to play with your dog, there is an option on this list. If you want your dog to amuse itself, then you'll want something that can be set up for your dog to play with as they please. Most of the options on this list are for solo play, so you have plenty of options. Be sure your dog likes playing alone, since some dogs won't play by themselves.
Your dog- When buying any toy, you need to consider your dog's size, strength, and toy preferences before you buy. A
toy meant for a little lap dog
like a chihuahua wouldn't work for a lab. Even if you pick a toy in your dog's weight class, it might not handle a
strong breed like a husky
. Make sure you get something a size up for strong dogs. Older dogs will need something gentler as they age. Remember, senior pets lose strength and have more brittle teeth. Keep an eye on your dog in their twilight years and pick toys that meet their changing needs.
Exercise- Many toys, and tetherball toys in particular, help meet your dog's exercise requirements. This depends on your dog's age and breed. Make sure you consider this when buying. There are toys designed to wear energetic dogs down when they're playing alone that might be too much for an older dog. If you notice that your dog tends to push themselves too far when they play, be cautious when buying a toy for them. Bungee toys are great for making your dog run and jump more, helping them expend more energy.
How Much Exercise Should Dogs Get?
Exercise needs vary depending on the breed and age. Larger or younger dogs can require twice as much exercise as a small breed or an elderly dog. Small breeds might need only an hour on average, but puppies and dogs from smaller terrier breeds or other working breeds will need at least half an hour more.
Medium dogs tend to need about an hour and a half, but working breeds like border collies can need two hours or more to tire them out. Large breeds tend to need two, but once again breed and age can change this. Smarter dogs also need more exercise and play time to keep them from getting bored and amusing themselves. They might decide that escaping the yard or destroying the house is the most fun they can have by themselves.
You should exercise your pet until they're tired but not completely exhausted. Remember, a tired dog is a happy dog! Long walks are some of the best exercise for both you and your pet. You can make it a better workout by buying a
doggy backpack and having the dog carry
their own water. This works best with medium or large dogs. Being overtired can be dangerous for puppies or senior dogs, so
monitor your pet closely
during exercise.
Playtime is another great source of exercise. It can be very tiring for owners though, or even lead to stress injuries if you're throwing a ball for hours or playing tug with a strong dog! The lure on this list is great since it makes your dog run and chase without you needing to move as much. If you just don't have time to go on long walks or play for hours, solo play toys like tetherball toys are a great option. You just set it up and your dog plays as much as they want even if you're away.
Tether Tug Interactive Dog Rope Toy
The first toy on our list is a lovely little model for indoor use. It uses a braided rope as the tug toy. It comes with a fiberglass pole and a base that fits under the furniture so your pet can't drag it all over the house. This one is best for medium-sized or smaller dogs. If you have a larger dog or one with a more aggressive playstyle, you should pick one of the sturdier options on the list. The seller notes that breeds like pit bulls and German shepherds should be given the largest and sturdiest toy in their line due to their strength.
What We Like
It's an indoor toy so your dog can play inside.
The base let's you secure it so your dog can't drag the toy all over the house or lose it.
The fiberglass pole is flexible and can be bent to a high degree without breaking.
The toy can be switched out to keep your dog's interest.
Gives your dog something to do inside so they aren't as tempted to chew up furniture or destroy your things.
What We Don't Like
This particular toy is only for smaller dogs and indoor use. Larger and stronger dogs should stick with the heavier outdoor toys that Tether Tug offers.
Some owners noted that the metal clip that connects the toy to the pole can damage a dog's teeth if they happen to grab it or get stuck.
Many owners report that you need to size up from what the manufacturer recommends. You really want to size up if your dog tends to play aggressively or tug hard. If your dog nearly dislocates your shoulder playing tug, definitely size up!
Since it can't easily be set so the toy is out of reach, your dog can chew it and might end up destroying the rope quickly. You can replace the toy, but this is still a problem that isn't always the case with other toys of this type.

The Tumbo Tugger toy is Tumbo's flagship product. It is meant to be attached to a high tree limb. It uses a protected bungee rope with a rope ball on the end for your dog to play with. The outdoor model is meant for medium to large dogs. The Tumbo Tugger is perfect for active dogs since they can pull back and launch the toy to play fetch when they're alone. Since the toy is on a line, it can't get lost or dirty. This toy is great for keeping outdoor dogs entertained during the day. Tumbo also makes an indoor version that is solely for dogs smaller than 25 pounds.
What We Like
It allows active outdoor play.
Keeps your dog from being bored while they're outside.
The bungee can send the toy flying allowing the dog to play fetch with itself.
The toy can't get lost.
You can switch out the toy to help keep your dog's interest.
You can easily set the toy up so your dog can't chew on it, making the toy last longer.
What We Don't Like
The outdoor model isn't good for small breeds. There doesn't really seem to be a good outdoor equivalent for small dogs.
You need to have a strong tree limb at the appropriate height to install this. This means it isn't a good option for people without a yard or with few trees.
The rope that attaches to the toy is pretty thin and can be shredded quickly. You might need another rope.
The rope toy gets shredded quickly if your dog chews on it. Make sure you put it just above head level for your dog.
Since it is a bungee, your dog can launch the toy and get it stuck in the other tree branches.
The Squishy Face Studio Flirt Pole is a toy meant to be used when you're playing with your dog. Unlike the others on the list, it allows you to interact with your dog during playtime. It has a pole with a line that has a fleece lure attached. It comes in two sizes to fit your play space, and it comes in two colors, blue and aqua and yellow and orange. You can also select an option with a squeaker. It can be used with dogs of any size. The rope that attaches the lure to the pole is a bungee cord, which is a feature many owners reviewed positively. This toy was made in the USA as well. This toy is also great for training impulse control in your dog, so you can make training fun for your pup.
What We Like
It's great for stimulating prey drives and tiring your pup out.
It works for all sizes of dogs.
The bungee cord means that there isn't a big impact on you or your dog when your dog catches the lure.
Lets you tire your dog out without tiring you out too.
The whole toy is one pound, so you won't tire out while using it. This makes it great for older owners, kids, and anyone with shoulder problems.
What We Don't Like
The bungee can turn the toy into a projectile if your dog stretches it out and then lets go. It can also get tugged out of your hand and hit your dog if you aren't using the wrist strap. Be sure you teach your dog to drop toys on command room help avoid this.
The pole and handle are a bit thick, so it might be uncomfortable if you have small hands.
Not suited for keeping your dog entertained while you're away, pick a different option if that's what you want.
The lure is just felt, so it can't handle heavy chewing. Make sure your dog releases toys on command.
The Tether Tug Ball Tug Toy is an attachment for your Tether Tug toy that gives your dog something else to play with. It's a tennis ball attached to a rope, making it perfect for dogs that love tennis balls. It is great for keeping your dog's interest in their Tether Tug. The toy is designed to be safe for your dog's teeth, which isn't always true for standard tennis balls. You might be able to play with this on its own as well, making it a better buy.
What We Like
Gives your dog another option for play with its Tether Tug.
It could be used to play on its own.
The ball might be preferred by some dogs over the braided lure that many of the Tether Tug toys come with.
Might stand up to chewing better than the standard rope.
What We Don't Like
It might get shredded by strong dogs since there are holes on the side they could work at.
It's a bit expensive for what's essentially a tennis ball with a rope attached. You could probably make one with a cheap tennis ball, a utility knife, and some cheap rope.

The Park & Sun Sports Tetherball set is actually meant for humans, but large dogs who love big toys would have a blast with it. Park & Sun Sports is one of the best makers of tetherball sets for humans, their products are high-quality and durable. The pole comes in multiple pieces for ease of set-up and the sleeve meant for anchoring the toy in the ground allows you to remove the toy in bad weather or over the winter to help reduce wear. The pole is rust-resistant galvanized steel and the ball is permanently attached to a swivel set into the ball. The ball is made of softer materials than a typical rubber tetherball, making it gentler on your dog.
What We Like
This toy is very sturdy and can handle more vigorous play.
The quality means it will last for years.
Weather-resistant materials mean you don't need to take it down frequently.
You could use it as a regular tetherball set as well, or play tetherball with your dog.
Quick set up.
Soft ball means your dog won't get hurt while playing with a hard rubber ball.
What We Don't Like
It is only suitable for large dogs who prefer playing with big toys.
Since it isn't designed for dogs, the rope and swivel point might not stand up to a dog.
The swivel is metal, which can hurt dogs if they manage to bite it.
The included sleeve to secure the pole in the ground is noted as being flimsy. Many owners set it in concrete to ensure the toy didn't move.
Best Tetherball Toy Manufacturers
Tether Tug- Tether Tug was founded in 2011 when the owners put out one outdoor toy that worked for their rescue dog, Lizzy. From that small start, they've expanded their line to meet the needs of many sizes of dogs. Their mission is to meet the needs of the whole dog- mentally, emotionally, and physically. Tether Tug makes the widest variety of sizes and attachments for their toys. You can find something to meet nearly any dog's play needs in their line.
Tumbo- Tumbo started with the very product featured on this list, the Tumbo Tugger. It was designed when the founder wanted a toy his dog could play with while he was away. Since then, Tumbo has expanded its line with the goal of giving back to our pets by providing them the exercise and play they need to be happy and satisfied. Their line includes both outdoor and indoor toys meant for many breeds. They also make a containment system for when you can't let your furry friend roam the whole yard.
Squishy Face Studio- Squishy Face Studio is a Florida company that was founded in 2009. Their mission is to create durable and innovative toys for the strongest and most active dogs. They design toys to provide both physical and mental exercise. They make all their toys in the USA. They also donate frequently to charity, particularly ones that advocate for "bully" breeds and they are dedicated to opposing breed-specific legislation. If you have or love one of these breeds, this makes them a great company to purchase from.