We may earn commission from qualifying purchases at no extra cost to you.
Learn more
Here is our story.. Why I was looking for Tough Dog Toys… Murdock is my sweet, lovable, yellow Lab. He is a full two feet tall and weighs 75 pounds, but he thinks he is everybody's favorite lap dog. Any time he can, he will climb into your lap and keep moving until he gets his hindquarters on your lap with the rest of him sitting out in front of you. He is great with children, well-trained, and generally the best dog you could wish for. There's just one problem: he loves to chew! He likes to be busy and if you aren't constantly playing with him, he will find something else to chew. I have lost count of how many shoes have ended as his slobbery victim and he tends to tear apart every toy we give him in a matter of minutes. So after trying basically every toy on the market, I am here to guide other dog owners to find the perfect toy that will stand up to your dog's constant chewing.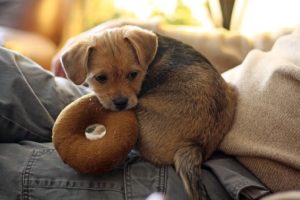 Kong Dog Toys
Kong is largely considered the number one brand of dog toys. All of their toys are made of a durable, non-toxic, easy to clean rubber that holds up against the most aggressive chewing. And you can purchase peacefully, knowing that they are all made in the USA.
Kong has a great variety of toys for every dog and game imaginable. Many of Kong's rubber toys have compartments that can be filled with Kong stuffing gel, chew sticks, dog treats, or peanut butter. The original Kong toys have a unique shape that makes it bounce in unexpected ways and your dog will go crazy chasing it all over.
For especially destructive chewers, the Extreme rubber toys line is best. Kong Extreme toys are puncture resistant and they are as close to indestructible as you can get. They come in Frisbee, tire, bone, ball, and the original Kong shapes.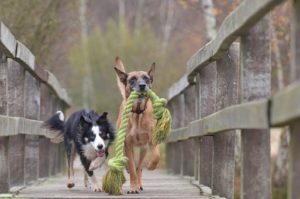 Murdock loves the
extreme goodie bone
, even when there are no treats inside. It is his favorite toy to play with when I am away from home or too busy to play with him. It seems to bring him some comfort when he is otherwise anxious. Every time I leave, he somehow finds his goodie bone and keeps it with him until I return home. Considering how often he plays with it, the fact that it still looks practically new after the past five months is remarkable.
Another fun toy from Kong is the Wubba. These are not chew toys, so your dog shouldn't be left alone with them, but they are great for games of fetch and tug-of-war. This unique toy is made of a small squeaker ball, and a larger tennis ball, covered in nylon fabric with several tails. They have a variety of designs, including ones with or without squeakers. Murdock loves the water, so I love the wet Wubba covered in neoprene wetsuit fabric. It dries quickly and it easy for me to wash which makes it one of our favorite water toys.
Indestructible Dog Toys
No dog toy is ever truly indestructible, especially after months of consistent chewing, but indestructible toys should be tough enough that you don't have to buy a new one every few weeks. And they should be tough enough that you feel comfortable leaving your dog alone with them.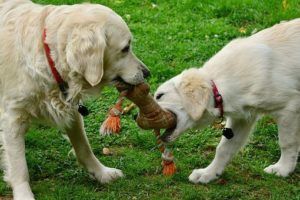 One such toy that will last significantly longer than your average chew toy is the TufToys brand Super Dog Toy. Made of non-toxic thermoplastic rubber, this 14-inch long toy is perfect for tug-of-war. It has rippled handles on both ends and a ring with nodules in the middle. The ripples and nodules are great for your grip and your dog's teeth. The handles on both ends make it great for an owner with multiple dogs who like to play together. It is even able to float for dogs that really like to play in the water. And if your dog likes the twist while it pulls, the Super Dog Toy will twist without breaking or cracking.
Another virtually indestructible dog toy is the Goughnuts Dog Chew Ring or Stick. This one is so tough that it actually has a lifetime guarantee.
The Goughnuts products are made with a bright red interior layer.
The toys are made in the USA, with the help of mechanical and polymer engineers, and they say if your dog is strong enough to chew through to the red layer they will send you a replacement free of charge. All Goughnuts products can float and are easy to clean. They have a variety of shapes and toys, but not all of their toys are designed for extensive chewing, so read the product information carefully. The Original Goughnuts Ring is the one they recommend the most because it has no weak points where your dog can chew through the toy easier. Murdock has had a Goughnuts Ring for the past six months and so far it has not been punctured or broken at all. However, he doesn't seem to play with this one as much as he plays with some of the other toys. I like to keep it around for a few days and then take it away for a while. Then when I get it back out again he is a little more excited about it for another few days.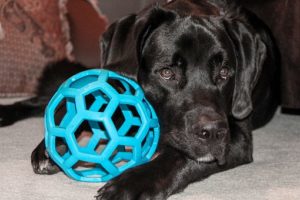 One last virtually indestructible toy company that also has a replacement or refund guarantee is the West Paw company's Zogoflex brand. Zogoflex is non-toxic, BPA-free, and FDA compliant. It is made in the USA and old toys are recycled to make new ones. Unlike other hard rubber toys, the Zogoflex brand is stretchy, bouncy and bendable. This makes it great for multiple types of play. It can be bouncy for a fun game of fetch but can add a bendy element of surprise to your game of tug-a-war. The Zogoflex toys come in a variety of shapes and sizes, including ones with treat dispensers. They all float and are all dishwasher-safe. Murdock's favorite is the Tux Treat Toy. He loves it just for simple games of fetch even when there is no treat inside, and when it is hot outside I put ice cubes in the treat dispenser for a cool treat. And I love that I can throw it in the dishwasher after he has slobbered all over it without compromising the safety and durability of the toy.
Tough Dog Chew Toys
While not as tough as the indestructible toys listed above, these dog toys are tough enough to stand up to most dogs, especially if you monitor and limit their chewing time and don't let them chew on it constantly.
The Orbee Diamond Plate ball by Planet Dog is one of the toughest dog balls on the market. It is hollow and lightweight and made in the USA. It is tough but also pliable enough for dogs to chew on. Too tough can be bad for your dog's teeth, but this one seems to find the right balance. It also has a slight minty smell that reviewers say lasts as long as the toy does. Dogs will love the textured finish on the ball too.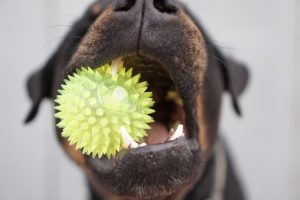 Nylabone is a favorite brand among many dog owners. Nylabone products are made for dog's dental health specifically. They are made with teeth-cleaning bristles that raise out of the toy as the dog chews.  All of their toys are made in America and made from high-quality, non-toxic materials. They are all made with a variety of textured surfaces that keep your dog interested longer. Your dog will love the different textures and the durable material means that it is safe to leave with your pet unsupervised. I love the dental health benefits of the toys and the fact that they are easy to clean. The Power Chew line should hold up for most heavy chewers, but the raised bristles are supposed to be chewed out, so the most aggressive chewers will make short work of them. Think of these as a short-term toy to rotate into your dog's mix to keep him interested, not as a long-term toy to chew on forever. Murdock loves the bacon-flavored double bone. He chews on one side for a while and then turns it around to experience the other texture on the other side.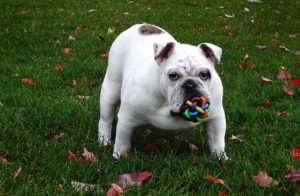 The Benebone flavored Wishbone is another favorite among dog owners. The unique shape of these wishbones makes it easy for dogs to lift up one end and chew on the other. Dogs love the natural bacon, chicken, or peanut butter flavors and scents. They are made of tough nylon that is hard for most dogs to chew through. However, if your dog is able to chew it to the point of break down, or if pieces fall off, it is time to replace this toy. So this toy is best for use when you are around to monitor your dog.
Tough Squeaky Dog Toys
Dogs love squeaky toys! Murdock goes crazy for them. But the squeaker is often hidden a cute plush toy that adult dogs can rip to shred in a matter of minutes. The plush itself, the stuffing, and the squeaker, all become a choking hazard or could be swallowed causing some serious digestive problems. I love my lab too much to put him in that kind of danger. So I went on a mission to find a few squeaky toys that can hold up without putting dogs at risk.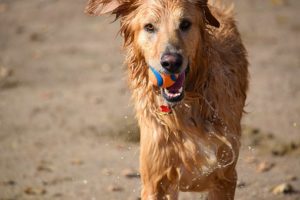 The Playology Squeaky Chew Ball may seem like your average tennis ball, but it is so much better than that!
It is a ball
, a squeaky toy, and it floats for water fun! More importantly, it is made of non-toxic, high-quality rubber, so it is extra durable and it is dishwasher safe. Playology toys include what they call their Encapsiscent Technology, an infusion of encapsulated scent that will release gradually as the dog chews. This means that humans won't have to smell it, but dogs will smell their favorite food (bacon, chicken or beef flavors) and will be more interested in the toy. I loved how safe and durable it was. Murdock played with the squeaky toy for hours of endless delight and loves it, even more, when he gets to play fetch with his favorite squeaky toy. It's the best of both worlds.
The only other squeaky toy that I will buy for Murdock is the Kong Squeeze Line. It is made from the same high-quality rubber as the traditional Kong products, which means it is harder to destroy and made to last longer than average toys. But the Squeezz Line, in particular, has a recessed squeaker that ensures dogs can't get the squeaker out. It comes in a variety of shapes, sizes, and colors so it is easy to find one that you and your dog will like. They even have a crackle variety for the owners that get annoyed with the traditional squeaky sound. Murdock loves the shape and feel of the Squeezz stick in particular. He can play fetch with it all day long and when I get tired of throwing, he is content to sit and chew on it until I am ready to play again.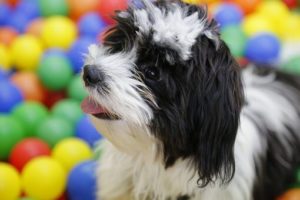 Fluff And Tuff Dog Toys
For those dog owners (or dogs) who prefer soft, plush toys, Fluff and Tuff is the only brand I trust.
All Fluff and Tuff toys are made with an ultra-mesh outer fabric, a trademarked Tuffweb Mesh liner, double-stitched and concealed seams, embroidered eyes, and a non-toxic polyester filling.
If you choose a Fluff and Tuff toy with a squeaker, the squeaker itself will have its own sewn fabric pouch, which means you are likely to find the squeaker before your dog is able to actually get to it. Fluff and Tuff toys come in a variety of adorable animals shapes (including a Harry Otter design!) and sizes so you can be sure that you will find the right toy for your cuddly dog. However, Fluff and Tuff toys are only available in independent pet stores, so you may have to go a bit out of the way to get one. No matter what design of Fluff and Tuff toy you decide on, remember that it is still a plush toy, not a chew toy. If you have a dog that likes to chew, don't leave it unsupervised while it plays with the Fluff and Tuff toy for too long.